IS IT OK FOR A GURU TO BE
AGGRESSIVE IN SEEKING DEVOTEES?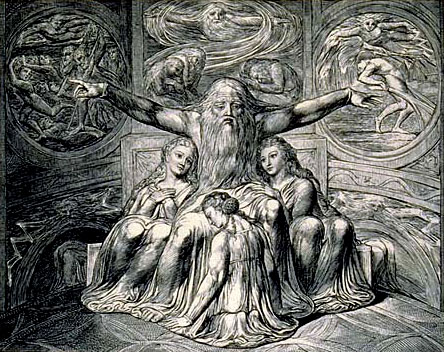 Job & His Daughters
William Blake
EXCHANGE BETWEEN RASA & 'ASHANKAH YOGI'
ON YAHOO ON THIS DILEMNA
Dear Rasa Yogi, you have made an understatement by saying, "BECAUSE THE TRUTH IS MANY HINDU GURUS PROMOTE THEMSELVES QUITE A BIT". Please feel free to change the last wordings to 'quite a lot'.
First of all I find it odd if any 'Guru' calls oneself to be a 'Hindu Guru' or 'Christian mystic'. A spiritual Guru is a 'guru' and 'Spirit' or the 'Self' doesn't have any religion. After advancing spiritually to the level of a 'Guru' what's the point of clinging to a particular 'Religion'?
I am trying to figure out what's your exact concern when you say, "IT BUGS ME VERY MUCH WHEN THE PEOPLE IN INDIA SAY THAT ALL GURUS MUST BE PASSIVE"
I am not very sure what's your exact thought about 'Passiveness of a Guru'. However, if you are referring to 'passiveness' as the opposite of 'aggressiveness' then I can try to mention a little on why many people are of the opinion that a 'Guru must not be aggressive but passive'.
Scriptures talk of six very important qualities of any spiritual person; and they are:
Sama – controlling mind
Dama – controlling senses
Uparati – resting mind from pursuing impermanent sense attraction
Titiksha – forbearance
Sraddha – faith
Samadhana – self-contentedness and single pointed concentration
So, when a person has all these six qualities one can imagine how tranquil that person's attitude will be. Will there be any sign of 'aggressiveness' on his face or mind?
When we look at the images of avatars and gurus such as Krishna, Buddha, Jesus, Guru Nanak, Ramakrishna, et. al., do we see any aggressiveness on their faces? Even by concentrating on their pictures for 15 minutes our minds become so calm and quite then we can imagine how much passive they were.
That could be one reason why many people think that gurus should be passive otherwise there's no such hard and fast rule that a guru shouldn't be aggressive. There were many aggressive gurus and there's nothing wrong about it. One such example was Guru Totapuri. When Sri Ramakrishna told him that he was not able to concentrate on Nirvikalpa Samadhi, Guru Totapuri got very aggressive and shouted at him, "What do you mean you can't concentrate!" Then he picked up a broken piece of glass and pierced it between Ramakrishna's eyebrows and again shouted, "Now concentrate on this pain and don't get up until you experience Nirvikalpa Samadhi". That one shouting was enough for the great Avatar. What took Totapuri 40 years to learn; Ramakrishna learnt it by one shout of his aggressive guru.
So, in spirituality it's not easy to comment anything as right or wrong. A true guru is a guru; it doesn't matter whether he/ she is passive or aggressive.
Om peace,
Ashankah
January 26, 2006
ASHANKAH'S YAHOO GROUP
http://groups.yahoo.com/group/Ashankah_Yogis_Self-Realization_Satsang
RASA'S RESPONSE


PERHAPS WITH THE HELP OF YOUR GRACE AND LIGHT WE WILL GET TO THE BOTTOM OF THIS MADDENING SITUATION.
HERE IS MY PROBLEM: I HAVE SENT OUT MY YOGA ARTICLES TO HUNDREDS OF SPIRITUALITY GROUPS OVER THE LAST YEAR. MOST OF THE TIME, WHEN I GET RESPONSES, THEY ARE CRITICAL. THERE ARE MANY SORTS OF BARBS, AND WE SHALL NOT COVER ALL OF THEM HERE, (AND YES, THERE ARE GOOD COMMENTS AS WELL, AND PEOPLE FILLING OUT MY QUESTIONNAIRES WHICH ARE EXCELLENT.) ONE OF THE MOST MADDENING ONES IS THEY ARE PERFECT (THE RESPONDER) BUT I AM IN EGO. I DO NOT KNOW WHAT IT'S ALL ABOUT, BUT THEY KNOW. THERE IS A CONTEMPTUOUS, HOLIER-THAN- THOU ATTITUDE..... BUT THAT'S ANOTHER STORY. HERE'S WHAT WE ARE GETTING AT HERE.
WHAT THEY ARE SAYING TO ME REGARDING THIS IS,
'RASA, GURUS DO NOT PROMOTE THEMSELVES. THEY ARE PASSIVE. THEY JUST WAIT FOR DEVOTEES. THE FACT THAT YOU ARE SENDING OUT ARTICLES, WHICH (THEY SAY) SEEK DEVOTEES, PROVES YOU ARE NOT A GURU.'
THAT IS PRECISELY WHAT I AM FIGHTING HERE.
YOUR COMMENTS ARE GOOD. BUT YOU DO NOT KNOW EXACTLY WHERE I AM COMING FROM. YOU MADE EXCELLENT POINTS AS TO THE ATTITUDE AND THE FACES OF THE PICTURES OF THE GURUS, WHICH EMANATE PEACE, CALM AND TRANQUILLITY. NOW I PUT THIS TO YOU:
THERE IS AN INTERNAL PEACE, A SERENITY, WITHIN THE GURU BECAUSE THE GURU IS ONE WITH GOD. THE GURU IS IN TOTAL CONNECTION, UNION AND USUALLY COMMUNICATION WITH GOD. BUT DOES THAT MEAN THAT THE GURU HAS TO BE EXTERNALLY PASSIVE? I PUT IT TO YOU THAT THESE ARE TWO DIFFERENT THINGS. ONE CAN BE INTERNALLY ONE WITH GOD, PASSIVE TO GOD, AND LISTENING TO GOD, AND YET AT THE SAME TIME, AGGRESSIVELY PURSUING THE MISSION OF GOD; GOING AND SEEKING THE LOST SHEEP, AND THOSE WHO NEED TO GO TO HIGHER LEVELS. IT TAKES AGGRESSION TO FIND THESE PEOPLE!
THE REASON I USE THE WORDS 'HINDU' AND 'CHRISTIAN,' ALTHOUGH SPIRITUALITY TRANSCENDS ALL RELIGION, IS BECAUSE IN THE HINDU TRADITION THIS PASSIVE QUALITY HAS BEEN PROMOTED MORE. WHEREAS IN THE CHRISTIAN TRADITION, ESPECIALLY WITH PROTESTANT EVANGELISM, THE AGGRESSIVE QUALITY IS PROMOTED.
THANK YOU VERY MUCH FOR YOUR PARTICIPATION IN THIS DISCUSSION. I FEEL WE ARE OPENING UP NEW DOORS AND WINDOWS OF THOUGHT.
INFINITE LOVE, GLORY TO GOD!
RASA
JANUARY 26, 2006
DISCUSSIONS ON

---
---