BEATA'S DREAM RASA & THE SARLO WAR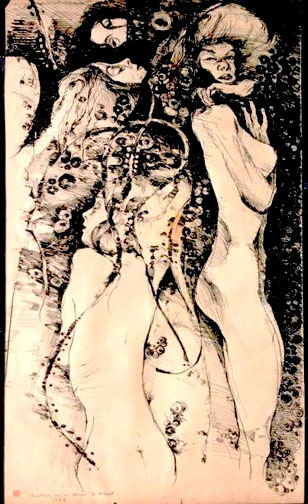 Variations
Gustave Klimt

The first dream occured several weeks ago, actually around the middle of January (2006) or so. In the first dream I was in a sanctuary in your home, it looked like a room that you have in one of the pictures on your website where you are posing in a room with a stained glass window. The room was kind of dark though. So anyways, I was there, and a younger anglo man came into this sancturary with a very belligerent attitude toward you, making negative comments. I saw this as a form a degredation in your sancturary so I proceeded to verbally humiliate him. You were there but I could not see you, but I heard your voice and you were encouraging me. I made the man kneel down in front of me and threatened to whip him.
RASA: SINCE THE 'SARLO WAR' WAS GOING ON AT THAT TIME, THIS SOUNDS TO ME LIKE WHEN WE FIRST MET. YOU RESPONDED TO ONE OF THE ATTACKS UPON ME, WROTE A LETTER, AND IT BECAME THE FIRST LETTER ON THE ANTI SARLO SITE. YOU PERHAPS ARE REVIEWING THIS.
Then in the dream a view of another church appeared to the left side of my vision. It was a brown church...
RASA: THIS IS A PLACE OF SUFFERING
...which caught my attention, so I walked over to the church which in the dream was like walking a few feet.
RASA: THESE TWO CHURCHES COULD BE VARIOUS SITES AND GROUPS ON THE INTERNET. THE FIRST ONE IS WHEN SARLO OR A GOON WALKED INTO MY 'SANCTUARY' OR PRESENCE AND DEFILED IT. THE SECOND, YOU COULD BE SPEAKING OF MY SITE, WTAG.

I walked up the stairs of the church and saw a schedule on the door. At that moment a teaching and/or prayer session was taking place with men. I knew instinctively that the person teaching the group of men was an Indian woman. I looked at the schedule again and I saw a list of dates and times. For example, a date and time for men only to attend the church teaching/prayer session, a date and time for women only to attend the teaching/prayer session and another date and time for both women and men to attend.
RASA: I HAVE ALWAYS PLANNED TO DO IT THAT WAY IF I HAD A CHURCH! BECAUSE MEN AND WOMEN NEED SEPARATE TIME, AS EACH HAS VASTLY DIFFERING NEEDS. BUT THERE SHOULD BE TOGETHER TIME ALSO.
I THINK THE MESSAGE HERE THAT YOU ARE CREATING IS THIS WTAG CHURCH SERVES MEN, IT SERVES WOMEN, AND IT SERVES THEM TOGETHER. COVERS ALL THEIR NEEDS.

I did not go inside because I was not allowed to enter during this men only session and the door was shut. So I walked back down the stairs standing in front of this church or temple. Then within seconds the Indian woman came outside the church and stood at the top of the stairs. She was dark in complexion and wore traditional clothes.
RASA: BEATA BELIEVES THIS IS ME AND I AGREE. WHY THIS GARB? BECAUSE I AM A GURU, WHICH IS AN EASTERN TITLE, AND THE WAR THAT GURU RATINGS HAS WAS AGAINST ME AS GURU. THEY WERE DEPRACATING MY POSITION. SINCE THE CHURCH IS UP OR HIGHER, I DESCEND TO 'GURU RATINGS.' I LOWER MYSELF TO THEIR LEVEL.
The same anglo man whom I had chastised in your sanctuary walked over to the church, he was at the bottom of the stairs. He began to praise her and say words of reverence to her. She listened to him and then she said to him, "you do not have to go into femdom in order to reach me".
RASA: THE IDENTITY OF THIS MAN IS UNCERTAIN. WHO DEPRECATED ME IN MY SANCTUARY, AND LATER ON PRAISED ME IN A FEMDOM WAY? WILL HAVE TO THINK ABOUT HIS MORE.
The man was so deep into his praise that he didn't seem to pay attention. Then he left or disappeared and she came down the stairs and started to preach. In this dream I was fascinated by the Indian woman and I kept following her around listening to her speeches. She stayed within the compound of the church which was surrounded by a concrete wall. In her preaching the Indian woman who was dressed in traditional attire was saying how men were supposed to behave with women, what the proper conduct was for men and also how they were to be in harmony with their environment.
RASA: ALL ISSUES WTAG IS ABOUT
Also I noticed that there was a device attached to the stone wall which surrounded the church which recorded her speeches. One could press a button and hear random speeches that she had made in the past.
RASA: THIS SOUNDS LIKE THE SITE, AS ALL MY OFFERINGS ARE ON IT.


Then an older anglo male came up to this Indian woman and said to her that he was her son. She looked at him with displeasure and then turned away from him. This man fell to the ground in agony and despair and began to make these strange noices with his throat.
RASA: THIS WITHOUT A DOUBT IS A MAN POSSESSED BY A DEMON. THIS COULD HAVE BEEN ONE OF MANY MEN AT SARLO'S. BUT CLOSES TO ME WAS JODY, WHO ACTUALLY BECAME MY SON AND RECEIVED THE ANOINTING, RISING UP TO THE SPIRITUAL BETROTHAL. JODY ADMITTED THAT HE 'MOTHER KALI HAD A FIST UP HIS ASS' AFTER WE STARTED FIGHTING. MY BEST GUESS IS THIS IS JODY, MY SON, WHO HAD SOMETHING FOUL IN HIM THAT WAS REMOVED. I WAS NOT MADE AWARE OF A DEMON, BUT PERHAPS IT IS GIVEN TO YOU TO SEE THAT HE HAD ONE.

'STRANGE NOISES IN THROAT' IS WITHOUT A DOUBT THE NOISE THAT CAME OUT OF HIM BY WAY OF INSULTS. IT WAS FILTH.
I watched in utter surprise at what was going on. At one point the Indian woman has this smirk on her face...
RASA: BEATA ELSEWHERE DID MENTION THAT SHE WAS AMAZED BY THIS WOMAN'S POWER - THAT SHE DID NOT HAVE TO PUNISH PHYSICALLY, BUT HAD POWER OVER THIS MAN. THIS IS THE POWER OVER DEMONS, IT IS EXORCISM. I DID TELL THE SARLO PEOPLE THAT THIS POWER WOULD COME UPON THEM, SOME FOR ILLUMINATION, AND SOME FOR CHASTISEMENT.
...as the man lay close by to her writhing around and making wailing noises. Then she turned to him with compassion...
RASA: I DID SHOW JODY A LOT OF COMPASSION CONSIDERING HE BERATED AND INSULTED ME VICIOUSLY. I RETURNED THE INSULTS, BUT BECAUSE HE NEEDED THE 2X4, NOT BECAUSE I WAS CRUEL. AT BASE I WAS TRYING TO HELP HIM SPIRITUALLY.
...and I woke up from the dream.

Ok, so this concludes the first dream I will send you another e-mail explaining the second dream.

Peace & Blessings,

Beata
February 11, 2006
DISCUSSIONS ON
---
---