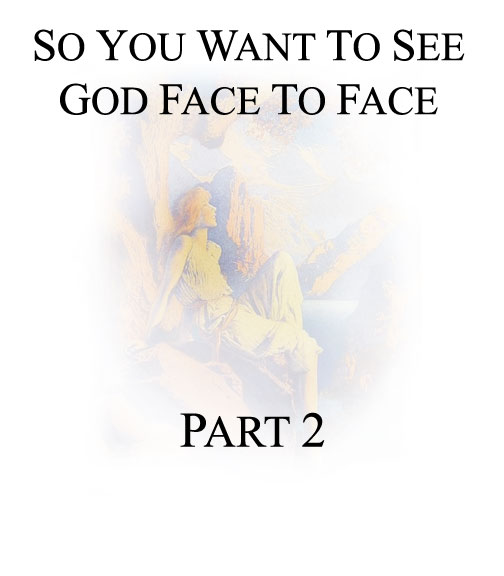 COMTEMPLATIVE VISION
There are more than one areas you rest in before you see the final and ultimate face of God. In order to be a contemplative you must have what is called "infused vision." This means that God, by special grace, infuses you with supernatural vision. You cannot receive this special grace lest you be "dead to self," which is the subject I've been talking about this entire article. After, by your will, you have renounced the world and the flesh, which means all your ego-based desires, you await God to fill you with the grace that anchors you in that state. If you vacillate in your resolutions and promises, you can lose this state quickly, as it is a difficult and delicate state to remain in. (Because we are bodies, not angels, we are assailed and assaulted by things not spiritual at every moment.) After you are well set in this great state, you will reap its rewards of vision. The great thing you will see is the reality of the world and the flesh (I do not speak of the devil here because you renounced the devil long ago to have achieved this state, but you have recently cleansed yourself, once again, of all ego-based faults.) Now you see, for the first time in a long time, the world OBJECTIVELY. You see things about yourself and others you've not seen before. You see the ridiculous posturing of people, including yourself, and how it's all a sham. We are nothing but dust. We are creatures, wholly dependent on God, and yet we strive to build ourselves up as big deals. If we TRULY love ourselves our love is COMPLETELY DIFFERENT than the love that comes from pride, vanity and ego. This love is based on eternal life and also taking care of our bodies so we don't die before our time. We start to love ourselves the way the tenderest mother loves her child. In this love is every type of nurturing and self preservation, but there is no hint of greed or selfishness or callousness or insensitivity to others. (More on this later.)
In the state of objective vision you see clearly that when people approach you there is always a reason, and now you can see those reasons more clearly. Before you had vain fantasies, but now you face the truth. What do they want from you? You can bet your bottom dollar it isn't because they want to give you unconditional love. Sadly, even when religious persons contact you, except for rare cases of holy souls, they want you to join their cult (including the big religious cults) and support them. They want BODIES and SUPPORT. They want the same things ordinary people want from you.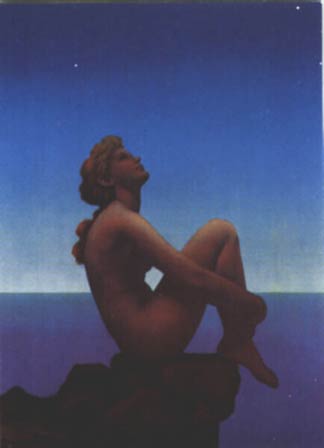 Appear naked before The Lord;
Without Masks, Attachments Or Pretentions
When you have achieved this state, it will be extremely difficult for a con artist, or a flatterer, to get through to you, because you can see the truth. When people fall for this sort of thing, they are usually harboring vain, egotistical fantasies of what a predator wants. They imagine themselves to be beautiful, fascinating, charming and the like, and because of vain, egotistical delusions they fall into a trap. Not so if you see things objectively. You will understand quickly someone is trying to con you. Even with your relatives, there are the cold, hard facts - ESPECIALLY your relatives. I am not singling out my family or any one family, but simply speaking in general. Families are political, economic corporations or cults. They have rules. They have hierarchies. Everyone has a definite place. There is the first, and there is the last. The first is the boss, and the last has no rights at all. Look at the wolf pack and coyote and dog pack. As a person of God, you should not have to fall into place in a family cult and adhere to their human/physical rules. You should be free of family and also free of the rules of the world as far as earthly, wordly rules. I do not mean you are free of the law or right reason or morality. I mean you are free of fashion and status. Fashion and status can make you first or last. Don't be either one. Be free of these silly, arbitrary, false rules. In India they still have a caste system, although it was outlawed. You are born into a caste and you cannot escape it, so they say. But you CAN escape it. You belong to God, not to human rules. In non-Hindu society we also have castes. The rich and professional are on top, and the poor and less educated at the bottom. Don't live by those rules, either. If you are greatly educated, it is good, but it is not good to see yourself above others. If you have no formal education, so be it. It is not good to see yourself beneath others. After all, most of education is not about God. If you know enough about God, and have a good heart, that's all that matters. You see so clearly, now, your own vain worries about the world and flesh. Such nonsense, all your drives and ambitions, cares and concerns! Only ONE thing is needed, and now you'll hurry toward that. Let me tell you the story of one great minister, who I saw on Trinity Network. His name is James Robison.
James Robison and "The Chair"
I saw a great preacher, James Robison, on television, giving his most famous sermon called "The
Chair." It was one of the most fascinating sermons I ever heard.
| | |
| --- | --- |
| | |
| Meditate on The Lord day and night. Do not meditate on your importance or the important social ties you have. If you do so you will lose intimacy with The Lord, who is Heaven. | When you lose the presence of Heaven you are stuck on the Earth plane and the flesh which can be Hell. The Earth and the flesh brings torment. Getting back with The Lord brings back peace, joy and meaning to your life. |
THE STORY OF JAMES ROBISON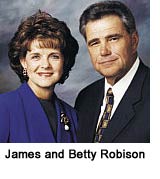 It goes like this:
James Robison rose to the top of his profession quickly, becoming one of the youngest to be a big name, and he had intimate friendship with the biggest men in Christendom, such as Oral Roberts.
He speaks of his relationship with The Lord when he got started. There was that tender, sweet love of devotion, and incredible zeal. He couldn't wait to get back to his room to fall down on his knees and pray and feel the Presence of Our Lord.
He was getting more and more famous as he was a part of a big Christian fellowship, and they promoted him. He had an anointing which really stood out and he impressed people as he preached to bigger and bigger crowds, all under the tent of his religious umbrella organization.
After a while the hierarchy of the group he was with became more intolerant of people with other beliefs, and James Robison was told he could have truck with certain groups, but not with others. He was to judge people by their denomination. He obeyed because he had no choice, but something happened to his soul.
It was a slow, slow change. Like a downward spiral. It was kind of like losing himself. He didn't know who he was after a while, and he rode on his anointing. That was all that was left. The tender, soft and sweet relationship with Our Lord was gone. He couldn't feel His Presence any more.
The next step was that he felt like he was in the pit of Hell, and from then on in FOR TEN YEARS James Robison wanted to kill himself. He even had a gun and was planning to blow his brains out! All the while while preaching to big audiences!
He had a wise friend to whom he confided, and wailed and wept his fate. This friend finally got sick of him and he told him point blank,
"You're going to listen to this carpet layer I know. Take him out of town with you on your next trip."
James Robison indignantly refused, because this was a lowly, uneducated man he was supposed to humble himself to. The friend said more or less,
"You ARE going to do this - because if you don't - you are not to call me any more."
James Robison had to take the man on the trip. After a big revival, where Mr. Robison spoke to a multitude of people and the usual overwhelming applause, the little carpet layer joined him in his room at the motel. They sat awhile and the companion said,
"The Chaldeons got you all over town, boy!" Mr.Robison retorted with,
'DO YOU KNOW WHO I AM? HAVE YOU READ MY LITERATURE?'
One of the things that had plagued James the most - which made him feel the most ashamed - was LUST. He said he couldn't sit on the podium and look out into the audience, without feeling lust for some woman out there. (I know full well what he is talking about. One of the tortures I had the most is lust. Oh, how I hate lust. It goes through your veins and it makes you incapable of right action, right speech, or free thought. It's like a disease flowing through your body. I HATE it and even when a person has practiced chastity for many years, some horrible karma can permit the devil, on extremely rare occasions, to attack with lust, and for me, I would rather have the torment of anxiety and depression rather than lust.) Poor man was assaulted by this FOR TEN YEARS. It wasn't only lust. It was a lot of things. But this bothered him the most.
Now the carpet layer put a chair in the middle of the room and told James to sit in it. This made James indignant, but he didn't know how to get out of it, so he sat. The carpet layer - let's call him Joe - began, in a loud voice, to do his thing. I believe it was EXORCISM. James was extremely embarrased, because there were people in the adjoining rooms, and this man was LOUD. He confesses, that the greatest fear he had, was that JERRY FALWELL would find out about this! (At this point, the audience laughs.)
James Robison endured the vocalizations of Joe for a long time. The entire time the only fear he felt was embarrasment that people would find out that this lowly man was removing the devil out of him! When it was all over, he felt..............nothing.
He went home to his beloved wife.
Early in the morning, soon after the session, he awoke at four in the morning KNOWING HE WAS FREE! He shook his wife, crying,
"Honey - I'm FREE! I'm FREE!"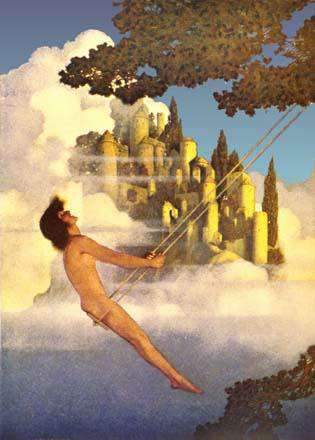 When a person humbles themselves they regain their freedom. James Robison humbled himself before an uneducated carpet layer who did a spiritual treatment on him and freed him up from pretentions, pride and all the evil that follows these vices. Heaven returned to James Robison. He was naked again and flying with joy before The Lord.
Thereafter he became famous for doing the session called "The Chair," which Joe had initiated him in. Numerous ministers received his treatment, some who had to take long trips to see him. He said that a huge number of ministers were addicted to pornography and lust. James Robison's life changed. He quit the intolerant organization that had made him sell his soul out, and the crowds were only a small percent of what he once had. But I assume, that he regained his stature, as when I have seen him on Trinity, he's a well-loved and respected leader.
What had happened to James Robison? Shall I give you my analysis? Basically, he told the true accurate story but I have my own way of looking at it.
James Robison had lost his humility, poverty and perfection; and therefore, he lost his contemplation. He lost the vision of God and the Presence of God. The anointing did not go away because anointings are FOR OTHER PEOPLE and God DOES NOT REPENT His/Her gifts. You can "ride" an anointing while feeling utter misery in your soul; while having lost the union with God that makes life sweet.
James Robison had not become a bad person. He simply slid down from the greatest intimacy with God to approximate friendship. He was FRIENDS but not BEST FRIENDS with The Lord. This is what happens TO ALL OF US when we fall down from that egoless-dead to self state, into that state where our own human flesh rises up TO TORTURE AND TORMENT US FOR THE FLESH IS NOTHING BUT MISERY, AND ALL OUR HUMAN DESIRES ARE MISERY AND BRING HELL WITH THEM, BUT ONLY GOD IS FREEDOM, AND ONLY GOD IS PEACE, JOY AND HAPPINESS AND YOU CANNOT HAVE PERFECT PEACE AND HAPPINESS LEST YOUR RELATIONSHIP WITH GOD IN PERFECT IN LOVE.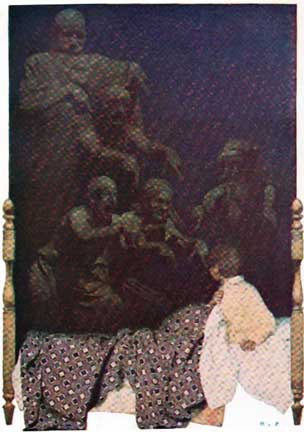 Dwelling or resting in the ego and the flesh brings
addiction to the body and torment to the mind.
James Robison gives us an indication of what happend to make him slide down.
First, he became "important." What is importance? Who is important? The flesh is nothing and God is no respector of persons, and so if youget vain about the friendships you have with persons; if you start measuring your importance by the high company you keep - you have surely offended God. God is a JEALOUS God, meaning God wants you for Him/Herself and God does not want you to put a premium on ritzy friendships. If you do so, you have DEMOTED God from the ultimate, absolute place in your heart. God has to be SO IMPORTANT in your mind and heart, that if the most famous person in the world called you - even the President of the United States - you would count it as NOTHING compared to God. I've been in states like that. First, I was longing and yearning for certain people's love and approval. But then, I regained my intimacy with God. And that person called me and I did not even want to speak with them, lest they interfere with my communion with The Lord. This is where you must be at.
The second clue James Robison gives us is that he was told he could not be friendly with some denominations. It was really spiritual nit-picking, but this organization was now controlling him and he knew WHICH SIDE HIS BREAD WAS BUTTERED ON. So he let go of charity and went with the buttered bread. BEWARE OF ECONOMIC, POLITICAL, AND POPULARITY DECISIONS THAT TAKE YOU AWAY FROM GOD! Once he did that - became cold in charity toward his neighbor - The Lord became cold in charity toward him, in a metaphorical sense. Of course, Our Lord never grows cold, but by our actions, we sever or weaken our relationship with The Lord. It can go from hot to cold or from cold to hot, all depending on our actions and decisions.
What have we learned from all this? When the INTIMACY with Our Lord goes, what is left in its place? We might be good people, even great ministers, but when intimacy leaves, the ego comes back. When the ego comes back, the flesh comes back, and WOE IS ME!
The saints said over and over again, and all good souls repeat, you must be dead to self. You must not have ego. You must not have pride and vanity. Now all of this is difficult to control.
I tell you, to speak to a person with ego is like speaking to a demon. Those who are really set in ego truly are demons. How do you lose this ego? It starts with a decision. The decision of the will lets it go. You release it and all that involves it. You must accept the Cross and all the wounds. You must be willing to suffer and give up all your ambitions and trust in God, knowing that ONLY THE AMBITIONS THAT ARE RIGHT FOR YOU will be fulfilled. It starts with decision, and ends with grace. God's grace will make everything right. When you are empty, God will fill every nook and cranny of your needs and you will know peace and joy.
A WORD ABOUT INTOLERANCE & BIGOTRY
It is a transgression against God to nit-pick about whom you will receive grace through, and it is also wrong to push out of your fellowship persons of other religions. God is a great and infinite God, and all religions lead to Her, and there are many thousands of ways to meet God. We are talking about charity here. If you are stuck on your own religion and it works for you, it does not mean that your religion will work for everybody. There is no such thing. If you try and make yourself EXCLUSIVE you are truly sinning against charity. If you make others feel like outcasts, you are sinning against charity. If you make others feel like they are lowdown dirty sinners, and you are the only clean and righteous one, and you alone know Truth, you are truly sinning. Many of these attitudes harbored by religious person are outrages against God. God loves all of creation, and God loves all people including sinners, and God meets every sinner at his/her need. This is how you must be. Are you love? Or are you a contemptuous, judgemental denomination? If you want to be perfect you will look at others as no better and no worse than you. Let God judge, let God choose. You will pay dearly for judgement and for putting yourself up. Pride goeth before the fall. It is hard to accept everyone, but you must. There is so much prejudice in religion. As soon as I see a religious group talking about how bad "they" - the outsiders - are I recoil. Aimee Semple McPherson, the greatest faith healer who ever lived, never assumed anyone to be a sinner. She was totally open-hearted and non judgemental and loving to all people. She did not label anyone. God does not label anyone. God finds you - wherever you are - at your need. No matter how low and far from God you are, God finds you and makes grace available. God does not look for the brightest egg in the basket to give it grace. God wants to give grace to everyone, and so should you.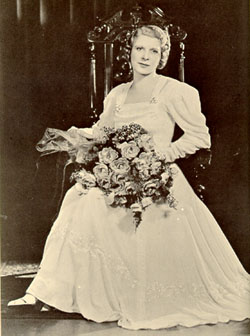 Aimee Semple McPherson, the greatest faith healer that ever lived, never had any bigotry or judgementalism toward anyone. She was supposed to be a fundamentalist but she did not act like one. She loved everyone of all faiths and sent food baskets to all the needy who asked for them. She did not assume that all people were sinners. She was the instrument of Jesus in healing hundreds of thousands of people of severe illnesses and maladies.
Here is another peeve: Some people think God can and will reach them only through some preferred, exclusive place and some special, designated person. Don't close your options off that way. Let God surprize you. God can speak through nature and animals, and God can speak to you through the lowliest person or through the person YOU, not God, labeled a sinner. God can reach you through a person in a religion you despise, if you let it happen. God has many messages for you and if you decide you will receive these messeges only by one messenger and not another, then you could be missing the Word of God. God could "tap you on the shoulder" and you wouldn't even know it. I am always open and mindful that God could be out there ready to speak to me through some situation, person or animal - not always verbally, of course, but through mental and spiritual communication. On some great days of my life I have several sightings of animals, where God is saying,
"This is a great day! Remember it!"
And I do remember it by the sightings of the animals. For instance, the day I owned my own house lock, stock and barrel, all paid off, a mother turkey brought her chicks to my creek, about thirty feet from the house. Then an eagle chased a bird and almost touched my window with its wing! I saw a few deer right in front of me on my path. Since I LOVE nature God reaches me through it. Love everyone and everything and God will not be limited in reaching you.
A WORD ABOUT FORGIVENESS &
BLESSING YOUR ENEMIES
I have spoken of this elsewhere, but need to repeat it here. You will not get very far with God if you harbor hate and bitterness to those who have hurt you. If you cannot PHYSICALLY make up with these people, go ahead and VERBALLY, to yourself and God, forgive them and ask God to help them. It took me a while to say the latter, but when I did, it was a big step.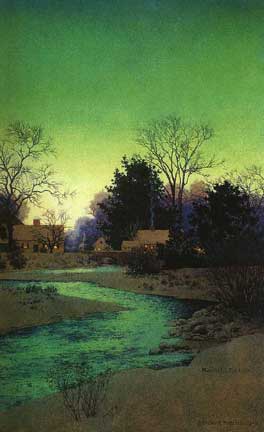 Forgiveness will bring back your peace of mind. Praying for your enemies to come closer to God will anchor you to a state of serenity. Hating your enemies will let pain continue living in your heart and in your mind. You cannot see God face to face if you harbor hate, revenge and bitterness towards those who injured you.
Bitterness, hate and anger hold you down spiritually. It could be that the people who hurt you are scumbags and lowlifes, or just acted completely wrong toward you. Harboring negative feelings does not help anything - it hurts you. YOU MUST ADMIT THE TRUTH about what they did to you, but you must not hate. I think that one of the reasons people have trouble forgiving, is because they think they must say and believe that what was done was ok. WHAT WAS DONE WAS NOT OK. Even if its your own parents. Start with your family. That's always the beginning. If both your parents abused or hurt you, you have to admit that they did. If you don't admit it - then how can you forgive them? There would be nothing to forgive. Usually one parent abuses, and the other stands by or just leaves you there, or does not protect you. They are both wrong. You can know and say they were both wrong because it's the truth. Look at it, admit it and then say you forgive anyway. If you are living in a fantasyland, saying people who abused you did not, that is not forgiveness. That is a delusion. A husband exploited you and lived off you - that's abuse. He was a bum and you were a hard worker. Admit it. Don't stay with him. But when it's all over, admit what he did and forgive him, and forgive yourself for being that dumb or that needy.
One of the hardest things for me was to admit that my father did me wrong. I had idolized him all my life and had him on a pedestal. When I finally faced facts and saw the truth, it released me from that fantasy. I saw some serious parenting flaws. He did not directly abuse me, but he ignored and abandoned me. He left me to my fate which was painful in many ways. No more pedestal for you, Dad. It does not mean I started to hate him, but he was no longer an icon in my mind. I moved on. I was FREE. When you forgive it releases you.

DESIRES ARE LIKE HEROIN
WHY YOU MUST KILL DESIRES
When a person becomes addicted to heroin, they need more and more in order to get a high. Pretty soon the amount they need is so exhorbitant that they go into detox.
They clean themselves out not because they repent of the heroin, but because they want to be clean so they can start enjoying it again in small doses. This cycle can go on forever, until they die. The same for all drugs. Desire is a drug. The more you desire and fulfill or fill up with the thing you wanted, the more you need to fill up. You become a spoiled monster, assuming that your needs are satisfied. This can happen to poor people as well as the wealthy, although the wealthy have more chance to satisfy their desires. You keep filling up on a thing and you need more of that thing. There is something to be said about those who get their needs filled, and then see they are still empty, and eventually realize nothing of this world can fill them up and they turn to God.
The principle of poverty and perfection is that you kill your desires. If you can kill your desires, you need no more to make you happy, and you are grateful for what you already have. This is not easy. Nobody said that seeing God face to face is easy!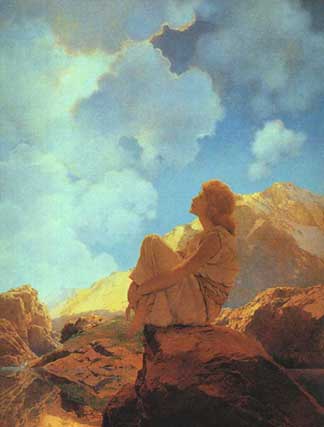 When you let go of earthly desires, God will replace them with gifts and graces you've never dreamed of.
There are many objections you could pose. Aren't people who have no desires bums? Aren't they lazy and sit on their ass all day in the rocking chair in front of the tv? Don't they neglect their duties and live in filth and are satisfied with the hovel they are in instead of improving it? People without ambition are creeps. Who would want them?
Let us define what we are saying more clearly. Your desires and ambitions are rerouted, not ended.
They are now focused on GOD AND THE THINGS GOD WANTS YOU TO DO. God becomes the CENTER of your universe. God is the one you CONSULT WITH and MEDITATE UPON. You run to God every time you must make an important decision, and you CAN hear God because the pure in heart see God and hear God as well. You do not sit in idleness and laziness. You put your energy and focus on God. You pray and meditate a good deal daily. You read spiritual works and you do religious things such as Holy Masses or other important sacraments and rituals of God. If you are able, you minister. You put all of yourself on God. God is first. It does not mean the rest of your life ends. Admittedly, it is easier to focus on God if you are celibate and single. However, it's not impossible to do this when married. It is harder but possible. If your spouse is spiritual you encourage one another and do things spiritual together. You pray together. If your spouse isn't spiritual you find time to pursue these things by yourself. It gets tricky in a family situation because you have so many distractions and things to contend with - also the children factor. But those who are bent on holiness will reach it no matter what the circumstances.
Now your DESIRES become HOLY DESIRES. When you were of the flesh, your desires were of the flesh. Now that you think of God constantly all your desires become spiritual. You cannot see God unless ALL YOUR DESIRES BECOME SPIRITUAL. Banish all else from your mind. Get rid of it. Negate it, renounce it, tell God you don't want it. God will supply the rest. You will need grace and strength to stay on this path. It's not a path you can walk alone by human strength.
A while back I got screwed up trying to pray too much, too hard.
I was saying four rosaries a day, by memory, recalling all the mysteries from Joyful to Sorrowful to Glorious to Luminous. Then I also did the Way of the Cross daily. I really concentrated on the Mysteries. After about six weeks I crashed mentally. My mind couldn't take it any more and I've never said the mysteries since. Why did I crash? Why didn't God help me? Because God didn't want me to strain my mind so hard. God wanted me to, I think, cleanse myself more than strain my brain. When I began to accept the Cross and ask for all the graces of the Passion and Cross, that's when things got better. It led to higher and higher graces. Then I began to renounce my ambition and desires, and it really clicked. It brought me to the highest state I've been in a long time. Look inside you. What is it that you dream about? What torments you? These fantasies feel good for a while, then they become yearnings, then torment. You think,
"I will become happy when this happens, and that happens."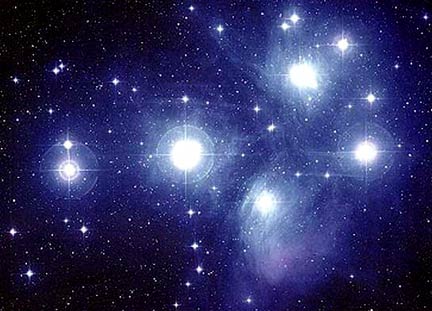 When you release your mind to God you link to Truth & Reality and the pressure of time & space will leave you. In God's world life expands; it does not move in a linear fashion.
No, claim your happiness now. If you look upon THINGS and EVENTS that will make you happy you look at life in a LINEAR fashion and you are caught in time and space. When you give this up and surrender to God you will think in an EXPANDING fashion. Like the Universe, which started with a bang, and has kept expanding ever since, and like an explosion, which bangs and then spreads everywhere, your thoughts will move like that, only peacefully. When you dream it is not linear, although upon waking you remember your dream that way. Your dreams start with a middle and expand outwardly. That is how vision is. It is one thing that expands. Be in that place and you will not feel the squeeze of time and the pressure of space. In the timeless zone there is peace. In the linear zone there is something pursuing you all the time. I know it is not totally possible, to all the time be here. But if you work at it, you can be there more and your whole day can be exalted by contemplation.

THE MISERABLE EGO
WHAT IS THIS THING CALLED EGO?
Probably one of the most miserable states of the mind is the state of ego absorption. It is Hell to the one harboring it and Hell to the one listening or partaking of this person's atmosphere. WHAT IS THIS THING CALLED EGO? It is a delusion, a false representation of identity, a fake, a sore on the soul, a wretch which does not know its true identity. The ego is a conglomeration of false ideas, beliefs and the feelings that follow them. It says I am a person on the material plane, I am good or bad, I am rich or poor by physical standards, I am happy or miserable by the flesh, I am a hurting or jolly person, I am ambitious or down and out, I have a future or none, I have been bad or good - and all this not by God's standards or values, but by the world, the flesh and the devil. This human, deadly standard is death to the soul and horrendous to take part in for all those around them. People of the ego are self centered, focused on self, cannot break through the shell of containment, cannot have empathy or compassion, cannot relate to the pains of others, see themselves as the center of the universe while they are actually in outer space, just drifting along in a fog and a never world which does not connect to reality or anyone else. The opposite of this, the egoless state, is connected to all life and understands that all life is interdependent and needful of each other. The egoless state is in a state of reality and connects with God and the Universe. It does not have fake walls, boundaries or fences between itself and others. It is not proud, vain and does not fly off the handle when insulted. it is almost impossible to insult an egoless person because that person is not in a place you can insult. You insult her body and she is not there. You insult her human activities and she is not there. You insult her relationships and she will not fly off the handle. She is not touchy or sensitive; not thin skinned. Her mind rests in God as Truth. She is on the higher branch. She looks at life objectively and not through subjective, cloaked-over feelings. The egotistical person sees all of life subjectively. This state instantly puts one in a precarious position, as "smoke gets in their eyes," and "all who love are blind."
| | |
| --- | --- |
| | |
| To live in ego is to live in illusion because the ego is a set of beliefs and concepts which are based on the physical and the imaginary. One cannot see God face to face while retaining an ego. | The ego is a Pandora's Box of vices because he or she who dwells in it reacts to life in ways that hurt themselves and others. The ego can be a false mansion or a false pit which a person places themsleves in. |

All who love IN HUMAN TERMS and all who get involved IN HUMAN TERMS GET BLINDED BY THE SUBJECTIVE FEELINGS. Logic is lost in a subjective position. Reason is lost. Decisions are murky. This is how people get conned, mixed up and messed up in relationshsips, business deals and life's travails. Of course it's difficult to see your children and grandchildren objectively, or anything else for that matter - BUT YOU CAN TRY!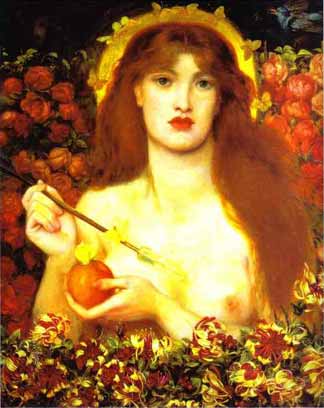 Let us imagine this to be Mary Magdalene, who was one of the great contemplatives of all time. She walked with The Lord as a spiritual spouse; some even think as a physical spouse. Mary Magdalene was the product of a Jewish mother and a Roman prince and owned the city of Magdala with her brother, Lazarus. She was a glamour doll, a bombshell who only realized her spiritual potential when meeting Our Lord, Jesus Christ. Because of her tremendous ability she became the first apostle of Jesus. She and the Blessed Virgin were the rightful leaders of Jesus' church. Jesus said to Martha, "Mary has the better part. Only one thing is necessary and it will not be taken away from her". Sit at the feet of Jesus, meditate on Him: THE CROSS, THE NAILS, THE STRIPES, THE SECRET WOUND ON HIS SHOULDER, THE THORNS AND THE SPEAR IN HIS HEART; this will lead you to seeing God Face to Face.
Consider the saints. Consider Jesus and Mary and Mary Magdalene. Surely the saints were not down in the muck and mire of subjectivity. Think of the holy men (and women) in India who fasted and distanced themselves from the world - sometimes sitting under trees for long periods of time, oblivious to all things terrestrial. They saw (and see) the TRUTH. Think of the PROPHETS of the Old Testament who ALWAYS went off alone into mountains or lonely places and JUDGED the world because THEY WERE NOT OF IT. The minute a prophet lowers herself to the world, she's in danger of being absorbed in it and losing her contemplation. St. Francis of Assisi was a stickler on this. He followed the "evangelical counsels" to a "t." He was given a mountain by a rich man - the Mount of Alverna - but he would not take it. He told his disciples that as long as he did not take the gifts of the world, he would have its respect. The minute he would claim the mountain for himself, it was all over. He was right. There was no LUST FOR OWNERSHIP in him. They went to the mountain and prayed, and that was it. What were they going to do - sell tickets to tourists for it? The LUST OF OWNERSHIP is a PRIDE FACTOR. All these things which separate us from God are deadly: PRIDE, EGO, LUSTS OF THE FLESH AND EYES, ATTACHMENT TO THINGS AND PEOPLE, ADDICTION TO THINGS, PEOPLE, SEX AND PLEASURABLE ACTIVITIES. Now don't blow a fuse. You can have a sweet and pleasant life. I am talking about addictions like something YOU MUST HAVE OR YOU CAN'T FUNCTION. Such things you must FIGHT AGAINST.
YOU CAN BE HOLY WHILE YET IMPERFECT BUT YOU CANNOT SEE GOD FACE TO FACE WHILE YET IMPERFECT.
I do not have to have a miserable life. But if I let my ego take over, I will. I am alone most of the time. If my ego tells me I am lonely, then I am. But if I look at the bright side and absorb myself in God, then I am not lonely. I do think of all the prophets and saints and holy people of all religions who stayed alone. They meditated in caves and wildernesses, and in huts and houses. St. Catherine of Sienna stayed in her family's house IN HER OWN ROOM FOR TWO YEARS. These were the years preceeding her MYSTICAL MARRIAGE WITH GOD. She also received the DIVINE INTERIOR STIGMATA. You may not live in a tropical or mediterranean place where you can sleep in the wilderness. Many areas are too cold to stay outside. And if you are too far away, you may not be able to obtain food and other wants. I FOUND GOD IN A SIXTH FLOOR WALKUP IN BROOKLYN. THOSE WERE SOME OF THE HAPPIEST DAYS OF MY LIFE. In this apartment I sequestered myself for a few months. I had to go out to take care of daily business, but I did not work for a while. I lived off $50. a week - all I could afford. (That was pocket money, outside of money I had to pay for rent and utilities.) I asked my friends and relatives not to contact me for a while. I sensed it had to be so. Sadly, they ALL misunderstood and thought I was shunning them. One best friend went to the verge of suicide because he thought I was rejecting him. Another wrote me a strange letter thinking I wanted her to send me money. She was delusional. It was a spiritual thing I had to do and my intuition kicked in. I had to be alone. In this space I lost myself and I lost my ego. I shall never forget the steps I went through and the results thereof.

Late in 1981 I had gone through a crisis. Within this crisis I understood that THE BEST THING THAT HAD EVER HAPPENED TO ME WAS THE HORRIBLE ABUSE OF MY MOTHER. I never saw it that way before, but now I knew, in a revelation that made me cry for hours, that my Mother's abuse had put me on the same Cross as Jesus, and there on the Cross I united with Him. It isn't the abuse that is holy, but what it leads to when you love God is holy. This vision began to break down my ego.
A short time later I sensed that I was no longer MYSELF - THE SELF I WAS USED TO. I had no idea what this meant, but I was scared. I used to go to confession all the time then, and in a confession I asked the priest to pray for me as I was in trouble. This strange state lasted three days. I had no idea what it was. It was like most of my memory had been wiped out, and I was SUSPENDED IN A SPACE I DID NOT UNDERSTAND. At the end of the three days I can explain to you now - was the complete death of the ego and my old self. On the other side - MYSTICAL MARRIAGE AND SEEING GOD FACE TO FACE. This happened in February, 1982. And in March, I saw God face to face again, even more spectacular than the first time. Many of the souls I had been helping in Purgatory were released. My Dad, my religious mentor, Rev. Verna Talbot, Errol Flynn, and others.
I was FLABBERGASTED by my new state, as I knew nothing about it. I had never read books that explained the other side of the Cross. I did not known what it was like to live AS A SPOUSE OF CHRIST OR AS A PERSON WHO WAS MYSTICALLY MARRIED TO GOD. I DID NOT KNOW ANYONE WHO HAD SEEN GOD FACE TO FACE and the only people I thought had - they had been dead for hundreds of years. And they did not explain what happened AFTER the experience, only what was required to lead up to it. What did I do now? How do I live? How can I relate to the world again? I was in ANOTHER WORLD. I was in Heaven, Bliss and Ecstasy of sorts. I did not have the old ego and the Hell of it. I was not attached to anyone or anything. I was a living, breathing, independent, totally secure and happy person. I could not relate to a single other person in the world because everybody I knew was IN THE WORLD AND OF THE WORLD. This is all they talked about and related to. I knew nobody who wanted to talk about God ALL THE TIME. And it didn't do to try and reach out to those in the Catholic Church. I took my manuscripts to priests and tried to talk to them about God. They looked at me as if I had two heads, as if I needed some kind of psychiatric counselling. I wrote to nuns and they only answered when I sent large donations. (To me $250. was a fortune and that was the kind of money it took to get nuns to talk to me.) I called all the convents, the Universities and places of religious learning, trying to get a friend to talk to. All the men who were heterosexuals were willing to talk - and all wanted to meet me. I felt uncomfortable with this, because I sensed it was going to be a man-woman thing. Finally I did meet one friend, actually later, after the Divine Stigmata. He was a Professor of Spirituality at two leading Universities. We did become friends, and remained so for two years. He was the only person I could talk to at that time.
I RECEIVE THE DIVINE STIGMATA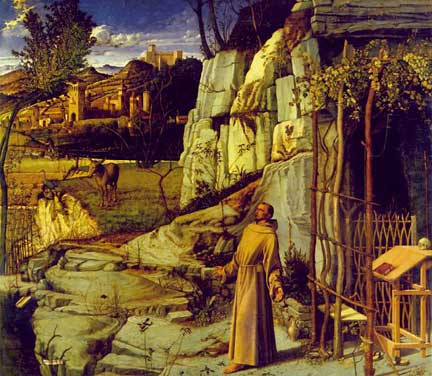 St. Francis of Asisi was the first famous Christian to receive the visible Divine Stigmata. His fame rests on his desire to follow the dictum: "Go, sell all you have, give to the poor and follow me." His wife was Lady Poverty. His most famous devotee and equal in spirituality was St. Clare of Assisi.
After a short time of this bliss, sadly, terribly but wonderfully, I began praying for the DIVINE STIGMATA and to my shock, horror and later joy, I received it on or about OCT. 9, 1982. I DID NOT DREAM THAT I WOULD RECEIVE IT SHORTLY AFTER PRAYING FOR IT. I FELT IT WAS A GRACE ONLY THE GREATEST SAINTS COULD RECEIVE AND I WAS FAR FROM THAT! The DIVINE STIGMATA TOOK AWAY MY BLISS AND ECSTASY AND ALL THE GIFTS OF THE HOLY SPIRIT SAVE ONE: FAITH. I WAS LOST! THIS THREW ME INTO THE 'SHALLOWS AND WASTES OF HUMAN SENSE.' I LEFT THAT BLISSFULL HIGHER BRANCH AND WAS ABSORBED INTO THE LOWER STRATA. I SAW THINGS NOW IN A TOTALLY CONFUSED WAY. I DID NOT LOSE MY BODY NOR SHED ALL MY PHYSICAL BLOOD. I HAD LOST MY LINK WITH GOD - SENSE OF THE PRESENCE OF GOD - AS WELL AS ALL MY SPIRITUAL PROGRAMS. I HAD LOST ALL MY SPIRITUAL BLOOD, SAVE WHAT WAS NEEDED FOR SURVIVAL. AFTER REACHING THE HEIGHTS OF HEAVEN, I WAS BEREFT OF ALL BUT A FAINT MEMORY OF THE GLORY.
Being unable to contact God, what happened next? I could not live alone any more. I was now, once again, dependent on people and the world. I was almost like them again. I had to join the Church Choir in order to see people because I was needy once again. Then, of course, I had to go back to work. That was the hardest of all - but I had no money so I had to work. When I spoke to people of course they thought I was wierd, especially when I kept talking abut Souls in Purgatory. I carried Dante's Divine Comedy around with me, intent on reading the whole thing. I never finished it, but I was closer to his book than I was to any people I was talking to.
Very slowly - because I no longer had the great mystical abilities - I was normalized or reentered into the normal way of thinking. I was never COMPLETELY like others, but I became a reasonable facsimile thereof. I slowly, sadly, wrote the manuscript called,
"SPIRITUAL POVERTY OF OUR LORD JESUS CHRIST."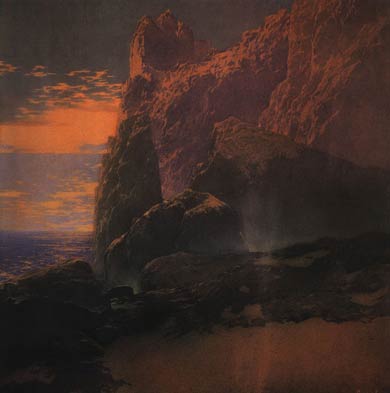 When I received the Divine Stigmata of the Interior kind in 1982 it put me into a Dark Night Of The Soul for 18 years. I lost almost all the gifts and programs God had put into me prior to that. I was thrown back upon my human resources, the shallows and wastes of humans sense for all those years. It was a martyrdom or a Purgatory where I could not feel the presence of God and did not know when and if it would return to me.
It is so good that some people don't believe I wrote it. I wrote it because I was an expert. I had lost everything that I loved and everything that had meaning. This horrendous state lasted FOR EIGHTEEN YEARS. I thought it would never end. The prayer was to know the greatness of the love of Our Lord, which caused Him to sustain such terrible tortures in order to save sinners. But where was the love I was to experience? During those years the love had burned out of my heart. There was no love left. The Stigmata had burned it up. I was left with EGO AND I SUCCUMBED TO THE TORTURES OF IT. I WAS THE FALSE ME. I SUFFERED UNDER SUBJECTIVE FEELINGS AND THOUGHTS. I DID NOT SEE REALITY. I DIDN'T UNDERSTAND ANYTHING. EVERYTHING AROUND ME - MOST NOTABLY PEOPLE - TORTURED ME - BECAUSE I LET THEM. I FELL INTO TRAPS AND PITS. I WAS EMOTIONAL AND TOUCHY. I WAS ANGRY AND DEPRESSED AND ANXIOUS. HELL IS THIS WORLD, WHEN YOU LIVE IN EGO. ALONG WITH HELL CAME ADDICTION TO ALCOHOL. NOT REAL BAD, BUT BAD ENOUGH THAT I HATED MYSELF. THEN CAME OVEREATING AND OVERWEIGHT. THEN I HATED MYSELF SOME MORE, BECAUSE I FELT UGLY. THIS ALL GOES WITH LOSING GOD AND GAINING EGO. I SAW WHAT PEOPLE FEEL LIKE WHEN THEY ARE HELPLESS WITH THEIR TRAUMAS THAT LEAD TO ADDICTION AND LACK OF SELF CONTROL. WHY COULD I NOT CONTROL MY EATING AND DRINKING? BECAUSE I DID NOT HAVE THE STRENGTH OF THE PROGRAMS I HAD BEFORE. GOD TOOK THEM ALL AWAY. IT WAS MARTYRDOM.
At the end of eighteen years of this Hell, God came back. God did not automatically and instantly recover all I had lost. I had to work on it. I had to pay for all the sins I committed in the dark night; the sins of the ego. Seeing all through ego I had committed numerous sins against charity. I repented of these, but now I had to pay for them - the Purgatory of them. All must go through this no matter how much reformation they claim. Karma cannot be changed; it can only be lived out. The "knot" can be untied or forgiven, but the results of them must be lived out through pain. This return of God happened in 2000 and it was not Jesus Himself or Mary that came to me, but He sent Baba Muktananda to "Lighten" me up. After this initial grace, I went into more tortures and sufferings, most probably as payment for sin.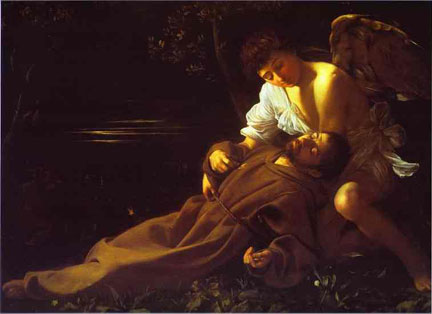 St. Francis lived about 2 years after receiving the Divine Stigmata. It is a grace that can destroy. St. Padre Pio lived with the Divine Stigmata for 50 years. I have had my stigmata for 22 years but only a short time of that has been spent in an illuminated and lucid state. I would like to figure out everything possible in understanding this grace and share it with the people of God.
Only in this year 2004 - am I regaining, once again, intimacy with God through Jesus and all His Fellowship (including saints of all religions.) IT IS NOT EASY TO BE WITH GOD!
Would I go through the Divine Stigmata again now that I know what it entails? Good question. I only know one thing: God will not martyr us more than once. We die once, and that is it. The death of the body is nothing (except for the tortures prior to death) but the death of the Divine Stigmata is beyong anything I ever experienced. Beyond the abuse, the rapes, the humiliations, the anxieties and depressions. It is LOSING GOD. IT IS A PURGATORY ON EARTH THAT YOU DID NOT DESERVE, BECAUSE YOU DID NOT SIN. WHY WOULD GOD LET THIS HAPPEN? FOR BIGGER GRACE, BIGGER ANOINTING. WHEN IT'S ALL OVER YOU GO HIGHER AND HIGHER WITH GOD, BUT OF COURSE, YOU HAVE TO COOPERATE WITH THIS. IT ISN'T AUTOMATIC. YOU MUST PRAY AND DO THE RIGHT THING. IT'S NOT EASY OR INSTANT. I'M WORKING ON THIS NOW, AND SHARING IT WITH YOU.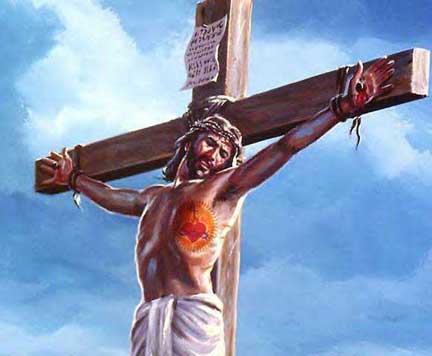 St. Padre Pio
(1887-1968)

St. Teresa Of Avila
(1515-1582)

St. Teresa Neumann
(1898 - 1962)
A word about those who have received the Divine Stigmata, as taken from NewAdvent.org,
Dr. Imbert has attempted to count the number of stigmatics, with the following results:
1. None are known prior to the thirteenth century. The first mentioned is St. Francis of Assisi, in whom the stigmata were of a character never seen subsequently; in the wounds of feet and hands were excrescences of flesh representing nails, those on one side having round back heads, those on the other having rather long points, which bent back and grasped the skin. The saint's humility could not prevent a great many of his brethren beholding with their own eyes the existence of these wonderful wounds during his lifetime as well as after his death. The fact is attested by a number of contemporary historians, and the feast of the Stigmata of St. Francis is kept on 17 September.
2. Dr. Imbert counts 321 stigmatics in whom there is every reason to believe in a Divine action. He believes that others would be found by consulting the libraries of Germany, Spain, and Italy. In this list there are 41 men.
3. There are 62 saints or blessed of both sexes of whom the best known (numbering twenty-six) were:
• St. Francis of Assisi (1186-1226);
• St. Lutgarde (1182-1246), a Cistercian;
• St. Margaret of Cortona (1247-97);
• St. Gertrude (1256-1302), a Benedictine;
• St. Clare of Montefalco (1268-1308), an Augustinian;
• Bl. Angela of Foligno (d. 1309), Franciscan tertiary;
• St. Catherine of Siena (1347-80), Dominican tertiary;
• St. Lidwine (1380-1433);
• St. Frances of Rome (1384-1440);
• St. Colette (1380-1447), Franciscan;
• St. Rita of Cassia (1386-1456), Augustinian;
• Bl. Osanna of Mantua (1499-1505), Dominican tertiary;
• St. Catherine of Genoa (1447-1510), Franciscan tertiary;
• Bl. Baptista Varani (1458-1524), Poor Clare;
• Bl. Lucy of Narni (1476-1547), Dominican tertiary;
• Bl. Catherine of Racconigi (1486-1547), Dominican;
• St. John of God (1495-1550), founder of the Order of Charity;
• St. Catherine de' Ricci (1522-89), Dominican;
• St. Mary Magdalene de' Pazzi (1566-1607), Carmelite;
• Bl. Marie de l'Incarnation (1566-1618), Carmelite;
• Bl. Mary Anne of Jesus (1557-1620), Franciscan tertiary;
• Bl. Carlo of Sezze (d. 1670), Franciscan;
• Blessed Margaret Mary Alacoque (1647-90), Visitandine (who had only the crown of thorns);
• St. Veronica Giuliani (1600-1727), Capuchiness;
• St. Mary Frances of the Five Wounds (1715-91), Franciscan tertiary.

4. There were 20 stigmatics in the nineteenth century. The most famous were:
• Catherine Emmerich (1774-1824), Augustinian;
• Elizabeth Canori Mora (1774-1825), Trinitarian tertiary;
• Anna Maria Taïgi (1769-1837);
• Maria Dominica Lazzari (1815-48);
• Marie de Moerl (1812-68) and Louise Lateau (1850-83), Franciscan tertiaries.
Of these, Marie de Moerl spent her life at Kaltern, Tyrol (1812-68). At the age of twenty she became an ecstatic, and ecstasy was her habitual condition for the remaining thirty-five years of her life. She emerged from it only at the command, sometimes only mental, of the Franciscan who was her director, and to attend to the affairs of her house, which sheltered a large family. Her ordinary attitude was kneeling on her bed with hands crossed on her breast, and an expression of countenance which deeply impressed spectators. At twenty-two she received the stigmata. On Thursday evening and Friday these stigmata shed very clear blood, drop by drop, becoming dry on the other days. Thousands of persons saw Marie de Moerl, among them Görres (who describes his visit in his "Mystik", II, xx), Wiseman, and Lord Shrewsbury, who wrote a defence of the ecstatic in his letters published by "The Morning Herald" and "The Tablet" (cf. Boré, op. cit. infra).
Louise Lateau spent her life in the village of Bois d'Haine, Belgium (1850-83). The graces she received were disputed even by some Catholics, who as a general thing relied on incomplete or erroneous information, as has been established by Canon Thiery ("Examen de ce qui concerne Bois d'Haine", Louvain, 1907). At sixteen she devoted herself to nursing the cholera victims of her parish, who were abandoned by most of the inhabitants. Within a month she nursed ten, buried them, and in more than one instance bore them to the cemetery. At eighteen she became an ecstatic and stigmatic, which did not prevent her supporting her family by working as a seamstress. Numerous physicians witnessed her painful Friday ecstasies and established the fact that for twelve years she took no nourishment save weekly communion. For drink she was satisfied with three or four glasses of water a week. She never slept, but passed her nights in contemplation and prayer, kneeling at the foot of her bed.

THE MOST BORING &
DREADFUL PEOPLE ON EARTH
Without a doubt, these are the egomaniacs. Just to prove the UGLINESS of ego think of these dreadful persons accosting you, calling you, and wearing you out for a time. They do not talk, they vent. They want only one thing from you - to listen to them. I have known enough of these creatures to know what it feels like to be their victim, and I apologize to God for having been like them. These people do not communicate, because they are not interested in you at all. If you tell them anything about yourself, it is only food for outrage, jealousy, condemnation, judgement and all the negative feelings. They listen for a short time and go back to their own self. The things you tell them they will harbor with ill will, and throw them at you later. Everything you say can and may be used against you.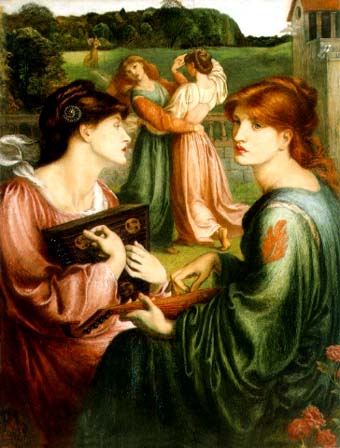 Those who talk only about themselves and think only about themselves are the most boring people on Earth, especially if those interests only have to do with superficiality and terrestrial subjects. To dwell upon things of the world only is vanity and a waste of time. These people who live in ego have a dreadful inner state.

Communication is something totally different. Each one listens to the other, and tries to relate and shed light or understanding on what the person is saying. Not so with the egomaniac. You are supposed to just stand there or sit and listen to them endlessly. Every word they say is fascinating - to them - because it is about them. Everything you say is bad, because it is about you. They have no identification with or interest, or empathy with others. They stand there like bawling babies either bragging or complaining. It's all that and nothing else. They want you to be impressed with them or sorry for them, nothing else. I have known many of these people. I have noticed that when they get through with me, I have a feeling of sadness and depression. Only today I broke through to why that is. For a long time I thought it was because they had offended MY ego, because they would not listen to me, and it was proof that I had an ego problem myself. But I was too hard on myself. Today it was shown to me by God that what I was picking up was their sadness and depression.
An egomaniac has no center, no foundation and no security. They are floating in the outer space of their mind. They are miserable wretches and they need constant pablum, baby food and pacifiers for their FATHOMLESS NEEDS. You got it - there is no bottom to their need, and they use people as GRATIFIERS for need. They cannot help anyone (except in an incidental, casual or marginal way) because they have no SOURCE OF SUPPLY, WHICH IS THE INFINITE FOUNTAIN OF LIFE. They are spiritual zeroes, and this could include ministers who are messy in their minds, and leaders who are not there to help but control others. If you are to ever give anything up, before food or drink, let it be ego. If you can beat ego you have beaten your worst enemy. The yogis concentrate on ego because NOTHING SPRIRITUAL CAN TAKE PLACE IN THE PRESENCE OF EGO. THE EGO BLOCKS OUT ALL THINGS SPIRITUAL. Every guru has the task OF BREAKING THE EGO OF THE DEVOTEE. This takes years. Muktananda's ego, when he was middle aged, took Nityananda NINE YEARS TO BREAK. After that, Muktananda became a great saint. But Nityananda could not fill him with grace, and the coruscating light transmitted through his eyes, until Muktananda relinquished his ego. Muktananda, a real he-man type, was arrogant. He thought he knew everything. This had to end for him, and for all of us. We have to EMPTY OURSELVES in our own minds, and our minds have to be surrendered and given up to the Infinite Mind of God.
HOW ARE EGOMANIACS CREATED?
There are two ways that egomaniacs are created, insofar as I understand it. One is they are born that way, and two is they are made that way. The born ones are like "The Bad Seed" and are the most difficult, if not impossible, to change. These would be called "psycopaths" or "sociopaths." They are incapable of caring about others, and everyone is fair game for their needs, for everyone is an object, not a person, to them. The second type are those who are driven into this condition by trauma and abuse; by mental, emotional and physical abuse. Ridicule, humiliation, constant put downs, neglect of their needs as children; these are all pains that can turn one into an emotional cripple. This can be undone with great work. I have been one of these walking wounded, to some degree, (although I have always had a good heart,) and after God came back to me, I can see this state better.
These - people who were made that way - can be holy souls; but their souls are battered and bruized. By the grace of God they can find their way back to reality and happiness that only God can give. I know the world believes in therapy, but that is only part of the answer. It's a good part, but it does not bring the grace of God to you. If you UNDERSTAND what is wrong with you, it helps a lot because you can step aside from your problem and see it objectively, to some degree. But no therapist, unless they be a holy soul, can fill you with the Holy Spirit or Shakti Kundalini, which is the final releasing, healaing experience. None of these remedies is instant nor do they come easily. (Even when you are anointed for ministry, the anointing may be instant, but adjusting to it and using it with facility takes time. It is like using new arms and legs.)
LETTING GO
HOW HARD IS IT TO GET RID OF EGO?
If you understand it, it's easy. It can be instant. If you don't understand it, it takes forever. Like any skill, such as riding a bicycle, or typing, or using a telephone or computer, the basics are easy and you can do it. But you have to have a little guidance, and practice, and practice some more. The great Ramakrishna, an avatar who is now represented by the Vedanta Press in Hollywood, said the ego always comes back. Think of it as a spiritual disease for which you must take lots of remedies and preventive exercise.
MARY'S PROGRAMS
THE GRACES NO ONE PRAYS FOR
I was watching Eternal Word Network, and its founder, Mother Angelica, was doing her show. (God bless this wonderful woman. I love her so much, because she IS love. She's just as great as St. Teresa of Calcutta. Two years ago she had a stroke and is not able to do her show any more, but in her suffering I'm sure God's using her to save souls from Hell and deliver them from Purgatory.)
Mother Angelica was speaking about "the graces no one prays for," but she acted as though she didn't know what they were. I longed to speak to her and tell her. They are graces she herself has.
Many years ago - perhaps mid 1981, I heard, through a priest, about a stigmatist named Brother Gino in Italy. (Later he was ordained a priest...one of the few good ones, I wager.) This priest was selling tapes about Bro. Gino and I bought a few of them. When I received them they smelled, just like the priest said, of the holy odor of sanctity. It was not perfume. I've smelled various smells of sanctity before - even my own once - and there is a 100% difference.
Poverty, Chastity and Obedience are the Evangelical virtues. They are the graces no one prays for. Instead of praying for these great gifts, people want fame and fortune, health, wealth and glory; the opposite of what will get them into Heaven. If you want to see God Face to Face get rid of the comforts and luxuries you don't need and ask God to give you gratitude for what ever little you have. Be grateful for your handicaps, your sufferings, your loneliness and look upon these as windows of opportunities which bring you closer to God. This is how you will be able to see God Face to Face. The "Pure In Heart shall see God." Who is pure at heart? Those who have the following which are identical or similar: Poverty, Chastity, Obedience, Humility and Perfect Love.
Bro. Gino told a story of seeing Our Holy Mother in a vision crying, and he asked her why she was crying. She said it was because she had graces that
"NO ONE PRAYS FOR."
Bro. Gino prayed for them, but did not explain what they were.
Every day I began praying for these graces, asking Mary to give me what "no one prays for."
Having no idea what these graces were, I was curious as well as hopeful.
What followed was one of the signal meetings of my life. One day I stood, facing a picture of the Sacred Heart of Jesus hanging on the wall, praying the Holy Rosary.
On the opposite side of the wall hung a picture of the Immaculate Heart of Mary. I felt Mary calling me to turn around. I did so. As I turned to Mary, the atmosphere in the room became rarified and filled with Blue Light. This had happened before at the high points of vision and it means I am about to receive a big grace.
Our Holy Mother spoke to me from the picture. She was incredibly sweet and humble and eager to tell me something. She said,
"DO YOU LIKE THE RINGS MY SON GAVE YOU?"
I said,
"Yes, Mother....What more could anyone ask for?"
She said,
'I HAVE MY RINGS TO GIVE YOU, TOO.'
"What are they, Mother?"
I asked.
She said,
'THEY ARE THE GIFTS OF POVERTY, CHASTITY AND OBEDIENCE.'
As she said this, I saw around my middle three rings like luminous ropes, and the end of them extended into the sky, like God had a hold of me by these ropes.
They were a sort of luminous grey. I asked Our Holy Mother the meaning of these graces, because I wanted to hear from Her what I thought I knew, but wanted to be sure I knew.
About POVERTY, She said,
'DO NOT BE ATTACHED TO ANYTHING BUT GOD.'
About obedience She said,
'OBEY EVERYTHING YOU KNOW OF THE TEACHINGS OF MY SON AND MYSELF.'
I did not ask about chastity as I felt I understood it. I then laid out to her all the religious projects I wanted to do. She listened patiently. At the end, She said,
'I WILL COME FOR YOU WHEN YOU ARE FINISHED WITH YOUR WORK.'
Then she was gone and the room became normal. I had just received one of the greatest spiritual visitations of my life, and I had received THE GRACES NO ONE PRAYS FOR. GLORY HALLELUJAH! HOLY GOD, YOU ARE A GREAT AND MERCIFUL GOD! YOU GIVE THINGS I DON'T DESERVE AND YOU LOVE THOSE WHO DO NOT SEEM TO DESERVE THIS GREAT LOVE!
Now consider this, and this is what maddens me and pisses me off about people. What fools these mortals be! How many people would pray for poverty, chastity and obedience? What they pray for is health, wealth and glory. Just the OPPOSITE of what will get them into Heaven.