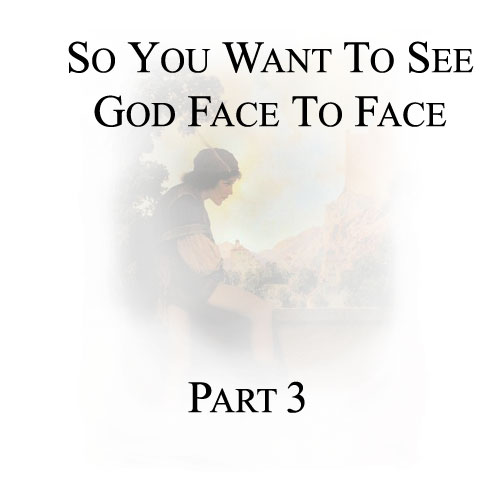 DRAWBACKS TO THE
FACE TO FACE EXPERIANCE
I have said much about addictions and attachments. We need some specifics here, as most people are unaware of or in denial about their situations. Some things come to mind. The first is television. People have no idea how much television they watch and they do not measure how it depletes their ability to meditate and pray. The only time I watch television is when I CAN'T meditate, and after I've said all my prayers. If I am in a contemplative mode or sadhana, I almost never turn it on. To turn it on would be TO TUNE GOD OUT. It is not an evil thing - unless you are watching things that are a total waste, but it is not the road to perfection. Like many items, it's one of those things the chopping block has to hit on the way to deepest intimacy. If you are on a sadhana (discipline) and are having dreams and visions of God nightly - leave it alone. It can hurt your state. If you are in an intermediate state, watch it for information, inspiration and even entertainment. But do not get addicted to it - NEVER get addicted. My late husband Richard was addicted to it, and other wives have told me about their husbands being exactly the same. This is the scene:
As soon as he gets up in the morning, he goes for the television, and drinks his coffee watching it. This goes on till he has something to do. Whenever there is a LULL or nothing specific going on, he turns on the tv. He'll watch anything - a channel "surfer." It's whatever. He just has to watch, transfixed. What is happening here? He's filling up a mental void WITH THE THINGS OF THE WORLD. Is this a sin? Not all the time. But if you are trying to see God face to face, it will deter you.

I know there are some times when a person needs to be less than perfect, and needs to even drink and overeat and have entertainment. These are low times, intermediate times and seasons where you can 't take it any more. Sometimes, being in a state of perfection isn't possible. But this article is especially written for those who are ready for the DEEPEST INTIMACY WITH GOD and will do anything to get there. Here you have a bugle call from God, and the sound of it that you hear may not be heard by anyone else. You have rules that other people don't follow. You have the rules of the saints.
If you want to be intimate with God you must make sacrifices.

Painting: L'Amour by Gustave Klimt
When the devil finds out you are on the verge of perfection, he may try to trip you up with some simple things - tiny little addictions that will mess you up just enough so you don't reach the goal. Television could be one of them. Maybe at times, it was ok. But not now.

People have trouble admitting they are addicted to television. There is a certain SEASON in your contemplative life when God is calling you to deepest intimacy, and for that state to happen you have to LISTEN attentively, and FOLLOW obediently, and go DEEPER AND DEEPER INTO YOURSELF, WHERE GOD IS. Television, or any outside diversion, can interfere with this great grace.
WINNING THE GOLD MEDAL
They have three kinds of medals in the Olympics, the Bronze, Silver and Gold. We are talking about Gold here. Does the winner of the Olympic Gold Medal live by the same rules as anyone else? You know instantly that they DO NOT!
Does an Olympic champion (even those who MAKE IT to the Olympics and don't even win a prize) live the same as other people? Does a great champion of any sort live like others? Of course not. You are a champion, or going to be, of God. You cannot live like them. If you do, you'll be like them.
OK. We made that point. So what does a champion do? He/she lives in DISCIPLINE. They REFRAIN from certain things that are bad (even if they are not SINS) and they do other things that are NEEDED even if the ordinary people think this is ALL TOO MUCH, FANATICAL AND UNNECESSARY. Let the ordinary people do what they want to do. You are the champ. The champ is different. Saints were champs. They refrained from most of the "pleasures" of life other people wallowed in, or wanted to wallow in. They did other things that were good - A LOT - like PRAYING. They REFRAINED and they DISCIPLINED. Why? Because they liked to suffer? No, because they wanted to see God face to face. Or at least, feel the Presence of God. They gave up the smaller pleasures to attain the ONE BIG PLEASURE, THE PLEASURE OF SEEING GOD, BEING IN HEAVEN ON EARTH AND RECEIVING ALL THE TREASURES THAT GOD GIVES THE SOUL.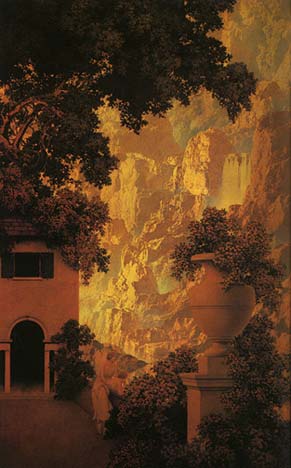 The joys of Heaven are worth any sacrifice you make.
Painting: Sunrise by Maxfield Parrish
I must add here, even when you do attain God, it is not constant ecstasy every day. I have attained God, and it is a road of variations. Sometimes there is ecstasy or bliss. But sometimes you have to DO GOD'S WORK, which is REPARATION FOR SIN. It takes a champion to do reparation for sin, because you are called upon to work and SUFFER to cleanse the sins of others, (especially those in Purgatory.) Does that sound too horrible for you? It is not so bad. I do it ALL THE TIME and you suffer, and it passes. God rewards you with visions and dreams, and consoles you, and you know you are a PARTNER with Jesus Christ. I'd rather be a partner with Jesus (or anyone else God sends me) than with anyone else I can think of.
It is not CONSTANT JOY but it is like ANY RELATIONSHIP. For those who are HAPPILY MARRIED you know what I mean.

You married because you loved one another. You hoped for the best, but you knew there would be hard times. Sometimes the going is real hard. But you stick it out for love. When one is down, the other comforts her. If you are both down you try and get through. Many hardships hit you, and over the years, the relationship gets stronger and your love gets more spiritual and real. It's not kiddy infatuation, it's MATURE LOVE. Same with God. They call "baby Christians" those who first meet Our Lord, and are infatuated. They've not yet matured. Hard times are coming. Some Christians, who did receive Our Lord, fell away. They got cold or lukewarm. It's a rocky road. Just because you were once in love, doesn't automatically mean you'll stay that way. Spiritual love is so different than earthly. I know I was in love HUNDREDS OF TIMES in the flesh. It usually lasted THREE MONTHS. It would take me three months to get to know the guy, and when I saw how sleazy he was, I despised him. That's earthly love. You love a human being, who is imperfect. You projected fantasies onto that person. You imagined he was something he's not. He turns out to be just another pig. He's sleazy and cheap and selfish. You don't want him any more. That's earthly feelings, and earthly reactions. You loved in an earthly way, and now it's over. But real love isn't like that. God's love loves all, no matter how they are and who they are; the good, the bad and the ugly. God wants everyone to come closer to Her/Himself. But in earthly terms, you love because you imagine someone is so great. When you find out they are miserable, you are completely turned off. Infatuations are not based on spirituality. One of the reasons saints give up physical love and affection, especially romance, is because it's fickle and it's unreal. It's a lower form of love. It isn't love at all, it's desire and delusion.
Loyal married people stand the test of time and stay married and loving no matter what. Thank Our Good God that She/He is NOTHING like a human. As you train yourself to move toward God with all your mind, and all your heart, with all your soul and all your strength, you will not go unrewarded. You will never find out that God is sleazy or cheap, or selfish. In fact, God is the only one who will NEVER let you down. It is IMPOSSIBLE for God to let you down! Therefore, if you place your bets on God, and work toward God, YOU CAN NEVER LOSE. All other gambles you can lose, but the ONE THING you can NEVER lose on is God.

Another thing that people are in denial of is sex. They say they're not addicted, but they have to have it regularly, with either a partner or their hand. You heard me. Let's admit what goes on between the sheets. I've had lots of guys tell me they're celibates but their hands were busy. Sex is SEX DESIRE, A RAGING CHEMICAL REACTION THAT GOES FROM BRAIN TO GENITALS AND SAYS YOU HAVE TO HAVE RELEASE. I TELL YOU THAT YOU HAVE TO TRAIN YOUR BODY TO FORGET SEX. YOU HAVE TO STOP THE CHEMICALS THAT GO BETWEEN BRAIN AND ORGANS. OTHERWISE YOU ARE NOT FREE OF SEX, WHATEVER WAY YOU GET YOUR RELEASE. IF YOU HAVE TO MASTURBATE REGULARY YOU ARE NOT FREE OF SEX.
Now you say,

"Wooh, Nellie! You are going too far. You said sex wasn't a sin, and masturbation wasn't a sin, but now we can't do it...what's going on here?"
What's going on is that a CHAMPION refrains from things OTHER PEOPLE ARE ALLOWED TO DO. Here I must add in fairness and honesty - sex takes a long time to give up, and you have to WANT TO give it up. Most people don't want to, or believe they CAN'T for various reasons, and so, that is that. But you, the champ, are different.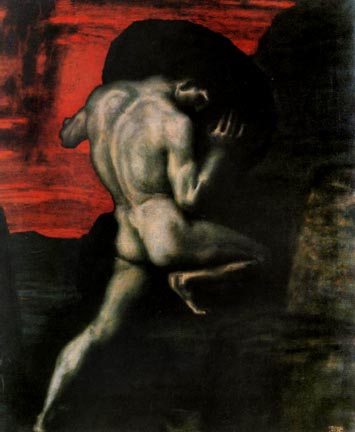 One of the most difficult virtues to attain is celibacy. It takes 12 years of almost total abstinence for the sex drive to disappear. The first step is to stop having sex with partners and the second step is to ease away from masturbation. In this picture of a man pushing a rock up a mountain, you see the difficulty. When you struggle against sex eventually God will kick in the grace and the grace will guarantee your ascent to freedom.
Painting: Sisyphus by Franz Von Stuck


A word of consolation here. You go a few steps, and God will kick in the grace. I tried for years to become celibate and found it extremely hard. But I kept trying, intent that some day I could do it. The time came, one day, when it was right, and Our Holy Mother appeared to me and asked me to take the vow. I did. I am 100% convinced that the ONLY REASON I was able to keep the vow was because of THE GRACE OF GOD BY WAY OF OUR HOLY MOTHER. When I saw God face to face, I had taken the vow only four years prior, but the grace was so strong I did not feel any sex drive at all, for some time. (I cannot remember how long... maybe a year.) I also have to admit the following - this vow is not for everyone. There are some who aren't ready for the vow and might never be ready. God has to help you with this. I have been told by an experienced person that some people would become SICK if they had no sexual release. My advise and wisdom on this is YOU CANNOT FORCE A HORNY PERSON NOT TO HAVE SEX. YOU HAVE TO STOP THE SEX DRIVE, AND THAT TAKES YEARS. I ALSO HAVE TO ADMIT THAT THE FIRST STEP IS TO STOP HAVING SEX WITH PARTNERS. DO NOT TRY TO STOP MASTURBATION SUDDENLY, OR YOU COULD GET INTESTINAL PARALYSIS, SUCH AS I DID FOR SIX YEARS. OVER THE YEARS YOU TRY, SLOWLY, TO OVERCOME THIS URGE, AND BIT BY BIT, IT WILL GO AWAY. YOU WILL BE FREE AND IT WILL BE ONE OF THE GREATEST GRACES YOU EVER EXPERIENCED.
We've covered some scary issues here - wow - giving up tv and sex!

Let us be honest with ourselves here. Can you imagine a horny saint? All those that you know were saints and are saints - can you imagine them filled with lust?

Can't you see how that would interfere with their ministry, their prayers and their relationships? A lustful minister or priest would be a dangerous one - unless married, and getting enough there. I can tell you that you must look at others without lust, seeing them as brothers and sisters as well as your children, if you want to be a good minister. You cannot see people as sex objects and minister to them properly.
Although sex is not evil, it can be a serious impediment to seeing God face to face.
PUMPING VEINS FULL OF AFFECTION
There is another addiction we must consider, and that's EMOTIONAL ADDICTION. There are people - grownups, not children - who can't live without their FAMILY AND FRIENDS. I am by no means saying family and friends are a problem, or a sin. They are important ON THE ROAD TO DEVELOPMENT. Doesn't a baby need a family, and an adolescent friends? And in normal life, family and friends are a bond that makes life palatable. But listen carefully: We are not talking normal states here. We are talking BEATIFIC VISION. WE ARE TALKING ABOUT SEEING GOD AS GOD IS WHICH CANNOT HAPPEN LEST YOU DIE TO SELF AND BECOME SPIRIT, EXACTLY AS GOD IS. YOU CANNOT SEE GOD LEST YOU, IN A SENSE, BECOME GOD. (Christians will go wild at that statement, but all adept yogis know exactly what it means.)
You may not be addicted to sex, but if you cling to family and friends you CANNOT attain beatific vision. Muktananda spoke wisely about this. He spoke about guys he met wanting to be his brothers. Then he made a remarkable statement, something like this,

"I left my family and brothers because I sought God, not because I sought other brothers."

He qualified that by saying, and rightly so, that ALL PEOPLE WERE HIS BROTHERS AND SISTERS... After all, we are people of the spirit, not the flesh. Jesus said the same thing when they told Him His Mother and brothers were seeking Him, and He said, in so many words,

"Who is my Mother and my brothers? Those who hear the word of God and obey it."

He was making a point, not putting down His Mother. After all, His Mother was the Greatest of the Greats, a full Avatar like He. He was simply stating that we are people of the spirit, united in spirit, not flesh. His Mother, of course, was as united or more united than anyone there and was the top leader of the Christian Church along with Mary Magdalene.The two great women of His life were: Mother of Him and all His disciples, and Spouse of Him (even if it was spiritual rather than physical....who knows about the physical, it could have been,) and SPIRITUAL SPOUSE TO ALL HIS MALE DISCIPLES.
In the lives of the saints, you will find them to be LONE BIRDS. Most, if not all, LEFT THEIR FAMILIES. Who knows why some of them left? Did some of the women, and men, leave because of abuse; sexual and otherwise? If they did leave for that reason, they did not leave to seek other liaisons of the flesh where they could be abused again... It usually takes a BIG KICK IN THE PANTS FOR US TO LEAVE HOME. We mortals want to hang around the nest a long time. Pain makes us go. The legends of the saints leave a lot out. Up until recently chronic abuse of males against children was not talked about. Most of the crimes of men were hushed up. Now we're allowed to talk about them, because MATRIARCHY IS ON THE SURGE. Why did most, or even all, of the saints leave home? Even when they were not abused, THEY WERE SEEKING SOMETHING SPIRITUAL THAT THEIR FAMILY COULD NOT GIVE, THAT THEIR FAMILY COULD STAND IN THE WAY OF.
You cannot be attached to people and things if you want to be in a state of Perfection. You can HAVE people and things in your life, but you cannot hunger, thirst and burn for them.
Painting: The Rooster by Marc Chagall

Where did they go? Some went to monasteries and convents. Some went to caves. Some worked at jobs - whatever kind of jobs you could imagine, from big time jobs to the smallest - and lived in an environment WHERE THEY HAD A CHANCE OF SEEING GOD. For me, as I said before, it meant a sixth-floor walkup in Brooklyn. I quit work for months and lived modestly, hoping to sustain myself long enough to become fully intimate with God. Little did I imagine, then, that this would lead to MYSTICAL MARRIAGE AND BEATIFIC VISION!
If you are still clinging to the flesh you are not ready for the ultimate experience of God. I must make one other disclaimer - there is a chance you have already seen God face to face, and you have received the Divine Stigmata, and you are in a dark night of the soul of one sort or another. During such times you go through all the torments, and even quasi-attachments of the flesh. It's like the world, the flesh and the devil come back to haunt you, to test and torture you. I do not make any quick judgments of who is out there. I've seen enough priests putting themselves down, and putting the audience down as well saying stuff like,

"But you and I are not like the saints....we have not attained such heights, etc."

HEY PUTZ - (God told me I could talk this way) - JUST BECAUSE YOU HAVE NOT ATTAINED THE HEIGHTS, DOES NOT MEAN THERE ARE NO PEOPLE OUT THERE WHO HAVE!) How does this priest know who's out there? He has every right to put himself down because he knows himself. But he does not know every member of the audience that is listening to him!
I know the chances are SLIM that somebody reading this has attained Mount Carmel - yet I know the world contains SAINTS at all times, and these saints have SAINTLY EXPERIENCES. These people, like myself, may be completely unknown and unrecognized by the Catholic Church or by any Church, yet they are fully recognized and active in the UNIVERSAL CHURCH OF GOD.
Again, I state that even after having had the HEIGHTS of mystical union with God, you may fall down, for one reason or another, into the shallows and wastes of human sense, or into the quagmire of worldliness. But rest assured, you will regain your programs. God is dealing with you for Her/His own reasons, those reasons always having to do with grace. You could be one of those rare souls reading this who has gone through that.
Now as far as the regular souls who are beginning the last stages of the ASCENT OF MOUNT CARMEL, WHICH IS PERFECTION, I continue asserting that people who are looking to pump their veins full of human affection are not going to make it to the top.
HOW TO GIVE GOD ALL YOU ARE &
ALL YOU HAVE IN THE FINAL STAGES
OF PERFECTION
First, you must give God all your MIND. Muktananda wrote a long chapter on the mind. He said it's great that your mind is RESTLESS because it cannot find rest until it finds it's perfect place. Would you want it to stop anywhere else? He spoke wisely about the importance of the mind. THE MIND AND THE WILL ARE THE TWO MAIN OPERATIVE PARTS OF YOU, AND THEN THE HEART FOLLOWS. What a blessed and wonderful and decisive thing the mind is, and how it can take you to Heaven or Hell! What is your mind thinking? Your heart will follow. Therefore, if you train your mind, you will train your heart. Tell God,

'OH LORD, TAKE MY MIND. IT IS YOURS.'

When you've said that, you cannot double talk and waste your mind on trivia, gossip and entertainment. You need to attend to those things that point to God. You are now close to the top of the mountain and it's no time to look down and daydream. Push hard, full of zeal, because it isn't long or far to go. Now say,

'OH LORD, TAKE MY HEART. I GIVE IT TO YOU. IT IS ALL YOURS.'
Having said that, you cannot start calling friends and family for chats having nothing to do with God! You cannot call your ex to see what he or she is doing! This FINAL ASCENT is a thing to behold. It has no HALFWAY MEASURES. St. Teresa of Avila cautioned against those "innocent" conversations through the grill. They weren't innocent at all, and gave her disquiet. I feel the same way after returning a phone call or e-mail not about God, and sometimes, after watching tv not about God. Whatever INVADED MY MIND WILL NOW DANCE AROUND IN MY HEAD AS I TRY AND MEDITATE. It doesn't ALWAYS happen. Sometimes I can talk to someone and completely forget it as soon as we're finished. The most DANGEROUS conversations are the ones which evoke your EMOTIONS. If the world, flesh or devil can enter your emotions, they have entered YOU. They have climbed over the wall of your protection, broke a chink in your armor or stormed your gate. They got inside. THIS IS WHY FAMILY IS SO DANGEROUS; IT'S ALL ABOUT EMOTION. Now you have just given your HEART to God. If God has your HEART, then your heart, the seat of emotion, has to stay in God. If it moves or drifts away from God and REACTS to someone or something else, it has diminished it's focus on God. Then it isn't His.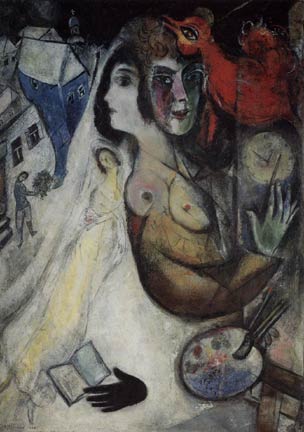 When you get married to God you cannot hold anything back. If you do part of you will not BE united to God. You have to give God all you are and all you have.
Painting : The Black Glove by Marc Chagall

Now pray,

'OH, LORD, TAKE MY STRENGTH. IT IS FOR YOU.'
In life, everything takes strength. If you work hard, it takes strength.

I am not saying you shouldn't work. Work all you have to, but don't waste your energy after work is done. I know you need recreation also, but don't overdo it at this time. Conserve your bodily energy and don't use it all up. Make sure you have strength left for prayer and meditation. Don't yell at me, saying you don't have time. Work on having time. Pray on having time. It's hard, but you can do it! I myself, right now, am having a hard time, even though I do not have to work for other people. I work on the Church Site about six days a week. I try and do all my chores and pray a lot, but I am falling short. For months I tried to discipline myself, but I was NOT succeeding. It's a conflict between Church and prayer. Prayer was losing. But now I'm buckling down harder than ever. I know I need AT LEAST two hours of solid prayer a day to reach my goal, and when I'm at my zenith, it's all day prayer, with chores squeezed in between. When I am in a state like that, I don't even feel the chores or the pressure of time/space around me. That's not easy to get into, but I'll do it, because God is helping me. Whenever you can't do a thing you want to do - ask God to help you do it. Now pray,
'LORD, TAKE MY BODY. IT IS YOURS. YOU GAVE IT TO ME AND I PUT IT AT YOUR DISPOSAL.'
In this prayer, you must be mindful of your HEALTH AND WELL BEING. The body is a blessed thing, not to be abused. Are you taking care of your body? Are you eating healthy foods, and refraining from anything harmful? Are you treasuring this body God gave you? The body is the instrument of salvation. Love the body! Loving it and indulging it are two different things. Exercise, healthy food (does not have to be expensive) and PLENTY OF REST are what you need. Take note: you can WASTE the Shakti Kundalini by too much physical activity and then you will not be able to pray and meditate. You will fall asleep while trying. How can you waste the Holy Spirit? Apparently, it is somehow stored in the body, although I cannot explain this. Yoga teaches me to conserve the Shakti. In Christianity, we see Holy Spirit as separate from us, instantly informing us or gracing us, and then going away. But yoga sees it differently. The East sees Holy Spirit and God as ONE with the body, not separate at all. Who is right? Yoga is right... If in doubt at what to do with the body toward attainment of God, whether this or that thing is recommended or bad, don't take any chances. Stay alone and pray. If you do nothing but pray you can't harm yourself or anyone else! Pray this:
'OH LORD, TAKE MY TIME. YOU HAVE GIVEN ME TIME, AND I GIVE YOU ALL THE TIME THAT I CAN.'
Oh, time! That precious commodity that does not exist in any other dimension but this. Heaven, Hell and Purgatory have no time. The souls in Purgatory would like to have TIME again, because in time they could expiate their sins quickly, but where they are, it seems TEN TIMES LONGER THAN EARTH TIME. What is this thing called time? It's something we waste a lot of! Don't waste it. The best use of time is do your duties, and after that, appropriate most or all of it to God. I can hear you yelling at me. What about my husband and family? So did I tell you to create a family? Did God tell you? You don't have to get married and multiply. You can stay single. Think of all the problems you'd avoid. It isn't SELFISH to stay single, as some people say. When God said to "be fruitful and multiply," that was a long time ago. Today we've been too fruitful and multiplied too much. The earth is GROANING UNDER OUR USE OF HER. Look see under the page of Bill Moyers. We'd need 2.6 planets to sustain us all if all of us lived as the first-world countries live. Right now, if we could hear God, she'd be saying,

'CONTROL YOURSELVES AND STOP MULTIPLYING SO MUCH, AND STOP CONSUMING AND WASTING SO MUCH OF THE EARTH'S RESOURCES.'

In the willy-nilly drive to be fruitful and multiply, you have nailed yourself down to the harrows of domesticity, and you have increased, not decreased, the problems on our planet. That sounds harsh, but it is God's truth. Under Matriarchy, one of the most important achievements, is that women will be able to just say no to men. They will be able to live for themselves and God and attend to the problems we are having without creating ever more. And so, God did not tell you (unless it was a special revelation) to burden yourself with a family. You could have avoided matrimony and sex and devoted yourself to God. A very intelligent use of TIME... Whatever state you are in, remember that it is within TIME that you will accomplish all your spiritual goals.
Don't piss it away. Pray this,
'OH LORD, TAKE MY RESOURCES. YOU HAVE GIVEN ME THEM, AND I DECLARE THAT ALL YOU HAVE GIVEN ME IS YOURS. I WANT ONLY YOU. LET ME KEEP NOTHING THAT STANDS BETWEEN YOU AND ME. ALL THAT I HAVE, I ASK YOUR GUIDANCE IN USING FOR THE GREATEST GOOD OF SOULS.'
Resources are also a thing greatly wasted. Think of all the things people buy that they don't need, when they have the money. You don't have to give all your possessions away, and all your money away (whatever Jesus said to the rich young man, and whatever St. Francis of Assisi practiced, it may not be the Word of God for YOU) but YOU CANNOT CLING TO YOUR POSSESSIONS OR YOUR MONEY. YOU HAVE TO THINK AND FEEL FREE OF IT AND HAVE NO ANXIOUS THOUGHTS OR FEELINGS ABOUT IT. IF GOD GAVE IT TO YOU (AND GOD CERTAINLY DID) DOES NOT MEAN GOD MUST SNATCH IT AWAY FROM YOU THE MOMENT YOU RENOUNCE IT. GOD JUST MAY LET YOU KEEP IT, THE WAY THAT GOD LETS YOU KEEP YOUR SPIRITUAL GIFTS. HAVING RESOURCES AND MONEY IS NOT A SIN, BUT BEING ATTACHED AND ADDICTED TO IT IS. LET IT GO, WITH YOUR MIND, AND WAIT AND SEE WHAT GOD WILL DO. GOD MAY HAVE PLANS FOR YOU AND YOUR RESOURCES IN THE FUTURE. AND IT WILL WORK BEST FOR YOU AS WELL AS OTHERS.
I heard a wise man say it was GOD that GAVE you what you have. Why do you have to GIVE AWAY what God wanted you to have? There's discernment needed here. Does God want you to be St. Francis and Clare, or does God want you to be another type of saint? There are all kinds of saints, both rich and poor.

You have other resources, also: Your talents, connections, intelligence and all your human and spiritual gifts. Have a good attitude about these things and do not use them for ego, but wait for God to show you Her/His plan.
Now pray this,
'OH LORD, TAKE MY SOUL. YOU HAVE ALWAYS HAD MY SPIRIT, BUT TAKE MY SOUL.'
What is your soul? It is different from Spirit. Spirit is the "Blue Pearl," the Presence of God within you. It is You in Reality, the real You which is God. You don't have a conscious connection with the God-You very often. It is a small blue luminous globe in the middle of the brain. This God part IS ALWAYS SEEING GOD FACE TO FACE, BUT YOU ARE NOT AWARE OF IT IN THE CONSCIOUS. WHEN YOU BECOME AWARE OF IT YOU WILL HAVE SELF REALIZATION, OR SEEING GOD FACE TO FACE, OR THE BEATIFIC VISION. YOU DO NOT GIVE THIS TO GOD BECAUSE GOD ALREADY HAS IT. But the soul is separate from the Spirit, because you are not mystically united with the Spirit and all your parts. The soul is the hard drive or stored memory, experiences, talents and all that is you from the moment of conception. When you die, your soul, with its INNER SENSES, will go to Heaven or Hell or Purgatory, with you. If you go to Hell, I think the Spirit leaves you, but you retain your inner senses in Hell. This is why they say you go where you go "BODY AND SOUL," OR THE RESURRECTION OF THE BODY.
It will feel like you have a body.
By giving your soul to God, you give God all that is you, the core of you. NOW YOU HAVE GIVEN GOD ALL OF YOURSELF. PRAY THIS DAILY! It will not take long.

Say to God in a short or long version, adding or subtracting according to the time at hand,
'OH LORD, TAKE MY MIND, MY HEART, MY BODY AND MY SOUL. TAKE MY STRENGTH, AND MY TIME AND RESOURCES. ALL THAT I HAVE AND ALL THAT I AM, YOU HAVE GIVEN ME. I GIVE THEM BACK TO YOU TO DO WITH AS YOU WISH. I WANT ALL OF YOU AND I GIVE YOU ALL OF ME. I HOLD BACK NOTHING FROM YOU. LORD, I WANT YOU AND YOU ALONE. WHATEVER STANDS BETWEEN US, TAKE IT AWAY FROM ME.'

THE NEXT STEP OF PRAYERS:
YOU CANNOT HAVE THE RESURRECTION
WITHOUT THE CROSS
These next prayers may seem scary, but I have said them for a month and a half now and nothing bad has happened. I said St. Gertrude's prayers and St. Francis' prayers concerning the Divine Stigmata in 1982 and received it. At that time, I was given the PAIN of the Stigmata for eighteen years. Assuming you are not on your way to the Stigmata, you will not be Stigmatized. (Note: God would NEVER give you the Divine Stigmata unless you could handle it. You COULD NOT HANDLE IT unless you had already been through Mystical Marriage, at the very least. If you have not been there, you can't get what would be a higher, more difficult step.) You will come closer to Our Lord in these prayers, and you must be bold and brave in saying them. What I believe the outcome is, is that all your sufferings in the past and in the present, and in the future if you keep praying this, will be united with the Passion and Wounds of Our Dear Lord, and you will be filled up with strength and grace. Amazing things could happen which I know not of, for I do not know everything, but I do know I have come closer to God and Our Lord by this and have been made a much better person. In fact, after a month of these prayers and others, Our Lord gave me the MYSTICAL MARRIAGE WITH HIMSELF AGAIN, FOR THE SECOND TIME ON AUGUST 26, 2004. (The first was in 1982) Pray this:
'LORD, NOW THAT I HAVE GIVEN ALL OF MYSELF TO YOU I ASK THIS IN RETURN. PLEASE GIVE ME YOUR HELMET OF THORNS, AND THE NAILS IN YOUR HANDS AND FEET, THE SECRET WOUND ON YOUR LEFT SHOULDER, THE STRIPES, THE CROSS, THE PASSION, AND MOST OF ALL, THE SPEAR THROUGH THE HEART. I WILL PAY ANY PRICE TO BE WITH YOU, AND IF THIS IS WHAT IT COSTS, I WILL TAKE IT.'
When you ask The Lord for the Cross you unite all your pain and suffering with His, and receive the grace thereof. On the other side you are born again in the Resurrection.

Paintings: The White Crucifixion and The Virgin Of The Pueblo
by Marc Chagall
As I said, this prayer will UNITE you with God through Jesus. As you gaze at the Cross, with the Body of Jesus on it, get lost in it. Imagine Jesus and you are one. He is you and you are Him. Gaze as long as you can, because this image will heal you of your sins and your wounds. It will heal your torment, your anxiety and depression, your bitterness and your hate toward your enemies. After you have done this for a while, say a few weeks daily for at least thirty minutes, you should begin to feel free. You are on your way to Paradise.
THE NEXT PRAYERS:
RENOUNCEMENT OF EGO &
AMBITION, PRIDE AND VANITY
There's a bit more cleaning to be done. In case you harbor thoughts and feelings within you which you yourself have concealed and denied to yourself, you have to open up more fully and specifically to God. I have spoken of this before at length, so now I will make it brief. Say these prayers:
'LORD, I GIVE UP ALL MY AMBITION. I GIVE UP MY EGO AND PRIDE AND VANITY. I RENOUNCE ALL THE THINGS OF THE WORLD AND THE FLESH AND THE DEVIL. I DO NOT WANT THE KINGDOMS OF THE WORLD AND THEIR GLORY, I WANT ONLY YOU. ALL THE PLANS I HAVE MADE, I RENOUNCE, AND STAND BY WAITING FOR YOUR INSTRUCTIONS. YOU KNOW BEST WHAT IS GOOD FOR ME, AND MY ONLY AMBITION IS TO BE WITH YOU. WHATEVER IT IS THAT I WANTED, AND DAYDREAMED ABOUT, AND PLANNED AND SCHEMED ABOUT, I RENOUNCE. I RENOUNCE WANTING TO BE IMPORTANT, AND BEING FAVORED, AND THE APPLAUSE AND RECOGNITION, AND THE LOVE OF THIS WORLD. I KNOW IT IS FALSE. WHY SHOULD I DESIRE SOMETHING FALSE WHEN I CAN HAVE THE REAL THING? I AM HAPPY WITH WHATEVER I HAVE RIGHT NOW AND I DO NOT NEED ANYTHING ELSE, UNLESS YOU WANT ME TO HAVE IT. I WILL NOT HUNGER AND THIRST FOR PEOPLE, BUT ONLY FOR YOU. YOU AND YOU ALONE WILL FILL ME UP. LORD, I AM HOPING YOU WILL COME TO ME FULLY AND I WILL SEE, FEEL AND HEAR YOU COMPLETELY. I KNOW YOU ARE THERE AND WITHIN ME AND ONLY MY OWN SELF KEEPS ME FROM BEING INTIMATE WITH YOU. LORD, I DESIRE NOTHING BUT YOU.'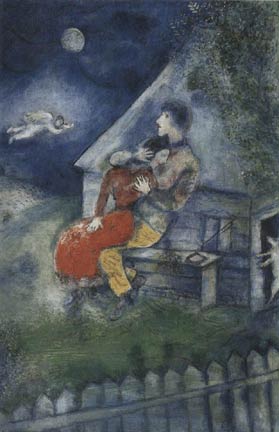 In your love for The Lord you must renounce Ego, Pride, Vanity and Self-Importance.
Painting: The Lovers by Marc Chagall
THE FINAL PRAYERS
PRAYERS OF GRATITUDE & PRAISE
I have been told by experts that the highest form of prayer is praise of the Living God. That is why the Seraphim, the Highest Angels, are continually in the Presence of God with Praise. We should do likewise. (I admit, I have long neglected this prayer, but no more!)
There is a similar, but different prayer, that is also THE MOST NEGLECTED of all the prayers. Which is it? The prayer of gratitude. I admit, I have neglected this prayer myself, but no more. When you get into the highest reaches of perfection, these two kinds of prayers are required daily, LEST YOU LOSE THE CUTTING EDGE OF PERFECTION.
It works well to combine these two prayers in one. Pray like this:
'OH GOD, I THANK YOU FOR CREATING THE UNIVERSE. IT SUSTAINS ALL OF OUR LIFE AND OUR PLANET AND EVERYTHING IN IT. THANK YOU FOR THE SUN AND MOON AND ALL THE UNIVERSE THAT SURROUNDS US. THANK YOU, WONDERFUL, HOLY GOD, FOR ALL THE NATURAL THINGS ON OUR PLANET. THANK YOU FOR THE SKY AND AIR, AND FOR THE GREEN THINGS THAT GROW, AND FOR THE WATER, AND FOR ALL THE ANIMALS AND LIFE THAT LIVE ON OUR PLANET, AND FOR THE PEOPLE THAT LIVE ON OUR PLANET.
THANK YOU, HOLY GOD, FOR THE GIFT OF HAVING CREATED RELIGIONS AND SPIRITUAL TEACHERS AND PRODUCTS SO WE COULD LEARN ABOUT YOU. THANK YOU FOR THE HOLY SAINTS AND AVATARS, AND FOR BOOKS AND VIDEOS AND ALL MATERIALS THAT POINT US TO GOD. I AM SO GRATEFUL THAT YOU TAUGHT ME, AS A LITTLE CHILD, IN THE CATHOLIC RELIGION, ABOUT JESUS AND MARY AND SAINTS, AND THEOLOGY. I THANK YOU ALSO FOR THE EASTERN RELIGIONS, AND SIDDHA YOGA, AND MUKTANANDA AND NITYANANDA AND GURUMAYI, AND BUDDHISM AND ALL THE OTHER RELIGIONS YOU HAVE INTRODUCED ME TO. (HERE ADD YOUR OWN PERSONAL THANK YOU'S)
I THANK YOU, DEAR GOD, FOR HAVING CREATED ME. I THANK YOU FOR LIFE, FOR MY BODY AND FOR GIVING ME A GOOD MIND WITH INTELLIGENCE. I THANK YOU FOR MY GOOD HEART WHICH HAS HAD THE SENSE TO SEEK YOU ABOVE ALL THINGS. I THANK YOU FOR MY HEALTH AND MY ENERGY AND THE TIME AND RESOURCES WHICH ALLOW ME TO PURSUE YOU FULL TIME.
I THANK YOU, HOLY, GRACIOUS GOD, FOR ALL THE SPIRITUAL GRACES YOU HAVE GIVEN ME. THEY HAVE BEEN FORMIDABLE. ALL THE GIFTS OF THE HOLY SPIRIT! THE THEOLOGICAL VIRTUES, AND THE EVANGELICAL VIRTUES, GIVEN ME BY JESUS AND MARY IN PERSON, AND ALL THE INTELLECTUAL GIFTS, AND ALL THE GREAT VARIETY OF GRACES BOTH CHRISTIAN AND EASTERN, AND I THANK YOU FOR THE SAINTS AND THE ANGELS THAT HAVE HELPED ME. I THANK YOU FOR UNITING ME TO YOU AND ALLOWING ME TO SEE YOU FACE TO FACE! WHAT WONDROUS THINGS YOU HAVE DONE FOR ME. I WAS NOT WORTHY OF YOU, BUT YOU MADE ME WORTHY OF YOU AND ALL YOUR GRACES THROUGH YOUR GREAT LOVE.
I THANK YOU FOR ALL THE TRIALS OF MY LIFE, AND THE SUFFERINGS, AND EVEN THE PEOPLE WHO ABUSED ME AND NEGLECTED ME, AND WERE UNFAIR TO ME. BY MANY TERRIBLE THINGS YOU ALLOWED, YOU BROUGHT ME CLOSER TO YOURSELF. WHAT WONDER OF THINGS YOU PRODUCE! YOU TURN EVIL INTO GOOD. YOU TURN PAIN AND HARDSHIP AND SUFFERING INTO GOOD WHEN PEOPLE TURN TO YOU FOR HELP AND SOLACE.
THERE IS SO MUCH TO THANK YOU FOR I WILL HAVE TO DO IT BIT BY BIT EVERY DAY. I THANK YOU FOR FORGIVING MY SINS!
I THANK YOU LORD, FOR SAVING MY LIFE MANY TIMES. YOU SAVED ME FROM CAR ACCIDENTS THAT WOULD HAVE KILLED ME, AND DROWNING, AND MEN WHO WANTED TO RAPE AND KILL ME MORE THAN ONCE, AND A TERRIBLE WOUND THAT WOULD HAVE PENETRATED MY INTESTINES AND KILLED ME THAT YOU DEFLECTED INTO THE THIGH, THEREBY SAVING MY LIFE. I KNOW YOU AND YOUR ANGELS SAVED MY LIFE MANY TIMES, EVEN TIMES THAT I'M NOT AWARE OF. THANK YOU!
I ALSO THANK YOU FOR MY HANDICAPS BECAUSE THEY HELP ME SEE WHAT IS LEFT IS GOOD, AND WHAT DOES NOT WORK PERFECTLY COULD BE WORSE. BUT YOU GAVE ME LOTS OF HEALTH AND PERFECTION, AND WHAT IS NOT PERFECT IS SO SMALL IN COMPARISON TO WHAT IS NOT. THANK YOU FOR EVERYTHING WITHIN ME THAT WORKS AND DOES NOT FAIL!
I ALSO THANK YOU WITH ALL MY HEART, OH GOD ALMIGHTY WHO DESERVES ALL THE PRAISE IN THE WORLD, AND MANY WORLDS, FOR WHAT YOU HAVE DONE FOR ALL OF US IN THE HUMAN RACE ON THIS PLANET. THANK YOU FOR ALL THE NUMEROUS BLESSINGS AND GIFTS YOU HAVE GIVEN ALL OF US. THANK YOU FOR THE REMARKABLE GIFTS YOU HAVE GIVEN ALL THE SAINTS, WHO SHARED THEM WITH THE REST OF US.
OH GOOD LORD, HELP EVERYONE. HELP THE WICKED AND THE GOOD. PLEASE BRING THE WICKED CLOSER TO YOU AND MAKE THEM REPENT. IF THEY REFUSE TO REPENT, PLEASE DEAL WITH THEM IN WHATEVER WAY YOU SEE FIT. IF YOU BREAK THEM AND SEND THEM TO HELL, THEY CANNOT COMPLAIN, AS YOU GAVE THEM THE CHANCE TO REPENT. HELP THE INNOCENT AND GIVE THEM STRENGTH AND GRACE TO ENDURE. BRING THEM CLOSER TO YOU AND GIVE THEM EVER MORE LOVE. SAVE THE PLANET AND THE ANIMALS, LORD. HELP PEOPLE TO UNDERSTAND HOW MUCH HARM IS BEING DONE TO ANIMALS AND TO ECOLOGY. BRING US ALL CLOSER TO SALVATION AND TRUTH AND LOVE AND MAKE PEOPLE STOP THE CRUELTY AND TORTURE AND POLLUTION. BLESS THIS PLANET, OH MERCIFUL GOD, AND EVERYTHING ON IT AND IN IT. BLESS US ALL.
ETERNAL GOD, YOU ALONE ARE THE MOST HIGH. EVERYTHING ON EARTH IS SMALL IN COMPARISON TO YOU. YOU DESERVE ALL THE PRAISE AND THE LOVE. YOU ARE THE SOURCE OF ALL LIFE AND LOVE AND GOODNESS. PRAISE BE TO YOU AND YOUR SAINTS AND YOUR ANGELS FOREVER! CURSED BE THE DEVIL AND HIS DRAGONS, AND KEEP THEM IN THE PIT AND AWAY FROM THE HUMAN RACE!
PLEASE HELP ME TO HEAR YOU EVERY DAY AND OBEY YOU PERFECTLY. OH, LORD, PLEASE GIVE ME A REAL LOVE AND ZEAL FOR YOU THAT CONSUMES ME. GIVE ME REAL ARDENT LOVE INSTEAD OF THIS LITTLE PITIFUL LOVE I HAVE. MAKE ME HUNGER AND THIRST FOR YOU COMPLETELY AND LET ME BE TOTALLY AND COMPLETELY CONSUMED WITH LOVE FOR YOU, SO THAT I THINK OF NOTHING BUT YOU DAILY, AND THAT I WOULD NOT DREAM OF DOING ANYTHING THAT OFFENDS YOU IN THE SLIGHTEST WAY. OH GOD, MAKE ME AWARE EVERY MOMENT THAT YOU ARE THERE AND YOU AND I ARE TOGETHER FOREVER. YOU ARE MY HEAVEN......AMEN
The prayers I've given you, or reasonable facsimiles thereof, are to be said daily. Once you have mastered these prayers they are easy and do not take as much time as you think. As I pray my daily prayers, including those for Purgatory explained elsewhere, I get them memorized so they are so familiar to me I can even say them while doing other things - although I'd rather say them 100% concentrating on God, in my room alone. If you get into your mind the righteous prayers that should be said make no bones about it, and just do it. I also say between one to four rosaries a day FOR THOSE WHO WOULD GO TO HELL IF NO ONE PRAYED FOR THEM. Five or more souls have been saved this year, in the first nine months, from Hell, by simply saying the rosary! (I must admit that I was saying the rosary for them for a while, then quit, then started again. Had I not quit for a while there would have been more. I'd say five or six souls were saved from Hell by four or five months of saying the rosary for them.) This was recommended by Our Lady of Fatima. Since I give all my rosaries to the souls who might go to Hell, I upped my Masses for souls in Purgatory, who now get TEN SHORT MASSES DAILY. I notice, absolutely, since I've been saying Masses, and a lot of them, more and more souls are getting lifted up. I see them in my dreams, wearing bridal garb and feasting.
One note about the prayers of gratitude. I said them last night and this morning had a remarkable dream. It showed that I had food in my hands, a soup, which three hungry people saw me holding. They came to me to be fed, and I dished out a bowl for each one, except the last bowl was only half full. One of the souls did not want the ravioli, covered with tomato sauce, which was in the soup. But he asked for the other ingredients. As I fed these three, a hundred more like them lined up to be fed. I had no more food, so I told them to wait as I'd go to some stores and try and get food and bring it to them. I never have had a dream where a hundred souls lined up for food - NEVER. What did this mean?
I was FEEDING SOULS with my prayers, and with the Eucharist, and the rosary. One of the souls said to me HE DIDN'T WANT THE EUCHARIST, BUT WANTED THE BENEFIT OF THE OTHER PRAYERS. The Eucharist was the ravioli covered in tomato sauce. (A symbol of the Body and Blood of Jesus and Mary) I have been saying the rosary for about thirty or more years, and have never had a dream of a hundred souls lining up for its benefits! Ruling out Eucharist and rosary, therefore, is the message of the dream: PEOPLE ARE NOT SAYING PRAYERS OF GRATITUDE AND THEY ARE STARVING FOR THE BENEFITS OF SAME! As I said these prayers, I fed three people including myself, and a hundred more wanted help! The message to us is PRAY THE PRAYERS OF GRATITUDE! THINK ABOUT THIS: HOW OFTEN DO YOU PRAY PRAYERS OF GRATITUDE, AND HOW OFTEN DO OTHERS YOU KNOW PRAY THESE PRAYERS? It's those same ole' same ole' PRAYERS OF PETITION PEOPLE ARE SAYING, ISN'T IT! GIMME, GIMME, GOD. LET GOD KNOW YOU ARE GRATEFUL FOR WHAT SHE'S ALREADY GIVEN YOU! SHE ISN'T GIVING YOU MORE BECAUSE YOU DON'T THANK HER FOR WHAT YOU ALREADY HAVE!
Rasa Von Werder
September 11, 2004


PRAY FOR DIVINE LOVE
DIVINE LOVE IS NOT HUMAN LOVE, AND BECAUSE IT IS NOT 'NATURAL' YOU MUST PRAY FOR IT. LIKE ALL THINGS OF GRACE, IT DOES NOT COME AUTOMATICALLY. PRAY FOR DIVINE LOVE LIKE THIS:
"Oh, loving God, I ask you to give me Your Love. Give me a hunger and thirst for you, not for people and things. I am caught up in the muck and mire of this world and I cannot see my way straight. I want to put aside the flesh but I cannot unless You help me.

Oh, God, make my love strong and perfect like yours. Let me be no respecter of persons. Let me not hold grudges or worry about what people have done to me or do to me. Let me be charitable to You, to me, and to my neighbor NO MATTER WHAT MY NEIGHBOR THINKS OF ME. You have a Love that is Supernatural. It is Unconditional. It loves ALL, even the wickedest of persons. Can't I do the same with my enemies? I feel my human thoughts and feelings are diminishing my love all around. I need your great, supernatural, unconditional Love. With this Love I look upon You and You alone. People are in my "side vision," when they are there. I see and hear them when You suggest I look at them. I see and hear them when You open my eyes to them, and tell me what to do about them... I don't see the whole picture. I just see a small part of life within my skin, but You see all. That's why I can't rely on my own opinions of what to do or not do about people, but I must bend to Your Light in all things. First, let me love You perfectly. First and foremost, give me Zeal and Courage and Total Commitment, even unto death. Then give me righteous and supernatural Love for my neighbor. Thank you so much! As if I have already received it, I thank you kindly for this marvelous Love which I know will benefit myself and my neighbor and will move toward bringing more souls into Your Kingdom....Amen
Now that you've said this prayer, mean it. Do not go all over town looking for love. Don't call family for your regular love fix. Don't call friends to vent and hope they'll tell you how great you are.

That's all human nonsense and will keep you from Perfection. Do not go to bars, or public gatherings hoping to meet someone who will praise you, appreciate, love you and whatever else you egotistically and childishly look for. Forget all that. There are two persons you can rely on to love you unconditionally, and only two. The first is GOD. You can rely on God totally. The second is YOURSELF, but you can only rely on yourself insofar as you are in a state of Perfection.
Know and understand - and I will swear to this - that loving God and loving yourself is one and the same thing. When you see God face to face one of the things you will see immediately is that you and God are ONE. This is what the East gives us, and it is true, because I've seen God. The MOST STARTLING AND UNBELIEVABLE THING ABOUT SEEING GOD FACE TO FACE IS THAT YOU AND GOD ARE ONE!

It follows then, that loving God and yourself is one and the same thing, and that if you really do love God, you will love yourself correspondingly. What I mean is, if you love God a little bit, you love yourself little. If you love God more, you love yourself more. If you love God in Perfection, you love yourself in Perfection. Does that make sense to you or have I lost you? Do you have to see the Beatific Vision before you can understand this or is it logical?
By love of course I mean SUPERNATURAL LOVE, IN WHICH YOU LOVE YOUR ETERNAL LIFE AND WHATEVER IT TAKES TO GET YOU THE CLOSEST YOU CAN GET TO GOD. I do not mean spoiling yourself or indulging yourself, which is the road to HELL. Indeed, you have to be a GOOD PARENT to yourself and discipline yourself toward righteousness.
You cannot maintain this Supernatural Love unless you spend daily time in prayer and meditation. Throughout the day you will meet multiple experiences which will tempt you, test you, negnatize you and drag you down. Even decent people will pull you lower because you aren't meeting to talk about God. The cure, the remedy and healing for all evil is that time you spend daily in prayer and meditation, ALONE.
You want love? Love yourself. This is one of those axioms I will fight for. Never, ever, rely on others to fill the void that is in you that love must fill. You will get conditional love, love based on what others want. This is human. Do not trust religious people who have a long way to go toward sainthood. They serve their own needs, also. You are a pawn in their plan. You support THEM. They "love" you as long as you are part of their "mission" or their game plan, or whatever it is they believe in. RELIGIOUS PEOPLE WILL HURT YOU EVEN MORE THAN SECULAR PEOPLE DO, BECAUSE YOU WILL NOT BE READY FOR THE PUNCHES THEY LAND ON YOU.
Now there is a difference between religious and spiritual. It is extremely difficult to know, right away, who is who. I have met DOZENS of religious people I hoped would be spiritual, who put knives through me. They were full of RELIGIOUS HATE because I am tolerant and open in my beliefs, and they are small-minded and limited. They felt they were right, and I was an real devil waiting for deliverance. They would torture Our Lord if Jesus came back to town. Whenever you go to meet the "religious," brace yourself, put on your armor and your shield, because they will probably hurt you. The only way you can get along with most religious is if you say what they want you to say and act as they want you to act. They are a Milky Mouse Club of children who need a security blanket, and religion is their cover.
Do not trust your parents to love you, and don't be surprised when they abuse you. According to statistics, those who are properly raised and not abused in any way are probably 10% or LESS. Sex abuse, neglect, emotional and mental abuse, beatings and God knows what else, are part and parcel of growing up. Those that seem normal sometimes have screws loose.They are emotionally undeveloped and their love is substandard. Do not grieve over the fact that your parents' love fell short. It's life, and thank God for the pain that brought you into spirituality.
Do not expect your spouse to love you. Your spouse needed something from you and loved you for it. Unless your spouse is spiritual, true love isn't there. A spiritual spouse will be kind and loving to you in hard times, and in the hardest of times which is DIVORCE. Look at how spouses tear each other apart during divorce, because of the money and children. Each one tries to turn the kids against the other. Each one wants as much money as possible. Men don't support their children of divorce, and they even hire hit men to kill their exes. (Many more men kill women than the opposite, generally for the money.) This is love? I'm sure the word love was tossed around a lot between the sheets. Don't believe or trust in lover's "love" but get thee to a monastery! People bemoan their fate through all the trials and tribulations of marital life and domestic torture, but they asked for it. Nobody held a gun to their heads and said they had to get married and have children. I've said this before and I will say it again. If you want to find God, being single and childless is better.
THINK BIG IF YOU WANT TO FIND GOD
God is BIG and God THINKS BIG; so if you want to be with God, you have to think big, too. What do I mean by that? I mean your prayers have to be big. You have to get your mind off the little things only - yes pray for them - and take time to pray for the big and biggest things. You do this by praying for others and even praying FOR THE WHOLE WORLD. The whole world is God's business. You, the Instrument of God (this is precisely what you will be in a state of Perfection,) have to think the same. Why? You are a child of God, and as a soul perfect in love, you are a spouse and a partner of God. If God thinks big, and you think small, that's not consistent with who you are. Here's a great test. Try praying for the whole world for five minutes. Does it feel wrong? It means you're not in a state of Perfect Union, Perfect Intimacy and Love with The Lord. When you are right on with God, you think like God, and such prayers and thoughts are comfortable. How do I know? Because I've been there.
Are you asking how do you get to a big place, a Perfect place? By trying. By your will. However small you feel, or undeserving, you pray for what you want and it's a matter of time before it comes to you.
HOW FILTHY WITH SIN ARE YOU?
There is one way to find out. It is called "examination of conscience." When's the last time you did it? Probably didn't seem important to you. You had bills to pay, the house to clean, tv to watch, people to talk to and so on. You had time to talk about OTHER PEOPLE'S SINS BUT NO TIME TO THINK ABOUT YOURS.
"It's an evil world we live in," you said.

"Did you hear about the man down the road who abused his kids, went to jail, and now he's hanging out with a twelve-year old?"

Shocking! Disgusting!

How about Fred? He better straighten out. His friend says he drank TWO CASES OF OF BEER OVER THE WEEKEND!

What a loser! He's had his license taken away many times, and he's drinking and driving again. Will he ever learn? What's wrong with him?

Did you hear about Guda Jones? She left her husband AND FOUR CHILDREN AND WENT OFF WITH ANOTHER MAN! She'll pay! The selfishness!.....

etc. etc. etc.

Now you and your gab mate have covered the sins of the world and you haven't helped the world or its sins. I am not saying you can't discuss these things because it isn't sin to discuss, just to judge and condemn. I myself am the first to admit I've done it a lot and I think I have stopped.
Here is a revealing and releasing fact:

When you face The Lord on judgment day, He will not ask you about anyone BUT YOURSELF. You are not reasonable for the sins of anyone else but yours. Therefore, spend more time worrying about your sins than those of others. You cannot control the behavior of others, but you can control your own. If God can't change them, albeit slowly and laboriously, why do you worry about it?

Here's the rub: You say you're not as bad as those. Let's take a look. First off, you don't know if you are as bad as them because you don't know what kind of background they came from. They may be disadvantaged, challenged, or mentally and emotionally twisted through pain of their own. God alone knows all that. Ask yourself this:
AM I ENVIOUS OF THOSE WHO HAVE MORE THAN I?
FOR THE WOMAN - DO I ENVY MY NEIGHBOR LADY WHO MARRIED RICH? SHE LIVES IN A MANSION AND HAS NICE CARS. SHE CAN AFFORD ALL SORTS OF THINGS, INCLUDING SENDING HER CHILDREN TO PRIVATE SCHOOLS AND THEN GOOD COLLEGES. DO I IMPUTE UPON HER ALL SORTS OF SINS, LIKE "I KNOW HOW SHE GOT HIM."

DO I IMAGINE SHE'S LAZY BECAUSE SHE HIRES SERVANTS TO CLEAN AND DO YARD WORK?
If you have such thoughts inside you then you are FILTHY WITH SIN.
TO THE MAN: THERE ARE TWO BEAUTIFUL YOUNG WOMEN LIVING NEARBY, AS ROOMATES. YOU HAVE NO IDEA WHAT THEY DO. BUT YOU THINK THEY ARE PROBABLY PROSTITUTES, AND YOU WANT TO GET SOME. IF THEY ARE LOW AND DIRTY ANOUGH TO DO THAT FOR A JOB, YOU MIGHT AS WELL TAKE ADVANTAGE OF THE SITUATION. AND NATURALLY, IF THEY ARE HOOKERS, THEY ARE SLUTS, BUT YOU, THE CUSTOMER... YOU'RE OK.
If you harbor thoughts such as these, you are FILTHY WITH SIN.
TO ANY PERSON: YOU HAVE HEARD ABOUT A BOMBER WHO HAS KILLED A NUMBER OF PEOPLE. YOU KNOW NOTHING ABOUT THE CIRCUMSTANCES, BUT YOU THINK THIS MAN WILL SURELY ROT IN HELL. AND I HOPE THEY EXECUTE HIM AS SOON AS POSSIBLE.
If you harbor such thoughts, you are FILTHY WITH SIN. Why? Because only God knows who goes to Hell and who goes to Heaven, and unless God reveals to you by the Gift of Revelation where he is going, you have no right to assume.
Think about CHARITY. What is it? It's a type of love. It's compassion, empathy and generosity. How many times have you SINNED AGAINST CHARITY in your mind? How many times have you thought ill of someone based on appearances? How many times have you assumed a person of a different race is a lowlife? How many times have you assumed beautiful, sexy women are immoral? How many times have you thought rich people are greedy, heartless thieves? How many times have you thought the poor are lazy bums? Or that they are poor because they don't want to work? How many times have you thought those who are accused of crime are guilty before they are proven? How many times have you assumed that teenagers are up to no good?
All these assumptions and snap judgments are against charity, and yet they are human nature. Human nature is not charitable. When you hit the point of Perfection, you will not harbor these thoughts.
There's more. Did you every imagine that some of the evil that comes upon you could be due to your own karma? Unimaginable? You're one of those GOOD PEOPLE THAT BAD THINGS HAPPEN TO....You are so busy in your self righteousness, keeping a black book of others' sins, you forgot to examine yourself.
Think:
NO BITTERNESS?
NO HATE OF ENEMIES?
NO GLUTTONY? (I mean, do you PIG OUT regularly on steak and ice cream, and give your dog Dad's dry?

NO CRUELTY TO ANIMALS? (Do you eat the pork of the pig who was strung up, had it's throat cut while living, and think nothing of it?)
NO PRIDE? (Do you get angry when people get in front of you in line? When they ignore you? When they put you down? When they reject you?)
NO VANITY? (You are fifty pounds overweight, sir. But you imagine yourself to be a big, muscular he-man like John Wayne or Arnold. People see you as an older, balding heavy man, but you see yourself as virile and sexy...all in your mind.) You - lady - think people all like you. But they only like you for what you have. You think people admire you for your intelligence, but they only listen to you while they are doing your hair and nails, or laying your carpet. In your mind, you're a great conversationalist, but as soon as the work is over, the person you hired leaves. They don't hang around to hear more of your talk. But you WANT TO BELIEVE people admire and like you because it's VANITY...Sin strikes in the most innocent of places.
NO RESENTMENT? Resentment is a sort of grudge for wrong done against you. No grudge? Then why complain and repeat over and over what they have done to you?
NO GREED? What happened when the relative died? Did you scramble along with everyone else to MAKE SURE YOU GOT EVERY PENNY YOU COULD EVEN IF YOUR POOR RELATIONS, WHO COULD NOT AFFORD A LAWYER, GOT NOTHING?
NO CONTEMPT? How many people have you looked down on? How many have you been superior to, in your own mind?
NO LAZINESS? Male - how many hours have you sat in front on the tv, couch hero style, watching sports, imagining, like Walter Mitty, you are the hero? Why don't you be a hero and at least during the commercials, take out the garbage, do a little dusting or vacuuming? (Some people, when they watch tv, do housework during the commercials, or other chores. They even pray the rosary, and after a long movie, have managed to say three rosaries for souls!)
Female - how many soap operas have you consumed? How many romantic, ditsy movies? You watch those movies like men were gods and that special He-Man is just around the corner. Any minute now, he'll find out you're a goddess and sweep you off your feet. What nonsense is generated in your mind, when you should be doing something useful.
Here I am not even talking about heinous sins and crimes, just the average John and Jane next door who are "nice people." In this examination of conscience, I am taking the mask off nice people.
Please be aware that YOU ARE NOT AS NICE AS YOU THINK YOU ARE. YOU MIGHT EVEN STINK IN THE NOSTRILS OF GOD.
WHAT IS FILTH OF THE SOUL?
When souls go to Purgatory, they are forgiven of their sins. They repented. If they had not, they'd be in Hell. Then why don't they go straight to Heaven, as the Protestants affirm? (Don't trust Martin Luther, the man who in the 16th century started the Protestant Reformation. He was an evil man - not because he stood up to the Catholic Church, but because during the revolts, he said that anyone who killed a peasant...the poor...did right. He wrote a vile book against the Jewish people making them out to be evil folk. He himself couldn't keep his pants on and married a nun, thereby breaking the vows of two people consecrated to God...And get this: Martin Luther CHANGED THE WORDING OF THE BIBLE WHERE IT SAID FAITH IS NECESSARY FOR SALVATION. HE ADDED TO FAITH, FAITH ALONE IS NECESSARY FOR SALVATION. BY ADDING THIS ONE WORD, ALONE, HE CHANGED THE DIRECTION OF CHRISTIANITY. IT'S OK THAT HE STOOD UP TO THE CATHOLIC CHURCH, BECAUSE IT WAS EVEN MORE CORRUPT THAN IT IS NOW. BUT SOME OF THE THEOLOGY HE ESPOUSED IS AWFUL... Don't rely on this Putz for the truth about anything.)
The reason people do not go straight to Heaven is because of THE FILTH OF THEIR SOULS. You read all that I wrote about examination of conscience. Most people are unaware and in denial of these sins. And so, they don't even repent. They might repent of abortions, or stealing money, or raping someone, etc., but these so-called little sins (which are not little) they don't even recognize. All your sins - those repented and un repented, when forgiven, MUST BE PAID FOR. This is called the KARMA of the sins. But as I said, most people don't even admit their sins. So they stay dirty. How to explain filth of the soul?
Imagine a globe, a sphere, which is supposed to be luminous. It has light inside it, but it has a lot of spots within it that are gray, which must be dissolved. Around this sphere is luminous space, which has no spots of any kind. It is pure light. You can see the spotty globe as it has darkish spots. Because of the purity of the light around it; because this light is so strong, this light gets into that globe, and slowly but surely, all the darkness in that globe is dissolved. The globe is the soul in Purgatory, and the Light around it is God, and the light of God by grace dissolves darkness within the soul. While it's being purified, the soul is obviously aware that it is not like God - that God is absolute purity while it, the soul, is not. As it waits, it realizes it cannot be happy unless the cleansing is complete and the wait seems terribly long. While you are in this Purgatory your understanding grows. I've ministered to plenty souls there and know some of what they feel. They know how beautiful and wonderful God is. God is the #1 lover who ever existed. God can't wait to take you in His/Her arms and consume you with Love and Infinite Ecstasy. But it can't happen till those spots are removed!
Some words on beauty - what is it? What makes one beautiful or ugly? It is this and only this: THE GRACE IN THE SOUL. I've ministered to souls in Purgatory a lot, and the closer they are to being clean, which means more grace in the soul, the more beautiful they are. At the end they are SPLENDID. Understand that your beauty on earth is the same. The more grace in your soul, the more beautiful you are. Physical beauty is only a symbol and it will soon pass. Work for the beauty that is eternal.
Rasa Von Werder
September 12, 2004