BIBLE TEXTBOOK FOR
PUBLIC SCHOOLS PLANNED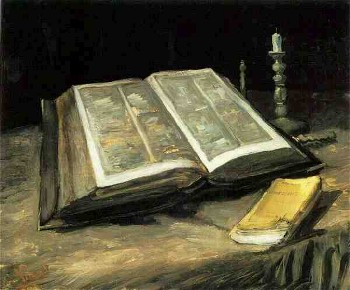 Still Life With Bible
Van Gogh
By RICHARD N. OSTLING, AP Religion Writer
http://abcnews.go.com/US/wireStory?id=1149616
COMMENTS BY RASA BELOW
An interfaith...

(RASA: TRANSLATION: INTERFAITH OF PATRIARCHAL LEADERS. THE BOYS CLUB. F__CK THE BOY'S CLUB.)
...group is releasing a new textbook aimed at teaching public high school students about the Bible while avoiding legal and religious disputes.

(TRANSLATION: THEY ARE NOW PURSUING HOW TO RAM PATRIARCHY DOWN THE THROATS OF CHILDREN WHILE AVOIDING LEGAL DISPUTES)
The nonprofit..

(TRANSLATION: THEY PROFIT, YOU WILL NOT.)
...Bible Literacy Project of Fairfax, Va., spent five years and $2 million developing "The Bible and Its Influence."
(RASA: MEN ARE RICH BECAUSE THEY STOLE MONEY FROM WOMEN THROUGH THE AGES THROUGH WAR AND INSTITUTIONALIZED DISCRIMINATION. THEY STILL HAVE MORE MONEY AND THEY USE IT TO HOLD WOMEN DOWN. THIS IS PART OF THAT EFFORT.)
The textbook, to be introduced at a Washington news conference, won initial endorsements from experts in literature, religion and church-state law.
(TRANSLATION: WON ENDORSEMENTS FROM THOSE WHO HELPED MAKE THIS HAPPEN AND ARE FRIENDS OF THESE GUYS. THE BOYS CLUB STICKING TOGETHER)
The textbook "shows that it can be done," said American Jewish Congress attorney Marc Stern, an adviser on the effort. "And it will short-circuit people who would take religion...
(RASA: THEY HAVE NOT SHORT CIRCUITED ME, MY BOY. IF YOU ARE GOING TO BRING MALE DOMINATION SCRIPTURE INTO THE SCHOOL SYSTEM YOU BETTER SURE AS HELL HAVE THE WOMEN'S POINT OF VIEW REPRESENTED. I DON'T CARE HOW YOU REPRESENT THE 'HOLY' BOOKS, BUT YOU BETTER INCLUDE THE GNOSTIC BIBLES, WICCA, DRUIDS, PAGANS AND FEMALE SPIRITUALITY. AND REPRESENT IT ANY WAY YOU WANT. LITERATURE, INFLUENCE, HISTORY, OR WHATEVER. BUT YOU ARE NOT GOING TO SNEAK MALE DOMINATION THESES BACK INTO THE SCHOOLS WITHOUT WOMEN TEARING INTO YOU.)
...entirely out of the public school curriculum."
The $50 book and forthcoming teacher's guide, covering both Old and New Testaments, are planned for semester-long or full-year courses starting next year.
The editors are Cullen Schippe, a retired vice president at textbook publisher Macmillan/McGraw-Hill, and Chuck Stetson,
(RASA: SOME FUNDAMENTALIST FANATIC, MY GUESS. AND ALL FUMDAMENTALISTS FEEL IT IS THEIR SACRED DUTY TO DEPRIVE WOMEN OF CIVIL LIBERTIES.)
...a venture capitalist...

(RASA: A RICH FANATICAL FUNDAMENTALIST WHO WANTS TO DEPRIVE WOMEN OF ALL THEIR CIVIL LIBERTIES AND KEEP THEM UNDER THE THRALLDOM OF PATRIARCHY.)

...who chairs Bible Literacy. The 41 contributors include prominent evangelical, mainline Protestant, Roman Catholic, Eastern Orthodox, Jewish and secular experts.
(RASA: LIKE I SAID. THE BOY'S CLUB. F-CK THE BOY'S CLUB.)
Religious lobbies and federal courts have long struggled over Bible course content.
(RASA: WHY STRUGGLE OVER IT? JUST TEACH THE TRUTH ABOUT IT, AS HISTORICAL FACT. BRING OUT THE FACTS OF THE CRUSADES AS WELL AS THE INQUISITION. THEIR 'HAYES' AND OTHER CENSORSHIP COMMISSIONS WHICH STARTED IN THE 30's TO DESTROY WOMEN'S IMAGE AND POWER IN THE MOVIES (and were highly successful. THEN BRING OUT ALL THE SCRIPTURES OF ALL RELIGIONS AND PERMIT QUALIFIED WOMEN AND MEN TO PRESENT THEM TO ALL THE CHILDREN - ALLOWING THE CHILDREN (NOT PARENTS) TO CHOOSE WHICH ONES THEY WANT TO STUDY. IF THE KID WANTS TO STUDY WICCA, FINE. IF THE KID WANTS TO STUDY GNOSTIC, FINE. NAG HAMMADHI DEAD SEA SCROLLS, FINE. MARY MAGDALENE GOSPEL, FINE. DRUIDS AND PAGANS, FINE. GIVE THEM SOME OPTIONS. THOSE OPTIONS HAVE TO BE PRESENTED BY PEOPLE WHO KNOW WHAT THEY ARE TALKING ABOUT - REPRESENTATIVES OF EACH RELIGION. I WOULD REPRESENT MATRIARCHY, 'WOMAN THOU ART GOD.'

WHY ARE YOU FOREVER STRUGGLING ABOUT THE BIBLE? WHAT IS THE BIBLE? A CANON (SET OF BOOKS) CHOSEN BY ALL MALES AGAINST MANY OTHER BOOKS THEY COULD HAVE CHOSEN, AND FORCED UPON THE PUBLIC AS GOD'S TRUTH. THERE ARE MANY VERSIONS OF GOD'S TRUTH. PRESENT THEM ALL. LET THE CHILDREN HAVE A CHOICE.)
To avoid problems, Bible Literacy's editors accommodated Jewish sensitivities about the New Testament,
(RASA: DID YOU WORRY ABOUT MY SENSITIVITIES AS A WOMAN? THIS IS NOT YOUR USUAL BATTLE OF MEN AGAINST MEN, EXCLUDING WOMEN FROM THE PLAYING FIELD. YOU WILL HAVE TO FACTOR IN THE OPINION OF WOMEN THIS TIME. THEY ARE HOLDING THEIR HEADS HIGH, THEY ARE GAINING FREEDOM OF SPEECH. IT WON'T BE SO EASY THIS TIME.)
...attributed reports about miracles to the source rather than simply calling them historical facts and generally downplayed scholarly theories — about authorship and dates, for example — that offend conservatives.
Educators know biblical knowledge is valuable — 60 percent of allusions in one English Advanced Placement prep course came from the Bible — and that polls show teens don't know much about Scripture.
(RASA: THEY DON'T KNOW MUCH ABOUT SCRIPTURE PER SE, BUT THEY ARE LIVING THE THEMES FOISTED ON US BY THE MANUALS OF MALE DOMINATION. THERE ARE ASSUMPTIONS THAT ORIGINATED FROM MALE HANDBOOKS WHICH HAVE ENTERED MAINSTREAM THINKING. THEY ARE AUTOMATICALLY ASSUMED TO BE RIGHT. THESE HAVE TO BE PULLED OUT, TESTED AND EXAMINED. UPON CLOSE SCRUTINY, MOST OF THESE IDEAS AND THOUGHTS FALL APART. THEY JUST CAN'T HOLD WATER. GOD IS A MALE? WOMEN MUST OBEY MEN? WOMEN ARE INFERIOR? MEN ARE THE STEWARDS OF THIS PLANET AND CAN DO WHAT THEY WANT WITH ANIMALS AND CHILDREN AND WOMEN? MEN ARE SUPERIOR? MEN ARE THE LEADERS? GOD TOOK WOMAN OUT OF MAN'S RIB? MEN ONLY SHOULD BE PRIESTS? WIVES MUST OBEY HUSBANDS? WOMEN BORN TO PROCREATE FOR MEN? ETC.)
Yet few public schools offer such coursework, partly due to demands for other elective classes, partly over legal worries. The U.S. Supreme Court's 1963 decision barring schoolroom Bible recitations said that "the Bible is worthy of study for its literary and historic qualities" if "presented objectively as part of a secular program of education."
The textbook follows detailed principles in a 1999 accord, "The Bible and Public Schools," brokered by Bible Literacy and the First Amendment Center, a non-partisan program of the Freedom Forum devoted to constitutional liberties. That accord is endorsed by seven major educational organizations and Christian, Jewish and Muslim groups.
(RASA: AGAIN, ONLY THE BOY'S CLUB MEMBERS NEED APPLY. NO FREEDOM OF SPEECH FOR WOMEN. NO FEMALE PARTICIPATION AT ALL.)
Stetson said "the important thing was not to compromise on peoples' beliefs. They are what they are." To Schippe, the key to effective education is respect for the biblical text, constitutional law, scholarship, various faith traditions and divergent interpretations.
The new textbook was tested in two high schools. Bible Literacy will offer online teacher training through Concordia University in Portland, Ore.
The First Amendment Center's Charles Haynes said the only previous textbook, decades old, was inadequate because it treated the Bible only as literature, slighting its religious significance.
Another program, favored by evangelical groups and used in hundreds of schools, comes from the National Council on Bible Curriculum in Public Schools of Greensboro, N.C. It provides a teacher's outline with the Bible itself as the textbook.
___
ON THE NET:
Bible Literacy Project: http://www.bibleliteracy.org
Bible Textbook for Public Schools Planned: http://abcnews.go.com/US/wireStory?id=114961

---
---