THE WORSHIP OF WOMEN
BY WILLIAM BOND
COMMENTARY FROM RASA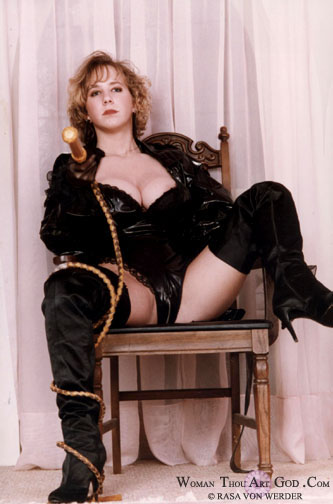 WOMEN MUST CHANGE THEIR ATTITUDES TOWARD MEN IN ORDER TO GET WHAT THEY WANT OUT OF MEN AND LIFE. BOND AND VON WERDER AGREE.
There is a curious phenomenon in the Femdom scene of men wanting to worship Women as Goddesses. And outside of this scene dominant Women also find men coming to them who want to devote their whole lives in serving and worshipping them.
So we have to ask the question; why? Why would men who have ruled and dominated society and Women want to suddenly worship, adore and serve Women? Logically it makes no sense. Men have had the upper hand in relationship between the sexes for thousand of years, so why should men then suddenly want to be Women's servants and slaves?
The only answer I have found about this is in Jungian psychology. Carl Jung put forward the concept of archetypes. So for instance many men tune into the hero archetype; of wanting to risk injury or even death to help and save others. But in the many archetypes, he discovered one of the most powerful archetypes was that of the Mother. He found that this archetype was very ancient going back to the Stone-Age where people then believed that the whole world was born from the body of a Creatrix they called, The Great Mother.
The idea of people worshipping a male god is very new. It seem this began about five thousand years ago at the end of the Stone-Age, when the first images of male deities were discovered. Before then, archaeologist and paleontologists have only discovered images of females. Now the Stone -Age goes back hundreds of thousands of years. Compared with just the five thousand years we began to worship gods. So would explain why the archetype of the Great Mother is so powerful. Because for hundreds of thousands of years human beings have accepted that the Creatrix was female. This in turn, meant, that people came to accept that Women represented the Great Mother on this Earth. This must of given Women great status and power in Stone- Age communities, and men learnt to worship and serve Women as Goddesses.
Then suddenly about five thousand years ago this suddenly stopped. Men took control of civilizations all over the world through violence. Why this happened we do not really know. But it could be that Women themselves may of undermined the power they had over men. They may of thought it unfair that men were worshipping them as Goddesses and began to teach men equality of the sexes.

RASA: BAD IDEA. LET'S NOT TRY THAT AGAIN!
Unfortunately when men gained equality, they wanted more.

RASA: GIVE'M AN INCH AND THEN YOU HAVE TO SMILE FOR THE REST OF YOUR LIFE. GIVE THEM NO OPPORTUNITY TO SCREW UP, FOR THEY WILL DO IT.

They then found they could dominate Women through violence and set about reducing Women as slaves.
This then would explain the psychology of male behaviour. If Women allow themselves to become subservient to men. Men treat them with contempt and are very cruel to them.

RASA: SPOKEN LIKE A PROPHET

But as we can see today, in the FemDom scene if a Women act like she is a Goddess, men are more than happy to serve and worship them.
Paradoxically we find the whole FemDom scene is dominated by men. It is men who are demanding that Women behave and act like Goddesses. And men are more than happy to pay a professional Dominas for the privilege of worshipping them.

RASA: YES, AND YOU CAN MAKE A HEALTHY LIVING DOING THAT. BUT IT ISN'T ANY FUN FOR THE WOMEN, I GRANT YOU!

It seems that many men have found that they are not happy in being the dominant sex and the ancient
memory of when they were devoted slaves of Women is returning.

RASA: I DISCOVERED THAT IN A VISION WHICH RESULTED IN FIVE ARTICLES ON THE WOMANTHOUARTGOD SITE, CALLED 'WORSHIP OF BEAUTIFUL WOMEN IS HUNGER FOR MOTHER GOD.'
So Women find themselves with a choice in their relationships with men. If they act submissively men treat them with great cruelty. And even when they try to have a equal relationship with men, men do not always respond to this and still do not accept Women as his equal. But if a Women acts as the dominant partner then men find it easy to be subservient to her.

RASA: TO BE FAIR, I MUST ADMIT THAT NOT ALL MEN SUCCUMB TO DOMINATION. SOME FIGHT IT SO HARD IT ISN'T WORTH IT. THESE MEN HAVE TO BE THROWN TO THE CURB AND WOMEN SHOULD NOT WASTE TIME WITH SUCH REBELS.

I saw this clearly in a relationship of a friend. She got involved in with a young man very much younger than herself. At first she had no problem in completely dominating him and he in turn devoted his whole life in serving her. But then she began to question her whole relationship and wanted it to be more `normal'.

RASA: MALE DOMINATION IS NOT NORMAL. THEY MUST BE CONTROLLED, TO A DEGREE ACCORDING TO HOW MUCH THEY NEED IT - THE MOST MATURE AND DISCIPLINED NEED LESS, THE LESS SO, NEED MORE.

The moment she did this, the behaviour of the young man completely changed. His behaviour began to become erratic and he began to spend hours on his computer and ran up huge telephone bills. And it seems he would only be devoted towards her when he felt like it. It was clear to me he desperately wanted her to act again like a Goddess and to some degree he was punishing her for no longer playing this role. I tried to explain this to her, but she ignored me, and the relationship deteriorated and they ended up separating.
The Goddess archetype is very powerful and many men today do desperately want to serve and worship Women as Goddesses. But it required Women to play this role. For instance a Dominatrix who just sees her role in acting out a sexual fantasy is not going to get a great response for men. But the more she can feel she is a Goddess the more men will respond to her. Certainly many Women do have problems in seeing themselves as Goddesses whom men want to worship and adore. But this is what men desperately want.
Yes men have through violence and propaganda have reduced Women to being slaves. But men find do not find this role as the master of Women satisfying, and this might be why many men treat subservient Women so cruelly. Because the role of the dominant sex does not emotionally fulfil men.

RASA: WELL SPOKEN.

So they blame it on the Women and punish her for getting off her pedestal of being a Goddess. It seems that men do have a deep yearning to worship Women once again as Goddesses. But they can only do it if Women are willing to take on this role.

RASA: I AM GOING TO WRITE AN ARTICLE ON THIS SOON, HOW WOMEN MUST CHANGE THEIR BODY LANGUAGE AND ATTITUDE. LOOK, ON OUR SIDE, FROM THE DAY WE WERE BORN WE WERE TAUGHT TO BE SUBSERVIENT TO MEN. THERE IS NO SCHOOL THAT REVERSES THIS. WE HERE ON THE INTERNET ARE THE FEW PEOPLE BANGING THIS OUT EVERY DAY, AND ONLY A FEW THOUSAND PEOPLE TOTAL, MAYBE, ARE HEARING OUR WORDS. WE NEED TO REACH MILLIONS.
WILLIAM BOND &
RASA VON WERDER

---
---