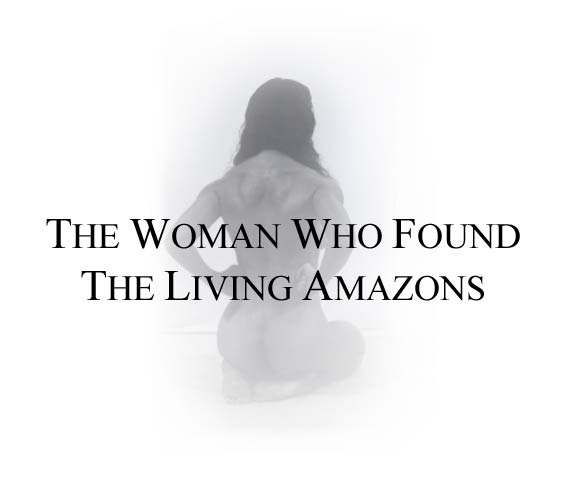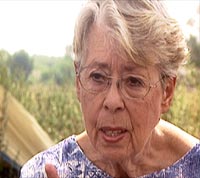 RASA VON WERDER'S INTERVIEW OF
DR. JEANNINE DAVIS-KIMBALL
RASA VON WERDER: You did say something that was good, that in a nomadic society the women have to inspire everyone even when it's ice cold and they have to be the power and the inspiration. They [PBS interview] did say you were the one and only women who worked with certain people to uncover these facts?
JEANNINE DAVIS-KIMBALL: I started excavating and going to Central Asia in 1985 with the intent of looking for nomads. This came about as a result of my work on my dissertation which involved the ....... Persian Empire and the reliefs of Persepolis. On these Bas reliefs which I was studying there are stone carvings of men carrying tributes to the great Persian king circa. 400BC.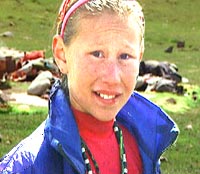 The Beautiful Little Blonde
Girl Who Along With Her
Mother Carries The Amazon
DNA, & Already A Good
Horsewoman
I was very curious about these Nomadic people that are portrayed each with their own clothing and artifacts as they bring tribute to the king. They were known as the *meeds*. The reliefs were the topic of my dissertation which were on the proportions of the figures on the bas reliefs. My primary interests were not in the hierarchal governments and civilizations. In other words priesthood and kingship were not my main interest; I was more interested in the nomadic culture and the kind of social life they may have and who was in control and so forth. I knew very little about it except that I had heard about Ghengis Kahn and that they were chieftans, traders and marauders. I was more interested in what their lifestyle was like; how they could survive living in an area that appeared to me to be devoid of any civilization. I based this on the fact that I came from a ranch in Idaho and had worked with animals so I knew the inherent problems of rasing animals in an area where it gets cold in the winter. You have to have feed for them and so forth.
In 1985 when we were able to go to the Soviet Union for the first time, we went for sixteen days. I had been excavating in Israel at that time so this was part of the junket my husband and I were on.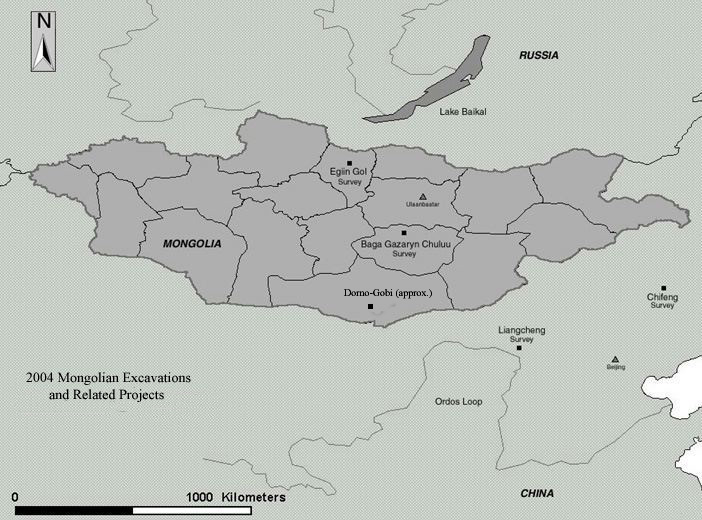 Map Of Area of Excavation

© The Center for the Study of Eurasian Nomads
RASA VON WERDER: Is he in the same field of academics that you are in?
JEANNINE DAVIS-KIMBALL: No, he's an engineer. We went to the Soviet Union and included in the areas we visited were Georgia and Central Asia. I did not make any contacts with anyone. The following year Gorbachev had come in and we were getting a little bit of Glastnost. Incidently my husband had learned Russian at the end of the Second World War; he figured the Russians would take over the world so he was going to be prepared. He had studied in the late 40's and early 50's. I had been studying Russian also when I was still a graduate student working on my dissertation. The following year we went to Russia and that was the year Chernobyl so we had difficulty making scholarly contacts but we finally were able to do so. We met with Russian women scholars who were connected with the Hermitage in St. Peterburg (which was then Leningrad) and the Institute of Ethnography in Moscow. It turned out that one of these women was a Communist Party secretary and had the power to arrange all sorts of stuff including a trip for us for a month to Kazakstan, (NOTE: these are not the Cossacks from the Don River region, they are Kazaks which is another culture).
We spent the entire month with two ethnographers, everyone at the Institute of Archaeology and studied approximately a hundred different nationalities. The ethnographers introduced me to many different cultures and saw how nomads lived there before the Soviets had moved them to Collective Farms. I learned a great deal about this and got connected with the Institue of Archaeology, and also established relationships with many institutes within the United States particularly the University of California at Berkeley where I was still a graduate student.
At that time Kazakstan was completely unknown; it was a part of the world that no one knew. The Director of the Institue of International Area Studies was ill and I was not able to make any contacts. As an alternative I was able to establish the American Eurasian Research Insitute. It's an indepedent 501(c)3 non-profit organization; we have worked under that ever since. I excavated in Kazakstan for several years and then the Soviet Union collapsed. One of the archaeologists I had met in Moscow, Leonid Yablonsky, came to me and asked me if I would like to excavate with him because he had been working in another republic which he could no longer go back to. We then began excavated at Pokrovka, in the Southern Steppes.
| | |
| --- | --- |
| | |
| | |
| --- | --- |
| | |
Excavating in Kazakstan

© The Center for the Study of Eurasian Nomads
RASA VON WERDER:
What were you looking for at that time?
JEANNINE DAVIS-KIMBALL: I told Leonid I didn't know much about those particular cultures, but I thought this would be a good opportunity to learn about these people.
RASA VON WERDER: At that point the Amazon issue had not come into play yet?
JEANNINE DAVIS-KIMBALL: No, not yet. This was just about studying nomadic life and how such cultures could be self sustaining in very hostile climactic conditions, (for not just a little while but 2,500 to 3,000 years). I had wanted to understand what the mechanisms of this were. We excavated four years there from 1992-1995.
In 1994 we excavated some Kurgans, or burial mounds, which contained more women than men by far and they had a lot of rich artifacts. It was from these particular excavations that I extrapolated information which led me to conclude that there were women warriors and women of very high status, and priestesses which were responsible for the spiritual lives of the family, the clan or even the entire tribe.
On my website there is a lot of information. There's an article called 'Statuses of Women' which goes into detail about how I allocated types to the artifacts and then applied that to the particular burial and came up with the statuses of not only the women but the men also.
I found information from other burials as well... we found no organic matter but there were frozen tombs of nomadic people that show the type of the boots they wore.
| | |
| --- | --- |
| | |
Excavating Kurgans

© The Center for the Study of Eurasian Nomads
RASA VON WERDER:
Those designs you portrayed on the women (on the PBS show) are current today. The flame designs I see on leather - boots, jackets, even cars.....You discovered the statuses of women by the artifacts in their graves; that's important.
JEANNINE DAVIS-KIMBALL: On the website you can order a copy of the book I wrote - which goes through a lot of what I did out there - (it's not didactic, I wrote it for the general public.)
RASA VON WERDER: Tell me how the Amazon issue got popular.
JEANNINE DAVIS-KIMBALL: After I deduced the statuses of these women and was doing some lectures at the university, I wrote an article for the popular "Archaeology Magazine," and from that time on it took off like wildfire. It was picked up by the "San Francisco Chronicle" and "New York Times" science section. THE TENDENCY TO RELATE WOMEN WARRIORS TO AMAZONS IS BECAUSE HERODITUS (A GREEK HISTORIAN WRITING ABOUT 450 B.C....HE LIVED NORTH OF THE BLACK SEA) WRITES IN BOOK 1V OF HIS HISTORIES THAT THE GREEKS AND THE AMAZONS HAD FOUGHT BY THE BLACK SEA SHORE. THE GREEKS HAD FOUGHT THEM ON THE SOUTH BLACK SEA SHORE AND THE GREEKS HAD CAPTURED A BUNCH OF AMAZONS AND TAKEN THEM ABOARD THEIR SHIPS.
SHORTLY AFTERWARDS, THE AMAZONS OVERPOWERED THE GREEKS AND TOOK OVER THE SHIPS. BUT THEY DIDN'T SAIL WELL AND GOT SHIPWRECKED ON THE NORTH BLACK SEA. THAT' WHERE THEY RAN INTO THE NOMADIC TRIBE CALLED SYTHIANS . THE SYTHIANS FOUGHT WITH THESE PEOPLE WHO LANDED OFF THE SHIP AND THAT EVENING DISCOVERED SOME OF THEM WERE WOMEN WHEN THEY LOOKED AT THE CORPSES. THEY CONSULTED WITH THEIR ELDERS WHO TOLD THEM TO MAKE LOVE, NOT WAR, BECAUSE THESE WOMEN WOULD MAKE WONDERFUL BABIES. ULTIMATELY THEY PAIRED OFF AND DID NOT GO BACK TO LIVE WITH THE SYTHIANS BECAUSE THE AMAZONS LIVED SUCH A DIFFERENT LIFE STYLE. INSTEAD THEY MIGRATED EAST AND NORTH, THREE DAYS EACH WAY, IN THE GENERAL DIRECTION OF WHERE WE EXCAVATED. THAT'S THE STORY THAT HERODITUS TELLS THAT CATCHES THE FANCY....THE GREEKS USED THE AMAZONS AS LEVERAGE AGAINST THEIR OWN WOMEN. THE ATHENIAN WOMEN THEN WERE RELEGATED TO THE HOUSE AND HAVING BABIES; THEY WERE NOT EVEN ALLOWED TO GO OUT SHOPPING. THE ORATORS FREQUENTLY MADE REFERENCE TO THE AMAZONS, SAYING HOW LUCKY YOU WOMEN ARE BECAUSE IF YOU'D BEEN AN AMAZON YOU WOULD HAVE BEEN KILLED BY OUR GREAT WARRIORS. IN THE MYTH IT WAS ALWAYS THE GREEK HEROES WHO BATTLE WITH THE AMAZONS AND KILL THEM; IT IS NEVER THE ORDINARY DOWN ON THE CORNER WIELDING A SWORD. THEY CREATED THIS IDEA OF A VERY STRONG WOMAN WARRIOR WHO HAD TO KILL A MAN BEFORE SHE COULD HAVE A CHILD OR MARRY, AND WHO GOT RID OF ALL THE MALE BABIES, AND LIVED IN GROUPS ONLY WITH WOMEN...AND DID NOTHING BUT FIGHT....IT STARTED WITH HERODITUS AND WENT MUCH FURTHER BY THE GREEKS IN GENERAL AND CARRIES INTO MYTHOLOGY TODAY.
We now discuss Patriarchy, and where and how it started, and Ms. Davis-Kimball talks about other cultures such as the Aramites and the cultures on the Levant.
Ms. Davis-Kimball mentions excavating a hundred and fifty burials, but in the PBS program, only one of these women is discussed. The people of these regions are called "Sauromatians" and "Sarmations" and the area of the diggings is "Pokrovka." All we know from the DNA is that in this one particular woman that we excavated the DNA is the same as the little girl and mother we tested. It was serendipitous that we'd find something like that.
Ms. Davis-Kimball explains that not all the people in the tribe would have the same DNA because they always marry from outside the tribe. (The excavated woman was called 272.)
Mongol and Kazaks milking and riding horses

© The Center for the Study of Eurasian Nomads
RASA VON WERDER: How did these women become powerful?
JEANNINE DAVIS-KIMBALL: I have to attribute that to the cultural environment. The climate is very harsh. They don't live in normal houses, they have Yurts. These have a wooden frame and they are portable. They're covered with felt on the inside and out, which they make themselves. (This is made of wool.)

These people are not isolated (like the Eskimos.) The Steppes are wide open for thousands of kilometers, and anybody can come in and raid them. (Which explains why they are ready for a fight.)
As small girls, they learn to ride as well as the boys do. If they ride double the girl could be the one controlling the horse.
The women have a great deal of control over the family and tribe because they bear the children, care for them, prepare the food and they contribute to getting the food. Their food is meat and milk and cheese.
RASA VON WERDER: How Do they survive?
JEANNINE DAVIS-KIMBALL: They are primarily dependent on their animals; horses, sheep, camels and yak. They milk the horses for a ritual milk drink called koumiss . They milk the sheep, during the summer they milk the yak three to four times a day and get all of the milk that they possibly can. They make most of this milk into cheese. Some of it is soft cheese which they eat during the summer and some of it is dried, very hard cheese which they preserve for the winter time in brick-like form.
RASA VON WERDER: Is there enough vegetation in the area for all these animals?
JEANNINE DAVIS-KIMBALL: The idea is they become nomadic because the area becomes depleated of grass and vegetation. The distance they move depends entirely on the geographic area they are in; in the steppes where it's very flat they move great distances, approximately a thousand kilometers during the calendar year, then back to the same place in the winter time, in the more sheltered area. In the summer pasture is where they bury their dead which is where we did our excavations, but we only stayed there during the summer.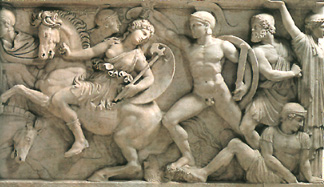 After Heroditus' account of the Amazon women, the Greeks
portrayed them in mythological fashion. Here depicted as a
topless nubile European woman in this Greek relief

© The Center for the Study of Eurasian Nomads
RASA VON WERDER: How cold does it get there in the winter?
JEANNINE DAVIS-KIMBALL: Thirty to forty degrees below zero and six to ten feet high of snow; it's right on the edge of Siberia. They then migrate south where it's warmer to go into a sheltered valley.
| | |
| --- | --- |
| | |
Statue of Kazak Amazon Priestess and Issyk Warrior-Priestess Garments

© The Center for the Study of Eurasian Nomads
RASA VON WERDER:
Do they have vegetation in these sheltered valleys?
JEANNINE DAVIS-KIMBALL: Yes, generally along the river and there's vegetation that grows high during the summer time. They may even go up into the foothills where it's more sheltered. They have something of a winter house which they build out of logs, plaster and mud on the outside where they spend a couple of months during the worst of the winter. They have a circular rock walled enclosure behind their house for their sheep. This is where they put them every night where it's very cold because the sheep are most sensitive. The in the high altitudes they would have had sheep, horses, yak, as well as camels.
RASA VON WERDER: I didn't know camels camels can live in the cold.
JEANNINE DAVIS-KIMBALL: Camels actually do very well in the cold, particularly the Bactrian, one-humped camels.
RASA VON WERDER: How do they obtain their water?
JEANNINE DAVIS-KIMBALL: They always have to pasture them near a large stream or river.
RASA VON WERDER: The duties of the women which you mentioned are domestic duties; how are these women stronger than others?
JEANNINE DAVIS-KIMBALL: When these women get milk they have to milk an animal, not merely travelling to the store. The women hold the family together. Up until recent times the women controlled the spiritual lives of their families and clans. Something which has been eroded as a result of the Soviet system. Much of it has gone underground or been lost. They are also nominally Muslim. It's sort of a combination of Nature Gods, Sky Gods, the Weather Gods and so forth with some vestige of Islamic Religion mixed into that, so it's different and strange to anything else.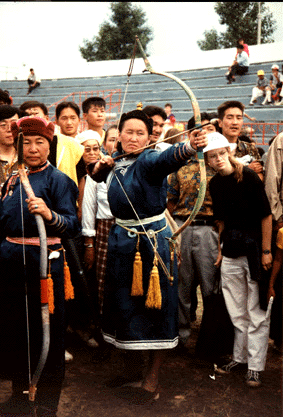 Modern Day Mongol Warrior Woman

© The Center for the Study of Eurasian Nomads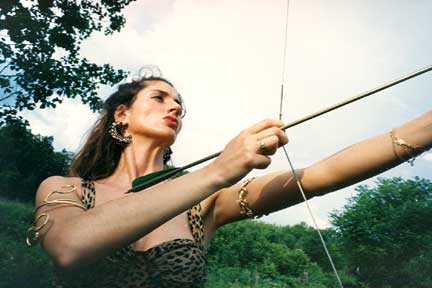 MODERN DAY WOMEN POSING
AS AMAZON WARRIORS
Maria Fontana (1994)
© 2004 Rasa Von Werder
Anna Karenina (1996)
© 2004 Rasa Von Werder
RASA VON WERDER: How did you communicate with these people?
JEANNINE DAVIS-KIMBALL: With Russians, my husband and I spoke Russian. We were working with the Kazaks, living with them and going from one summer camp to the other. I took a translator. Occasionally I find someone who is educated and knows Russian and Kazak, and I retained such a woman.
RASA VON WERDER: Do these people know what television is?
JEANNINE DAVIS-KIMBALL: No....only in the abstract. When some of these people go into their winter houses, they go to these tiny little villages, there may be some television, but it's very minimal, like Russian programming.
RASA VON WERDER: Did any of these people you took DNA samples from realize they would be on national television and be world famous, so to speak? That dear little blonde girl really stood out. The cutest thing in the world. When you first looked at her, she got really shy and ran away.
JEANNINE DAVIS-KIMBALL: She was charismatic! When we first got there there was an old Kazak guy who went to her and told her we were looking for a little blonde child, and when we'd find her we'd steal her and take her away to the United States or Germany or some place like that. She went hysterical as you can well imagine, it was horrible. I could have killed the old guy. After that she realized it was all foolishness because her parents told her the truth. I helped them build their Yurt back up.
RASA VON WERDER: How did you know how to do that?
JEANNINE DAVIS-KIMBALL: It takes about an hour to an hour and a half to build it back up. I knew how because I've been out there a long time, since 1987. I've done a lot of studies and distributing a lot of photos to scholars and teachers who wanted to learn how to do something like that in their studies. I had to learn how Yurts become aerodynamic against the wind. It's a lattice construction which folds up into five or six sections which collapses into sticks held together by ropes. When you pull it out then these interlock and there are these ribs that go up and make the roof and they interlock into the sides and go into a ring at the top, and the entire structure is covered in felt. Because of the shape the lattice also digs into the earth and when it gets really bad they take woven fabric pieces, which they've woven themselves, loop it over the top of those ribs on the roof and weight it with rocks stabilizing it even more.
The whole lifestyle of nomadism didn't just evolve overnight, these ingenious methods took time to develop.
RASA VON WERDER: Explain to me why the women are powerful in this environment.
JEANNINE DAVIS-KIMBALL: In this nomadic lifestyle they don't have to make a whole lot of new decisions; it's the same activity over and over again. If a guy gets out of line, he may not get fed or he may get hit alongside the head with a good piece of stick. Which does happen sometimes. Within these truly nomadic societies there has to be cooperation; it is egalitarian. Men do take care of toddlers and in some of my excavations I have seen men buried with little children, burials which we don't find with women.
RASA VON WERDER: How do these societies go from egalitarian and cooperation into sexist and patriarchal? If women are given an equal opportunity in all areas, do they automatically rise up?
JEANNINE DAVIS-KIMBALL: Yes, I don't think there's any doubt about it at all. The one thing that women lack is physical power and because of such they get knocked around a lot in patriarchal societies.
There's a passage in the Bible with a woman named Judith that is so horrible, in essence there's this guy who has a business of some sort and Judith is one of his women. He has a male visitor over night and offers Judith to him to sleep with just like she was a piece of property. For some reason later he becomes very angry, kills her and cuts her up into little pieces, puts her into a basket on a donkey, hits the donkey on the ass making it run away; it's absolutely gruesome.
RASA VON WERDER: There's a lot of stuff like that in the Bible.
JEANNINE DAVIS-KIMBALL: I don't think these stories are divine inspiration I think they were accounts of what went on. With a certain of element to the story as if saying, "this is ok to do." Enough people agreed with this type of thing so it went on. We find the same thing more or less in our own society.
Now we have a big discussion on American pioneering and homesteading in the early west. Ms. Davis-Kimball says that her grandparents had two homesteads in Idaho. She lived on one of these homesteads with her aunt and uncle in her formative years where she learned to work in the field and learned to handle animals, such as sheep, cows and horses, which I said her was good training for her future. Ms. Davis-Kimball went back to school after her children were born.
RASA VON WERDER: How do these men get the power then?
JEANNINE DAVIS-KIMBALL: It's a combination of a hierarchal situation that develops in the community where you have a priest and king who go into cahoots to control a society, keeping it under their thumbs.

Has Amazon Blood Found Its Way To New York?
This Woman Has Ancestors In Russia & Mongolia
© 2004 Rasa Von Werder
This photo was taken in a secret setion of
Central Park, New York City in 1980
© 2004 Rasa Von Werder
I tell Ms. Davis-Kimball about a story I heard about pioneer Mormon families coming across the plains from Mississippi, Illoinois, Kansas and Missouri areas going further west Idaho and Oregon. These are women who are very strong and have equal control. They go into these isolated areas and retain this leadership that keeps the family together. Then if the same group is taken and put in Salt Lake City the leadership of the Mormon religion produces polygamy with men using women in the worst possible way. In one instance a man has about twenty wives. When he gets a new one he sticks on of them on a little dairy farm and her sole existence is to milk these cows, churn the butter and provide all of his wives and children with milk and butter; that is her sole existence. She finally escapes and that's how we know the story.
RASA VON WERDER: How does a patriarchal domination actually start?
JEANNINE DAVIS-KIMBALL: When the population increases and people become more learned in technology then hierarchies begin to develop as someone needs to be a leader. The man who is the most physically stronger and most charismatic becomes this leader.
RASA VON WERDER: If the women were as good or better all along why is it suddenly....
JEANNINE DAVIS-KIMBALL: The women aren't physically as stong. They can't get into fisticuffs with a man and beat him up.
RASA VON WERDER: Hasn't the equation changed today because physical might is not the main criteria today?
JEANNINE DAVIS-KIMBALL: What balances the scale towards patriarchy is the pack syndrome where the men stick together and the women don't.

We discuss what makes men bigger and stronger and we conclude that testosterone is the root cause.
We then discuss Sumerian kings, priests and priestesses in the Mesopotamian area in 2500 BC. There were great leadership type women in those times who are not talked about widely.
RASA VON WERDER: They have suppressed the history of women and killed strong women. I'm going to do a page on the Inquisition soon. Have you discovered that the Amazons were real or are they a myth?
JEANNINE DAVIS-KIMBALL: Some of the the things that were discussed around the camp fires and written by the men were myths but were based on facts, and what I have uncovered are the facts.
RASA VON WERDER: The women you discovered were at least equally strong if not stronger than the men of their time.
JEANNINE DAVIS-KIMBALL: If you base their power upon the amount of artifacts in the burials, the women were much more powerful.
RASA VON WERDER: Even today the women of that area are more superior, are they not?
JEANNINE DAVIS-KIMBALL: Absolutely, yes.

APPENDIX
RASA VON WERDER: DO THEY HAVE ANY FRESH FOOD?
JEANNINE DAVIS-KIMBALL: THE ONLY FRESH FOOD ARE WILD GARLIC AND ONIONS USED TO SEASON THE MUTTON.
RASA VON WERDER: DO THEY EAT BERRIES?
JEANNINE DAVIS-KIMBALL: I DON'T THINK SO.
RASA VON WERDER: OR GREENS?


JEANNINE DAVIS-KIMBALL: ONLY AS ABOVE.
RASA VON WERDER: AND DO THEY MAKE ANY SORT OF BREAD?
JEANNINE DAVIS-KIMBALL: IF THEY CAN BARTER OR BUY FLOUR, THEY MAKE A FRIED BREAD.
RASA VON WERDER: DO THEY PURCHASE ANY SUPPLIES OF THE PERSONAL KIND/ DO THEY HAVE ANY CASH FOR SUCH ITEMS?
JEANNINE DAVIS-KIMBALL: THEY TRADE MEAT (IF A MARKET IS AVAILABLE) AND CASHMERE WOOL FOR SOME PERSONAL ITEMS, HARD TACK, CLOTHES FOR THE KIDS, FABRIC TO SEW WITH, SOMETIMES CARPETS, ETC.

RASA VON WERDER: DO THEY GET PARCELS?

JEANNINE DAVIS-KIMBALL: NOT REALLY.
RASA VON WERDER: WHAT DO WOMEN DO WHEN THEY HAVE THEIR PERIODS?

JEANNINE DAVIS-KIMBALL: I ACTUALLY DON'T KNOW, BUT I WOULD SUSPECT THEY HAVE SOME COTTON FABRIC THAT THEY USE, WASH, AND REUSE. NO SANITARY NAPKINS AVAILABLE THAT I'VE EVER SEEN.

RASA VON WERDER: DO THEY HAVE RULES ABOUT SEX?
JEANNINE DAVIS-KIMBALL: I SUPPOSE SO, BUT THIS IS A VERY VAGUE QUESTION THAT I CAN'T ANSWER.
RASA VON WERDER: DO THEY HAVE UNWANTED PREGNANCIES ?
JEANNINE DAVIS-KIMBALL: PROBABLY, BUT NOT IN THE SENSE THAT WE HAVE THEM HERE. I THINK THEY ACCEPT THE CHILDREN PRETTY MUCH AS THEY COME; I'VE NEVER HEARD OTHERWISE. THEY NURSE FOR LONG PERIODS OF TIME, CHILDREN ARE A FEW YEARS APART.
RASA VON WERDER: OR ANY TYPE OF ABUSE?
JEANNINE DAVIS-KIMBALL: YES, I'M SURE THERE IS THE SOME TYPE OF ABUSE, BUT NOT AS SEVERE, NOR DO THEY FIND THE TIME FOR SUCH AS WE FIND HERE.
RASA VON WERDER: HOW DO THEY BRUSH THEIR TEETH?


JEANNINE DAVIS-KIMBALL: DIDN'T SEE MUCH OF THIS, BUT MAYBE WITH SALT AND SODA (USED TO ALSO MAKE THE FRIED BREAD AND THEY WOULD HAVE THIS ON HAND).
VISIT ALSO

DR. JEANNINE DAVIS-KIMBALL'S WEBSITE
The Center for the
Study of Eurasian Nomads
Anyone wishing to use these photos for non-commercial use
must credit © Rasa Von Werder
---
---