THE OCEAN OF BLISS!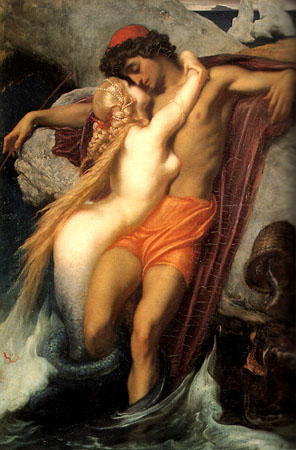 The Fisherman And The Syren
FredericLeighton
ADAM'S TOTAL IMMERSION IN GOD & FREEDOM!
SACRED SOUNDS OF THE SEA
Dear Guru Rasa, Thanks for your analyses of my 'sacred sounds'. No sooner had I digested the message of these experiences, as you interpret them, I had another most strange dream, only a few hours ago,again, with a monk chanting.

I was dreaming of what sounded like orthodox christian chanting, I think it was Greek chanting. This time it was a single man who had a very deep and beautiful voice. The sounds were so beautiful that I
began to weep uncontrollably.
RASA: AFTER KATHLEEN WROTE, DEAREST, AND YOU ADMITTED YOU HAD BEEN TO MOUNT ATHOS, I UNDERSTOOD WHAT THE SACRED SOUNDS ARE. THEY ARE YOUR INNER SENSES WHICH ARE SPEAKING TO YOU IN EXACTLY THE WAY IMAGES WOULD. THEY HAVE MEANING. THEY ARE POINTING YOU IN A CERTAIN DIRECTION, ALERTING YOU, AND DEFINING SOMETHING TO YOU. IN THIS CASE, THEY ARE CALLING YOU, INTRODUCING YOU TO THIS SUBLIME EXPERIENCE.
I then found myself plunging into a very deep ocean. I eventually reached the ocean floor. The colour of the water around me was the most incredible blue that I have ever seen. The water seemed to be alive with energy.
RASA: THIS IS THE SHAKTI, HOLY SPIRIT OR LIGHT. THE ENERGY AND PRESENCE OF GOD, OFTEN SEEN AS BLUE.
I was surrounded by thousands of beautifully coloured fish that seemed to shimmer like flames...
RASA: THESE ARE SOULS THAT ARE IN GOD, OR IN THE PRESENCE OF GOD. OR COULD BE ANGELS. ANGELS CAN CERTAINLY BE 'SHIMMERING FLAMES' OF LOVE AND LIGHT!
...and walking at my feet on the ocean floor there was a beautiful bird! I never ever dreamed or imagined birds walking in the ocean!
RASA: THIS IS FREEDOM AND BLISS. IN THE WATER, IS WHEN ONE PLUNGES INTO THE OCEAN OF BLISS. THIS IS A FINAL STEP I BELIEVE BEFORE COMPLETE IMMERSION IN GOD. IT HAPPENED TO ME BEFORE MY MYSTICAL MARRIAGE IN 1982. NOW THE BIRD IS FREEDOM. SO YOU HAVE A COMBINATION HERE OF BLISS AND FREEDOM, AND THIS CAN ONLY HAPPEN THROUGH FULL IMMERSION IN GOD! THIS WOULD BE FULL MYSTICAL MARRIAGE AND THIS COULD BE IMMINENT FOR YOU, A VERY SHORT TIME AWAY.
There was so much beauty in the colour and the sacred chant that my mind could not take any more and I woke up very suddenly, with tears in my eyes.
RASA: IN THIS VISION YOU WERE TOTALLY IN GOD AND IF YOU ARE NOT ALREADY MARRIED, YOU WILL BE SOON
I know this music is leading to something, perhaps to you.
In closing, I must tell you how stimulating your group is becoming with more people contributing and sharing their experiences.
All my love to you, Dear Spiritual Mother Rasa.
Adam
February 1, 2006
DEVOTEE KATHLEEN'S CONTRIBUTORY VISION

Hello Beloved Adam! When I read your message about the Greek chanting and the deep ocean, I saw a vision of Mount Athos, an island near Greece which is composed of 11 monasteries. Every resident is an Orthodox priest or monk, and worship has been offered continually (every three hours, day and night) for 1500 years. It is an ancient powerful repository of spirit -- filled with lovely birds and surrounded by the most beautiful waters on Earth.
Rasa will understand your dream better than I can, but I wanted to add my vision into the mixture!
Love and blessings!
Kathleen
February 1, 2006
---
---