ADAM'S VISION OF
RASA IN GLOWING LIGHT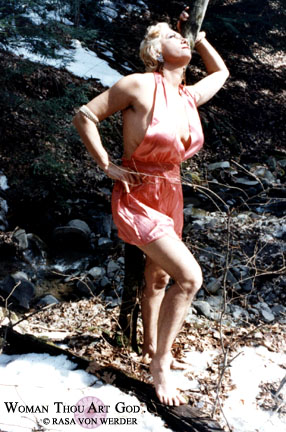 Photo © Rasa Von Werder
SACRED SOUNDS OF THE SEA
Dear Guru Rasa, First, Greetings to you! It seems like a long time since we talked. I do hope that all is well for you and that this year will be brilliant! Talking about brilliant, I have not had any further dreams about you since my initial experience, but I have 'flashbacks' in which the glowing light that surrounded you in my dream becomes really intense. The experience lasts a few seconds. The light glows brighter without being blinding and displeasing to the 'spiritual' eyes. This experiences are not dreams neither are they thoughts controlled by the will. They can just happen at any time. It's as though they were an echo of my dream and that they are trying to tell me something.
RASA: THE GOD OF ME (WITHIN ME, IN ME, ) IS TRYING TO REACH YOU AND SPEAK TO YOU ALL THE TIME.....AND IS HAVING SOME SUCCESS BUT WE COULD HAVE MORE

Your analysis my dreams really helped me a lot to understand my experiences and understand the true message that they were conveying and I hope, dear spiritual Mother Rasa, that you will have the time to comment on some further experiences of since we last communicated. They are both good and bad, even sinister,
RASA: SINISTER? I SAW NOTHING SINISTER HERE
I think. But first the good. Both the following experiences involve strange music. My first experience occurred early in the morning as I was waking up. I could here very clearly the sound of monks chanting with the most beautiful voices. This experience was unique to me since others around and nearby could not hear anything.

My second experience occurred when I was watching television. The sound of the program I was watching grew very faint and stopped completely. It was replaced by Byzantine chanting, again, very beautiful and very strange. This lasted for what seemed like 30 seconds. I checked-out other channels almost immediately to try to locate the possible source of this music but without success. I have since read that many people approaching death hear music and this phenomenon is called NADA.
RASA: THIS IS YOUR INNER SENSES PICKING UP SOMETHING. THEY CALL IT NADA, BUT THAT IS JUST A WORD
A friend of mine had a similar experience in which he heard-early in the morning- funeral chanting that he alone could hear. Later on during the day he received a call from his home country to tell him that his Mother had died!
RASA: INNER SENSES TRYING TO TELL HIM SOMETHING
I would be very interested in learning more about this phenomenon from others and yourself if possible. I hope you don't think all this is a bit crazy! Finally, I would like to send you all my love and my promise to you that one day your bright light shall find a way into my heart fully!
RASA: SOUNDS ARE RATHER RARE, SO IF YOU HAVE THEM, YOU ARE A RARE BIRD
INFINITE LOVE TO YOU,
RASA
JANUARY 28, 2006
---
---