DOES THE KUNDALINI SHAKTI SHAKE?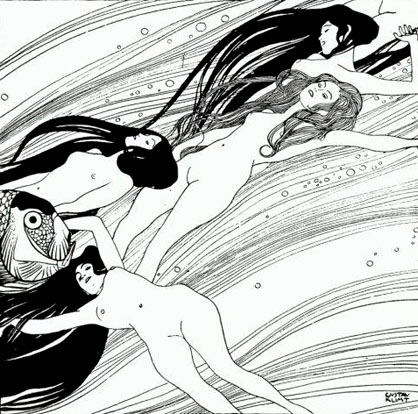 The Blood of Fish
Gustav Klimt
TEACHINGS IN RESPONSE TO DEVOTEE ALTON
Very rarely does the shakti resonate the body. It is subtler than subtle. Although it is Infinite Power, Love, Light and God, yet, to our human senses which are in DARKNESS, the sense of it surfaces but little.
It is kind of like a secret weapon that is there but accomplishes all things.
Recently devotee Alton received a powerful explosion of shakti, and didn't even know it! Why? I think he was expecting a snake to come up through his chakras, slither up the sushumna , tingle and make his body quake. I have never heard of that happening to anyone, although nothing is impossible.
When the Hindus explain the Kundalini, it is metaphorical. It is like having the Holy Spirit as a dove, which it is not. Or the Holy Spirit as physical fire, which it is not. Again, the Holy Spirit is not water, but water is It's symbol. It is Peace, it is Fire, it is Water, but all symbolic.
By the same way, can't you see that Kundalini Shakti the Snake, is symbolic? When it goes through the sushumna canal, it is your consciousness that rises, not a dramatic physical sensation.
Then how do we know it is happening? For the most part, my devotees and myself have dreams and visions. Some rare devotees, like Kathleen, have lucid, waking visions. For us to be aware of the Holy Spirit or shakti we have to have Spiritual Gifts: Psychic, clairvoyant, inner senses, dreams, visions and intimations. Now of course visions are not only 'corporeal' but intellectual, intuitive and abstractive. Is this Greek to you? Forgive me, I speak more from the Catholic mystical theology.
I expect that Alton will soon begin having dreams. Perhaps he is not used to dreams, but all my devotees have them. Even those who never had mystical experiences (Kathleen) began to have them frequently.
You must remember that this world of the flesh is far different than the world of the spirit. There has to be an interface, a bridge, by which we perceive the other side. That interface is our inner senses and visions. This is how we know or recognize we have had Kundalini - Holy Spirit experiences.
WHY IS IT THAT THE GURU'S GRACE HAPPENS SO QUICKLY? WHY IS IT THAT I SIT IN MEDITATION FOR YEARS & WAIT, BUT WITH THE GURU, THERE ARE FAST RESULTS?
This is all charity. It is charity of God and the guru. Transmission of Love Power, which gives Healing and Power to mind, body and soul, is done because of love. There is no other reason for it. It cannot operate any other way. It is a Gift, and rather hard to explain. We do know one thing, that God loves us. And we must love one another. The guru receives a Gift from God because of love. We desire God, God gives us a Gift. We want to love others, so we transfer the Gift. The Gift is a continuation of God's love.
The problem I have with cold meditation is that is is fine and good, but Love Power is needed. Myself, I concentrated more on devotion than meditation. I believe that is why I got so many Gifts and such a big Anointing to transfer. I knew what it felt like to be EMPTY, LONELY, ALONE, DEPRESSED, UNLOVED, IN A PIT, and close to DESPAIR. In my hunger and desperation I reached out to God over the years, over and over. God filled me to the brim again and again. The more the world bruised me, the more God lifted me up. That is the best explanation I can give of the great Anointing that is here, ready to be transferred!
Will explain more on this in future articles.
Rasa Von Werder
February 2, 2006
DISCUSSIONS ON

---
---