DEVOTEE DAVID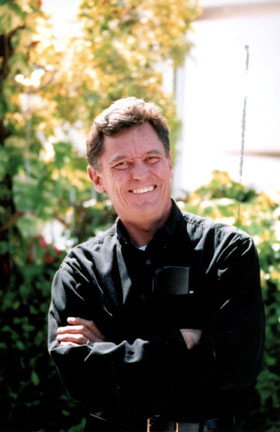 DAVID W.
DAVID IS A VIVACIOUS, DEBONAIR SOPHISTICATE - CHARMING AND DELIGHTFUL. I CREDIT HIM WITH SO MUCH SUPPORT TO THE CHURCH AND MYSELF.
HE WAS ACTUALLY RIGHT THERE AT THE VERY BEGINNING, BEFORE I STARTED THE INTERNET CHURCH, TELLING ME HOW POWERFUL I AM. I NEEDED TO HEAR THAT, TO BE ENCOURAGED. I KNEW I WAS, BUT SOMEONE ELSE SAYING IT SPURRED ME ON AND IT GOT ME GOING. DAVID HAS ALSO GIVEN GENEROUS CONTRIBUTIONS TO THE CHURCH, AND NOW STANDS SECOND TO MY BIGGEST CONTRIBUTOR (IN SWITZERLAND.) I THANK HIM FROM THE BOTTOM OF MY HEART.
DAVID HAS ANOTHER DISTINCTION. HE IS THE ONE WHO SHAMED ME TO FACE THE LAZER BEAM SURGERY I NEEDED FOR MY EYES. I WAS PROCRASTINATING, AND COMPLAINING. I HAD TWO FEARS, THE FEAR OF FLYING AND THE FEAR OF THE SURGERY. DAVID YELLED AT ME, SAYING,
'YOU ARE ACTING LIKE A CHILD ABOUT YOUR EYES!'
HE WAS RIGHT. HE SHAMED ME AND THE NEXT DAY, I CALLED THE DOCTOR AND MADE THE APPOITMENT FOR SURGERY (NON INVASIVE, NO PAIN 5 MINUTE TREATMENTS, BUT THREE PLANES EACH WAY, TWO TRIPS, AT THE COST TO ME OF $6,000. OUT OF POCKET!)
DAVID'S LETTERS ARE ALL UPLIFTING AND HE IS LOOKING FORWARD, WITH ME, TO THE DAY WHEN WE CAN ALL JOIN HAND IN HAND ON SOME HALLOWED GROUND OUT WEST, ALL TOGETHER FOR THE CAUSE. I LOVE YOU DAVID!
GURURASA
FEBRUARY 18, 2006
---
---