BELIEVER ERIC T.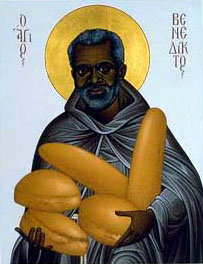 St. Benedict the Moor
ERIC'S VISION:
JESUS, KRISHNA & BUDDAH SEND ERIC TO RASA!
ABOUT A YEAR AGO WHEN RASA'S WEB CHURCH WAS JUST GETTING KNOWN, ERIC T WAS IN A QUANDARY. HE WAS DEBATING WHETHER TO LEAVE YOGA AND GO BACK TO THE CHRISTIAN CHURCH. HE SAT INSIDE AN EPISCOPALIAN CATHEDRAL, ALL ALONE, AND PRAYED THIS PRAYER:
HE ADDRESSED JESUS, KRISHNA AND BUDDAH, ASKING FOR GUIDANCE AND DIRECTION IN HIS SPIRITUAL PURSUIT.
HE THEN WENT HOME AND TURNED ON HIS COMPUTER, NAVIGATING TO ONE OF HIS FAVORITE ADI DAS GROUPS. THERE ON THE GROUP WAS A LINK TO WOMAN THOU ART GOD. HE CLICKED THE LINK AND DISCOVERED THE ANSWER TO HIS PRAYER.
HE BECAME FRIENDS WITH RASA BY E MAIL AND PHONE, AND ERIC WAS THE ONE WHO GOT RASA TO HAVE HER FIRST 'DEVOTEE GATHERING.' SADLY, ERIC WAS NOT THERE, BUT ANOTHER MAN, PHILIP, CAME ALL THE WAY FROM ENGLAND TO CELEBRATE RASA'S BIRTHDAY BASH, JULY 16, 2005.
ERIC IS IMPORTANT TO GOD (IN TERMS OF MISSION....WE ARE ALL IMPORTANT ACROSS THE BOARD!) AND YOU WILL SEE HIM AND RASA JOINING TOGETHER IN INTIMATE SPIRITUALITY, AND ERIC WILL BE A FOUNDING MEMBER OF OUR THEOLOGY. RASA PREDICTS THIS.
WE LOVE YOU ERIC!
RASA VON WERDER
FENRUARY 18, 2006
---
---