ERROL ECSTATIC EXPERIENCE
WITH GOD AS GURURASA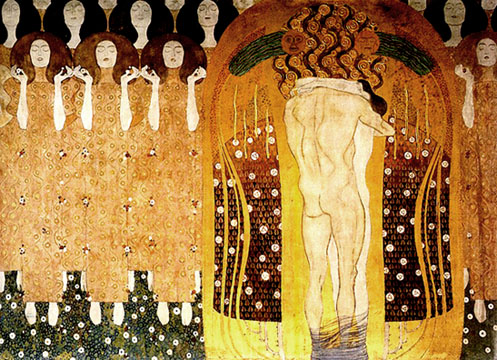 Beethoven Frieze: Praise to Joy, the God-descended
Gustave Klimt
RASA COMMENTS BELOW. FIRST THE TESTIMONY OF ERROL:
This afternoon when I laid down and went to sleep, I found myself embraced in my beloved Guru's arms. Her love was both sensuous and overpowering. When I awoke from her loving embraces (1.5 hrs later) my emotions were that of having a true LOVER once again. No chela can adequate express how RASA'S embrace feels. And I will not even try.
RASA: THIS IS WHAT I HAVE BEEN TRYING TO EXPLAIN TO PEOPLE ON MY SITE NOW FOR OVER A YEAR. THEY (SOME OF THEM) DO NOT UNDERSTAND!
WHEN A HUMAN IS TOUCHED BY GOD ON THE LEVEL OF LOVER - IT IS THE HIGHEST LEVEL THAT EXISTS. FOR A SOUL TO HAVE SUCH AN INTIMATE CONTACT AND EXPERIENCE WITH GOD PROVES GREAT HOLINESS. NO ORDINARY HUMAN CAN TOUCH THIS. I CAN GUARANTEE YOU WHAT I AM SAYING. I DO NOT KNOW ANY YOGA TRICKS OR SKILLS, BUT I KNOW ECSTATIC DIVINE LOVE.
IN THE CHRISTIAN BIBLE, IF YOU READ THE SONG OF SONGS, YOU WILL UNDERSTAND HOW IT IS PORTRAYED THERE.
WHEN WE DIE, THOSE WHO ARE RIGTHEOUS, WILL KNOW GOD AS LOVER. DEPENDING ON WHAT STAGE YOU ARE ON, THE CLOSER YOU ARE TO GOD AS LOVER, THE CLOSER YOU ARE TO GOD. THIS IS AN ABSOLUTE. ECSTATIC DIVINE LOVE IS THE HIGHEST OF HEIGHTS WITH GOD.

MY DEVOTEES ARE NOW RECEIVING THIS EXPLOSION OF LOVE. SOMEHOW WE HAVE FOUND THE SOULS WHO CAN RECEIVE THIS AND WHO DESERVE THIS, AND IF YOU CHECK OUR DEVOTEE PAGES AND SEE CERTAIN ONES ARE ON THIS HIGH LEVEL. THEY ARE MALE AND FEMALE BOTH. IT IS NOT A HUMAN SEX THING - IT IS A GOD THING. IT FEELS A MILLION TIMES GREATER THAN SEX - SEX CANNOT COMPARE TO THIS!
I HAVE TAKEN A LOT OF HITS, MOSTLY ON GURU RATINGS, FOR PORTRAYING MY RELATIONSHIP WITH GOD THIS WAY, BUT THAT IS ALRIGHT. LET THOSE WHO HAVE EYES SEE, AND THOSE WHO HAVE EARS HEAR. IF THEY CANNOT, THEY ARE NOT.

NOW HERE IS THE REST OF BLESSED ERROL'S TESTIMONY, AND I LOVE HIM MORE THAN WORDS CAN SAY!

IT IS THE ANOINTING THAT HIT HIM, THE POWER OF THE ANOINTING, WHICH GOD GAVE ME BECAUSE OF TOTAL SELF SACRIFICING LOVE..........
Find out for yourself like my brother Alton and I have. "Feeling gratitude and not expressing it...is like wrapping a gift and not giving it.
With that thought in mind and with reverence to my Spiritual Mother and Guru RASA:

To those seeking our Spiritual Mother and Guru RASA; you will always be assisted in pursuing your goal. Individuals in our GROUP are aided in their predicaments by the company of those "of his own
kind" namely us who share the quest for consciousness and are aware of our spiritual mission. Yet the world of the commonplace, "triviality of everydayness" overpowers many. The suffocating world of personal preoccupations makes us forget the world of broader meaning and significance that resides in the inner recesses of our psyche. The ego becomes estranged from the Self and from the entire archetypal psyche, and its estrangement pushes it into subservience to contemporary humanity. The result---the plea for help goes unanswered. Humans possess two ways in which they can expand the magic circle of their selfhood; one outwards, the other inward. Extraversion of psychic energy propels the attention of the personality into the outer world of sensation with its attendant reactive feelings and thoughts. But in states of deep inward attentiveness and psychic permeability, another kind of expansion takes place. Suddenly, we are no longer puny humans trapped in gray fog of personalistic concepts and images, rather, we are at the center of a web on consciousness, we become aware of many kinds of meaning vibrating along the web, and we develop the capacity, not unlike a spider in a similar situation, to catch hold of the cause of these vibrations. To use another image, we become like a tree that suddenly becomes aware that its roots reach down deep into an underground world of power, and we also know thru RASA that it is this underground realm that confers life on our branches, which stretch above it into the daylight world of ego-consciousness. Such is the phenomena of seeing the connecting link between our Spiritual Mother and Guru RASA and one's supra-personal, original selfhood reestablished.
RASA's loving Chela,
Errol
February 8, 2006
DISCUSSIONS ON
---
---