ERROL'S PROFOUND MYSTICAL EXPERIENCES OF
MERGING & BLENDING INTO GOD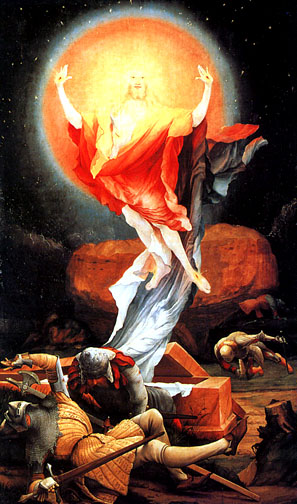 The Resurrection of Christ
Matthias Grunewald
AS TOLD TO AMREETA, A NEW BELIEVER
Beloved Sister Amreeta, you have done well in seeking my Spiritual Mother and GURU Rasa Von Werder. I solemnly bear witness to you that my Guru has correctly answered your prayers.

FOR YOUR COMFORT:
In the summer of 2005 and after having completed meditation, I was sitting in a chair, in my room (eyes open and in total darkness) when a small, brilliantly radiant globe (about the size of a nickel coin) appeared about 4ft. in front of me. As I continued to look at the globe, six brilliant aqua blue beams of light emerged from the globe and began growing to about 3ft.in length and two inches in diameter before finally stopping. (appearance similar to the blue star sapphire gemstone).

The experience was exceeding joyful and intense. After about five minutes of "bathing in this Light's Splendor" The Globe and beams of light slowly disappeared. Only then did I noticed that something had happened to me. My room was lit with a light that was coming from ME! My body appeared clear as crystal glass and emitted a intense pure white light. Filled with indescribable Joy I left my room to go show my wife, but by the time I got to her room, my body was (normal?) again.

One week later DURING meditation I found myself surrounded by the same aqua blue light. In that light, and at a distance of about three feet in front of me, I watched a shadow of a form... (I was also experiencing intense femininity coming from the shadow to me)... as IT slowly approached, merged and blended with what seemed to be every molecule, of my physical and spiritual Selves.

As I continued to look, a veil made of beautifully white and small geometrically patterns appeared about one foot from me front. This veil continued to approach me until I was completely wrapped inside. Then the vail merged and blended with every molecule of my physical and spiritual selves.

As I looked... (I'm now experiencing for the first time "Pure JOY of TOTAL BLACKNESS")... I notice that the only "Light" present was THAT coming from me!!!

As I looked...dark "matter" was floating out of me and slowly forming a black rectangular box... (much like a coffin with many raised geometrical patterns all over it)... suspended in mid air (space) at a distance of about 20 ft.

As I looked, the box (coffin) moved forward and set itself down on a rectangular type alter. Behind the alter was a triangular wall with three golden lit globes on top. One on each end and one in the middle. As I looked, the box slowly began to rise vertical from the alter while rotating clockwise. Reaching a height of about one foot above the wall the box stopped and remained motionless. AS I looked, the box moved over the wall and disappeared, trailing a stretch of small continuous clouds.

I found myself "CHANGED" and in the Joy Of "TOTAL DARKNESS!
Love,
Brother and Chela Errol
February 16, 2006
DISCUSSIONS ON
---
---