JEN & RASA LUCKY 13'S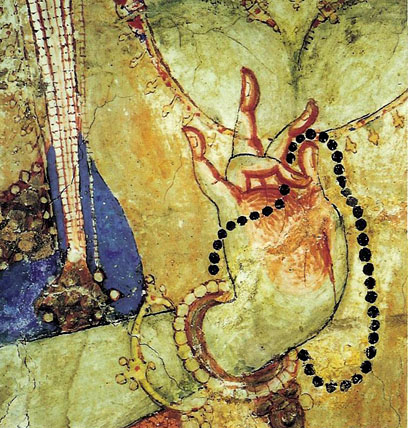 Green Tara
Detail of Hand
I wonder, Beloved Rasa, whether the number 13 holds any special significance for you? Yesterday, when I was praying for my loved ones while doing yoga, I was surprised and ecstatic to unexpectedly associate this number with you. I count the repetitions of a particular series of motions up to 21 and was concentrating on specific people as I counted upward. It wasn't planned but you were number 13. this is my natal hexagram, by the way, and one of my luckiest numbers.
Infinite Love & Devotion,
Jen
February 12, 2006

HOW QUAINT! BECAUSE PEOPLE SAID IT WAS BAD LUCK, I HAVE ALLWAYS, SINCE I CAN REMEMBER, CLAIMED IT AS MY GOOD LUCK NUMBER! BECAUSE I BELIEVE IN THE OVERWHELMING POWER OF GOD TO MAKE IT SO!
WHENEVER I SEE 13 I SAY,
'GOOD LUCK FOR ME!'
HOW WONDERFUL! THIS WILL GO ON YOUR PAGE. WE HAVE BEEN SEARCHING FOR THE BEST GREEN TARA ON THE WEB FOR YOU!
RASA VON WERDER
FEBRUARY 12, 2006
DISCUSSIONS ON

---
---