DEVOTEE JEN
MYSTICAL MARRIAGE WITH GOD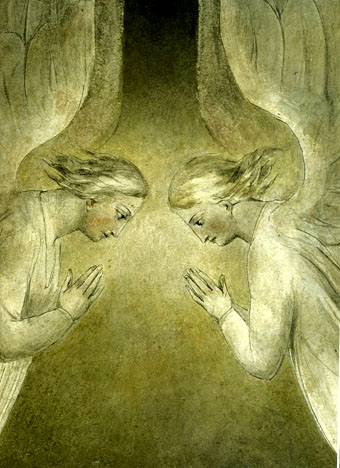 Sepulcher
William Blake
Dream on the night of the 10th of February 2006. It was about a very close, long-time friend of mine who I have not seen or talked to in maybe five years, someone I went to high school and college with. I dreamed we were together on a bed (not "doing" anything, but just there sitting and talking).
RASA: THIS IS THE YOU OF LONG AGO, JEN, THE INNOCENT YOU, THE CHILD OR PURE SELF WITHIN YOU. YOU ARE 'RESTING' OR ASSOCIATING OR BEING 'AT ONE' WITH THE TRUE YOU RIGHT NOW.
At one point, a glass vase of flowers was pressed down onto the bed (I'm not sure who did this, though). The vase broke and I felt very upset by this.
RASA: THESE ARE MEMORIES. OF LOVE? PROBABLY THE LACK THEREOF. (ROSES ARE LOVE BUT THE BREAKING IS BROKEN HEART, BROKEN EMOTIONS.) SOMEONE HAS HURT YOU.
A man with a very hairy back (which I commented on, in the dream), was playing out a "scene," as if in a movie, in front of us. He seemed to be speaking or acting something out, but I don't remember what it was, just that his back was hairy and that he was a somewhat large (but not fat) man.
RASA: MEMORIES OF A MAN WITH RELATES TO HIS OWN PRIMITIVE SELF, HIS INSTINCTS, AS WOULD AN ANIMAL.
A beach scene, or rather ... me watching ocean waves crash at a distance occurred after that. (This is a frequently recurring scene in many of my dreams.)
RASA: FRUSTRATION, STRESS HAS BEEN PRESENT.
After that, I found myself sitting on a toilet in some kind of "public" place.
RASA: YOU WERE HUMILIATED IN THE PAST. INVASION OF PRIVACY.
People were watching me. Scattered fragments of images after that, but then ... this is the part that seemed especially significant to tell you: toward the end, just before I woke up, my friend was standing at a table, looking at books and things related to weddings (photo albums, flowers, decorations, etc.), saying "now it is time."
RASA: YOUR SUFFERINGS HAVE PREPARED YOU FOR THE 'MARRIAGE WITH THE LAMB,' THE NUPTIALS OF YOUR OWN SOUL WITH THE DIVINE WITHIN YOU. IT IS YOUR MYSTICAL MARRIAGE, AND 'NOW' SEEMS TO BE SAYING IT HAS TAKEN PLACE.
He walked away after that, and I woke up shortly thereafter. (And I actually had some days of an elated "bridal" feeling after that, walking around as if my marriage was approaching soon.)
RASA: THE ECSTASY SEEMS TO INDICATE IT IS HERE.
YOU MAY HAVE MORE DREAMS ON THIS........ I (RASA SPEAKING) HAVE BEEN THROUGH SEVERAL 'MYSTICAL MARRIAGES' AS THEY ARE TRANSITIONS OF MAGNITUDE, GIANT LEAPS INTO INFINITY. OR IN SOME CASES, WARM UNITING WITH A NEW GURU, OR RE-AWAKENING WITH AN OLD GURU! (FOR ME, TWO MARRIAGES WITH OUR LORD JESUS!)

Then another significant (and perhaps related) dream I wanted to share with you, but I don't recall when I had it. I was riding on a roller coaster with another friend, someone I have known for perhaps five years, but only online. We've never met in person, and I've never even seen his picture so don't know what he looks like. In the dream, I couldn't see his face but I knew it was him. (This is someone for whom I have a great deal of respect and brotherly affection.)
RASA: YOU HAVE NOW BEEN TAKEN ON A 'JOY RIDE' OF UPS AND DOWNS, HIGHS AND LOWS. THIS SOUNDS LIKE OUR FRIEND 'F' WHO IS CLOSE TO YOU IN THIS SADHANA JOURNEY AND HAS WITNESSED THE EVENTS WITH YOU.
Anyway, we were on this roller coaster together...
RASA: I BELIEVE THIS WAS ONE OF THE DEVOTEES WE BOTH KNOW WHO WENT CRAZY, AND THIS ROLLER COASTER IS THE STRESS WE PARTICIPATED IN.
...and in the background I saw the most beautiful scene of wild horses running freely across a hill. There were many of them, too many to count, but the scene was in technicolor and quite gorgeous. And it happened twice in the dream that I looked and saw those horses! It is a scene that still appears in my mind, unforgettable.

Just wanted to share those, dearest Guru Rasa!
RASA: THESE WILD HORSES REPRESENT THE FREEDOM THAT THE HIGH-UP DEVOTEES HAVE RECEIVED, AND YOU ARE ONE OF THEM. YOU ARE IN THE PLACE OF MUKTANANDA, OR FREEDOM. WILD HORSES ARE STRONG, AND THESE ARE PLACES OF SPIRITUAL EVOLUTION. (RASA)
Infinite love & Devotion,
Jen
March 7, 2006
OVERVIEW
THIS DREAM EXHIBITS TO JEN SOME OF THE PAIN AND STRESS SHE HAS BEEN THROUGH IN HER LIFE, AS WELL AS RECENT UPS AND DOWNS. THIS MARRIAGE HAS TAKEN PLACE SINCE RECEIVING RASA AS HER NEW GURU.
INFINITE LOVE,
RASA VON WERDER
MARCH 7, 2006
DISCUSSIONS ON
---
---