RASA'S SHAKTI RETURNS
CONFIDENCE & JOY TO JEN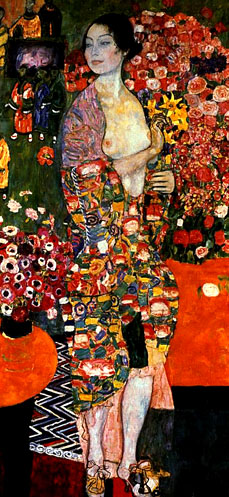 Die Tänzerin
Gustave Klimt
You came into my life at just the right moment. The spiritual crisis I faced was threatening to steal all my confidence and joy. Everything that was in me at the time yearned for something that seemed, because of my circumstances, to be denied. Even knowing God would never desert me or lead me astray, I was accused by people with influence of straying and of being outside of God's Grace. Have you ever been in a place in life, Precious Mother Rasa, where you knew without a doubt that a particular path was the correct one for you to take, yet opposition from strong forces caused you to weaken and grow faint? While I never doubted my intuition about the path, the very existence of such strong opposition (and it still exists) put a burden upon my heart. Since meeting you and inviting your love -- installing it -- into my heart, the burden feels lifted. The opposing forces are still as strong as before; but I feel better equipped to face them, with renewed confidence and joy.

I realise a life without pain is impossible; human beings are destined to suffer. But your divine guidance is like healing rain, washing the aches and weariness away. No, life is not "perfect" now, and will never be perfect on this present plane of existence. I know, however, that Divine Perfection and Pure Holy Light will create the perfect conditions for me to grow and flourish, in perfect harmony with Divine Will and Goodness.

You are my first guru and I feel fortunate and blessed to have found you, that your Love found me! Thank you for considering me worthy of being your devotee. I hope and pray that I never let you down, that my life and work are encouraging to you, strengthening your own purpose and providing a measure of light along your path. Green Tara ...

"Regarded as a spiritual consort of Amogasiddhi, the Dhyani Buddha. Her left hand holds a half-closed lotus or water-lily flower with long petals, often blue. Tara is incarnate of all good woman."

These words are inscribed on a card given to me when I purchased a statue of Green Tara as a gift for a beloved relative who was, at the time, terminally ill. When her guardian told me she had passed away a short time after my visit with her, I felt that she had waited until she could see me before dying. Her guardian later asked if I would like to have the statue; of course I told her I would love to have it.

Green Tara reminds me not only of my beloved relative but of my PURPOSE in this life, which is to stay in tune with Spirit and to seek truth always. Green Tara's loving presence in my life has been a blessing and a great source of peace ...

"Peace I leave with you; my peace I give to you. I do not give to you as the world gives. Do not let your hearts be troubled, and do not let them be afraid." John 14:27 (NRSV)


Infinite Love and Devotion,
Jennifer
February 14, 2006


THAT IS SUCH A WORTHY TESTIMONY AND YOU JEN, MY LOVE, ARE MORE THAN WORTHY OF THIS GRACE.

I CHERISH YOU FOREVER. YOU AND I LIVE IN EACH OTHER'S HEARTS FOREVER, AND WILL NEVER BE SEPARATED IN THE ETERNITY OF GOD.

YOU ARE TRUTH, BEAUTY, SERENITY, DIVINE LOVE, BOUNDLESS COURAGE, A STREAM OF BLISS, AND LIGHT IN THE DARKNESS. YOU ARE EVERYTHING GOOD,
BOUNTIFUL AND BEAUTIFUL AND OF COURSE,
I LOVE YOU!
RASA
FEBRUARY 14, 2006
DISCUSSIONS ON

---
---