RASA'S DREAM OF
KATHLEEN'S ADVANCED STATE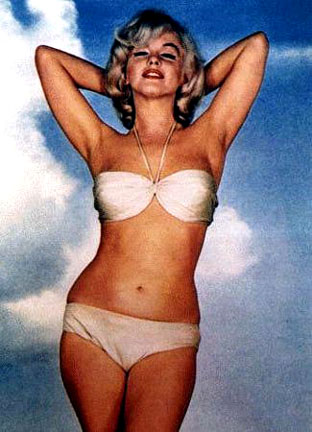 DREAM ABOUT THE SARLO WAR & HOW
IT RELATED TO HER QUICK SAHASRARA RISEUP
Dream includes our 'anti guru rascal' Jody. In this dream, I see Marilyn Monroe!
RASA: SHE IS KATHLEEN, BECAUSE THEY ARE BOTH 'PURE LOVE' AND ALSO, HARD WORKERS.
There is someplace Marilyn must get, but she needs help. She approaches me and gives me a set of keys with a big plastic see-through 'key' that has on it many more. She hands it to me because she trusts me to get her where she has to go.
Indeed I do, but not without help. I get this man, who drives a school bus, to drive us where Marilyn has to go.
He is a peculiar person who I could not identify until Kathleen told me it was 'horny Uncle Roy of late memory' and the place we go to which I will describe, is where Uncle Roy lived! He also drove a school bus!
What is unusual with this 'angel' or 'saint' is that as I sit next to him as he is driving, he is feeling my legs. The beauty, strength of my legs, and the hair on them, turns him on! He is gently touching my legs and I pretend not to notice!
RASA: THE LEGS REPRESENT 'TELEPORTATION' OR GOING FROM ONE DIMENSION TO ANOTHER. THE MUSCLES AGAIN, REITERATE STRENGTH, AND THE HAIR THE RAYS OF THE SHAKTI.
I DID HAVE TROUBLE IDENTIFYING THIS CHARACTER UNTIL KATHLEEN TOLD ME UNCLE ROY WAS A GOOD MAN, BUT THE HORNIEST MAN SHE HAD EVER KNOWN! AND SO, THIS QUAINT SYMBOL SAYS A FEW THINGS AT ONCE. THAT UNCLE ROY IN HEAVEN IS HELPING US, AND HE IS ADMIRING MY SPIRITUAL STRENGTH. THE HORNY LEG FEELING GAVE HIM AWAY.)
We go to a place that is much warmer. It is a sort of old farm homestead, with a large but modest main building and a few outbuildings. It has all green grass and trees around it. It is on the bank of a river that is gentle, not a strong current. It has soft, small ripples for waves, and the sun is dancing off them. The homestead plot is at least twenty feet above the river (this concerned me as flooding is a factor) and I admire the river through the trees. The ripples seem to be multi colored.
RASA: KATHLEEN TELLS ME THIS WAS EXACTLY LIKE WHERE UNCLE ROY LIVED. THE RIVER NEXT TO HIS HOME WAS GENTLE AS IT EMPTIED INTO A BAY (?) BUT EVEN MORE STRIKING, IS THE FACT THAT, WHEN KATHELEEN WAS A CHILD, SHE LIVED IN A BLEAK 'PROJECTS'. THEY VISITED UNCLE ROY OFTEN AND IT SEEMED LIKE HEAVEN TO HER.
AND SO, THIS LOCATION IS A REPRESENTATION OF HEAVEN. WHILE HERE I REMARK TO ALL AROUND ME (IT SEEMS WE LEFT DANGER) THAT IT IS SO WARM AND SAFE HERE, I JUST MIGHT MOVE.
IN THE CONTEXT OF GOD'S WORK, IT INTERESTS ME HOW PASSED-ON RELATIVES SOMETIMES GET INVOLVED IN OUR SPIRITUAL ADVANCEMENT HERE ON EARTH.
HOWEVER, WE DO NOT STAY HERE VERY LONG, AND WE HAVE TO MOVE ON.
The next place we visit (still on my merit. Mind you, Marilyn had me 'pay' for the tickets or the venue to get from place to place. This is a symbol of the fact that it is my merit that got us there - as merit is like money or value given us by God.......this was the Guru Power that Marilyn/Kathleen got from me on the initial thrust into Union with God, the Peak Experience of which was, for her, the piercing of the Crown Chakra.
RASA: NOW WE ENTER ANOTHER PLACE, WHICH IS NOT SO PLEASANT. IT IS MY APARTMENT IN BROOKLYN, WHICH ALWAYS SYMBOLIZES PURGATORY OR PURIFICATION EXPERIENCES. AS WE ENTER, IT IS PAINTED QUITE BEAUTIFULLY, THE YELLOW AND GOLD AS I ONCE HAD IT.
MARILYN GOES TO THE FRONT WINDOW. THERE, THROUGH THE BEDROOM WINDOW, SHE LOOKS DOWN THE SIX FLOORS. I AM NERVOUS ABOUT HER TUMBLING OUT, BUT THERE IS A STEP LADDER IN BETWEEN HER AND THE WINDOW, BRACING HER. IT IS ACROSS THE WINDOW JUST LEANING THERE.
SHE LOOKS DOWNWARD AT THE ROOF OF THIS BUILDING WHICH IS A SHARP TRIANGLE, FOUR FLOORS BENEATH US. ON THE TOP OF THIS ROOF (WHICH IS FLAT) IS A HUGE CHILD, DRESSED IN PINK. HE IS ABOUT 20' TALL, LIKE A BALLOON, BUT A REAL PERSON, A GREAT BIG BABY OR ADOLESCENT, AND HE IS FACING AWAY FROM US.
Somehow, I discern this is Jody, and Jody started the war with Sarlo. Kathleen told me this made her think of 'King Baby.' What would that be? Someone who desperately needs attention, needs a Mommy! In other words, has a giant need! Why is he in pink? This tells me that he is a child of God, as all souls who ascend into heaven are seen as 'brides' or the feminine, 'passive' principal in the relationship with God. So although this person is a Big Baby, he is also a genuine child of God, ready to go forward in union with God. Another good clue is he is standing on a triangle - this is a symbol of the Holy Trinity. His standing with his back to us shows that he is opposing us.
RASA: AFTER SEEING THIS VISION, KATHLEEN IMMEDIATELY LEAVES THE WINDOW AND ROOM AND COMES INTO MY LIVING ROOM.
SHE ASKS ME FOR HER KEYS BACK, AND SAYS,
'NOW I WILL PAY.' THIS REFERS TO THE NEXT LEG OF THE JOURNEY. I HAVE BEEN PAYING FOR THE TRIP SO FAR, BUT NOW SHE IS WILLING TO PAY FOR THE REST OF IT. THIS IS A GOOD SIGN OF WILLINGNESS TO SUFFER, AND SPIRITUAL MATURITY.

INTERPRETATION
This is an extremely meaningful dream relating to Kathleen and myself and the war on Sarlo.
Kathleen joined me when the war had already started. She trusted me as Guru and I quickly (with the help of Uncle Roy!) took her to the next level. (Mind you it is not me the flesh, it is the anointing, the God power that did it. My flesh has no power!) And so, she gives me her keys. Her keys are her LINKS where she installs me into her heart, and gives the anointing access into her soul!
We get to Heaven, a peak experience, and she is now higher up. But we cannot stay in 'Nirvana.' There is a war to be fought, there is hard work!
When Kathleen sees the battle, symbolized by the need of 'King Baby' Jody, she understands that great souls suffer for merit. She is a formidable, and willing to take on the challenge.
Therefore, the next step is Kathleen tells me she will pay - or suffer - the next leg of the trip toward God.
This dream is a testament to Kathleen. It explains how her quick and immediate rise into the Sahasrara had all to do with her pure, self sacrificing love; her willingness to suffer for God and God's cause.
Kathleen had her own dream about this time, where Jody plays a strong part, and it reiterates that her willingness to fight with Rasa incurred the peak rise into Sahasrara. Her dream will be submitted and interpreted by herself.
Rasa Von Werder
January 16, 2006
AMENDMENT
JANUARY 20, 2006
THE BEAUTIFUL KISS FROM MARILYN!
Now Marilyn, as she is on her way out, asks me to kiss her and offers her lips as way of goodbye.
I do kiss her and exclaim, 'Those are the sweetest lips I ever kissed!'
I see in my mind's eye lips like they used to sell when I was a kid - red wax. It was a joke to put them over our own lips, gripping the bar in the middle. They were curvaceous.
Her lips are shaped like that, curvy on top and bottom.
RASA: WHAT IS INCREDIBLE IS THAT THAT NIGHT, WHEN KATHLEEN WAS GOING TO BED, SHE IMAGINED ME ON A WHITE SATIN PILLOW TRIMMED WITH RED PIPING, THAT MY HEAD WAS RESTING THERE. AND SHE GAVE ME HER SWEET KISS. THIS CAME OUT IN MY DREAM. I PICKED UP HER IMAGINARY, INTENDED KISS AS IF IT WAS REAL (AS THESE THINGS ARE REAL IN THE SPIRIT WORLD.)
Here we see what motive there is to the actions of Kathleen. It is love. It is because of love she saw the problem with Jody, which includes the Sarlo war, and she intends, out of love, to participate in solving the problem. In this dream, more than anything, it is Jody who needs help and the war is the mighty way of giving him that help. And Kathleen willingly works toward that.
---
---