KATHLEEN DREAM OF
THE BATTLE WITH GURU-BASHING GOONS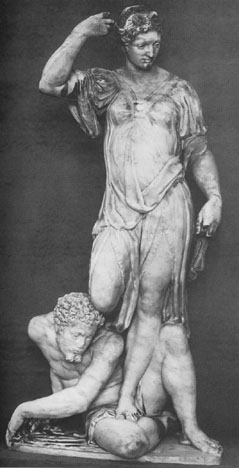 Victory
Bartolomeo Ammanati
THEY ATTACKED US BUT
WE WERE INVINCIBLE & ARE NOW 'AT REST'
WITH RASA & KATHLEENS INTERPRETATIONS
Hello Beloved Rasa and everyone! Rasa recently interpreted her own dream about Jody (and Marilyn Monroe, and my uncle Roy, among other strange characters!)
RASA: THE DREAM WAS ABOUT BELOVED KATHLEEN & JODY & UNCLE ROY WERE ALSO IN IT. KATHLEEN IS SO HUMBLE!
As she mentioned in that article, at the same time as she had this dream, I also had a short dream involving Jody. Here it is, with my interpretation:
The dream started thusly: I was sitting on our living-room couch, with my cat Anya Bastet sitting next to me.
Anya's biography is important here: Anya is a formerly feral cat, whom my husband and I rescued in 2001 with her newborn kittens. As part of the information that we passed along to the adoptive families of the kittens, I had an astrological report done for the kittens. And though we didn't know Anya's birthdate, the astrologer told me that Anya was an Egyptian priestess of the wisdom goddess
Bastet (who had a cat's head and tail), and that she had reincarnated into our household as a focus point for Goddess energy. I never understood why this was important, until becoming Rasa's devotee and a student of matriarchy. Now I know that Anya is a key to my eventually finding Rasa, and the cat's Goddess energies are the reason why she appears in this dream also.
RASA: IN THIS DREAM, THE GODDESS WILL BE ATTACKED. ANYA IS A SYMBOL FOR RASA AND ALL THAT SHE REPRESENTS, INCLUDING KATHLEEN. WE ARE ONE.
In the dream, Anya was purring on the couch when a wild-eyed
RASA: WILD EYED IMPLIES SOME SORT OF MENTAL PROBLEM, AND BY SUCH A PROBLEM A PERSON IS RENDERED INCAPABLE OF LOGIC & THEIR BEHAVIOR WOULD DEPICT THAT ALSO
...man broke down our front door
RASA: THIS INDICATES INVASION OF PRIVACY, FORCIBLE ENTRY INTO THE SACRED REFUGE OF THE HOME. INDEED, JODY AND THE GOONS INVADED THE SANCTITY OF RASA AND OTHER GURUS AND HOLY SOULS, BY INVADING THEIR SANCTITY & DOING HARM TO THEIR REPUTATIONS (OR TRYING)
...and rushed into the living room, shouting about hellfire and damnation. He was dressed in a suit, and looked like a Jehovah's Witness (he was brandishing a Bible and some tracts), but I knew that he was Jody.
RASA: ALTHOUGH JODY & GOONS INSTEAD PREACH ADVAITA, (A BROKEN OR UNRIGHTEOUS FORM OF IT) THIS IS WELL STATED, BECAUSE IN THEIR ATTITUDE THEY BELIEVE THEIR WAY IS THE BEST AND ONLY WAY. THEY LOOK DOWN ON NONDUALISTS, AND THEY STAND IN JUDGEMENT AND CONDEMNATION OF GURUS AND MANY RIGHTEOUS SOULS. THIS SHOWS THEM AS ILLOGICAL FANATICS, SAME AS
BIBLE BELTERS OR ONE-NOTE SPIRITUAL MUSICIANS.
He shouted that I was a sinner, and I needed to follow the Bible, and that there was only one way to God.
RASA: IN THEIR PROFANITY AGAINST GURUS, THEY DO A LOT OF POSTURING AND SELF RIGHTEOUS CRUELTY.
Then he pulled out a sharp knife (it looked like a kitchen knife, but it was as long as a short- sword or left-hand dagger)...
RASA: THIS DECAPITATION IS OF THE SACRED FEMININE DIVINE, WHICH JODY DID SYMBOLICALLY OR ALLEGORICALLY TO RASA, BY 'CUTTING OFF' HER 'GURU' HEAD. THE CLIQUE STATED THAT RASA WAS NOT A GURU, AND COULD NOT BE A GURU. THAT WOULD BE LIKE TAKING OFF HER HEAD, WHICH IS THE SEAT OF DIVINE WISDOM.
...and he chopped Anya's head right off.
I screamed and attacked him. I beat the crap out of him, and he disappeared from the dream at this point.
RASA: THIS IS KATHLEEN'S DEFENSE OF RASA, HERSELF, AND THE SACRED FEMININE DIVINE, GOD IN A WOMAN.
I picked up Anya's head, and I told my husband (who suddenly appeared in the dream, sitting in his recliner chair) that I was going outside to bury her head.
RASA: HUSBAND APPEARS AS SHIVA, SACRED BUT INACTIVE (RECLINER CHAIR) WHILE WOMEN (SHAKTI) DO THE WORK. SO KATHLEEN WORKS FOR GOD, RASA AND HERSELF.
This was strange, because I left her body lying on the couch. And when I went outside to bury her head, I actually planted it in a little dirt row as if it were a seed, and not like a burial. I knelt down beside the hole and cried for a little while,
RASA: SHOWS THE DEVOTIONAL (KNEELING) CONCERN AND COMPASSION (CRYING) OF KATHLEEN
...then I picked myself up and went back into the house.
RASA: I BELIEVE THIS DEATH AND REBIRTH, BURIAL AND THEN SEEING ANYA WHOLE AGAIN, HAS TWO MEANINGS. ONE IS THE BATTLE WHERE WE WERE 'BEHEADED' BUT FOUGHT BACK AND WERE VICTORIOUS.
'DEATH, WHERE IS THY VICTORY, WHERE IS THY STING?'
AFTER DEATH AS ON THE CROSS, THERE IS THE RESURRECTION POWER OF JESUS
CHRIST.
THE SECOND MEANING, IS THAT JUST AS RASA WAS VICTORIOUS OVER HER ENEMIES AND GAINED RESURRECTION POWER, (WITH THE HELP OF KATHLEEN AND OTHERS) KATHLEEN HERSELF WAS ANOINTED WITH POWER.
SHE HERSELF SHORTLY AFTER ENTERING THE FRAY, RECEIVED THE PIERCING OF THE CROWN CHAKRA, WHICH IS THE BEGINNING ALSO OF THE RESURRECTION POWER OF JESUS CHRIST. HER WILLINGNESS TO BE ACTIVE IN WARFARE BROUGHT ON THIS GRACE.
Anya was sitting on the couch again, alive and well,
RASA: THIS IS A SYMBOL OF US - THE SACRED FEMININE DIVINE WOMEN. WE BATTLED, BUT ARE NOW ON THE COUCH OF REST AND COMFORT. WE ARE WHOLE AND WELL.
...with only a slight change in the pattern of her fur at the neck.
RASA: THAT SLIGHT CHANGE IN PATTERN OF FUR IS OUR NEW ATTITUDE WHICH IS READY TO DO BATTLE AT ALL TIMES. WE HAVE MOVED INTO BATTLE MODE. THE NECK IS WHEN YOU STIFFEN UP READY FOR BATTLE, A SIGN OF THE BODY GETTING READY.
She came over and purred and rubbed me lovingly.
RASA: THIS IS KATHLEEN & I & OTHER SISTERS LIKE MAUREEN & JUANA, ALL TOGETHER AS ONE, LOVING ONE ANOTHER.

THIS ONENESS OF WOMEN IS A NEW CHANGE IN OUR MINISTRY. IT ALSO INCLUDES MEN WHO ARE ONE WITH US.
GURURASA
JANUARY 18, 2006
KATHLEEN'S INTERPRETATION
As I said, Anya represents Goddess energy (in both my daily life and in this dream). The strange man, as well as representing Jody, also represented the patriarchal system that tries to destroy the divine Mother and to keep everyone trapped in their slavery to rigid dogmas and fear tactics. I felt that after taking off Anya's head, the man was set free from the mental bondage which had driven him insane, and that's why he disappeared from the dream. And when I planted Anya's head as a seed, she was resurrected because Mother God energy is all about healing, revival (in the religious and the medical sense!) and the blossoming of love and reuniting those who have been set against each other by patriarchal scheming (as her head was reunited with her body).
After this dream, I knew that Rasa's belief in Jody's transformation was true. My dream had verified it, and had also given me two very special gifts:
(1). A recognition that Mother God really is immanent in my life, not only as my beloved cat (short for cat-a-lyst, according to an insight that I had when we adopted her in 2001), but in my heart and mind…and She will never leave me.
(2). A recognition that our Mother God community are deeply entwined with each other (we share the same dreams, visions, and insights…an incredible thing, if you contemplate it!)
Love and blessings!
Kathleen
January 18, 2006
---
---