KATHLEEN RECEIVES PIERCING
OF CROWN CHAKRA!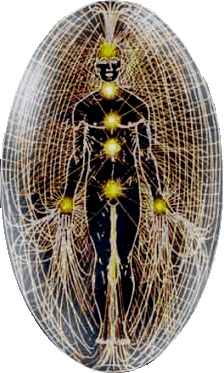 AN ULTIMATE EXPERIENCE OF UNION WITH GOD!
"KATHLEEN DEAREST, THE HOLY SPIRIT OF GOD IS UPON YOU"....Rasa
Thank you, Beloved. It is only because of your grace. I could never be worthy of it on my own, without the grace of the Guru.
Last night, while we were all in our various homes making the spiritual preparations for bringing down the judgment against the evildoers, I was sitting in my bedroom with my cat Anya (who was once a wild cat herself -- a feral cat who lived outdoors until we rescued her and her five newborn kittens!)
Suddenly I felt and visualized a very strong and piercing experience of a thick beam of light coming straight down from heaven, bursting my crown chakra into a lotus shape, and shooting down my spinal column. It was painless but definitely physically happening. Very bright white and electrifying, yet cool and liquid...the best experience that I could ever imagine having. The high point of a lifetime, most certainly.
Meanwhile, poor Anya bolted from my lap and ran onto my shrine table (which she has always seemed to perceive as a safe haven, especially when playing a game of "tag" with the dog), where she stood wide-eyed and quivering for quite awhile.
And suddenly my husband (who was in the living room) got ANOTHER unsolicited urge to stop watching TV and play some of his Guru's music on the stereo.
I don't know if I ever told you this, but despite a long-ish association with Baba Muktananda's organization (after his mahasamadhi, and when things were beginning to get very weird with his successors), I never received shaktipat there. In fact, the strangest barriers and impediments would always happen, every time that I tried to attend an "intensive" (the Muktananda organization's preferred method of initiation). Car breakdowns, family crises such as my father's unexpected death, etc. Once, in fact, the program was cancelled because of a bomb threat. How incredible is that???
Anyway, I felt immediately last night that this was the shaktipat that I had always wished for. (Though I will defer to your opinion on this issue, since you were the channel of grace through which it was given.)
I can't thank you enough for this. It's everything that I've ever hoped for, during my entire life. May I, with God's help and direction, learn to use it for the benefit of the devotees and all of sentient beings. That is my only desire...not to build up my own self-image, but to become a transparent channel for God's love and healing, and for the "edification of the saints" who surround me here in this online community. May I be nothing, and may God/Guru be everything.
Love and pranams at your feet...
Kathleen
January 4, 2006
---
DEAREST BLESSED KATHLEEN, CONGRATULATIONS THAT GOD HAS DONE THIS FOR YOU.
IS IT NOT AMAZING HOW GOD REACHED YOU IN EXACTLY THE WAY YOU PRAYED OR
WISHED FOR? IT IS THE THING YOU DESIRED THAT HAD NOT COME, AND GOD FOR SOME REASON DELAYED IT, BUT NOT IT HAS HAPPENED.
THIS EXPERIENCE HAS SOMETHING TO DO WITH THE HEIGHTS OF SPIRITUAL DEVELOPMENT. IF YOUR CROWN CHAKRA IS OPEN AND FLOWING THEN YOU ARE ONE WITH GOD ON ALL LEVELS.
I MUST ADMIT I AM SHORT ON ANALYSIS OF SUCH AN EXPERIENCE, FROM THE YOGA POINT OF VIEW. I CAN GIVE EVERY ANSWER IN CHRISTIAN MYSTICAL UNION (NONDUALITY) BUT NOT IN THE YOGIC REALM. PERHAPS IN YOUR STUDIES YOU HAVE HEARD OF SOMETHING LIKE THIS, PRECISELY AND DEFINITELY? GOD USUALLY REACHES US IN EXACTLY THE WAY WE KNOW AND UNDERSTAND, AND ALSO BY THE MANNER THAT WE EXPECT.
WHAT IS YOUR UNDERSTANDING OF THIS EXPERIENCE? HAVE YOU HEARD OF YOGA SAINTS RECEIVING THIS PARTICULAR THING? I KNOW THAT THE EAST EXPLAINS SUCH THINGS IN ITS OWN WAY. SHARE WITH ME WHAT YOU KNOW OF THIS.
AMAZING HOW TO JUANA GOD APPEARED A PARTICULAR WAY, TO YOU ANOTHER, TO ME ANOTHER. GOD IS INFINITE AND CAN MANIFEST IN INFINITE WAYS.
BUT THE CROWN CHAKRA IS THE CROWN AND HEIGHT OF MYSTICAL EXPERIENCE, THAT IS FOR SURE. ALL SAINTS HAD THEIR CROWN CHAKRAS OPENED FULLY AND RADIATING BRIGHTLY. YOU ARE ONE BEAUTIFUL SAINT!
I DO RECALL THINKING LONG AGO THAT THE MYSTICAL MARRIAGE IS TWO STEPS. ONE, WE MOVE TOWARD GOD. AND TWO, GOD MOVES TOWARD US. THEN WE UNITE, AND BECOME ONE. (THEN WE BEGET CHILDREN) AND OF COURSE, GOD IS NOT A GRANDFATHER FAR AWAY, GOD IS DIVINITY RIGHT WITHIN US. BUT TO HAVE THAT DIVINITY EXPLODE OR OPEN UP, THAT IS THE BIG DEAL. THAT IS THE BILLION DOLLAR EXPERIENCE. HOW WONDERFUL THIS IS, HOW OVERJOYED I AM! HOW HAPPY FOR YOU, HOW GOOD IS OUR INFINITE GOD! OF COURSE, I HAVE NOTHING TO DO WITH THIS PERSONALLY, IT IS GOD, IT IS THE ANOINTING, MYSELF BEING A LINK AND NOTHING MORE. EACH RECEIVES ACCORDING TO THEIR MERITS AND I KNEW YOU WOULD GET A LOT QUICKLY!
I LOVE YOU MY DARLING KATHLEEN!
AND HOW INTERESTING AND DELIGHTFUL THAT YOUR CAT ANYA WAS AWARE OF THIS - AND ALSO YOUR DEAR HUSBAND.
I AM GOING TO COPY THIS AND PUT IT ON ALL MY GROUPS. WONDERFUL, ECSTATIC, ULTIMATE UNION WITH GOD! NOW YOU ARE NO LONGER SEPARATE FROM GOD IN ANY WAY! YOU HAVE REACHED THE FINAL POINT OF UNION AND ARE NOW NONDUAL! FROM THE TIPS OF YOUR TOES TO THE TOP OF YOUR HEAD, YOU ARE ONE WITH GOD, DEAREST KATHLEEN!
INFINITE LOVE,
RASA
JANUARY 4, 2006
---
---