"GO TO HER, YOU HAVE FOUND HER,"
GURU APPEARS FROM HEAVEN TO TELL KATHLEEN OF RASA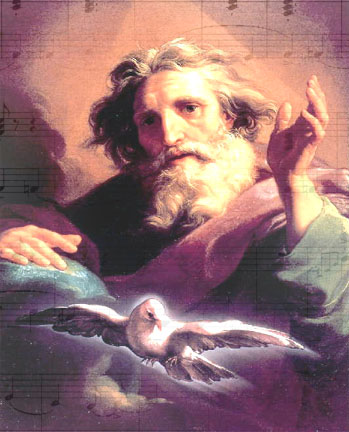 Beloved Rasa has asked me to write about any spiritual experiences that I might have along this path.
This one requires a little bit of background, so please be patient with the backstory….
My dear husband found his Guru about ten years ago. This gentleman (who must remain nameless) was not a public spiritual teacher. He was a fairly anonymous songwriter, and the office manager of a publishing company in Nashville. My husband called the publishing office one day for "business" reasons, and talked to this gentleman for two hours! They'd never known each other before that day. The next thing that I knew, my husband was on his way to Nashville for a visit. (A darshan and initiation, though who knew??)
My husband returned home, completely transformed. He was literally glowing with divine light. From that day onward, he remained close to his Guru, and when it came time for the Guru's mahasamadhi (final illness and passing), we received enormous grace from being there with him.
After his passing, several people (who had been in the music industry for years, and had also been drawn to this obscure person as a friend and teacher) suddenly saw their musical careers skyrocketing. Others had intense visions of him. Some were fully enlightened or were physically and emotionally healed after his passing. And many more spoke at his memorial service and afterward, of how he taught them and mentored them and blessed them during his lifetime.
(His wife couldn't handle these "spooky" occurrences, so she asked us all to be very quiet about them. Which is why I haven't used his name.)
NOW ON TO TODAY'S STORY:
Earlier this evening, while I was in my workshop alone and contemplating the significance of becoming Beloved Rasa's devotee, I had a powerful sense that my husband's Guru was present. I closed my eyes and waited to hear what he wanted to say. He appeared to me in a brilliant light (just as he did to many of us on the day when he died) and said "Go to her. You've found her!"
Here's the weird thing. I hadn't mentioned his name to my husband at all. And suddenly, while I was having this vision, my husband stood up from typing on the Internet in the living room, walked into the bedroom, got into his closet and found some demo tapes which his Guru had given him as a personal gift just before his mahasamadhi, and started playing them. "I have a strong feeling that he's here with us right now," he explained.
Then (and okay, this is weird, but if you knew us, you'd believe it) we both started singing a certain song, uncontrollably and without any decision, with my husband's Guru's exact voice. Quite a trick with my poor voice indeed, because he was a baritone! But it was obvious that we were "channeling" his vocal quirks and style, as if to confirm to us that he was powerfully present. We have both been sitting around mildly stunned, ever since.
So anyway, my Beloved Rasa comes with a recommendation from someone whom I know was a true Guru, and whose grace in the afterlife has certainly played a big role in bringing us together. My dear husband is very happy for me, because now I can understand the joy and grace that he received (and continues to receive) from his quiet Guru from Nashville. Now I understand why my husband went to visit his Guru twice a year, and why he always returned in a literally glowing condition.
Thank you to all of the teachers who have played a role in bringing me to my Own Beloved. There have been many of you, and I am so very grateful for your grace.
---
---