RASA APPEARS TO KEITH IN A CATHEDRAL
AS GOD, GIVING HIM INCREDIBLE SHAKTIPAT AS HE KISSES HER FEET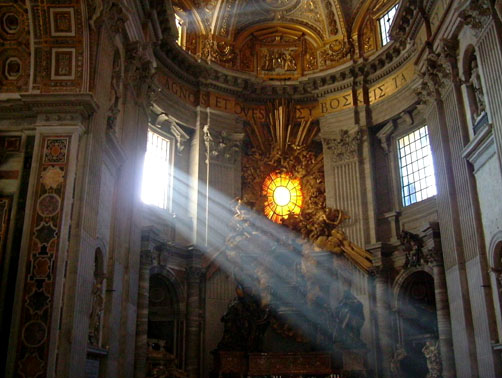 Hello Mother Rasa. This is Keith. I recently sent you my response to your article about the "Worship Of Women". I know that you come through some how to your devotees on dreams, but I never expected what happened to me last night.
Now first of all, I am a down to earth guy, work 60 hours a week, like to fish and so on, and question certain powers. However, I experienced a very powerful dream last night like none I ever have before. Maybe it has something to with my response to your impressive article, but in a nutshell here it is.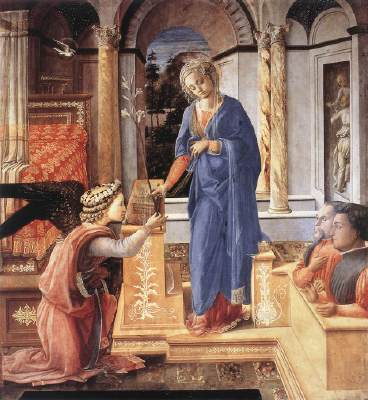 The Annunciation with Two Kneeling Donors
Fra Filippo Lippi

I humbly entered an old cathedral I use to go to that is very large and very old here in Texas. Entering, it was dark and the only light was that provided by candles near the altar. As I walked down the aisle I saw a vision of you (actually the one on your website I believe wearing white) awaiting me.
Sorry if this sounds crazy, but very true. When I approached you in front of the altar, I knelt before you in a drug-like daze utterly wishing to offer my worship. You at that point were my God.
You slowly put your hand on my head and gently pushed it down to your feet where I eagerly kissed them. I quickly awoke after that and felt like I just been shocked all over my body. Can you tell me the full meaning of this? As stated before, I hide nothing about moving from Christianity to Goddess Worship, but this experience floored me, it was absolutely beautiful.
RASA: I WILL INTERPET THIS, DEAREST, YES YOU HAVE BEEN BLESSED ECAUSE YOU WERE KIND AND YOU POSTED ON ALL MY GROUPS - YOU WERE CHARITABLE. AND CHARITY BRINGS VISION AND GRACE!!!
DISCUSSIONS ON
---
---