MAUREEN REACHES FULL MYSTICAL UNION!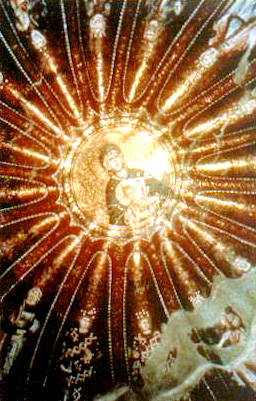 MYSTICAL MARRIAGE, SAHASRARA!
HAS GREAT VISIONARY GIFTS!

My beloved Rasa, My Guru, I am coming to you once again with a vision. I am in this place where it almost seemed enchanted. There were water falls
RASA: POURING, MOVING WATER IS GRACE, AS GRACE POURS OUT
...and weeping willows there, along with the beautiful unicorn off to the right,
RASA: SACRED CREATION. HERE THE INFINITY OF GOD MEETS CREATION AND CREATION IS MADE SUPERNATURAL

...and there were also swans in the water.
RASA: SWANS (BIRDS) ARE FREEDOM, THE FREEDOM OF LEAVING THE LIMITATIONS OF THE FLESH. THESE ARE ESPECIALLY ELEGANT AND BEAUTIFUL TO COMMEMORATE A SPECIAL EVENT
MAUREEN IS IN HEAVEN OR THE SAHASRARA


I was there with a man, and you were in front of us, and we were getting married.
RASA: THIS IS A WEDDING CEREMONY. I (THE ANOINTING OR GOD) AM BRINGING MAUREEN INTO THE MYSTICAL MARRIAGE. AS HER GURU, I AM UNITED HER WITH THE MAN WHO REPRESENTS GOD, SHIVA, JESUS - THE COUNTERPART OF MAUREEN. IT IS PERFECT LOVE. WHEN A PERSON REACHES MYSTICAL UNION MEANS THEY HAVE REACHED PERFECT LOVE, AND THEIR LOWER NATURE OR FLESH IS UNITED WITH THEIR HIGHEST NATURE, OR GOD. THE KUNDALINI SHAKTI HAS REACHED THE HIGHEST LEVEL OF THE SAHASRARA AND THE SAHASRARA HAS OPENED UP COMPLETELY.


While you were doing the vows, I also seemed to be holding a baby.
RASA: THIS IS THE FRUIT OF LOVE, THE CREATION OR BIRTHING THAT COMES OUT OF THE POWER OF INFINITE GOD AND FINITE CREATION. SOMETHING HAS BEEN CREATED, AND IT IS LIFE. THIS COULD VERY WELL BE A SOUL THAT HAS BEEN DELIVERED FROM PURGATORY FOR THIS OCCASSION, OR A SOUL ON EARTH (ON THE GROUPS) THAT MAUREEN HAS BEEN SPEAKING TO. AS A RESULT OF MAUREEN POSTING KIND WORDS TO PEOPLE ON ALL OUR GROUPS, SHE COULD HAVE BROUGHT A CHILD INTO HEAVEN OR THE BORN AGAIN EXPERIENCE.
As we were saying our vows I again felt tingling throughout my body,
RASA: THIS IS ABSOLUTE PROOF THAT THE SHAKTI KUNDALINI (HOLY SPIRIT POWER) IS AT WORK HERE! IT IS THE SHAKTI THAT HAS DONE THIS - THE POWER OF GOD FROM THE GURU!
...and when you said you may kiss the bride the tingling went straight up the top of my head...
RASA: THE TOP OF SAHASRARA, THE APEX OR PINNACLE OF SPIRITUAL SUCCESS!
...where I saw nothing but pure white and heard the angels singing. I really love that! -
RASA: CELESTIAL MUSIC, PURE ESSENCE OF GOD, ECSTATIC FEELINGS!

While behind me was the tree with the babies above it.. ( the tree of life)
RASA: THIS REFERS TO A DREAM MAUREEN HAD EARLIER WHERE HER AJNA WAS ACTIVATED...ONLY DAYS AGO...SHE SAW A TREE WITH TWIN BABIES, ONE HOLDING A CRYSTAL (SEE THROUGH HEART) AND ONE A STRAWBERRY (LIKE A HEART SHAPED BERRY.) THE PURE HEART IS MAUREEN'S HEART, BY WHICH SHE SEES GOD, AND THE STRAWBERRY WAS GIVEN HER TO EAT. THIS MEANS THE FRUIT OF LOVE WAS GIVEN HER TO ENJOY. THE BABIES ARE THE HIGHEST ANGELS, THE CHERUBIM. I (RASA) HAD BEEN SITTING UNDER THIS TREE READING THE BOOK ALLUDED TO IN YET AN EARLIER DREAM, WHICH WAS THE RECORD OF THE CONFLIC OF MANKIND, BETWEEN GOOD AND EVIL. IN THIS PARTICULAR CASE, I WAS REVIEWING THE WAR WITH SARLO, AS ON THIS DAY, THE WAR ENDED. BOTH MAUREEN AND I HAD DREAMS OF ENDING OF CONFLICT AND PEACE....NOW MAUREEN ONCE AGAIN SEES SOME OF THIS, AS THIS BATTLE NEVER ENDS, THERE ARE ONLY TEMPORARY TIMES OF PEACE.

...and at the same time, it was snowing but it seemed like it was spring there...
RASA: SNOW IS ALSO WATER, AND IT IS GENTLE AND SOFT, AND THIS IS AN AMAZING SIGN OF BOTH SNOW AND SPRING, COLD AND WARM. EVERYTHING IS HAPPENING BY GRACE!


It seemed so magickal and so right.. I hugged you and smiled as you wiped my tears,
RASA: TEARS OF JOY AT THIS GREAT OCCURENCE. HUGGING IS UNION.
THE 'KISS THE BRIDE' IS THE SACRED KISS ALLUDED TO IN THE MYSTICAL THEOLOGY OF CHRISTIANITY. WHEN JESUS GIVES US THE SACRED KISS, IT IS AN INCREDIBLY SPECIAL MARK OF UNION.....THIS HAS HAPPENED TO ME (RASA) A FEW TIMES!


...as the animals seemed gathered around me and this man, as if they knew it was a mystical union.
RASA: SACRED CREATION, FULLY AWARE AND IN TUNE WITH GOD, KNOWING WHAT IS HAPPENING.

The colors from my guru chakra and the one on top of my head seemed to be mixing together,
RASA: YES, THE SAHASRARA IS NOW FULLY OPENED! AND THE AJNA CHAKRA AND IT ARE FLOWING TOGETHER!


...as I again saw stronger pictures; I saw you, and I believe Kathleen and I doing a project for women's rights, trying to proclaim Hillary as president... and another battle to come.
RASA: YES THIS WILL BE GREAT BATTLE, WORKING FOR THE FIRST WOMAN PRESIDENT OF THE UNITED STATES.


As the man looked at me and wiped my tears he reassured me all would be good in the end...
RASA: FOR THOSE ON THE SIDE OF GOD, IT ALWAYS IS!


...and I told you I loved you,
RASA: YES, IT IS WONDERFUL WHEN THE DEVOTEE LOVES HER GURU, BECAUSE THE GURU POWER IS RELEASED FOR MARVELOUS THINGS!


...and we walked away hand in hand.
RASA: I ASSUME MAUREEN IS SAYING SHE WALKED AWAY HAND IN HAND WITH THE GROOM. ON THE WAY TO THE NUPTIAL BED. THE BRIDE WITH CHRIST! IN CHRISTIAN TERMS. THERE WILL BE A TIME OF GREAT NIRVANA NOW OR MAUREEN.
AFTER MYSTICAL MARRIAGE, YOU MAY ANTICIPATE WHAT IS CALLED, IN THE EAST, MOKSHA, NIRVIKALPA SAMADHI, NIRVANA, MUKTI, ETC.....

IN THE CHRISTIAN WORLD, WE CALL IT THE NUPTIAL BED WHERE THE BRIDEGROOM (CHRIST OR GOD) CARESSES AND MAKES LOVE TO THE BRIDE! IT IS ECSTATIC UNION, FOLLOWED BY PEACE, PEACEFULLNESS....)

(FOR ME, RASA, THIS LASTED SOME MONTHS AFTER MYSTICAL MARRIAGE IN 1982....BUT LATE THAT YEAR I WENT INTO A NEW GRACE, WHICH WAS PAINFUL AND ENDED MY PEACE. BUT THAT IS ANOTHER STORY.)


I Love You,
Maureen
January 26, 2006
DISCUSSIONS ON
---
---