DEVOTEE
"MERCURIUS TRISMEGISTUS"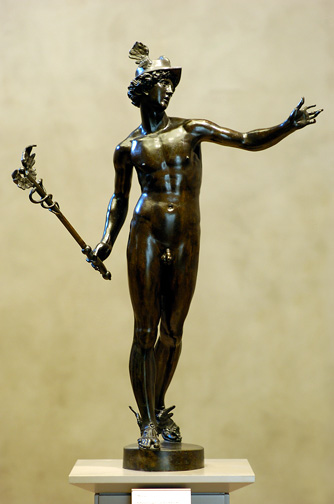 Mercury
Johan Gregor van der Schardt
Photo by Lee Sandstead
"MERCURIUS" FLOWS IN THE ETERNAL CONSCIOUSNESS
SAYS SYMBOLIC DREAM WHICH RASA INTERPRETS
Mother, I have repeated dreams about going fishing.
RASA: SEEKING THE SALVATION OF SOULS. YOU WANT TO HONOR YOUR CALLING. GOD HAS CALLED YOU, MY SON.
It's to the point that I have regular places I go, in my dreams, that don't exist in reality.
RASA: YOUR SHAKTI MAY BE GOING TO SOULS ON EARTH OR TO PURGATORY. WHEN I HAVE NO EARLTHLY CLIENTS, THAT IS WHERE MY STRENGTH AND FOCUS GOES. GET SOULS OUT OF PURGATORY, GET SOULS BOUND FOR HELL TO BE BORN AGAIN. I SEE IT ALL IN MY DREAMS AND VISIONS.
I havent actually gone fishing in like 20 freakin' years. It's very strange. I don't think I ever actually fishing, or catching anything either, it's usually just around flowing water.
RASA: FLOWING WATER IS YOU ARE IN THE STREAM OF ETERNAL CONSCIOUSNESS, THE GRACE OF GOD.
IT IS THIS FLOW WHICH THEN IS TRANSMITTED TO SOUL THAT YOU ARE SAVING.
GOOD WORK, DEAR SON.
INFINITE LOVE,
RASA
APRIL 19, 2006
---
---