DREAM ABOUT TRUSTING THE
GURU & GIVING UP FEAR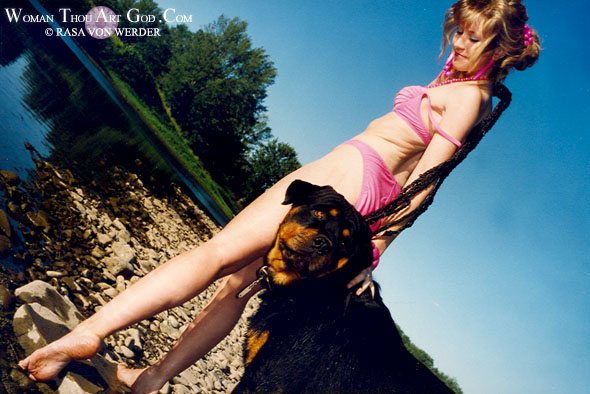 PHOTO © RASA VON WERDER
Dear Guru Rasa, Just to quickly backtrack and refresh your memory, I have been trying to return to the dream where I free the humans from the cyborgs with the flaming golden sword, but so far MotherGod has not given me such a dream!!?? I guess it is not to be!!??


Instead, I get this fourth dream. I already interpreted it for WTAG, so you do not have to do any work! I deeply respect and honor you and do not want to be one of those people that you say waste your time on this site. Therefore, I am using the dictionary, that you donated to us, through your web library. Thank you again!


Now, this dream initially bothered me when I awoke, as you were a "horse" in the dream. I was embarrassed and ashamed to even want to post it. I said to myself, how can my subconscious mind be seeing my wonderful Guru as a horse. I was afraid and ashamed that you would be insulted that I could have such a dream.


I looked in your dictionary and I saw that the Horse definition is positive and relates to you are working very hard and that you enjoy hard work . Therefore, I will be brave and post the dream, as I intuitively feel it is another positive dream! As Xena posted, "I have to be rigorously honest with my Guru about everything". Also, I had this dream about the same time that Xena was asking for much control over my life and I did resist, a bit, but I finally saw things her way, as a real man should honor and obey his significant woman.


In the dream I saw a beautiful white horse ride across the plains. I stopped and called it a name in a different language, ( but I cannot remember the name and it was a language I am totally unfamiliar with in my awake state, but when dreaming I speak and understand it perfectly!!! -- I believe the horse's name began with a G and had at least 5 or 6 syllables.
RASA: HOW ABOUT GURU RASA VON WERDER?
in the dream- I knew the horse well and knew the horse was my friend and guide). The horse gave me some instructions. I followed the instructions and I found myself walking through some sort of inter dimensional portal, just like in the program on television StarGate!!
RASA: PEOPLE OF GOD, HEAVEN, NOT EARTHLY PEOPLE
I was helping people in a medium to large sized village, of an ancient civilization. They were golden skinned people ( sort of like Mayans or Incas), who appeared content and at peace!
RASA: PEOPLE OF LOVE
I was helping them build a temple, as well as planting vegetation for food. I did not really notice gender at all, as everyone was treated equal, and wore similar clothing. Gender did not seem to be an issue!?? There was absolutely no violence, no greed, no lust, no sloth ( everybody loved to work hard!), and no envy.
RASA: OUR VALHALLA, IDEAL AND MATRIARCHY. IT IS CERTAINLY MEN THAT HAVE DRIVEN THE GENDER WAR AND DISCRIMINATION!
I looked around for the White Horse, but you were nowhere to be found! I realized I was on my own, fulfilling the Horse's mission! I was afraid for you were no longer with me. I was unsure if I could handle this alone.
RASA: ARE YOU READY TO GROW UP? I CANNOT BE PHYSICALLY PRESENT TO ALL MY DEVOTEES, BUT THE ANOINTING IS THERE WITH THEM ALL
Everything was going fine and the people of the village, both male and female, would greet and embrace me. It was all happiness. It was a blissful dream. I realized all was going well and I had nothing to fear but my own self doubts! I fought hard to call up any spirit guide to be with me. All of a sudden I was back on the plain again and the White Horse was there. Then I awakened.


I interpret the dream, as that you are helping me get ready for an assignment , either in this life or the after life to work hand and glove with an evolved society that has very high civilized values. I must learn all I can from you while I can, for I may not have you to ask for advice, when I go to the other side.
RASA: YOU WON'T NEED HELP ON THE OTHER SIDE, IT IS HEAVEN. IT IS HERE YOU MUST PERFORM.
It will be all up to me!?? This is the only part that I am interpreting that II ask your advice on as it is hard for me to believe that it can all be up to me! Guru Rasa- am I wrong on this point? I sort of hope so! The responsibility of that frightens me and I feel the need now to prepare myself to be independent. Does it mean I must totally embrace the feminine divine, before I can be truly independent, so I must take direction from you, a direct Avatar from MotherGod, and Xena, my significant Female other, in order to be liberated! The return back to the plain through the portal just before awakening is what I believe a definite sign that I must dedicate myself to Guru Rasa. Looking back, I am so glad I answered Juana's call to make the pledge to you! intuitively, I knew to do it without a moment's hesitation and I have received so many rewards since then!
RASA: AS ALSO NOTICE THAT THOSE WHO DO NOT INSTALL ME ARE WANDERING AROUND MAKING MISTAKES. THEY LEARN THE HARD WAY.
THE BASIC MEANING OF THIS DREAM IS GIVE UP FEAR, AND HAVE GREAT TRUST. YES, I HAVE WORDS OF LIFE, BUT HAVE FAITH, CONFIDENCE AND TRUST THAT THE SPIRIT IS WITH YOU AT ALL TIMES. (RASA)
Thank you again and again Guru Rasa!


Grateful Devotee,
Raleigh
March 2, 2006
---
---