HEART CHAKRA OPENED
BY THE TOUCH OF GURURASA!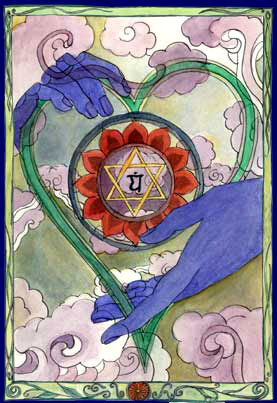 Heart Chakra
Daryn Curtis Hunter
HE WAS SEARCHING FOR BEAUTIFUL WOMEN & FOUND OUR CHURCH
GuraRasa Dear, I know you must be absolutely flooded in work. But, please, when you get a chance, tell me what you think of this dream. It's 3:30 a.m., and the dream was so vivid and emotional that it woke me up. Very unusual. I got out of bed to write this. It was a very short dream.


I am in a type of small bedroom as I lay on the floor. There is a male doctor and a woman nurse standing at my left. We are all in street clothes, and I am given to understand that I am about to be operated on, for reasons that are not clear to me.


I am looking up at the ceiling, feeling quite nervous as the doctor prepares for the surgery. I have no idea what the problem is.


I feel a bit woozy and sweaty, unusual for me as I was an army medic and have no fear of blood and needles and such things. The kindly nurse (I know her but can't place her now) takes my blood pressure and announces that everything is fine. She comforts me.


The doctor makes a large incision in my abdomen, opens me right up, and I, of course, am completely awake. I feel no pain.


Then the doctor is interrupted by some matter in another room and he leaves. I can hear him berating someone in another room.
RASA: THIS MAN COULD BE SOMEONE WHO, ALSO, IN SOME WAY HURT YOU. THAT COULD BE A SYMBOL OF YOU IN THE FLESH BEING BERATED, BUT BECAUSE YOU ARE MORE SPIRITUAL NOW YOU COULD BE IN SPIRIT, WHILE HE BERATES YOU 'IN FLESH.'


I am in the room, left on my back on the floor with the nurse at my side. I become very curious about my own internal organs, and I move my head from side to side trying to get a peek at them. There is absolutely no pain, no blood, and I am much calmer, somewhat detached from it all.


I tell the nurse I want to see my own heart. She reaches into my abdomen and calmly lifts up my internal organs as if they were neatly laid out on a tray, rather like she is opening a suitcase.


And there, right in the middle, is my heart. I am looking at my own heart! I immediately become overwhelmed with emotion, crying and laughing at the same time, and I tell the nurse "I'll bet there aren't too many people who get to look at their own heart." She starts laughing and crying with me.
RASA: THIS EXTREME JOY IS A SPIRITUAL ELEVATION

We are both so overcome with joyful emotion that I wake up.


One detail I neglected to mention: I reached up and actually touched my own heart while the nurse was showing it to me. That's really when the emotional fireworks began.

RASA: THAT REPRESENTS 'HEART BEING TOUCHED' OR BECOMING ALIVE......IN THE GURU LINGO, TOUCHING IS TRANSMISSION OF SHAKTI.

I SUSPECT THAT I MIGHT BE THE NURSE, AND THE DOCTOR? MY GUARDIAN ANGEL OR ONE OF THE SAINTS? COULD BE ONE OF YOUR ANCESTORS IN HEAVEN. THEY SOMETIMES HELP US ON EARTH DURING THESE CRITICAL MOMENTS. IF I AM THE NURSE, I SHOWED YOU WHAT LOVE IS - SPIRITUAL LOVE. THEN YOU TOUCHED LOVE, YOU REACHED IT. YOUR HEART CENTER BECAME WARM FROM THEN ON AND YOU TOLD ME YOU FELT SHAKTI ALL THROUGH YOU ALL THE TIME...........LIKE I SAID, I DID NOT TAKE YOU SERIOUSLY UNTIL YOU SENT ME THIS DREAM.

Since first stumbling upon Woman Thou Art God while searching for images of beautiful women (not porn!) on Google, and always in subsequent communications with you, dear Rasa, my heart and chest have felt warm. So this dream seems "logical" in that sense.
RASA: THIS IS A GOOD DREAM. THE MEANING IS THAT YOUR HEART CHAKRA HAS OPENED UP, AND THIS IS THE BEGINNING OF TRUE SPIRITUALITY.....THE FACT THAT YOU HAVE JOY AND ARE LAUGHING AND CRYING SHOWS RELIEF AND HAPPINESS, BECAUSE YOU ARE NOW SPIRITUALLY AWAKENED. RAMAKRISHNA SAID A PERSON WAS NOT TRULY SPIRITUAL UNTIL THE HEART CHAKRA WAS OPENED. YOUR DREAM SAYS YOUR HEART CHAKRA HAS BEEN OPENED AND YOU ARE REJOICING.

DOES IT NEED EXPLAINING THAT THE HEART CHAKRA IS SPIRITUAL LOVE?
Thank you very much, Guru. This interpretation makes me very happy, and I appreciate your effort.
Love from the heart,

Steve
January 23, 2006
DISCUSSIONS ON

---
---