DO YOGIS BATTLE?
AND IF SO HOW DO THEY FIGHT?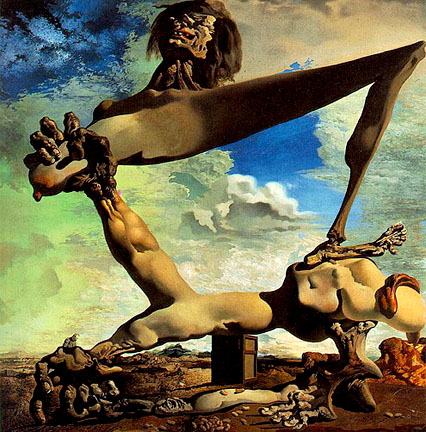 Soft Construction with Boiled Beans: Premonition of Civil War
Salvador Dali
PUNISHMENT & FORGIVENESS
QUESTIONS POSED BY ASHANKAH & ANSWERS BY RASA
ASHANKAH'S YAHOO GROUP
http://groups.yahoo.com/group/Ashankah_Yogis_Self-Realization_Satsang
A 'crime' certainly needs to be 'punished' and I don't see two ways to it. However, there are two types of negative acts in any society and they are 'Illegal' acts and 'Immoral' acts. 'Crime' is anything that's illegal. An 'Immoral' act is not a crime. Let's not mistaken 'Immoral' act as a crime. And since immoral act is not a crime everyone committing an immoral act may not be punished.
RASA: NOT BY THE LAW. BUT BY GOD, YES.
Depending on situation it could be ignored or forgiven too.
RASA: THERE IS DISCERNMENT. SOME THINGS YOU SHOULD LEAVE ALONE, FORGIVE AND FORGET. I HAVE DONE THAT WITH 99% OF THE HURTS OF MY LIFE.
HOWEVER, NOT ALL THINGS NEED TO BE IGNORED. FOR WHEN WE STOP AN ABUSER, WE STOP THEM FROM ABUSING OTHERS AS WELL.
IF WE IGNORE AN ABUSER, WE ARE IN SOME CASES, ENABLING THEM TO GO ON TO THEIR NEXT VICTIMS.
It's the duty of the 'law of the country' to punish the criminals. If the 'Law and order' fails to provide justice then it's the affected person's decision what he/ she wants to do next. It's too personal and hence in this message I cannot comment anything about that.
RASA: EVEN THOUGH IT'S PERSONAL, YOU CAN COMMENT. WHAT WOULD YOU DO IF SOMEONE DID SOMETHING IMMORAL TO YOUR FAMILY MEMBER? EXAMPLE: DESTROY THE REPUTATION OF YOUR DAUGHTER, SON OR WIFE, OR PARENTS? OR BEST FRIEND? JUST LET IT GO OR WHAT?
However, if anybody commits an 'Immoral' act that hurts another person then that affected person needs to take the most appropriate action. This 'action' against the perpetrator totally depends on thoughts of the affected person.
RASA: THAT IS EXACTLY WHAT I AM DOING TO THOSE WHO HAVE DESTROYED (TRIED) MY REPUTATION AND THAT OF MANY OTHERS, UNJUSTLY AND WITHOUT PROVOCATION. I AM SIMPLY SEARCHING FOR THE TRUTH ABOUT THEM AND POSTING IT. THAT IS IT. I AM NOT LYING OR DISTORTING THE TRUTH, LIKE THEY DID ABOUT ME, ONLY PICKING UP OFF THE INTERNET THE FACTS ABOUT DRUG USE, SEX ACTIVITIES, AND SUCH. NOT EXAGGERATE ONE THING. THESE FACTS CAME FROM PUBLISHED BOOKS AND INTERVIEWS WHICH THIS MAN NAMED JODY GAVE HIMSELF - PARTICIPATED IN THE WRITING OF THE BOOKS, GAVE THE INTERIVIEWS AND ALSO EYEWITNESS ACCOUNTS OF THOSE CLOSE TO HIM. THINGS THAT WERE NOT HIDDEN, BUT NOT KNOWN TO ALL.
Different people would think differently and we don't have to say whose thoughts are right and whose, wrong. By the way, I would prefer to follow these thoughts:
# 1 - If somebody abuses me and hence I abuse him back then what's the difference between that person and me?
RASA: WHAT DO YOU DO WITH BULLIES? THE LARGE, DUMB BOY WHO INTIMIDATES EVERYONE IN THE CLASS, CURSES, HITS THEM, AND WAITS IN DARK PARTS OF THE HALL OR SCHOOLYARD AND BEATS PEOPLE UP? IF YOU DISCIPLINE HIM DO YOU CALL THIS ABUSE? OR DO YOU CALL THIS CORRECTION?
WHEN I WAS 12 YEARS OLD I TANGLED WITH THE SCHOOL BULLY, WHO WAS ABOUT 15, WAY TALLER THAN ME, A BLACK BOY, AND EVERYONE FEARED HIM. HE SHOULD HAVE BEEN IN A JUVENILE DETENTION CENTER, BUT HE WAS THERE IN OUR LITTLE RURAL SCHOOL.
ONE DAY I SAW HIM PICK UP A CAT BY THE TAIL AND SWING IT AROUND AND AROUND AND AROUND. NO ONE DID ANYTHING BUT ME. I RAN RIGHT INTO HIM, BEATING HIM, AND MADE HIM DROP THE CAT. I STOPPED HIM WHERE NO ONE ELSE LOVED THE ANIMAL ENOUGH OR HAD ENOUGH COURAGE. WHAT WOULD YOU HAVE DONE?
# 2 - 'Like a dog's tail, which will never straighten out, some people will never improve'. Why should I spoil my time and temper trying to punish such people?
RASA: AGAIN, WE ARE IN THE SAME PLACE YOU AND I WERE WHEN WE DISCUSSED AGGRESSION IN MINISTRY. WE WERE TALKING ABOUT TWO DIFFERENT THINGS, AND FINALLY IN THE END, YOU REALIZED IT. ALL I WAS TALKING ABOUT WAS POSTING ON THE INTERNET! AND YOU IMAGINED SOME SORT OF VIOLENCE!
ARE WE TALKING ABOUT THE SAME THING HERE?
I AM TALKING CORRECTION, YOU ARE TALKING ABUSE.
After they are done picking on me they will either way find another.
# 3 - 'Silence is golden'. Know that the word 'L-i-s-t-e-n' contains the same alphabets that are in the word 'S-i-l-e-n-t'. Many a time after 'listening' to someone, 'silence' is the best answer we can give him/ her back.
RASA: SILENCE IS GOLDEN AT TIMES, AND AT OTHER TIMES, AN ACT OF COWARDICE OR AT BEST, THE LACK OF ABILITY. WE WHO ARE STRONG FIGHT SO THAT THOSE WHO ARE WEAK WILL BE PROTECTED. THE VERY YOUNG, THE VERY OLD, THE WEAK, THE NOT SO SMART, THE AFRAID, THE CONFUSED, THE SICK, THE UNREADY, THE CANNOT FIGHT FOR PERSONAL REASONS, ETC. FIGHTING IS PART OF LIFE. CONFLICT WILL ALWAYS EXIST AND THERE HAS TO BE RESOLUTION OF CONFLICT! BY PRETENDING YOU CANNOT MAKE CONFLICT GO AWAY NOR WILL ABUSES GO AWAY!
SOME WOMEN PERMIT THEIR HUSBANDS TO HAVE SEX WITH THEIR CHILDREN! THEY KNOW, OR SHOULD KNOW, WHAT IS GOING ON. BUT THEY DO NOTHING BECAUSE THEY WANT TO KEEP THE HUSBAND. BY KEEPING SILENT DOES NOT MAKE THE ABUSE GO AWAY. THEY ARE ABUSE-ENABLERS.
BUT THOSE WHO FIGHT RAPISTS/ABUSERS/PREDATORS SET AN EXAMPLE BY WHICH THERE WILL BE LESS OF IT.
# 4 - "Being unwanted is the worst disease that mankind has ever suffered" said Mother Teresa while
receiving Noble Prize. If somebody picks on me then I will try to 'Ignore' him/ her so that the person feels unwanted.
RASA: THERE ARE VARIOUS DEGREES OF 'PICKING ON.' SOME ARE QUITE SERIOUS, A THREAT TO YOUR WHOLE LIFE. TO YOUR LIVELIHOOD, YOUR HAPPINESS, SECURITY, ETC. (INSITUTIANLIZED DISCRIMINATION, SEXISM, RACISM, SPECEISM.) A LITTLE EGO HURTING MEANS NOTHING. BY ALL MEANS IGNORE THAT.
# 5 - 'Stay cool but don't freeze'. If somebody slaps my cheek then I wouldn't show him the other. But then I wouldn't even give him a five-mile chase to return the slap.
RASA: PERHAPS IT IS EASY TO MAKE STATEMENTS WHEN THEY ARE SO GENERAL. BUT WILL YOU PLEASE APPLY THIS, NAREN, TO EVERYDAY LIFE YOU HAVE LIVED THROUGH? TO FAMILY, FRIENDS, LOVED ONES, RELIGIOUS WORK AND IDEALS HELD SACRED, THE THINGS YOU LOVE AND CHERISH THE MOST? WHAT WHEN THOSE ARE TAMPERED WITH? YOU WILL BE MORE CONVINCING TO ME WHEN YOU SHOW ME HOW YOU DEAL WITH THINGS CLOSE TO HOME AND HEART.
# 6 - 'To err is human, to forgive is divine'. If I can control my ego then I would forgive those who wrong me. (Here of course, I would remind that we are not talking of crime but we are just discussing other than criminal acts such as immoral, unethical or undisciplined acts.)
RASA: AHA! YOU HAVE HIT ONE OF MY FAVORITE TOPICS! TO FORGIVE AND TO PUNISH ARE TWO DIFFERENT THINGS. THIS I HAVE LEARNED FROM THE SAINTS.
WHAT DO YOU THINK ALL THOSE SOULS IN PURGATORY ARE DOING? THEY HAVE BEEN FORGIVEN. YET, THEY SIT AND WAIT TO BE CLEANSED. THAT IS THE PUNISHMENT DUE TO THEIR SINS. THE FORGIVENESS GUARANTEES THE GRACE OF GOD. THEY WILL SEE HEAVEN. BUT NOT UNTIL THEY ARE CLEANSED.
YOU CAN FORGIVE A PERSON BUT BY NO MEANS DEPRIVE THEM OF THEIR PUNISHMENT OR CLEANSING, FOR IN DOING SO, YOU DISTURB THEIR UNION WITH GOD.
WE ALL HAVE TO PAY FOR OUR SINS, EVEN IF THEY ARE FORGIVEN! IF ANYONE REMEMBERS ANYTHING I SAID IN THIS LETTER, PLEASE REMEMBER THAT!
I would prefer winding up this message by quoting some beautiful lines from the excellent book, "Until Today' by Iyanla Vanzant.
"Forgive them not for what they said or did. Forgive them because they did not know any better" "Is the need for revenge greater than my desire to feel better?" "If you step on someone's toes, ask for forgiveness. Don't buy them a new pair of shoes" "Forgiveness is not something you do. It is a state of being that when offered brings forth the truth of who you are"
RASA: FORGIVENESS IS ONE OF THE HARDEST THINGS TO DO. I KNOW BECAUSE WHEN I PREACHED IT ON THE STREET I RECEIVED MORE ATTACKS THAN FOR ANYTHING ELSE! THE THOUGHT OF FORGIVING THOSE WHO HURT THEM MAKES PEOPLE ANGRY!
RIGHT NOW I AM BACK WITH THE 'SARLO GANG', AND THEY ARE SAYING NASTY THINGS ABOUT ME AGAIN. THEY ARE SAYING I AM RESENTFUL AND REVENGEFUL. BUT THEY ARE NOT TELLING THE TRUTH.
IF THEY LOOKED ON MY SITE (AND THEY HAVE) THEY WOULD SEE ABOUT A MONTH AGO I POSTED A SERIES OF VISIONS ABOUT JODY, ONE OF MY ENEMIES ON THIS GROUP. IN THESE VISIONS IT IS PROVEN THAT JODY - MY ENEMY - RECEIVED THE SHAKTI FROM ME. AND THIS CAUSED HIM TO BECOME MY SPIRITUAL SON, AND I HIS MOTHER. HE WAS LIFTED HIGHER IN UNION WITH GOD FROM WHERE HE WAS RIGHT INTO BETROTHAL WITH GOD. I RECORDED ALL THIS, PAID TO HAVE IT PUT UP AND ILLUSTRATED WITH BEAUTIFUL IMAGES, AND I REJOICED. HOW HAPPY TO HELP A PERSON WHO WAS MY ENEMY!
BUT THE ENEMY, JODY, DENIED THE VALIDITY OF MY VISONS. HE SAID HE FELT NOTHING. (WHICH MEANS NOT A THING, HE IS NOT SENSITIVE AND MIGHT EVEN HAVE BRAIN DAMAGE FROM THE DRUG ECSTASY, DISTURBING HIS ABILITY TO HAVE MYSTICAL VISION) HE DID NOT THANK ME IN THE LEAST FOR MY LOVE AND GOOD WORK - THIS MAN WHO HAD VIOLENTLY AND VICIOUSLY DEFAMED ME AND CAUSED A DOZEN OTHERS TO DO SO.
NOW THAT I AM POSTING INFORMATION ABOUT THIS MAN WHO WAS MY ENEMY, THEY ARE TALKING ABOUT ME AGAIN. HOW EVIL I AM, BASICALLY. BUT THEY IGNORED MY GOOD, ALWAYS, ALWAYS, ALL THE GOOD IN ME WAS TOTALLY IGNORED. BUT WHEN I POST THE TRUTH ABOUT THEM, THEN I AM THE MOST EVIL OF PERSONS. YET THEY DID NO EVIL, THEY SAY. (EXAMPLE, THEY CALLED ME AN OLD WHORE LOOKING FOR A NEW WAY TO MAKE MONEY, A FAT JUICY TARGET FOR THEM TO ATTACK, I AM MENTALLY ILL, IMMORAL, A FAKE GURU, SEEKER OF THE SENSATIONAL, ALL I WANT IS PUBLICITY AND TO MAKE MORE MONEY, ETC. ON AND ON WITH DIRTY WORDS ALSO.....YES, I FOUGHT BACK.) WHERE IS THE JUSTICE IN ALL THIS? THEY HAVE NONE.
AND SO, CONFLICTS CONTINUE. AND CAN WE STOP CONFLICTS? I TRUST THEY WILL GO ON FOREVER UNTIL WE ARE IN HEAVEN, ALL OF US.
INFINITE LOVE,
RASA
MARCH 22, 2006
THE CONCLUSION GIVEN BY
NAREN (ASHANKAH) WHICH RASA RESONATES WITH:
Dear Rasa Yogi, I agree with all that you said. Life is full of pairs of opposites - joy and sorrow, love and hate, success and failure and so on. 'Punishment and forgiveness' is nothing but just another pair of opposites. It is always nice to have spiritual debates on such topics. These discussions are never meant to come to any conclusion on which one from the pair is right or wrong. They are two sides of the same coin.


Anyway, in Advaita 'the known', 'the knower' and 'the knowledge' become one. The punished, the punisher and the punishment become one. When a mother punishes her child, the child suffers and the mother suffers too. The mother has a strong connection with the child and hence the punisher suffers along with the punished. Similarly, when a person feels the bond between the self and the rest of the world punishing someone becomes own punishment and forgiving becomes being forgiven.


Like all pairs of opposites, both 'punishment' and 'forgiveness' are important and both are needed.


If Lord said through Krishna, "Forgive not your enemies, and wage war against them" then the same Lord said through Christ, "O God forgive them for they know not what they do".


One way or the other Lord has ensured that punishment' and 'forgiveness' will always prevail.


Whether we like it or not, neither the desire of 'revenge' will disappear from the world nor the compassion of 'forgiveness' will vanish. And the world drama 'Lila' will go on.



Om peace,
Ashankah
March 22, 2006
ASHANKAH'S YAHOO GROUP
http://groups.yahoo.com/group/Ashankah_Yogis_Self-Realization_Satsang
DISCUSSIONS ON