DREAM ABOUT
CELIBACY & SUCCESS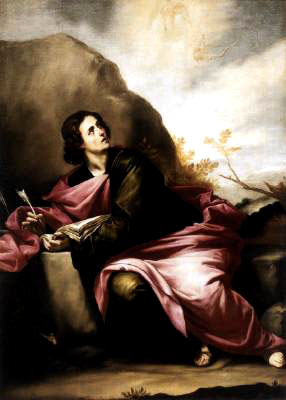 St John the Evangelist on Pathmos
Alonso Cano
---
I am somewhere in public and I see Arnold.
MEANING: ARNOLD, ALWAYS SYMBOL OF GOD AS SUCCESS
I want to be alone with him, intimate.
MEANING: MEANS I WANT TO BE ONE, INTIMATE, WITH SUCCESS
It is difficult for some reason. We end up sitting together in a park, on a square plot of ground sort of (on a blanket), our backs to a wall, and there are people about. We want a more perfect arrangement as it isn't private enough and we make plans where he will pick me up. (Here people are walking about near us, and he is very famous, so that is not a good thing for privacy.)
MEANING: THIS HAS SOMETHING TO DO WITH DESIRING SUCCESS, BUT PEOPLE ARE INTERFERING OR PREVENTING IT.
Then I am standing on a sidewalk next to a street bragging to a guy on my right, that Arnold is going to pick me up for a date. I am not sure if he really is - but I go on bragging, holding a drink in my left hand.
MEANING: HERE I AM NOT SURE IF GOD WILL GIVE ME THE GRACE OF GREAT SUCCESS, (THE DRINK IN MY HAND REPRESENTS GRACE I AM HOLDING ON TO, FAITH PERHAPS) BUT IT (SUCCESS) ARRIVES AND I AM RELIEVED AND DELIGHTED, BECAUSE I SAID IT WOULD
To my delight and surprise, Arnold shows up. He is in a shiny yellow cab. Not what I expected - thought he'd have a limo, but this is nice. He does not stop right in front but on a kind of angle like away from us pointed left.
MEANING: THE VEHICLE LIKE THAT POINTING LEFT, MIGHT INDICATE WE ARE GOING DOWN MEMORY LANE. LIKE WHEN GOD SHOWED SCROOGE WHAT COULD HAVE HAPPENED, WHAT DID HAPPEN, ETC. THE VEHICLE BEING YELLOW IS 'ILLUMINATION' OR 'UNDERSTANDING' WHAT WAS, WHAT COULD HAVE BEEN.
The back door where he is sitting opens as if by itself and I head to the car, waving bye to the friend, like saying,
'I told you so.'
He is sitting in the middle. Just before I close the door I look on the pavement to the left and there are a few valises, and I check them to see if anything important is in them. One of them is large like my gym bag, but has no compartments, is sort of soft vinyl or leather, a yellowy color, but it's empty and I assume the other valises are empty, and am satisfied.
MEANING: THE LARGE EMPTY YELLOWY BAD REPRESENTS MY VAGINA. IT IS EMPTY! I REALLY HAVE BEEN CELIBATE! I CAN HAVE MY GREAT SUCCESS FROM GOD! THIS TO ME INDICATES SEX WOULD HAVE KEPT ME FROM SUCCESS, BUT IT DIDN'T.
When I get in, we do not go anywhere, we just have our date inside the cab. As he sits on the seat I am facing him perhaps sitting on the floor. He is covered in sort of furry blankets mostly his middle, while his arms are bare. I begin kissing his left upper arm and am in ecstasy.
MEANING: ARMS, HERE BICEP AND TRICEP, ARE STRENGTH. HERE I RECEIVE THE STRENGTH, THE GRACE OF THE STRENGTH OF GOD.
He says to me,
'You can have me, but not my trophies.'
MEANING: HERE GOD IS SAYING, YOU CAN HAVE ME, BUT I AM THE ONE THE GRACE COMES FROM. YOU CANNOT TAKE CREDIT FOR IT. THE GLORY IS MINE.
I imagine in my mind's eye a bunch of bodybuilding trophies and I say to him,
'I don't want your trophies, I just want your body.'
MEANING: I AM SAYING TO GOD YES, IT IS YOU WHO SET ME FREE. YOU DESERVE ALL THE GLORY!
And happily continue kissing his arm. (The very idea of wanting his trophies seems silly to me!)
There is a sort of overall feeling of discomfort - but it is tiny - to Arnold, that he is respectable and famous, while I am prone to bring scandal. But this is a minor thing. And I have an instant revelation about fear. I express it to him,
'I now understand the secret of your success. You overcame fear!'
He assents to this somehow.
MEANING: I HAVE HAD FEAR REGARDING, HARSH CRITICISM BUT AM JUST ABOUT OVER IT, AND GOD IS GIVING ME A MESSAGE ABOUT THIS. GREAT SUCCESS IS HERE.
Now I see a sort of vision of a woman who refused Arnold long ago. He wanted to dominate her, but she would not let him. Now I see her walking down the street with a man in front of her. She wanted to be free, but instead, ended up dominated by this person. He has dark hair, is decent looking and is like a pimp. He is carrying a trident in his left arm, long and black, and the middle prong has like an arrowhead shape to it.
MEANING: TRIDENT IS A PITCHFORK AND MIDDLE PRONG IS LIKE THE HOOK YOU HOOK A FISH WISH, WHEN IT WANTS TO EAT, BUT YOU KILL IT AND DRAG IT IN. THIS IS TO HOOK FOR THE VAGINA, WHERE A WOMAN GETS ADDICTED TO SEX, AND THEN IS DRAGGED INTO HELL.
She has to walk behind him, like he's the leader, and she looks pretty and has beautiful clothes. But the situation is now bad, the tables have turned. She wears beautiful black lingerie, including a long robe like a queen. The train is like twelve feet long behind her, and men seem to be standing on it, being dragged along by her.
MEANING: 'TRAIN' REFERS TO 'MANY MEN.' WHEN MEN 'GANG BAND' A WOMAN IT IS CALLED 'DOING A TRAIN.' THIS NEVER HAPPENED TO ME, HOWEVER, IS A SYMBOL FOR 'MANY MEN.'
There are also men who are fans walking along the street. She is beautiful, but a kind of a slave to this man in front of her. The entire walk is going downhill.
MEANING: THIS SCENE IS THE DEMON OF LUST, WITH THE WOMAN BEING CONTROLLED BY HIM. SHE IS HOOKED ON SEX, AND HAS ALL KINDS OF MEN SURROUNDING HER FOR HER BEAUTY AND SEX APPEAL. THIS IS ON THE ROAD TO HELL. THERE BUT FOR THE GRACE OF GOD GO I. INDEED, I HAVE BEEN SET FREE FROM SEX AND LUST, AND TODAY, GOD IS TELLING ME IT WAS THE GRACE OF GOD THAT SET ME FREE, AND GREAT SUCCESS IS MINE BECAUSE OF THIS GRACE!
Somehow that catches my eye yet it has nothing to do with me. I just see the unfortunate fate of this woman because she spurned Arnold long ago.
INTERPRETATION
There are a few layers to this dream. It is about God giving me success and it speaks of celibacy being the key.
Long ago, I was a slave to lust. That is the woman following the devil down the path to Hell, with men all around her. This is refusing obedience to God and becoming a slave of Satan.
However, something happened. When I had the courage to take the vow of celibacy, I was given the grace to keep it. This set me free.
It is being stressed here that the glory and power came from God, not from my own self, and I thoroughly agree with this. I do not want credit for this, it is God's. I only want God, not the credit.
And God is saying, celibacy was a key factor to my success in life - and the success I am having right now!
RASA VON WERDER
NOVEMBER 30, 2005
DISCUSSIONS ON

---
---