THE EVIL SCULPTOR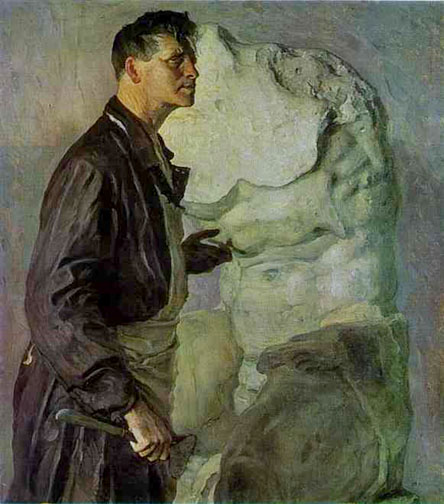 Portrait of Ivan Shadr
Mikhail Nesterov

RASA'S INTERPRETATION OF AN ALLEGORY SUBMITTED BY GENE POOLE
Here is a fantasy story which contains vital guidance for the reader and other of our allies:
'Once there was an evil sculptor, whose statues were an ugly mockery of those he wished to bedevil'.
MEANING: This is a person that looks at others with an 'evil eye,' portraying them as evil. He is projecting wickedness onto others, 'bedeviling' them or making them look evil.
His ugly statues were built of beach sand,
MEANING: LACKING SUBSTANCE, TEMPORARY, GONE SOON, LIKE TRACKS IN SAND

'...and so, they needed continual maintenance, due to wind, rain, sun, and especially, the incoming tides.'
MEANING: Not NATURAL or REAL SUBSTANTIVE STRUCTURES need constant affirmation or replenishing with lies or affirmations. (If you repeat a lie long enough, it will be believed by some.)
'This evil sculptor has to run from one to the next statue, repairing each distorted feature, in order to preserve them from natural change.'
MEANING: By nature, things will revert to what they really are in truth, but this person wants to maintain the lies
'There is no way to kill this evil sculptor, but his choice of being evil, has doomed him to a lifetime of indulgence in the blackest thoughts and most horrible feelings imaginable; he is consumed by hate, and he is continually exhausted by the need to reinforce each of his ghastly mocking images, lest those simply return to formless sand.'
MEANING: Such a person is doomed by his own karma, and he lives in this world of his own construction, and the karma must be played out
GENE POOLE EXPLAINS
The sculptor, wherever he is, he is being consumed by his own lust for doing evil. He is best left to dwell within his own ugly imagination.
It is unfortunate that his influence has extended into our sphere, but I beg of you; do not summon him. There is nothing you can do 'to' him, no matter the passions of your heart.
Speak not his name; but neither should you fear him. He is doomed by the worst choices any Being can ever make, and will meet his doom by his own hand, the same hand which attempts to remake others 'in his own image'.
And... the tide is rising...
OVERVIEW BY RASA
It seems that Gene is giving us an allegory of someone who continually dwells upon created negative images of others, and maintaining those images. They have brought a karma of doom upon themselves and we cannot stop them until this karma plays out upon them. But it is best for us to stay away from them, and not allow their poison thoughts to affect our thoughts and their karma to come upon us.