'THE ROASTED WILD BOAR'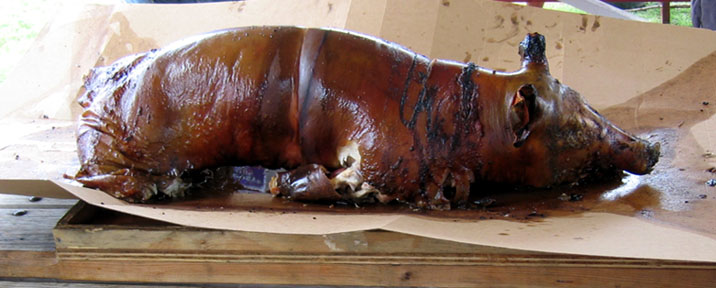 JONATHAN, FRIEND OF RASA, DREAMS OF GURU RATINGS SITUATION....THIS IS ABOUT A DIEITY (GURU) BEING SACRIFICED IN ORDER FOR OTHERS TO BE NOURISHED! EXPLAINS WELL WHY THE ALTERCATION HAD TO TAKE PLACE!
In the dream I am visiting one of my high school friends who was part of a small group of friends; actually we were in kindergarten together before that, but like a few others later in junior high we were friends again; so he is someone I have known for a very long time. His name is Frank. In real life he is a doctor in Beverly Hills and is very wealthy; he bought one of the last three remaining lots in L.A. on Wealthy Drive and is planning to build his own house there.
In the dream I was there with him at his house, which I came to understand he had newly designed and built. A few of our other friends from high school and before were there, including our friend Mark who had died in 1994 in a car accident. This does not seem unusual, as I have often dreamt of Mark since he died, but not in circumstances like this. Frank is showing us around his place. Actually it seems to consist of maybe three buildings all of only one level on ground and maybe a deeper basement part in one of the buildings, and apparently built on a hilltop, and surrounded or secluded by trees. He has designed each of the buildings, although it appears that at least one, that we are in, is an older small structure or shack, which I can see he has modified and added on to.
This is not an extravagant structure but appears very modest. Frank is very proud of his place, he likes it very much, and I can also see that he is happy to have been able to have the resources financially to build it himself and add all the furnishings inside, even though, it retains a shack quality and seems somewhat small. I am feeling that I would have liked to be in his place so that I could do that, and I am observing to see how he did it, so that I can do it myself. Now the interesting part. Frank is feeding us, Mark and myself. Mark is eating before I do. I am serving myself.
What Frank is feeding us is a roasted boar. And this particular boar is so huge, that it takes up the entire room, and stands there maybe 7-8 feet tall. I look at it and I see that it is covered with coarse hairs, and is thoroughly cooked all the way through the corpse of the thing. In fact, a great portion of the boar has already been carved out and apparently eaten because Frank cooked it in this shack for an extravagant party he was having just a day or two before. I grab a large carving knife and a plate and begin looking for a piece to slice off and eat. I am very hungry.
I ask Frank where and how to begin and he just says to find something that looks appealing and take a slice. We find some meat near the giant remaining part of the boar's head, on my left side as I am facing it. This boar is a monster. And to look at the giant cooked beast that has already been partially eaten and carved hollow might seem rather disgusting, but I know that must eat some of it as I am hungry. It is an absurd sight to see in itself.
I cut off some meat and begin eating it as Frank sits down with me. He keeps talking about his boyfriend who is not here apparently. He is open about this. In real life, he is actually gay, but he has never said anything to me about it; one of those things that we all know but never talk about because it is not really an issue to our friendship from long ago. As I write this, I can see that what it means in the dream is that Frank is being himself openly. But I have no judgments about it at all. In the dream, we are watching TV as Frank is talking on the phone, and we are about to go somewhere else after we all finish eating.
Having finished, I look all around the house, and notice all these details that I have just written about earlier, and wish that I could do something like this on my own, even though it appears to be a modified little shack. It is appealing and maybe so because Frank has done all of this himself. He is very successful. He has no issues about this, nor with anyone else telling him what to do. He has done it himself. We go outside of the house with the boar inside, and from outside I am looking back at a distance. It is simply a small square shack with four equal sides and pointed roof, and an open gate on one side of one of the walls.
The roasted boar is inside. As I look at it, I notice that this building appears to be like a dilapidated version of one of Amma's temples, which she designed, called a brahmasthanam, inside of which is a four-faced stone murti showing a different deity on each of the four faces. I realize that the boar is actually something like a deity inside of this small house, of which I have just eaten. The boar was previously roasted where it stood in the house, the entire thing. It seems that this is what the house was built for - to roast the boar inside.
As we walk around outside in the green, we come to the edge of the hill and I can see that this actually overlooks a much greater area below. It is night and I can see the lights of the cities below. However, we are not in L.A., but instead we are in New Jersey, and I know this because in the dream, I am remarking on this fact. New Jersey, which is pleasant and green and has lakes, but actually is also sort of ugly and urban too.
As I look out over the landscape and sky, I realize that I have been here before, but the last time I saw it, everything appeared very clear as if made of crystal and also very bright and filled with daylight. It is now night...
RASA: DARK NIGHT OF THE SOUL. WHEN GOD COMES CLOSER YOU CANNOT SEE GOD, BUT GOD IS CLOSER THAN EVER.
...where I am standing and has become dark. Not light as I remember. But it is not surprising. There are many things in this dream that appear to be somehow other than what they really are. Everything is not exactly as it appears to be.
RASA: LOOKING AT THE SPIRITUAL AND SUPERNATURAL TOTALLY DIFFERENT THAN EARTHLY APPEARENCES.
That is what strikes me as I am writing all of this down. And now for the interesting part... the boar is a symbol from the story of the Fisher King, Parzival.
RASA: MAN WHO SEEKS PERFECT UNION WITH GOD. IT IS JONATHAN, IT IS JODY.
The boar is the Grail Bearer, Kundrie,
RASA: THE SAINT WHO BEARS THE ANOINTING - RASA IN THIS CASE - WHICH ANOINTING BRINGS POWER FOR PERFECT UNION
...who is Parzival's "wife" but not his real wife,
RASA: WIFE IS THE FEMININE DIVINE, LIKE BEATRICE TO DANTE. BY WHICH THE MAN UNITES TO GOD. EARTHLY WIFE IS LESS MEANINGFUL.
...who is named Condwiramurs. The names are very similar sounding, but Kundrie is the Grail Bearer and is portrayed as a boar, or tusked pig, hairy,
RASA: THE GURU HAS HORNS - HORNS ARE SYMBOLS OF SPIRITUAL STRENGTH AND COULD ALSO BE PHYSICAL FEROCITY. HORNS ON MOSES HEAD WERE LIGHTS OF SAHASRARA. COURSE HAIR IS ALSO A SYMBOL OF LIGHT EMANATING FROM BODY, COURSE IS TOUGH AND STRONG AND COULD BE BOTH SPIRITUAL AND PHYSICAL.
...and absolutely disgusting to look at.
RASA: WHAT IS DISGUSTING IS THE SUFFERINGS THE SERVANT OF GOD MUST GO THROUGH TO ATTAIN SUCH POWER AND ALSO, WHAT PEOPLE DO TO A HOLY SOUL TO SUCK THE SPIRITUAL JUICE OUT OF THEIR BEING.
Though Parzival sees the Grail, Kundrie is actually the Grail Bearer, and she carries it.
RASA: THE SEEKERS, HERE JODY AND JONATHAN (JONATHAN IS HIMSELF AND JODY, SEES WHAT JODY HAS DONE, PARTICIPATES IN IT BY UNION)
She is all that can be seen of the Grail by Feirifis, who is actually the secret brother of Parzival and a Muslim (that is, someone who has not received the Christian faith and does not believe).
RASA: PEOPLE WHO HAVE NOT SPIRITUAL EYES CANNOT SEE THE SPIRIT OR ANOINTING BEHIND THE GURU - THEY ONLY SEE THE GRUFF, PHYSICAL EXTERIOR WHICH IN SOME CASES MAY APPEAR UGLY OR GROSS TO HUMAN EYES.
Though Feirifis cannot see the Grail directly, he does indeed see the Grail Bearer when he beholds the awful vision. Kundrie is actually the Goddess,
RASA: THE ANOINTED IS THE GODDESS, THE VISION, SYMBOL, REPRESENTATIVE OF GOD ON EARTH
...that is, the manifest universe, or what can be seen. The Grail cannot be seen with human eyes.
RASA: ONLY SPIRITUAL EYES
This is Parzival's secret, because he has seen the Grail, but he does not know why. He was not looking for it. He just wandered into the Grail Castle one night and saw the procession, and then he met the hermit who explained to him what he saw and berated him for not asking the question which would free the Grail King.
RASA: TO FREE THE GRAIL KIND IS TO BECOME LIBERATED FROM THIS LIFE, THIS FLESH, AND TO RISE UP INTO GOD. IT IS UNION, MUKTI, MOKSHA, LIBERTY OF SPIRIT, PERFECT POVERTY, NIRVANA, NIRVIKALPA SAHAJ SAMADHI AND BY ALL OTHER NAMES, UNION WITH THE INFINITE DIVINE.
And so Parzival must suffer more until the end of the story when he enters the Grail Castle once again.
RASA: AT THE BEGINNING OF UNION WE GET A GLIMPSE OF GOD BUT MUST ENDURE MANY SUFFERINGS BEFORE PERFECT UNION
At the end, this is why Kundrie is the only one Feirifis can see, the bearer of the Grail, but not the Grail itself. Parzival is the Grail King, and he reveals the Grail, but only through the sight of the Grail Bearer, Kundrie. Maybe something like Kali.

I'll tell you more about why I think I dreamt this when we can speak.

INTERPRETATION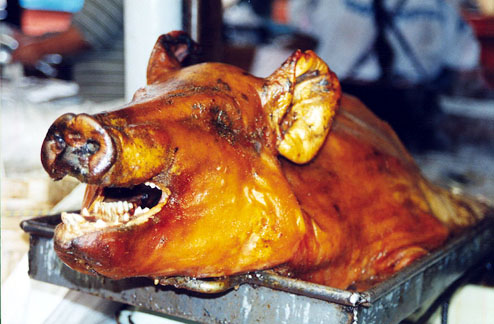 THIS SOUNDS LIKE IT MIGHT CONNECT WITH WHAT IS HAPPENING AT GURU RATINGS.
THE DOMAIN BUILT HERE - THE SHACK OF POVERTY - IS THE PLACE BUILT BY JODY OR RATHER, JODY CREATED THE SITUATION OF WHAT HAS BEEN HAPPENING HERE. HE IS PROUD OF THE FACT THAT HE HAS BROUGHT RASA TO THIS PLACE AND ROASTED HER. (JODY IS GAY, BUT ALSO, NOT COMPLETELY OPENLY,.....WHEN I FOUND OUT, I FOUGHT BACK USING THAT INFO.)
NOW ROASTING SOMEONE IS TOTALLY CHEWING THEM UP, BERATING THEM. LIKE THE FORMAL ROAST WHERE EVERYONE MAKES FUN OF A WELL KNOWN PERSON.
IN THIS PLACE OF POVERTY THEY HAVE FOUND A HUGE DIETY - RASA. IT IS LIKE AN ALTAR OF SACRIFICE. RASA IS SACRIFICED, (ROASTED, STARTED BY JODY BUT ASSISTED BY OTHERS ) TO BE CONSUMED BY PARTICIPANTS.

(IT IS NOTED THAT A MAN WHO IS DEAD PARTICIPATES - THAT IS THE BELOVED SOULS IN PURGATORY RASA MINISTERS TO. THEY RECEIVE BENEFIT OF THE SACRIFICE ALSO.)
THE FACT THAT THIS IS LIKE A SMALL TEMPLE - OF PERFECTION - (PERFECT SQUARE) IS BECAUSE IT IS AN ALTAR OF SACRIFICE, AS JESUS WAS SACRIFICED SO ALL COULD CONSUME HIM. HE HAD TO DIE SO OTHERS COULD PARTAKE OF HIS BODY AND BLOOD.
NOW HERE, RASA IS SACRIFICED SO THAT THE MEMBERS CAN CONSUME HER FLESH. WHAT DOES THIS MEAN?
IT IS THE RELEASE OF THE GURU POWER. WHEN THE GURU IS INJURED, HURT, IN THE FLESH, THE GOD POWER COMES FORTH, EXPANDS, EXPLODES. LIKE THE BLOOD OF JESUS, THIS IS SENT OUT FOR ALL TO CONSUME AND BE NOURISHED.
NATURALLY, ON THE DEEPEST LEVEL, JODY IS PROUD OF HIMSELF FOR DOING THIS - FOR BRINGING RASA, SACRIFICING HER, SO HER GOD POWER COULD BE CONSUMED AND WOULD NOURISH THE MEMBERS.
I ALREADY EXPLAINED THIS IN THE ARTICLE,
'WHAT HAPPENS WHEN GOD GOES TO WAR.'
I EXPLAINED HOW THE GOD POWER MANIFESTS AND EACH RECEIVES ACCORDING TO HIS AND HER DISPOSITION, MERITS OR DEMERITS. THE POWER OF GOD WARMS THE GOOD BUT BURNS THE WICKED.
YOU OBVIOUSLY ARE A GOOD SOUL AND YOU ARE RECEIVING NOURISHMENT THAT MAKES YOU FEEL HAPPY.
THE HUGENESS OF THE BOAR. THE GURU IS BIGGER THAN THE SITUATION, OR THE PLACE OF GURU RATINGS, DISPROPORTIONATELY BIGGER IN POWER AND GRACE. (SARLO EVEN MENTIONED THAT THE TRUE GURU HAS THE HANDICAP, EVEN IF TWENTY PEOPLE ATTACK.) THE PLACE WHERE THE GURU HAS BEEN PUT - POVERTY - IS A TINY PLACE, A PLACE OF DISPARAGEMENT, AS IF THE GURU IS NOT GREAT. BUT THE GURU IS GREAT, AS THIS INDICATES.
WHY A BOAR? PERHAPS BECAUSE WILD BOARS ARE FEROCIOUS AND DANGEROUS - ONE OF THE TOUGHEST ANIMALS IN THE JUNGLE. AND IT HAS MUCH DELIGHTFUL AND DELICIOUS FLESH. THAT IS THE HUMAN PERSONALITY AND THE ANOINTING IS THE PART THE PARTICIPANTS CONSUME.
YOU WANTING TO DO SOMETHING LIKE THIS ALSO IS YOU ADMIRE THE GOOD THAT HAS HAPPENED HERE.
INTERPRETED BY RASA VON WERDER
VERY GOOD DREAM
JANUARY 6, 2006
DISCUSSIONS ON
---
---