FLYING THE CROCODILE WITH BAT WINGS!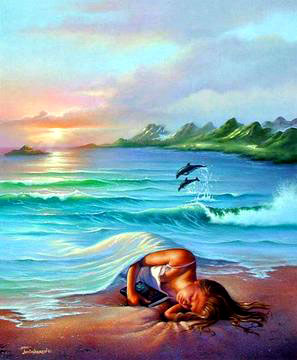 DEVOTEE JUANA'S DREAM

I was walking alone near beach. there were many large waves like you see on tv news.
MEANING: THIS IS A PSYCHIC DREAM. YOU HAVE PICKED UP MY PAST LIFE. THE WAVES AND TV NEWS ARE THIS:
AT ONE TIME, FOR MANY YEARS, I 'MADE WAVES' IN THE MEDIA. I WAS ON TELEVISION NUMEROUS TIMES AND IT WAS CONSIDERED SENSATIONAL. I WAS A WOMAN WHO DANCED 'TO SAVE MEN'S SOULS,' A STRIPPER WHO GAVE SERMONS BEFORE EACH PERFORMANCE. THIS WENT ON FOR 13 YEARS. THEN I BECAME A DOMINATRIX AND PREACHED FEMALE SUPREMACY ON MANY TV SHOWS. THE NEXT SYMBOL PROVES THAT I AM RIGHT.
Next see a large creature flying toward me from water. It looks like big crocodile with bats type wings. At first I was afraid.
MEANING: THIS IS THE VISION OF MY CAREER IN THE SEX TRADE. TO PEOPLE WHO ARE RAISED UP IN THE CULTURE OF OUR DAY - PATRIARCHY - THE SEX TRADE LOOKS EVIL. SO THIS CREATURE LOOKS LIKE A 'MONSTER.' THIS MONSTER IS HOW THE WOMEN IN THE SEX TRADE ARE PERSONIFIED IN OUR CULTURE. AND SO, PEOPLE ARE AFRAID OF THEM.
(THE CROCODILE IS AN ANCIENT, MILLIONS YEAR OLD CREATURE. THIS IS INSTINCT, ANCIENT DRIVES OF LIFE AND SEX. THE BAT WINGS REPRESENT SOMETHING THAT LOOKS LIKE THE DEVIL.)
'OUT OF THE WATER' IS 'OUT OF THIS LIFE' AS ALL LIFE COMES OUT OF THE WATER, EVERYTHING STARTED IN THE WATER. IT IS THE CRADLE OF LIFE. SO IN THIS CASE, IT IS A VERY GENERAL SYMBOL OF LIFE AND WORLD. (WATER CAN TAKE ON MANY MEANINGS. IT CAN BE WORLD OR IT CAN BE INFINITY.)
Then I see you riding on top with other woman sitting behind you. she was very beautiful too and had long black hair.
MEANING: VERY GOOD PSYCHIC SYMBOLS! THIS CAREER WAS MY VEHICLE, WHICH GOT ME TO WHERE I HAD TO GO - THE NEXT STEP OF LIFE. WHERE I AM TODAY, IN FACT! THE WOMAN BEHIND ME ALSO BEAUTIFUL IS HOW I LOOKED IN THE PAST, WITH (MOSTLY) LONG DARK HAIR! SO THERE I AM, ON THE VEHICLE OF CROC/BAT, MY OLD SELF AND MY PRESENT SELF, ARRIVING TO MEET YOU JUANA!

Soon I was not afraid anymore and felt very calm.
MEANING: YOU SAW, JUANA, UNDER THE APPEARENCE OF A 'MOSTER,' THAT THERE REALLY IS NO EVIL, AND YOUR FEAR WENT AWAY.
You flew down next to me and I sat on crocodile with you.
MEANING: SOMEHOW I TAKE YOU WITH ME. I HAVE OVERCOME THE PAST, AND USED IT TO GET TO WHERE I AM TODAY. NOW YOU JOIN ME, AND WE FLY OFF TOGETHER.
We flew into sky and it was amazing like no other dream before.
MEANING: FLYING IS FREEDOM. THERE IS NO GREATER FEELING OF FREEDOM THAN BEING ABLE TO FLY INTO THE AIR!

THE PAST WAS THE PAST, AND NOW IT STILL EXISTS IN AN ARCHIVAL WAY, LIKE THE LIVING CROCODILE. WE USED THE PAST, AND WE GOT TO TODAY, AND TODAY, ON TOP OF THE PAST, WE HAVE GONE BEYOND IT AND WE ARE FREE!
AND YOU ARE WITH ME, JUANA, AS WE HAVE BECOME ONE SPIRIT, SPIRITUAL MOTHER/DAUGHTER AND SISTERS!
DISCUSSIONS ON

---
---