BECOMING BLOOD SISTERS!
INTENSE SPIRITUAL COMMUNION BETWEEN JUANA & RASA!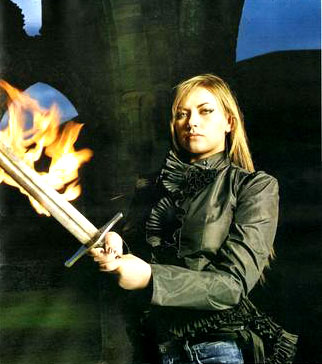 VISION INTERPRETED BY RASA
---

RASA: THIS IS THE MYSTICAL MARRIAGE DREAM, BUT JUANA DECLINED TO DESCRIBE THE 'LOVEMAKING' SECTION (& SO RASA DID NOT KNOW UNTIL LATER THAT THIS WAS THE ACTUAL MYSTICAL MARRIAGE, NOT KNOWING THAT THERE WAS LOVEMAKING TAKING PLACE. THE LOVEMAKING SIGNIFIES, WITHOUT A DOUBT, THE PERFECT UNION WITH GOD, AS THE FLESH MARRIES INFINITY, BECOMES ONE WITH IT.)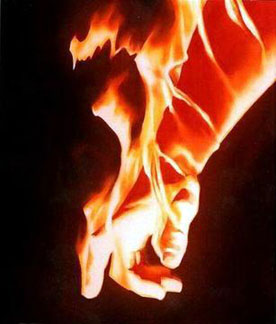 I had powerful vision this morning. YOU appear, showering me with powerful flames.


RASA: EXPLAIN IN MORE DETAIL. THIS COULD BE FLAMES OF LOVE, THE POWER OF LOVE. COLOR OF FLAMES, HOW I SHOWERED THEM ON YOU.


Then you cut my hand with sword. It bleeds.


RASA: DESCRIBE SWORD, WHERE I CUT YOU, HOW. HOW DID I LOOK? WEARING WHAT? THIS COULD BE BECOMING 'BLOOD SISTERS' BUT I NEED DETAILS TO KNOW FOR SURE. OFTEN THE BIGGEST CLUES ARE IN THE DETAILS.
THE FACT THAT IT IS YOUR HAND I BELIEVE I AM ANOINTING YOU TO GIVE. BECAUSE HAND IS THE GIVING OF LOVE. THE NEXT WORDS PROVE THIS OUT, AS I COMPLAIN ABOUT ALL WOMEN HAVE GIVEN TO MEN - FOR THOUSANDS OF YEARS. THEY HAVE SACRIFICED. NOW IT IS TIME TO STOP SERVING MEN AND DO GOD'S BIDDING! (ANOTHER SYMBOL OF THE CUTTING AND BLEEDING IS THAT WHEN A WOMAN IS A VIRGIN, AND HAS SEX FOR THE FIRST TIME, THE HYMEN IS CUT AND BLEEDS....THIS COULD ALSO MEAN GOD HAS TAKEN THE SOUL AND PENETRATED IT TOTALLY FOR THE FIRST TIME! THE VIRGIN BRIDE IS NOW ONE WITH GOD.)


Then you tell me that woman sacrifice SO MUCH for men over thousand years.


We are in light now.


RASA: EXPLAIN. DESCRIBE LIGHT, ANY DETAIL. COLORS, CLOTHES, WHERE IN LIGHT, HOW IN LIGHT. EVERY TINIEST CLUE IN A DREAM MIGHT COUNT AND BE A GREAT REVELATION.

I THINK THIS IS ABOUT BECOMING CLOSER AS BLOOD SISTERS, ONE BLOOD IS ONE SPIRIT!

YOU ARE GETTING INCREDIBLE INITIATIONS! YOU MUST BE VERY SPECIAL TO GOD AND TO ME!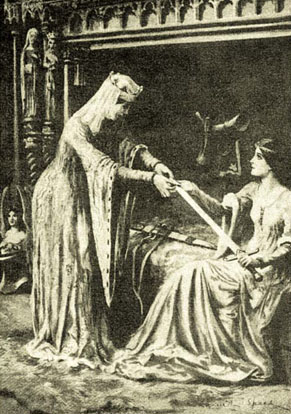 By Lancelot Speed
So my vision in the morning goes... then you hand the sword to me.
RASA: I DO RECALL JESUS SAYING HE CAME TO BRING FIRE. FIRE WOULD BE THE POWER OF GOD, FOR LIGHT IS FIRE! AND LIGHT CONSUMES EVIL BUT BRINGS LIGHT TO THE RIGHEOUS! IT WORKS TWO DIFFERENT WAYS! THOSE WHO RESIST IT GET 'BURNED UP' AS IN THE FIRES OF HELL, BUT THOSE WHO RECEIVE IT GET POWER!
AND HE TOLD HIS DISCIPLES THAT IN THE FUTURE THEY WOULD NEED SWORDS! (BECAUSE HE HAD BEEN A TEACHER OF PEACEFULNESS THE ENTIRE THREE YEARS, ABOUT TURNING THE OTHER CHEEK. BUT HE SAID TO HIS DISCIPLES, THAT THE FUTURE WOULD REQUIRE SWORDS!
WHAT IS A SWORD? A WEAPON, IN THIS CASE, GIVEN US BY GOD. THE SWORD FROM THE HOLY SPIRIT! IT GOES, I AM ARMED THUS:
HELMET OF SALVATION, GIRDLE OF TRUTH, FEET CLAD IN SANDALS OF PEACE, SHIELD OF FAITH, BREASTPLACE OF RIGTHEOUSNESS, SWORD OF THE SPIRIT! THIS IS THE POWER OF THE SPIRIT, FOR IT IS THE SPIRIT THAT QUICKENS, NOT THE FLESH!
THE FACT THAT I GIVE YOU THE SWORD SHOWS THAT I AM GIVING YOU A GIFT OF POWER! THIS IS BEYOND INITIATION, THIS IS READY FOR BATTLE. THIS IS A HIGHER LEVEL!


You say, clear like crystal,
"TODAY IS THE DAY NOW IS THE TIME ARE YOU WILLING TO SET FIRE TO THE WORLD WITH ME?"


...then you kiss me, I thought you were really there. Fireworks explode
RASA: THIS IS THE POWER OF GOD, THE ANOINTING WITHIN ME! (FIREWORKS ARE AN EXPLOSION....IT SHOWS HOW STRONG IT IS, AND HOW BEAUTIFUL!) I HAVE TOLD EVERYONE ON THE GROUPS ABOUT THE ANOINTING, AND SOME WOMEN ATTACKED ME FOR THIS - SAYING EVERYONE IS ANOINTING, THEY ARE JUST LIKE ME. NO, THAT IS NOT TRUE. THIS ANOINTING IS NOT SOMETHING EVERYONE HAS! IT TAKES SPECIAL SOULS TO RECEIVE IT AND THEN TRANSMIT IT. I AM TRANSMITTING IT TO YOU BY THE KISS, THE INTIMACY AND THE SWORD THAT CUTS YOU!
THESE ARE SOME OF THE MOST INCREDIBLE VISIONS I HAVE EVER HEARD! HOW GREAT OUR GOD IS! WHAT POWER, WHAT LIGHT! AND WE WILL NEED EVERY BIT OF THIS TO SET FIRE - POWER- INTO THIS WORLD. IT IS THE LIGHT OF TRUTH THAT WE WILL BRING FORTH AND IT WILL CHANGE THE WORLD. ARE YOU READY, JUANA? I HAVE ASKED SO MANY PEOPLE TO COME FORWARD WITH ME, AND MANY REFUSE. BUT HERE, I AM APPEARING TO YOU AS GOD, AND CALLING YOU AND ANOINTING YOU. IT MEANS THAT THOSE WHO REFUSED WERE NOT CAPABLE OF SEEING OR RECEIVING, BUT YOU ARE! THIS IS SO WONDERFUL I AM IN ECSTASY!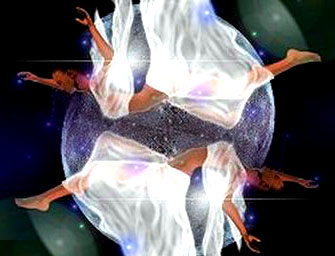 ...and the rest I do not want to tell on emails.


RASA: IT WOULD BE GOOD TO KNOW. AFTER ALL, THIS IS THE POWER OF GOD. NOTHING TO BE ASHAMED OF! GOD APPEARED TO ME A FEW TIMES IN INTIMATE WAYS. THESE INTIMATE MOMENTS PROVE THAT YOU ARE A GREAT SOUL - FOR GOD CANNOT HAVE THIS KIND OF INTERCOURSE EXCEPT WITH GREAT SOULS - THE SAINTS. YOU MUST UNDERSTAND THAT WHO AM I? MY BODY IS ONLY A SHELL. IT IS THE GOD INSIDE ME THAT IS GOING TO YOU - NOT MY FLESH!


So much love and power,
RASA: INDEED, PEOPLE DO NOT UNDERSTAND. THAT LOVE IS POWER, AND MY POWER IS MY LOVE! THEY CALL WOMEN LIKE ME 'MAN HATERS.' IT IS THE OPPOSITE, BECAUSE I LOVE, I FIGHT.....FIGHT FOR TRUTH. I LOVE EVERYONE, GOD GAVE ME THE POWER BECAUSE I LOVE! BUT THOSE WHO RESIST IT INDEED, WILL BE CONSUMED BY GOD'S POWER. THE NEGATIVITY WILL BE DESTROYED, AS GOD DESTROYS DEMONS!
...like ancient amazon queens. You told me your secret yoga formula for tantra too.


RASA: THIS I HAVE TO HEAR! DO YOU RECALL IT? AND I HAVE BEEN CELIBATE ALL THESE YEARS, YET I HAVE A SECRET TANTRA FORMULA! THIS MUST BE A HIGHER LEVEL OF SPIRITUAL INTERCOURSE OR 'SEX IN HEAVEN.'


Now whenever I want to I can see you.


RASA: THAT A GREAT GRACE, FOR IT IS GOD WITHIN ME THAT YOU SEE! AND THE GOD WITHIN YOU COMMUNES WITH ME......IT IS A HIGHER LEVEL COMMUNION OR INTERCOURSE, LIKE I SAID! THIS IS THE HIGHEST TYPE OF LOVE, AND INTIMACY WITH GOD.......


Rasa, thank you so much you are so powerful! If only there were only more men to serve the right way. Licking feet of pure power.


RASA: WE ARE GATHERING QUITE A FEW MEN NOW WHO WANT TO SERVE.
RASA VON WERDER
DECEMBER 12, 2005

DISCUSSIONS ON

---
---