JUANA IN BRIDE'S GOWN AGAIN!
JUANA IS THE SPIRITUAL MOM OF TSTARK FROM YAHOO - CELEBRATION!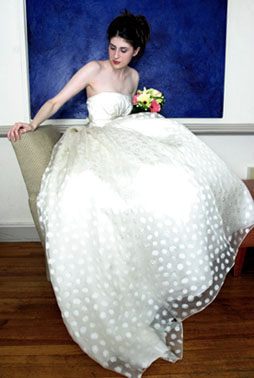 Photo Michael Pirnique
VISION INTERPRETED BY RASA
---
I see a couple who run some kind of a show or outfit. They have a young lady who works for them. They promote her, she performs. I am involved but she is their main player.
RASA: THIS IS THE FATHER/MOTHER GOD OF JUANA. (IT IS THE REAL JUANA, GOD, BUT WE DO NOT SEE IT THAT WAY IN THE FLESH.) THE YOUNG LADY WHO 'WORKS FOR THEM' IS JUANA, THE PERSON. IN OTHER WORDS, SHE OBEYS GOD, THE GOD WITHIN HER.
Yes, they can rely on her and they are discussing something between them, rather confidentially, as I am nearby. It is about a press conference of sorts.
Now I see the press arrive, and one man in particular, with a camera. Juana then comes out and dances around on the stage, very lovely. Her gown is full length white - I am impressed. It is form fitting on the top and sort of an 'A' on the bottom, soft, and it is covered with golden thread in checks, so that the checks are about 4"X4".
RASA: THE PRESS IS LIKE 'ARATI.' IN YOGA, WHEN YOU ARRIVE IN HEAVEN (OR DISTINGUISHED PERSONS ON EARTH ARRIVE) YOU ARE TO RECEIVE ARATI, WHICH IS WAVING OF LIGHTS, FLOWERS, THINGS THROWN ABOUT YOU AND BEFORE LIKE, (LIKE RED CARPET TREATMENT, RICE, FLOWERS, INCENSE, ETC.) TO ME THE PRESS HAS ALWAYS BEEN A HIGH POINT OF MY LIFE, AND EQUIVALENT TO 'ARATI.'


IN REALITY, I BELIEVE THE ARATI IS DONE BY ANGELS. SO THIS PRESSMAN WITH CAMERA IS LIKE AN ANGEL RECORDING THE GLORY OF JUANA, JUANA IN HER BRIDAL GOWN DANCING FOR JOY!
THE GOLDEN CHECKS ON HER GOWN ARE THE LOVE OF THE CROSS. SHE HAS TRUE SELF SACRIFICING LOVE, AND IT IS SHOWN ON HER GOWN.
What amazes me is her shoes. They are red, worn out sneakers. As she dances, she proudly lifts her pretty skirt a little and shows them. I am wondering how these sneakers match the dress? Perhaps they don't? But she is happy about them and sort of makes sure the photographer sees them as she dances round and round.
RASA: THE RED SNEAKERS: THIS IS ALSO ONE OF THE MOST TELLING AND IMPORTANT SYMBOLS. IT SHOWS WHY JUANA ASCENDED INTO MARRIAGE. THE WORN-OUT SNEAKERS ARE POVERTY. POVERTY COULD BE MANY THINGS, WHERE A PERSON IS LACKING THE THINGS OF THIS WORLD INCLUDING PROPER LOVE, OR FINANCES. BUT THIS POVERTY BECOMES SACRED AND HOLY WHEN A PERSON ACCEPTS IT WILLINGLY AND MOVES AHEAD TOWARD GOD, SO THAT THOSE AT THE 'WEDDING SUPPER' OF THE LAMB ARE THE 'POOR IN SPIRIT'; THOSE ATTACHED ONLY TO GOD. THAT IS WHAT THE SNEAKERS ARE SAYING. THEY ARE THE RED OF SACRIFICE, AND THE 'WORN OUT' OF POVERTY.


COMMENTS
When I awaken I somehow sense what this dream is telling me, although it is not explicit. The celebration is about Tstark. It was one of the results of her marriage, a gift if you will. Usually, during these times of great moves to a higher state, remarkable things happen. Souls get saved and lifted out of purgatory. One of the results of this event was Tstark being born again, and I feel this is the revelation of this dream.
It now follows that Juana is the spiritual mother of Tstark and his guru in yoga terms, and so there is much to celebrate.
RASA VON WERDER
DECEMBER 12, 2005

DISCUSSIONS ON

---
---