RASA SHAKTI OVERWHELMS
NIKO WITH BLISS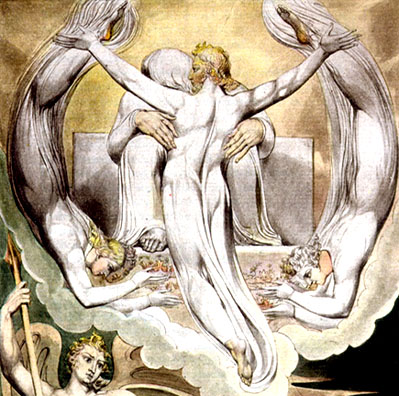 Illustration for Book III of Paradise Lost
William Blake
AS SHE TEACHES HIM TO WORSHIP
WOMEN STARTING WITH KISSING & WASHING FEET
Dear Guru, First of all I hope you do not mind me sending you a private dream, as I know you are very busy, however this is the first dream I have had in over 5 years and I think it is because I have joined your church and started to let you and your beliefs into my heart.
It starts of at a wedding, I am not sure who, they do not seem important and I am one of the guests. Everyone is seated around a U shaped table. I am eating and drinking and having fun when suddenly a Female dressed all in white puts her hand on my shoulder and leads me to the center of the crowd. I remember feeling completely exposed for some reason, while I was standing there panicking the entire crows turns into females wearing animal masks.
The Female in white motions for me to take my clothes off, I try to protest as I already feel too exposed. She simply glares at me; I bow my head and strip. As I start to shed clothes I become more and more comfortable, when I am standing naked I feel completely at peace even though I am in front of a crowd. The Female in white slips and cat mask over my face and pushes me hard to the ground. As I am on my knees she drags me by the hair to a basin full of water, I am then taken to each of the females feet, instinctively I know that I am to kiss their shoes, take them off and wash their feet. While I am doing this I feel a strange euphoria and it is with this that I wake up.
Please tell me if there is any meaning if this, also if I should post it to the group.
Your humble devotee
Niko
December 21, 2005
THIS IS AN IMPORTANT DREAM AND THE RASA POWER HAS TOUCHED YOU.

I WILL ANALYZE IT WHEN I HAVE TIME AND PUT BOTH THE DREAM AND MY ANSWERS ON THE SITE. WHO EXACTLY ARE YOU? GIVE A GENESIS OF YOU ENTERING HERE, WHAT YOU SAW, WHAT YOU DID RELATING TO MYSELF. IF YOU ARE TO BE A GENUINE DEVOTEE THERE HAS TO BE A HITORY TO THIS.

WHAT ATTRACTED YOU HERE & WHEN DID YOU COME HERE?
DISCUSSIONS ON
---
---