Dear Guru Rasa,

I send my prayers of gratitude and praise to you.

I share a recurrent dream, I have had since I was three years old. I try to change the dream, but it ends up the same. This dream would come once or twice a year.

Now, since I found this site and officially installed you into my heart, the dream comes at least twice a week.
HERE IS THE DREAM


It is different than my other dreams, in that the colors are very bright and the sounds are clearer than real sounds, if that makes sense.
RASA: YOUR INNER SENSES ARE OPEN. WHEN THE INNER SENSES ARE OPEN IT IS A PRELUDE TO WHAT HAPPENS TO US AFTER WE DIE. AS IT SAYS WE ASCEND INTO HEAVEN 'BODY AND SOUL.' THE BODY PART IS THE SENSE PART.


I smell plants all around, as I am a child in a garden. I am one with the animals, birds, and insects, as we communicate.
RASA: YOU ARE IN A STATE OF PURITY, AS A CHILD WOULD BE. WE ARE ALL CHILDREN, AND ONCE, WE WERE (OR SHOULD HAVE BEEN) HAPPY. AT THIS TIME OUR FEELINGS ARE STRONGER, OUR HEARTS ARE PURE, AND WE ARE TOTALLY OPEN, VULNERABLE AND SENSITIVE. THIS IS THE CHILD IN YOU - THE SAME TODAY AS WHEN YOU WERE THREE YEARS OLD.


The trolls always come in the dream. I try to fight them and there are too many of them.
RASA: THESE ARE THE NEGATIVES OF LIFE, F WHATEVER THEY MIGHT BE. THE THINGS OF THE WORLD, THE FLESH AND (WORLD AND FLESH NOT EVIL IN THEMSELVES, BUT WHEN THEY ARE SEPARATED FROM GOD, THEY ARE) THE DEVIL.
Then I see you walk in ( I did not know it was you Guru Rasa Von Werder, until I happened on your photo on this site!
RASA: ANY PHOTO IN PARTICULAR? APPARANTLY, WE WERE IN COMMUNICATION ALL THIS TIME IN THE UNCONSCIOUS REALM.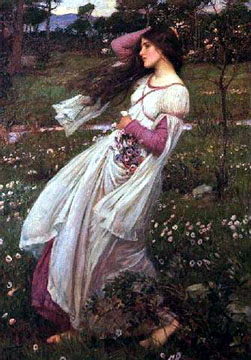 You were the person I have seen in my dreams since childhood. Your relatively larger presence seems to make the trolls run away.
RASA: THE PRESENCE OF GOD IS AN EXORCISM IN ITSELF, WITHOUT WORDS BEING SPOKEN. 'LARGE' IN SPIRITUAL TERMS - AS IN LARGE OR TALL PERSON - MEANS THE GRACE IS GREAT, A LOT OF GRACE WITHIN THE PERSON. THIS SCARES OFF THE EVIL.
You are wearing a white dress and you hold me. I undergo a transformation and I too, become an adult woman,
RASA: THE WHITE DRESS IS PURITY, HOLDING YOU IS EMPOWERING YOU, ACCEPTING YOU INTO THE POWER OF GOD. THE TRANSFORMATION IS THIS: THE GURU IS GOD, A REPRESENTATIVE, SYMBOL AND THE POWER OF GOD. THIS DREAM FROM THE BEGINNING ANTICIPATED YOUR MEETING ME. WHEN YOU MET ME, YOU WOULD BECOME ONE WITH GOD IN UNION. AND SO, YOU BECOME ONE WITH GOD THROUGH YOUR GURU. YOU BECOME THE GURU - YOU BECOME GOD.
AS FAR AS BEING FEMALE, THIS IS A SPIRITUAL METAPHOR. SOULS WHO BECOME ONE WITH GOD ARE SEEN AS FEMALE BECAUSE GOD IS THE AGGRESSOR (IN THIS CASE IT IS A FEMALE GOD, BUT THAT IS OK) AND THE RECEIVER IS FEMALE BECAUSE FEMALE TRADITIONALLY RECEIVES (IN A RELATIONSHIP WITH MALE.) OF COURSE, GOD HAS NO GENDER. THESE ARE METAPHORS. (IN MY CASE, WHEN GOD HAS APPEARED TO ME IT HAS BEEN A MALE, AND I A FEMALE.) WHEN I HAVE SEEN SOULS ASCENDING INTO HEAVEN FROM PURGATORY, THEY ALMOST ALWAYS HAVE SOMETHING ON THEM THAT LOOKS FEMININE. NOT ALWAYS, BUT 90% OF THE TIME - TO INDICATE TO ME THEY HAVE BEEN TAKEN OVER BY GOD AND NOW ARE ONE WITH GOD AND ARE FREE. (CHRISTIANS CALL US - MALE AND FEMALE, THE CHURCH - THE BRIDE OF CHRIST.)

AS A CHILD YOU HAVE HUMBLED YOURSELF TO GOD THROUGH YOUR GURU, AND THAT IS WHAT WE HAVE HERE. YOU, IN YOUR PURE AND INNOCENT SELF, SURRENDERED AND BECAME GOD. AND NOW, YOU CAN NO LONGER BE UPSET OR PUT UPON BY THE WORLD, THE FLESH AND THE DEVIL. THEY CANNOT ASSAIL YOU ANY MORE, IN THE STATE YOU ARE IN. YOU ARE INVINCIBLE, YOU ARE FREE, LIKE GOD. CAN TROLLS TOUCH GOD? CAN DEMONS TOUCH GOD? CAN THE WORLD AND FELSH TOUCH GOD? NO, AND SO, YOU ARE FREE - IN THE PLACE OF NONDUALITY. JESUS SAID,

'FEAR NOT, I HAVE CONQUERED THE WORLD.' AND SINCE THIS TRANSFORMATION, SO HAVE YOU.
...free to walk in the garden,
RASA: THIS IS THE GARDEN OF EDEN, THE ORIGINAL PURITY OF MANKIND BEFORE THE FALL!
...without being bothered by the trolls.


Guru Rasa; as you can see, I have been reluctant to post this dream, as it is very unusual.


As for my personal life. You were correct! As soon as I made a donation to your church and installed you into my heart, I received new sources of unexpected income, a wonderful Ukranian...
RASA: HOW UNCANNY! OUR FIRST FEMALE DEVOTEE, JUANA, IS FROM THE UKRAINE! SHE MENTIONED YOU TODAY!
...woman who had entered my life has been developing a close relationship with me, that is marked by honesty and mutual support. I try to follow everything you say in your advice to men and it brings wonderful results, to understate the issue.


I send you my prayers for peace between women and men and that I follow my Goddess' will in all matters, as we move each day towards the new Matriarchal State of Peace, Love, and Spiritual Prosperity.

With gratitude, respect, and service,
Your devotee forever,

Raleigh
December 13, 2005