DREAM OF SUCCESS WITH THE NEW GROUP
I SAW GOD & LIVED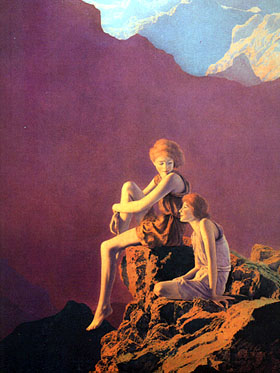 Contentment
Maxfield Parrish
I am somewhere in public, in a kind of outdoor area with like a food stand to the left. Arnold (symbol of God as success, prosperity) is standing in front of me holding a six-year-old boy (his son) by the hand.
MEANING: THIS SON IS A MAN THAT HAS BEEN POSTING ON ONE OF MY GROUPS AS A GURU. THIS IS SAYING INDEED, HE IS A CHILD OF GOD. HE HAS SUCCEEDED IN BEING ONE WITH GOD.
Arnold is wearing a navy-blue double-breasted beautiful jacket, light casual pants. Arnold is very famous, and luckily, he isn't being mobbed by people around.
I stand there with two drinks in my hands and am a bit startled (pleasingly so) to see Arnold in front of me.
MEANING: ARNOLD IS SUCCESS NOW COME UPON ME. I AM ABOUT TO SOLVE A PROBLEM.


Almost impulsively I blurt out,
'Look, I'm having a beer! In the one hand I have a normal round cup which I drink, but in the other a beer in a square container like my soymilk container, and it has blue color bands on the sides, which reminds me of the bands on the yahoo groups.
MEANING: MY PROBLEM WAS, THIS 'SON OF GOD,' WAS BEING HEARD BY MY GROUP BUT I WASN'T. I WAS BEING PUSHED OUT. I WAS NOT BEING RESPECTED AND THIS GURU WAS NOT RESPECTING ME.
What I'm trying to say to Arnold is I'm sort of 'letting go' or 'getting a bit high' with the beer, and insinuating, perhaps he'd like one with me? So I am acting a bit jolly.
MEANING: THE 'TWO CUPS' ARE ONE IS THE 'ORDINARY GROUP' ON WHICH THE NEW GURU IS POSTING. (ORDINARY BY COMPARISON WITH THE NEW, NOT ORDINARY BY COMPARISON TO MANY GROUPS OUT THERE.) BUT THE NEW GROUP IS THE 'BEER' WHICH INDICATES A SPECIAL DRINK, LIKE WINE. WINE WOULD MEAN 'BLOOD OF CHRIST,' AND THIS IS CLOSE TO THAT. IT IS THE GROUP, 'I SAW GOD AND LIVED.' THIS NEW GROUP IN FACT IS BETTER THAN THE OLD ONE. I AM ACTING JOLLY AND ASKING GOD IF HE WOULD BE WITH ME ON THIS.

Now with Arnold and myself, it is a great love affair. He appears like the 'lost love' of my life, yet he and I have always loved each other and when we appear together, we always intend to continue our affair. This is exactly like that.
But in this dream, as in many, I must pretend to be casual, rather than aggressive toward him. Must 'play it cool.'

So imagine my chagrin when after this sighting and him seeming rather nice to me, he starts walking away with the boy, and getting lost in the crowd. I was walking normally behind him, but he is losing me so I kick up the pace and am practically jogging, coolness thrown to the curb. I must not let him get away!
MEANING: I WAS CONCERNED ABOUT THE OTHER GROUP 'GETTING AWAY' FROM ME AND PEOPLE WERE NOT LISTENING TO ME, NOT BELIEVING I HAD ANYTHING TO TEACH. AND SO THE GOD SUCCESS WAS ESCAPING ME, BUT WAS GOING TO THE NEW GURU.
I finally do catch up with him (my, he was walking fast!) in another part of town. To the right of us is a movie theater, and Arnold says to me,
'Would you like to go in there?'
MEANING: THE MOVIE THEATER IS THE STORY OF SEEING GOD FACE TO FACE, WHICH PEOPLE WOULD READ ON THE SCREEN OF THE INTERNET.
I say yes, of course, and I am thinking,
'What an opportunity for romance! He has asked me for a date! This is love!'
MEANING: I AM LOOKING FORWARD TO EVERYTHING GOOD HAPPENING HERE. THIS IS BEING SHOWN.
When we go in, the little boy goes to the extreme left in the theater, to sit with other people who will watch over him, and we see him no more. I am glad about this, because he would have interfered with the romantic angle going on.
MEANING: THE NEW GURU, ALTHOUGH HE IS OF GOD, WAS INTERFERING WITH MY OWN WORK OF GOD. BUT NOW HE IS NO MORE - HE GOES HIS WAY AND I GO MINE. (HE STAYS ON THE ONE GROUP AND I GO TO THE NEW GROUP)
Arnold takes charge to look for a seat. The chairs are round victorian jobs, with red/white tufted seats, but they are so old, some of the white stuffing is coming out. But all is perfectly clean.
MEANING: OLD CHAIRS PLACES WHERE I WAS WITH GOD SO LONG AGO. ALL CLEAN - PURE IN HEART SHALL SEE GOD. RED AND WHITE MEAN MASS, WHICH IS THE BODY AND BLOOD OF CHRIST. THIS IS WHERE I WAS THEN.
We are trying to secretly find a place where we will make out (in dreams we both play this game a lot, pretending we are not excited about one another, but we are) In view of this, I even point to the balcony, which is quite dark and empty, (a lot of action happens in the balcony,) but he does not pay attention to that idea. First we sit in the middle, last row. (Must be behind everyone so no one will see us.) Now all the lights are still on, and only the first rows are filled with people. These people notice us, and many turn around smiling. Now they know Arnold is world famous, and therefore, I must be important by connection.
MEANING: THIS IS SAYING THAT PEOPLE WHO READ THIS REVELATION ARE IMPRESSED BECAUSE GOD AND I WERE ONE, AND I AM IMPORTANT BECAUSE GOD IS IMPORTANT.
But this is not what we wanted. In a moment he gets up and takes me to the extreme right seats, a bit more out of the way, and we sit down.


As soon as we sit down he asks if I would like a drink.
MEANING: TO OFFER A DRINK IS TO OFFER GRACE
I am so eager to start making out I do not even answer him, but touch his face with my lips and we begin French kissing. These are long, wonderful explorations of each others mouths with our tongues. It is ecstasy.
MEANING: TONGUE KISSING WITH GOD REPRESENTS, LIKE ALL TOUCHES AND TRANSACTIONS, THE GRACE OF GOD. BUT SPECIFICALLY, THIS IS THE WORD OR WORDS OF GOD GOING INTO THE MIND OF A PERSON. GOD FILLED ME WITH GRACE BY WHICH I WOULD PUT TOGETHER THE NEW GROUP AND TELL THE STORY OF SEEING GOD FACE TO FACE. I DID IT QUICKLY.
Later, I dream of him again. We check into a motel room, but instead of making out all I want to do is talk. It's happy.
MEANING: AND THEN AFTER I SET UP THE GROUP, THERE IS MORE TO TELL, PEOPLE TO TALK TO AND SO ON. NOT AS ECSTATIC AS THE INITIAL CONTACT WITH GOD, BUT HAPPY NEVERTHELESS.
INTERPRETATION
Overall, God is saying how I was helped with my problem. A new guru, through my invitation, took over one of my groups. I wanted the group to flourish, but was sad that people did not think I was enlightened, nor did he.
I sought success and God gave it to me, by means of my new group. In this new group, I am believed. I have never told the face to face story and now God has given me the power, and people believe me. Another great gift given me by our dear God.
RASA VON WERDER
NOVEMBER 23, 2005
DISCUSSIONS ON

---
---