RASA'S TWO DREAMS ABOUT BEATA
MOTHERGOD CHURCH'S NEWEST MATRIARCAL ALLY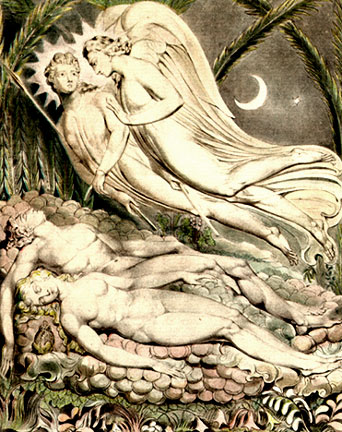 Adam & Eve Sleeping
Willaim Blake Illustrations for Paradise Lost
THE 'GIRL SCOUT' GODDESS & JOHN CLAUDE VAN DAMME
DREAM 1
This was at the end of a series of dreams, the Beata scene. I see a beautiful television star...
RASA: THIS IS BEATA. SHE IS A STAR, TV IS COMMUNICATION
...come upon the scene, on a sort of platform-stone (very large) patio we are all on.
RASA: THE STONE PATIO JUST MIGHT BE THE 'PLATFORM' OF MATRIARCHY, BECAUSE IT IS A STRONG, SOLID FOUNDATION IT IS STONE
(Not a house patio, like a promenade in front of a large spread out building) She is medium dark skinned and she has with her four or five women who are also beautiful and dark.
RASA: THESE ARE HER WOMEN WHO ARE RELATIVES AND FRIENDS WHICH ARE CLOSE TO HER AND ALSO BELIEVE IN MATRIARCHY
One of them is attractive, her face less than perfect, as it is kind of narrow.
RASA: ONE OF THEM IS NOT AS BROAD MINDED AS THE REST, BUT NARROW MINDED, AND THEREFORE, NOT AS BEAUTIFUL AS THE REST (THE BEAUTY IS IN THE MINDS AND SOULS OF THESE WOMEN)
What is interesting is they all have the same hairdo.
RASA: THEY ALL HAVE THE SAME MIND SET
Each one of them has this thick black hair, rather short and pixieish like the 50's, but fuller, with those sharp points all around the bangs and neck.
RASA: THEY MAKE GOOD POINTS, OR HAVE A SHARP UNDERSTANDING. INTELLIGENT WOMEN
There is an aura about these women. They are stars, they are gracing us, they waft into the picture, and they have a strong, serene sense about them.
RASA: THIS TELLS ME THAT BEATA AND HER KIND/ASSOCIATES ARE SPECIAL
I am sort of sitting on the ground of the platform,
RASA: ON THE GROUND COULD MEAN CLOSE TO THE FOUNDATION, CLOSE TO THE START OF MATRIARCHY - COULD ALSO BE HUMBLING MYSELF
...and the main star walks by me. She does not look at me at all, but her head is looking upward, like she is aloof.
RASA: BEATA'S MIND IS ON A HIGHER LEVEL, LOOKING AT MOTHERGOD, NOT AT PEOPLE AND THE WORLD. THE HIGHER VISION
I am not sure if it is ok to address her,
RASA: I WAS NOT SURE IF BEATA WANTED TO BE FRIENDS WITH ME
but I want to because of her outfit.
RASA: OUTFIT IS LIKE A UNIFORM; IT SHOWS WHERE YOU ARE AT AND WHAT YOU ARE LIKE. THIS PLEASES ME
She has on a dress that is remarkable. It is totally classic in a medium-green, like soft but expensive cotton, a kind of a-line but looking like a designer created it, and it ties on top of the shoulders, two knots, one on each shoulder.
RASA: THIS MATERIAL IS EXACTLY LIKE THAT WHICH WE MADE OUR GIRL SCOUT UNIFORMS OUT OF. (NOTICE DETAILS AND STREAM OF CONSIOUSNESS IN DREAMS, WHAT THE SYMBOL REMINDS YOU OF) GIRL SCOUT MEANS VIRTUOUS, SINCERE AND PURE - ALL THE BEST IN ONE'S CHARACTER. THIS IS BEATA, ACCORDING TO THIS DREAM.
A-LINE ALSO REFERS TO GOD, AS THIS IS A PYRAMID OR THREE SIDES OF THE HOLY TRINITY.
TYING KNOTS ON TOP THE BOTH SHOULDERS IS A 'GODDESS DRESS.' JUST LIKE THE GRECIAN GODDESSES, WHO DID SOMETHING LIKE THAT.
DESIGNER MADE IS 'GOD MADE.'
SO OVERALL, THE OUTFIT AND BEATA LOOKING UP TELLS ME,
'SHE IS PURE IN HEART, OF GOOD CHARACTER, ONE WITH GOD. HER MIND IS ON GOD. SHE IS GOOD AND SHE IS ONE WITH GOD.
As she wafts past me, I venture to speak to her,
'Beautiful dress!'
I say. She does not answer and the dream ends.
RASA: SHE DOES NOT HAVE TO SPEAK VERBALLY. THE SYMBOLS SPEAK LOUDER THAN WORDS.


DREAM 2
I really love John Claude Van Damme - one of my favorites. And so, when I see him in person, I am really excited!
RASA: I REALLY LOVE BEATA, AND SO, WHEN SHE CALLED ME, I WAS REALLY EXCITED!
I go over to him hoping to make love,
RASA: MAKING LOVE IS SPIRITUAL. SHARING GOD'S LOVE INTIMATELY APPEARS IN DREAMS AS PHYSICAL SEX.
but he is not equally sure about me. He has reservations. He is extremely nice, but he doesn't let me get as close as I want to.
RASA: BEATA IS NOT AS OPEN AS ME, SHE IS GUARDED. SHE TOLD ME SO HERSELF. THIS DREAM SAYS SHE WAS RESERVED AT FIRST WHEN WE SPOKE, BUT RELAXED DURING THE CONVERSATION.
Finally, something happens (am not sure what) and he allows me to make love with him! But the representation of it is strange.
RASA: THE BEST WAY TO EXPLAIN THIS, IS THAT SHE OPENED HER MIND AND HEART TO ME AFTER A WHILE
I see myself kind of like licking a soft 'board' with many grooves on it, tan in color. This licking is the symbol of making love, and he and I are close and intimate.
RASA: THE LICKING IS THE TONGUE. WE SPEAK USING IT. LICKING THE 'BOARD' IS LIKE A SOFT CIRCUIT BOARD, AND THIS REFERS TO BRAIN. WHILE I WAS SPEAKING, I WAS TOUCHING THE CIRCUIT BOARD/BRAIN OF BEATA, (IT IS GROOVED, IT IS SOFT, AND TAN LIKE CONTEMPLATION OR THE HIGHER MIND. CONTEMPLATION BEING WHEN ONE RECEIVES FROM GOD, NOT WHEN ONE THINKS, AND THE SYMBOL FOR THAT IS TAN) AND THE LOVE OF GOD OR SHAKTI WAS BEING TRANSMITTED AS I SPOKE
I am feeling ecstasy, as when God appears to me as a man, and once John Claude Van Damme decided he could get close, he is also feeling equal pleasure.
RASA: THIS IS SPIRITUAL PLEASURE BOTH WAYS. HAS NOTHING TO DO WITH SEX AT ALL
Dreams like this I know are the grace of God entering me, and leave me extremely blissful.
RASA: INDEED, THERE WAS A CLEAN, SPIRITUAL FEELING FROM BEATA AS WE SPOKE.

THESE DREAMS SHOW BEAT IN A HIGH SPIRITUAL STATE. TO APPEAR AS VAN DAMME TO ME WOULD BE GOD APPEARING TO ME IN AN IMPORTANT WAY. THE MORE BEAUTIFUL AND SEXY A PERSON IS IN A DREAM, THE HIGHER OF A SPIRITUALITY IT PORTENDS.
INTERPRETED BY
RASA VON WERDER
FEBRUARY 24, 2006
DISCUSSIONS ON

---
---