DREAM OF SANDY
HER FAMILY & LACK OF HELP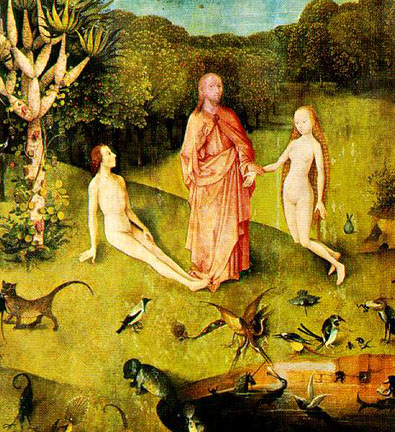 The Garden of Earthly Delights, left panel detail
Heironymous Bosch
INTERPRETED BY RASA
CONCERNS A HOUSE LEFT TO HER THAT
COULD HAVE GONE TO NEEDIER RELATIVES
IT SEEMS TO ME THAT HOUSE WHICH WAS WORTH NOT THAT MUCH HAS GIVEN YOU A MILLION DOLLARS WORTH OF BAD KARMA!
TRY IN YOUR HEART TO MAKE AMENDS, APOLOGIES TO THE WIDOW. TRY AND MAKE PEACE WHATEVER IT TAKES TO BRING PEACE TO YOURSELF. TRY AND BE NICE TO HER CHILDREN. IF YOU CANNOT DO THIS PHYSICALLY, GET ON YOUR KNEES TO GOD AND TRY AND MAKE SINCERE PEACE IN YOUR HEART. AS FOR FORGIVENESS IF YOU HAVE DONE WRONG. ASK THEM TO FORGIVE YOU. DO WHATEVER IT TAKES, AS THIS KARMA IS KEEPING YOU FROM MORE SUCCESS AND PEACE OF MIND. IT IS A REALLY BAD THING WHEN YOUR OWN PARENTS FROM HEAVEN WON'T EVEN HELP YOU. THIS IS A PROBLEM OR AN IMPEDIMENT THAT IS KEEPING YOU FROM COMING CLOSER TO GOD.......................................
DREAM OF SANDY, HER FAMILY & LACK OF HELP


It started out I had been doing something with an ex high school friend and we worked together at some small office. She left to go home and when I went out to leave my old car wouldn't start. It was some old brown 50's vintage thing like maybe an old chevy or pontiac. I had to have a tow truck take it away and I called my dad to come get me. (My dad was always bailing me out when I was younger, but my Dad and Mom and half brother are all dead now and on the other side). Ok, so my Dad takes me over to his house and it is a big fancy house...
RASA: YOUR DAD IS NOW IN HEAVEN AND HAS A LARGE DOMAIN, A SIGN OF LEADING A GOOD (SPIRITUAL) LIFE ON EARTH
...and I go inside and look around and it is a huge 2 story split level house with lots of bedrooms and a family room in the basement. About this time I think is when the phone rang in real time and I woke up and answered it and was told that my demo for saturday was cancelled due to the Superbowl. I went back to bed frustrated that I didn't finish the dream and was trying to remember it and I think I had a visit from Rasa.
RASA: BECAUSE YOU PRAYED TO ME, I AM HELPING YOU SORT OR FIGURE SOMETHING OUT
A woman in white met me and I was telling her I had this dream but couldn't remember it. She kept asking me if the house was green or if it was white. I said I wasn't sure but thought it was green, the next thing I know I was back in a shabby little bedroom and I was in the same bed as my Dad...
RASA: IN LIFE YOUR DAD WAS DEVOTED OR CARED FOR YOU. BUT NOW, HE IS NOT HELPING YOU. THIS THEME IS REPEATED OVER AND OVER. YOU ARE SUFFERING BECAUSE YOUR DAD FAVORED YOU ON EARTH, AND THE HOUSE THAT COULD HAVE GONE TO THE BROTHER'S WIFE & KIDS WENT TO YOU....AND SO, YOU ARE NOT GETTING HELP FROM MOM & DAD BECAUSE OF THAT. YOU ARE IN A STATE OF POVERTY OR SUFFERING BECAUSE OF THAT.
...and fighting for covers and room as it was not a very big bed.
RASA: YOU ARE NOT GETTING SPIRITUAL REST AND PEACE OF MIND NOW.
My dad has gotten up and gone to another part of the house. (Meanwhile in my real bed I'm being crowded out by the cat and the dog.)

So then I wake up in the dream and look up to find my half brother who has been dead in real time since 1983 looking in on me from the doorway. He looks young again and I comment on how good he looks.
RASA: HE LOOKS GOOD BECAUSE HIS SOUL LOOKS GOOD
...and he just walks away.
RASA: YOUR BROTHER IS MAD AT YOU BECAUSE OF THAT HOUSE...IS TURNING HIS BACK ON YOU FROM HEAVEN.

I come out of the bedroom and begin to wander around the house and see that it is full of my brother's most recent and largest family (he was married 5 times). The kids are all much older and most grown up. They seemed to be preparing for some sort of party or festival
RASA: CELEBRATION, REJOICING IN GOD
...and my mother was helping them all make costumes.
RASA: YOUR MOM IS HELPING YOUR BROTHER'S KIN FROM HEAVEN - COULD BE BECAUSE, AGAIN, THAT DARN HOUSE!

I saw a bunch of cloth material scattered around on the sofa and table and asked if it was mine or hers because I too had some material that had playing cards on it and it looked the same. She told me it was hers for one of the costumes.
RASA: YOUR MOM IS HELPING TO CLOTHE THEM 'IN LIGHT' OR SPIRITUAL COVER, SPIRITUAL POWER....IT IS ALL FOR THEM, BECAUSE AGAIN I HATE TO SAY IT - THE HOUSE! (I KNOW THIS FROM WHAT YOU TOLD ME)
Everything in the house appeared to be for my brother Bob's family. (In real life my half brother Bob was extremely jealous of me because he was 20 years older than me and grew up during the depression, when I came along my dad was able to give me more because times were better. We weren't rich by any means. My Dad just sold dairy supplies and he only went to the 8th grade, but we didn't go hungry or anything). I continue to wander around the house and begin to get upset that one of Bob's kids seems to be living in each of the bedrooms of my parents' house.
RASA: FROM HEAVEN, BOTH YOUR PARENTS ARE FAVORING BOB'S KIDS
They have fancy antique furniture and lots of jewelry and nice clothes and it slowly begins to dawn on me that I don't live there.
RASA: THEY ARE GIVING ALL THE SPIRITUAL BENEFITS TO BOB'S KIDS
I guess in the dream when I woke up I thought I lived there too.
RASA: THEY ARE NOT HOLDING YOU AS 'PART OF THE FAMILY' AND ARE NOT GIVING YOU THE WELCOME MAT
I also notice that the house is full of pets. My current pets are there too and they are the only ones that will have anything to do with me. the others all hiss or growl at me when I try to pet them and they run away.
RASA: THAT HOUSE DEAL HAS TURNED THEM ALL AGAINST YOU. PETS ARE THEIR INNER SENSES. THEY HAVE ANIMOSITY TOWARD YOU INSIDE.
I notice that one of the cats has two heads! Not side by side, but rather one big lion like head on the top of its neck, and another smaller head below it more in the chest area! I say to everyone, "THAT CAT HAS TWO HEADS! Can't you see that? And they say they don't see the extra head at all."
RASA: SOMEONE MIGHT THINK 2 WAYS OR HAVE TWO SETS OF FEELINGS - AMBIVALENT PERHAPS. ON ONE HAND (OR MIND) LIKES YOU, ON THE OTHER, DOES NOT.
I am puzzled about that and become more stressed. I then continue to go through the whole house room by room and take notice of what is going on.

I notice that the house has beautiful pale green stone tile floors in a Mediterranean pattern and huge staircases and beautiful draperies. Obviously they have plenty of money.
RASA: THIS IS THE SPIRITUAL WEALTH OF YOUR PARENTS NOW BEING GIVEN TO BOB'S CHILDREN
Downstairs in the family room my Dad is relaxing on the couch watching tv and some of the kids are down there with him...
RASA: AGAIN, DAD LOVES BOB'S KIDS & IS COMMUNING WITH THEM TELEPATHICALLY
...and Bob's wife is getting ready to go somewhere.
RASA: THIS IS A POSSIBLE PREDICTION THAT BOB'S WIFE MIGHT BE GETTING READY FOR GLORY.....
I go back upstairs and try to get my mom to talk to me but she is too busy with the sewing.
RASA: YOUR MOM IS PREPARING SPIRITUALLY TO HELPS OTHERS IN THE FAMILY, GIVING THEM LIGHT, CREATING THE WEDDING GARMENTS OF UNION WITH GOD
I get upset and go back to the messy and bare room that I slept in and cant even find anything that belongs to me, not even my purse.
RASA: YOU HAVE LOST SO MUCH....SO MUCH SPIRITUAL BENEFIT, BECAUSE OF THAT DARN HOUSE!
I yell at everyone that, ok, I will just take my pets and leave and when I storm out of the house I then realize that I have no car...
RASA: YOU NEED HELP THAT IS TO SAY, SPIRITUAL HELP. YOUR MOM AND DAD WILL NOT GIVE YOU THE HELP YOU NEED. YOU NEED NOW OTHER FRIENDS ON THE OTHER SIDE - SAINTS, GURUS (LIKE MYSELF) OR OTHERS TO BLESS YOU AND GIVE YOU SPIRITUAL STRENGTH......

A CAR IS A VEHICLE, IN THIS CASE, SPIRITUAL ABILITY TO GET FROM ONE PLACE TO ANOTHER
...and finally remember that my car was hauled away by a tow truck.
RASA: YOU LOST YOUR GOOD 'LUCK' AND GOT BAD KARMA FROM THAT HOUSE!
I have to go back in the house and go downstairs and ask my Dad to help me go get my car, knowing I have no money to even pay the tow truck or the garage for fixing it. My Dad kind of ignores me...
RASA: AGAIN, HE HELPED YOU IN REAL LIFE, BUT NOW HE WILL NOT. I BELIEVE YOUR MOM & DAD ARE MAKING UP FOR THE EARTH SITUATION WHERE THEY WERE KINDER AND MORE HELPFUL TO YOU. NOW THE OTHER WAY AROUND.....THEY HAVE A DEBT OR KARMA TO PAY TO YOUR BROTHER. (IN A SPIRITUAL SENSE, OF COURSE, IN HEAVEN THEY HAVE NO KARMA, BUT THE KARMA IS LEFT TO YOU HERE, BEING ABANDONED, NEGLECTED, BECAUSE THEY ONCE FAVORED YOU.
...and is getting ready to go with my sister in law to buy paint for HER house. I say what about me? I need a ride to my car? My dad doesn't really say anything, but I follow them and I jump in to go with them. About then I woke up.....

Now as far as I can figure part of that could mean that my mom and Dad and brother are all gone to the other side. It is now up to me to take care of myself. Other than that I haven't a clue.

RASA: SANDY TRUST IN GOD......NOW YOU SEE SOMETHING IS WRONG, YOU CAN FIX IT. GOD WILL HELP, I GUARANTEE IT. I KNOW YOU ARE CHARITABLE, YOU HAVE SHOWED ME. BUT THIS SITUATION MUST SOMEHOW BE HEALED! WANT TO HEAL IT, AND GOD WILL SHOW YOU HOW!

INFINITE LOVE,
RASA
FEBRAURY 1, 2006
DISCUSSIONS ON

---
---