DREAM OF RASA & MAUREEN
OUR WAR WITH SARLO IS OVER
ALL IS PEACEFUL!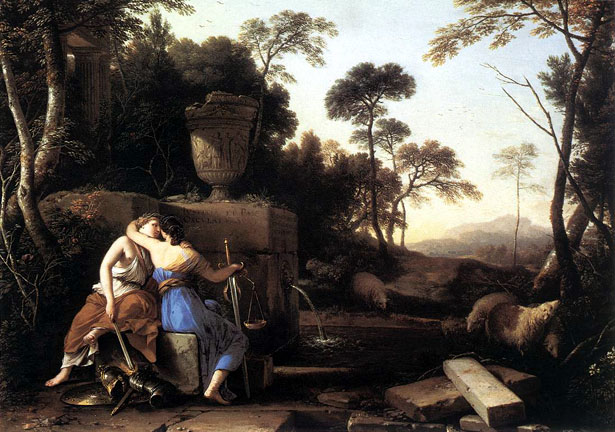 Landscape with Peace and Justice Embracing
Laurent de La Hire


PEACE, LOVE, REWARDS, THE PURE IN HEART SHALL SEE GOD


Hello My beloved Rasa, I once again am coming to you with another vision. This one was different but yet beautiful, I am sitting in the woods again with animals all around me, while I envision a tree, and such a beautiful one. There are two baby twins above the tree, one holding the crystal heart, and the other a strawberry. In the back of me is the silver stream and there is the sweet melody of the angels singing while dolphins are swimming.

You are under the tree reading the book that I had once seen before. this whole time I see the beautiful colors surrounding me. I fell so peaceful for the first time in my life...

I reach out my hand and hug you as you hug me back and tell you that I want to battle alongside you in your war and you reach and give me the strawberry...

From the baby, again I don not know what this means. My visions seem to be in puzzles, I am trying to put them all together..


All my love,
Maureen
January 23, 2006
DEAREST MAUREEN, I ALSO DREAMED OVER NIGHT THAT MOTHERGOD SAID OUR WAR WITH SARLO IS OVER, THERE IS PEACE, THERE IS FORGIVENESS, RECONCILIATION.
AND YOU DREAMED THE SAME THING....... PERHAPS THE STRAWBERRY, WHICH IS SHAPED KIND OF LIKE A HEART AND IS RED, IS A REWARD FOR YOU! THE BABIES ARE THE HIGHEST ANGELS, THE SERAPHIM!
THE TREE IS THE TREE OF LIFE


THE BOOK IS I AM ANALYZING THE HISTORY OF THIS CONFLICT! (THE NEVER ENDING CONFLICT, WHICH SOMETIMES STOPS FOR A WHILE!)
WILL GET MORE ANALYSES LATER!


THE CRYSTAL HEART AS BEFORE IS YOUR PURE, CLEAN HEART. YOU ARE SEEING GOD BECAUSE THE PURE IN HEART SHALL SEE GOD
AND WE HUG BECAUSE WE ARE ONE IN LOVE AND FAITH!
DOLPHINS ARE VERY PEACEFUL AND LOVING AND THEY USE THEM TO HELP POOR SICK CHILDREN, SWIMMING WITH THEM (IN REAL LIFE) SO THEY ARE VERY PEACFUL, AND SAFE.
INFINITE LOVE,
GURURASA
JANUARY 23, 2006
DISCUSSIONS ON

---
---