STEVEN HAS A DREAM ABOUT
RASA'S SPIRITUAL LEADERSHIP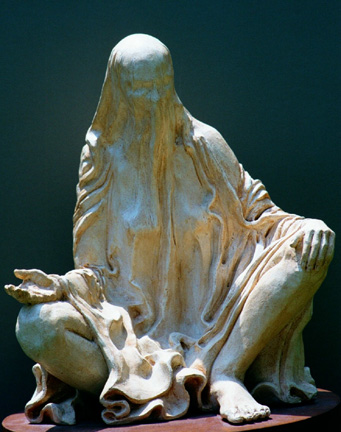 DEAR SPIRITUAL MOTHER GURURASA,
I HAD A DREAM LAST NIGHT WHERE IT SEEMED LIKE MILLIONS OF PEOPLE WERE SITTING AT THE FEET OF A WOMAN DRESSED ALL IN WHITE WHO WAS TEACHING THEM HOW TO ACHIEVE A PERFECT LIFE. THE PEOPLE ALL PLEDGED THEMSELVES TO HER AND TO HER TEACHINGS. IT WAS A PICTURE OF CALM AND HAPPINESS. IT CONFIRMED FOR ME EVEN MORE THE CENTRAL ROLE YOU PLAY AND WILL PLAY IN LEADING MANKIND TO A BETTER FUTURE AS MORE AND MORE PEOPLE COME TO REALISE THIS AND WILLINGLY ACKNOWLEDGE YOU AS THEIR LEADER. ONCE YOU ARE INSTALLD IN PEOPLE´S HEARTS THE DESIRE TO SERVE WILL BECOME OVERWHELMING AS I CAN ATTEST.
BLESS YOU SPIRITUAL MOTHER RASA.
EVER YOUR SON, LEANLAD
DEAREST SON,
THE INSTALLATION IS OF PRIME IMPORTANCE, BECAUSE THEN THIS FLOW OF THE ANOINTING - WHICH IS INFINITE AND HAS NO LIMITATIONS - CAN GO INTO THEM. OTHERWISE THEY MAY BE LOOKING AT THE TEACHINGS FROM THE OUTSIDE IN, AND ALTHOUGH THIS IS NOT AS BAD AS NOT HEARING THE TEACHINGS, IT IS NOT THE SAME AS HAVING THE SPIRIT ENTER INTO THEM.
WHEN THE SPIRIT OF GOD ENTERS INTO A PERSON, THAT IS WHEN ALL THAT THEY NEED - ALL THE SPIRITUAL NUTRIENTS WHICH ARE NECESSARY FOR SALVATION AND HOLINESS - ARE PROVIDED.
THEY RECEIVE MORE THAN LOGICAL TEACHINGS. THEY ACTUALLY BECOME ONE WITH THE SPIRIT AND THE SPIRIT OF GOD TEACHES THEM ALL THINGS. IT IS LIKE SEEING SOMEONE YOU LOVE FAR AWAY - ACROSS THE UNIVERSE, OR HAVING THEM RIGHT THERE IN THE SAME HOUSE WITH YOU, HAVING COMMUNION. THE COMMUNION PART MAKES ALL THINGS POSSIBLE, AS THIS INFINITE SPIRIT OF GOD KNOWS ALL THINGS AND KNOWS EACH INDIVIDUAL SOUL INTIMATELY AND PROVIDES WHAT IS NEEDED.
I LOVE YOU INFINITELY,
SPIRITUAL MOTHER,
RASA
June 10, 2006