VISION OF RASA AS SACRED COW,
DIAMONDS & EMERALD BELL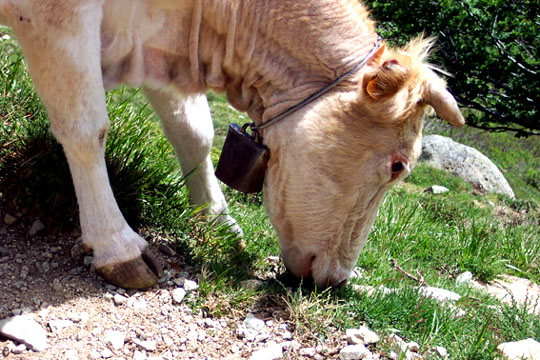 FROM TONY STARK, DREAM OF RASA AS
THE COW WITH THE GREAT NECKLACE!


I am happy to tell you I had a dream with you last night! I was riding on a bus going somewhere. It was a school bus. I think this means I am on a journey of learning.


RASA: INDEED


I was looking out the window into a field and saw a herd of cows.


RASA: SACRED SOULS, PERHAPS WOMEN OR WITH MEN AS WELL


There was one that really stood out from the rest though. I believe it was the alpha female of the group. Its funny because she was wearing a necklace of diamonds, with an emerald bell hanging from it.


RASA: PRECIOUS STONES ARE AN EXTREMELY PROPITIOUS SYMBOL....THEY SHOW THAT THE HUMAN HAS BEEN TEMPERED ON EARTH (LIKE DIAMONDS, EMERALDS) THROUGH THE FORCE OF SUFFERING. THIS EXTREME EXPERIENCE HAS TAKEN OUT, PUSHED OUT ALL ELSE BUT GOD, AND YOU HAVE IN THE SOUL THE DAZZLING BEAUTY OF A PRECIOUS STONE, REFLECTING GOD ALONE.
EMERALD BELL COULD VERY WELL REFER TO SACRED CREATION, BEING THAT IT IS GREEN....AND RASA IS OF THE FEMININE DIVINE, AND BRINGING FORTH MATRIARCHY. THE DIAMONDS COULD BE 'PURE IN HEART SHALL SEE GOD.'


All the other cows seemed to be watching her, almost like she was teaching them something. But she
didn't say a word that I could tell. Maybe using telepathy. Anyway, I didn't know what to think of it at first. After my bus passed that scene it veered out of control and into a river.


RASA: COULD BE BEYOND YOUR OWN HUMAN CONTROL, NOW IN THE HANDS OF GOD. GOING BEYOND THE STUDY OF THINGS BIT BY BIT, BUT NOW THROWN INTO THE ETERNAL STREAM AS IF BY FORCE. THE POWER OF GRACE OPERATING HERE.


We went over a waterfall,


RASA: WITHOUT A DOUBT, THIS IS YOUR REBIRTH. AS YOU GO OVER THE WATERFALL THINK OF HOW YOU WOULD FEEL. IT IS FALLING. AND WATER IS ALL AROUND YOU. IT IS LIKE AN INFANT FALLING OUT OF THE MOTHER'S WOMB AND BEING ALSO SURROUNDED BY WATER, A HELPLESS FEELING AND A FREE FEELING, TOTALLY BEYOND YOUR CONTROL.


...and then I woke up.


I believe the alpha female cow was you RASA. Actually I'm sure of it. After my bus journey i was thrown into the chaos of the river of learning. Going over the water fall means that you have taken me as a student and I have moved to the next stage of my life. What do you think?


RASA: YOU ARE NOT BAD AT INTERPRETING YOURSELF! YOU HAVE ABILITIES! YES, AND NOW, YOU ARE BROUGHT INTO A SITUATION, BEING SENT AWAY BY YOUR MOM, THAT YOU CANNOT CONTROL. BUT LIFE GOES ON AND GRACE GOES ON.

MUCH LOVE TO YOU DEAR SON
(RASA)
T. Bluefeather
December 18, 2005