DR. LAURA RECOMMENDS
WOMEN GO BACK TO 1955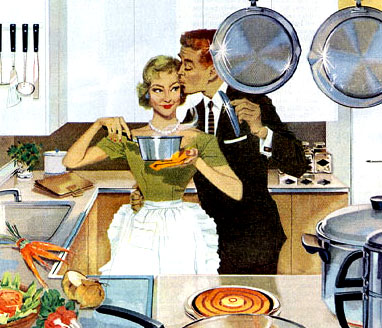 An aging housewife with petrified ideas spreads them around for the new generation. Please Laura, take your meds and go to sleep. Or retire. Or something. Just don't write any more books.
The immediate feedback to Dr. Laura's seventh bestseller, Care and Feeding of Husbands, affirmed that she helped thousands of readers make good marriages better and saved many from the brink of divorce.
RASA: HOW DO WE KNOW THAT THIS WAS A GOOD THING? PERHAPS SOME OF THESE WOMEN SHOULD HAVE WALKED AWAY FROM BAD MARRIAGES INSTEAD OF GETTING SUCKED IN AGAIN. SOME OF THESE GUYS WERE NO DOUBT BEATING THEM AND ABUSING THE CHILDREN. GOING TO THE BARS AND STRIP CLUBS AFTER WORK, COMING HOME LATE. TAKING OUT THE SECRETARY AT LUNCH, HAVING SEX WITH HER. AND LAURA WANTS WIFEY TO KISS AND MAKE UP.
Within minutes or hours after reading the book, hundreds of people sent in letters testifying to the changes taking place in their relationships.
RASA: WHO SAYS SO? HER PUBLIC RELATIONS MAN?

For some, however, the titles of her latest two books are controversial, especially side by side. The Proper Care strikes some as 1950s retro and an affront to hardworking women who see any request...
RASA: NOT ANY REQUEST. ONLY THEIR UNREASONABLE, SELFISH DEMANDS.
...from their husbands as selfish or oppressive. Dr. Laura says that this "feminist" notion of woman power is a rejection of femininity and maintaining a home that has robbed women of choice and satisfaction. One female listener thanked Dr. Laura at the end of a show by saying, "You've made caring about your man acceptable again."
RASA: THIS IS SO SILLY. WOMEN CARE ABOUT EVERYONE. NO ONE EVER TOLD THEM NOT TO CARE ABOUT MEN. WOMEN HAVE LOVED MEN TOO MUCH, SERVED THEM TOO MUCH, PUT UP WITH TOO MUCH. WOMEN HAVE TO LEARN TO BE LESS SUBSERVIENT AND SELF SACRIFICING TO MEN AND DO WHAT THEY HAVE TO DO.

Dr. Laura says that the ultimate power of women is their unique qualities: intuition, compassion, sensitivity, sensuality, bonding, and nesting.
RASA: OH, YOU PITIFUL ONE. HOW LITTLE YOU SEE. YOU ARE ESPOUSING THE VISION OF PATRIARCHY. WOMEN ARE MORE THAN THIS. THEY ARE INTELLECTS, LEADERS, AUTHORITIES, CREATIVE SOURCES, INSPIRERS, MOTIVATORS, PLANNERS. ORGANIZERS AND MANAGERS, PROPHETS, HEALERS, PROBLEM SOLVERS, RECONCILERS, AND MUCH MORE.
Women have been the ones to center men, give them purpose, and ultimately create the atmosphere in the home.
RASA: NOBODY ARGUES THAT. WOMEN HAVE BEEN EXTREMELY IMPORTANT IN TAKING CARE OF AND NURTURING MEN. BUT NOW THEY HAVE TO TAKE CARE OF THEMSELVES AND MEN HAVE TO LEARN TO NURTURE ALSO. IT'S TIME FOR A CHANGE.
While women get their sense of well being from mothers, sisters, and friends,
RASA: SORRY, MY DEPENDENCY IS TOTALLY ON GOD. MY FAMILY GAVE ME GRIEF AND YES, I HAVE HAD AND STILL HAVE GOOD FRIENDS. BUT MY AFFIRMATION COMES FROM MY RELATIONSHIP WITH GOD.
men are more directly dependent on the acceptance and love from their wives than anyone else.
RASA: YES, I'LL GRANT YOU THEY NEED A MOTHER. WE ARE THEIR MOTHER. BUT THEY ARE SELFISH CHILDREN. THAT IS WHAT'S GOT TO STOP.
It is a fact, she says, that most unhappy men are unhappy because their hearts, souls, and psyches are
not being attended to at home,
RASA: NO ONE CARED ABOUT THE WOMEN WHO WERE NOT BEING ATTENDED TO AT HOME. THEY COOKED, CLEANED AND WASHED AND CREATED AND NURTURED THE BABIES, AND HALF THE TIME, THE GUYS WEREN'T EVEN THERE.
...and the only people with the power to transform that are their wives.
RASA: TSK TSK. WHY DON'T THEY TRANSFORM THEMSELVES? GET SOME SELF HELP BOOKS. LEARN TO PRAY.

A NEW ATTITUDE
Dr. Laura believes that many women do not intentionally aim to hurt their husbands. "I see that too many wives are oblivious to the fact that much of the way they behave decidedly hurts their husbands," she says. "Women are most concerned with making sure they are fulfilling what society has told them should be their role." This notion of power does not include a home, husband, or children, even though the true nature of a woman is to nurture.
RASA: THIS IS ABOUT THE MOST PREPOSTEROUS STATEMENT EVER MADE. WOMEN ARE DOING IT ALL. FAMILY, HOME, AND WORK. THEY HAVE TWO JOBS WHILE MEN HAVE ONE. SOCIETY TELLING THEM WHAT?
When women are burdened by the pain and helplessness of a failing marriage and family, that is the ultimate burden. Dr. Laura says she is trying to help women see that they are very powerful influences in the quality of their lives and their marriages. "When a woman loses the connection to her femininity, and the protection of her man...
RASA: THIS IS THE TALK OF A TOTAL FOOL. PROTECTION OF HER MAN? HOW MANY MEN HAVE FAILED THEIR WIVES? A HUGE NUMBER OF MEN HAVE FAILED THEIR WIVES AND FAMILIES AND LEFT THE MOTHER ALONE WITH CHILDREN TO RAISE, WITHOUT EVEN GIVING SUPPORT. THESE CHILDREN GROW UP NOW WITH NO RESPECT FOR MEN.
...she loses too much in her life and takes too much away from his," says Dr. Laura. This does not mean that women cannot have careers, but it does mean that women must not forget how they are the core threads in the tapestry of the family unit.
RASA: WHO SAID THEY FORGET? LAURA LADY, PLEASE. DO A LITTLE STUDY AND OBSERVATION AND DON'T WRITE ANOTHER BOOK UNTIL YOU THINK A LITTLE.

The more women understand men's simple needs, the more women can use their power to make their life happier. Since men are not prone to wearing their emotions on their sleeves, it is easy for a woman to miss her man's emotional state. A happy, healthy, more peaceful life comes from making choices. One reader decided to try a "new attitude." Dr. Laura says this woman decided to be happy; she decided to see the loving things her husband had been doing. She now has a husband who speaks to her more sweetly, and her children are happier, too, all because this woman had a change in attitude. Through a series of provocative chapters and questions and answers, Dr. Laura guides women on how to assess what is valuable and what is vulnerable in their marriages. She stimulates women to think about what is really important about being a woman, a wife, and a mother. Readers will find inspirational stories and tips, thought-provoking essays, and plenty of room to journal. Women who wish to move past the ingrained notion that giving to a husband is giving up something of themselves...
RASA: AGAIN, WOMEN HAVE BEEN GIVING, GIVING GIVING AND NOW MEN HAVE TO LEARN TO GIVE.
...will learn that instead of losing something, they will feel a deep sense of gain. What women "get" from "giving" to their men is an unbelievable new sense of purpose and meaning.
RASA: LAURA IS TRYING TO DRAG US BACK INTO BEING SELF SACRIFICING AND MEN BEING SELFISH. THIS IS EXACTLY WHAT WE WANT TO END. WOMEN MUST TAKE CONTROL AND TRAIN MEN TO BEHAVE, NOT CATER TO THEIR BABY WEAKNESSES.
Women who have discovered the value of their womanliness...
RASA: LAURA HAS HER OWN NOTION ABOUT WHAT 'WOMANLINESS' MEANS. I SUPPOSE LAURA IS THE PRIME EXAMPLE.
...have realized that their grateful husbands will give them the world.
RASA: THEY DON'T HAVE THE WORLD. AND WHEN THEY DID, THEY MESSED IT UP. TELL THEM TO JUST DO WHAT THEY ARE TOLD TO DO AND BEHAVE, AND EVERYTHING WILL BE ALRIGHT.
---
---