THE CHANGING HANGING
GRAD STUDENT POPULATION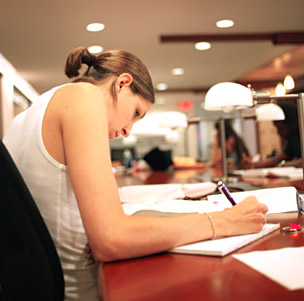 INSIDE HIGHER ED NEWS
SCOTT JASCHIK

Enrollments in graduate schools in the United States increased by 2 percent in 2004, to 1.5 million students, according to a report being released today by the Council of Graduate Schools.

The report indicates that universities are making significant progress in diversifying the graduate student population, which is a key step for those seeking to diversify faculties. Minority enrollment figures were up generally, and there were notable increases in fields that have historically been among those with the worst track record in attracting minority students. For example, black graduate enrollments in the biological sciences increased by 16 percent and Latino students in the physical sciences were up by 19 percent.
At the same time, additional data released by the Council of Graduate Schools pointed to continued concern by universities about international enrollments, which fell by 3 percent in 2004. Declines in foreign student enrollments have concerned American academics both because of the educational value such students bring, and because of the way many universities depend on international students. According to the data, half of the graduate students in engineering are not U.S. citizens.

Among fields, health sciences saw the strongest increases in overall graduate student enrollments in 2004, while engineering saw the greatest losses.
TRENDS IN GRADUATE ENROLLMENT BY FIELD 2004
Field

Enrollment

1-Year % Change

% U.S. Citizens/
Permanent Residents

Biological sciences

66,593

+3%

74%

Business

221,245

-2%

83%

Education

295,191

+2%

96%

Engineering

105,767

-3%

50%

Health sciences

98,799

+7%

90%

Humanities and arts

100,876

+2%

86%

Physical sciences

105,518

-1%

59%

Public administration

54,252

+5%

95%

Social sciences

110,748

+0%

83%

Other

97,694

-6%

89%

Total

1,503,540

+2%

83%

Preserving these totals may be more difficult for some universities in the years ahead. Total applications were down 12 percent in 2004, with the sharpest drops — 33 percent in engineering and 21 percent in the physical sciences — in fields on which American departments rely on foreign graduate students. The only area of study not to report any application decline (it was flat) was public administration, a field that has relatively few foreign students.
Not all institutions that report their enrollments also include demographic data. But based on those institutions that do provide such data, women not only outnumber men in graduate school, but are increasing their enrollments at a faster rate.

While the gender gap is present throughout graduate enrollments, it varies among racial and ethnic groups. Men make up 29 percent of black students, 35 percent of Native American students, 37 percent of Latino students, 40 percent of white students, and 46 percent of Asian students.

The rates at which minority enrollments increased in the last year, and since 1986, outpaced those for white students. The following table shows the trends for the 1.1 million graduate students for whom the Council of Graduate Schools has demographic data.

TRENDS IN GRADUATE ENROLLMENT, BY RACES & GENDER
Group

2004 Enrollment

1-Year % Change

Average annual %
change, 1986-2004

African American

125,029

+3%

+5%

-- Men

35,933

+3%

+4%

-- Women

88,189

+3%

+6%

American Indian

8,138

+4%

+4%

-- Men

2,883

+6%

+3%

-- Women

5,177

+3%

+5%

Asian

72,712

+3%

+6%

-- Men

33,340

+3%

+4%

-- Women

38,793

+4%

+7%

Latino

86,765

+4%

+5%

-- Men

32,320

+5%

+5%

-- Women

54,033

+4%

+7%

White

836,962

+1%

+0%

-- Men

332,815

+1%

+0%

-- Women

492,347

+1%

+1%

The graduate school group's report on foreign application and admissions noted that applications were down by 3 percent but admissions were up by 3 percent from 2004 to 2005. The report noted that many American graduate schools are feeling increased competition for graduate students from other countries. Some of those countries, like China, have improved their graduate programs to the level where it is viable for more of their students to stay home. But competition is also coming from other Western nations that want foreign students for the same reasons American institutions do.
"We may have entered a competitive era in which easy access to international students is over," the report said.
CHANGES IN APPLICATIONS & ADMISSIONS
OF FOREIGN GRADUATE STUDENTS, 2004 - 2005
Place of Origin

1-Year % Change in
Applications

1-Year % Change in
Admissions

China

-15%

-5%

India

-5%

+8%

Korea

+1%

+7%

Middle East

+7%

+12%
---
---