WHAT HAPPENS TO FEMDOM & SEX
WHEN WE GET MATRIARCHY?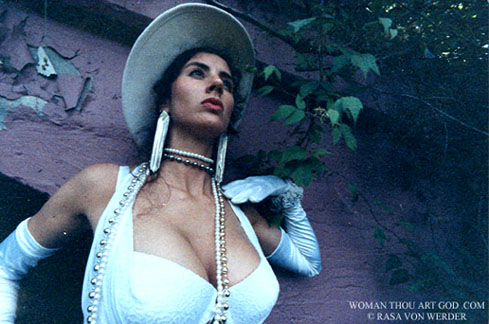 Maria Fontana
Photo © Rasa Von Werder

A COMMON MISCONCEPTION OF THE
DOMINANT WOMAN POSED BY A SEEKER
Dear Rasa Von Werder, I have been impressed with the acuity, sophistication, and intellect of your contributions to various groups for some time. Your perception, in my estimation, seems to contain a deep level genuine social understanding.
RASA: THANK YOU VERY MUCH!
You made a comment, some time ago, that perplexed me no end. It was a casual remark. Casual remarks, those we do not endeavor to prove, are usually what we consider obvious. Those kinds of remarks often display the unquestionable certainties of what we believe. You wrote, in an email delivered by you on Mon, 31, Oct 2005, about how women need to change what they expect from a man. In that email, in the middle of an essay by William bond, you wrote an addition to the text:
RASA: YES, AND YOU CAN MAKE A HEALTHY LIVING DOING THAT. BUT IT ISN'T ANY FUN FOR THE WOMEN, I GRANT YOU!
It would seem, from the limited amount of information on the subject, that you have a large amount of faith in this sentiment. I am endeavoring to try and understand the psychology and emotions of Dominant women more accurately, including Dominatrixes, of course. On the internet, the majority of new female supremacists are Dominatrixes This could be because such women have unlimited amounts of money...
RASA: ARE YOU KIDDING HERE? PEOPLE ASSUME OTHERS HAVE MORE MONEY THAN WHAT THEY HAVE!
...and free labor to run their own website,
RASA: OF THE DOMINANTS WHO HAVE SLAVES DO THEIR WEBSITES, THERE ARE CHECKERED RESULTS. SOME ARE BEAUTIFUL AND WELL DONE, BUT STAGNATE WHEN THE SALVE LEAVES. OTHERS ARE QUITE BORING, AND ALSO, STAGNATE WHEN THE SLAVE LEAVES. UNLIMITED FUNDS? NOT USUALLY. THEY ARE USUALLY DEPENDENT ON THE KINDNESS OF MALES, WHICH IS SPORADIC.
...or it could be that they are a new trend in society. I do not have any way of knowing which is realistically the case. Still, understanding their perspective would improve my overall understanding of the new movements in Dominant female relationship perspectives and emotional expectations.
I am not asking this to become aroused. I do not want a fantasy. I am genuinely trying to understand, in a realistic sense. Please be as unsensational and realistic as possible when considering the question. You are a member of many groups, but I have chosen this one to respond to you, because it is the least mired in sexual imagery and fantasy, which I believe often distorts thinking into unrealistic directions. Human passions, of either gender, though beautiful at times and even noble in their intent, cannot be trusted to develop a rational paradigm or argument. I would greatly like a thorough understanding of the typical Dominatrix experience from the perspective of the dominant woman involved.
Specifically, how many Dominatrix quit because of the rarely discussed problem of "Dominatrix Burnout"?
RASA: NEVER HEARD OF THIS. THEY QUIT WHEN THEY FIND A BETTER OR EASIER WAY OF MAKING A LIVING, OR SIMPLY ARE NOT MAKING MONEY AT THE BUSINESS ANY MORE. I IMAGINE SOME MIGHT DECIDE TO GO INTO ANOTHER BUSINESS FOR WHATEVER REASONS. SOMETHING 'RESPECTABLE' PERHAPS. GET A DEGREE AND CHANGE THEIR FIELD.
How many Dominatrix are satisfied with their lives?
RASA: YOU WOULD HAVE TO TAKE A POLL ON THAT. LOL.
How many are dissatisfied and wish for a more "normal" existence?
RASA: I CAN ONLY SPEAK THROUGH MY OWN EXPERIENCE AND THE WOMEN I KNOW. MOST OF THEM ARE IN THE TRADE BECAUSE THEY HAVE TO BE - IT WAS THE BEST CHOICE OUT OF THE OPTIONS THEY HAD.
How does this relate to the female "need" for intimacy with a man on a one to one relationship?
RASA: WOMEN CERTAINLY HAVE THAT NEED, BUT IT'S NOT AS STRONG AS THE MAN'S. MEN ARE WITHOUT A DOUBT MORE NEEDY AND DEPENDENT ON WOMEN. ALL THE SURVEYS AND STATISTICS BEAR THIS OUT.
In your opinion, does that need exist?
RASA: HERE YOU ERR IN YOUR ASSUMPTION - THE IDEA BEING THAT A DOMINANT WOMEN CAN HAVE AN 'INTIMATE' RELATIONSHIP WITH A SUBMISSIVE MALE. INTIMATE RELATIONSHIPS CAN ONLY BE HAD WITH EQUALS. WHEN A WOMAN HAS A SUBMISSIVE MALE THE RELATIONSHIP IS MORE LIKE PARENT WITH CHILD. IT IS NOT EVEN A FRIENDSHIP, AS FRIENDSHIP HAS TO BE WITH EQUALS. NOW I AM SPEAKING PSYCHOLOGICAL RELATIONSHIP, NOT INTELLECTUAL OR MORAL. THE MALE COULD EXCEED THE WOMAN INTELLECTUALLY YET BE A PSYCHOLOGICAL CHILD TO HER.
From the female perspective, what are the enjoyable aspects of being a Dominatrix?
RASA: AGAIN, MY PERSPECTIVE IS ONLY WHAT I KNOW FROM EXPERIENCE AND MY LADY FRIENDS IN THE BUSINESS. THE ENJOYMENT IS THE MONEY AND FREEDOM FROM WORKING FOR PEOPLE WHO ARE PERHAPS NOT VERY NICE. OR BEING RESTRICTED IN AN ATMOSPHERE OF THE REGULAR WORKPLACE. THERE CAN BE A GREAT DEAL OF FREEDOM IN BEING SELF EMPLOYED.
What are the negative aspects of being a Dominatrix?
RASA: THE WORST SIDE TO THIS BUSINESS IS THE FACT THAT MEN ARE DANGEROUS AND IT ONLY TAKES ONE A HOLE TO RUIN YOUR DAY OR YOUR LIFE. A WOMAN IS ALWAYS DEFENSIVE BECAUSE SHE DOESN'T KNOW IF THE NEXT SESSION WILL BRING A MADMAN. THE WOMEN WHO DO NOT DO 'SESSIONS' OR FACE TO FACE ENCOUNTERS ARE THE LUCKIEST ONES.
Long term implications are also of great interest to me. I have read some of your website. It is quite detailed and intelligent, I might add.
RASA: AGAIN, THANK YOU VERY MUCH.
But, the dissatisfaction of the Dominatrix, if it exists, would seem to pose real problems for your predictions. If women are to engage in new types of relationships, then they must find a way to be satisfied, emotionally and sexually, with those relationships.
RASA: VERY GOOD POINT. THE FUTURE AS IJ PREDICTED, WILL NOT BE A WORLD OF FEMDOM. FEMDOM IS ONE THING, MATRIARCHY IS SIMILAR BUT DIFFERENT. MY NOW FRIEND ELISE SUTTON WROTE ME AND INTERIVEWED ME IN A LENGTHY EXCHANGE. I HAVE HER ARTICLE ON MY SITE. SHE SPEAKS BEAUTIFULLY ABOUT HOW MEN CREATED FEMDOM, TO SATISFY THEIR OWN NEED.

CAN'T YOU MEN SEE WHAT FEMDOM IS? WHAT IS PROSTITUTION? IT IS THE SEX TRADE, FOR MOSTLY THE REGULAR PATRIARCHAL TYPE GUYS, BUT THERE CAN BE QUITE A BIT OF VARIATION. I HAVE KNOWN PROSTITUTES AND CALL GIRLS AND MANY WOMEN IN THE SEX TRADE AND HEARD HUNDREDS OF STORIES.

NOW WHAT IS FEMDOM? IT IS A KIND OF SEX TRADE, ONLY TO MEET THE DEMANDS OF SUBMISSIVES, MASOCHISTS AND FETISH MEN. 'TIS AS SIMPLE AS THAT.

WHAT SATISFACTION DOES A WOMAN GET OUT OF THE SEX TRADE WHERE MEN ARE BEING SATISFIED? YOU AS AN INTELLIGENT MAN CAN ANSWER THAT.
A Dominatrix, has an unlimited amount of money,
RASA: YOU ARE IMAGINGING THINGS.
...an unlimited amount of attention,
RASA: ATTENTION? YOUR IMAGINATION IS TELLING YOU ANSWERS THAT ARE NOT THE WAY YOU THINK IT IS. THIS ATTENTION IS NOT ALWAYS POSITIVE.
...obedience,
RASA: THEY ARE OBEDIENT UP TO A POINT. AS LONG AS YOU SATISFY THEM. THEY PAY YOU TO GIVE THEM WHAT THEY WANT AND IF YOU DO, THEY ARE HAPPY. IF YOU DO NOT GIVE THEM WHAT THEY WANT, THEY DO NOT OBEY. SIMPLE AS THAT.
...and emotional support
RASA: THEY GET BORED WITH YOU OR REFUSE TO PRETEND TO OBEY. YES I SAID PRETEND. IN MOST CASES, THEY DO THE DEAL CALLED 'PASSIVE AGGRESSION.' THEY RESIST YOU UNLESS YOU GIVE THEM WHAT THEY WANT.
...and sexual enthusiasm from men.
RASA: THAT THEY GIVE WHOLEHEARTEDLY!
In a matriarchal society, with roughly the same number of men and women, it is unrealistic for any women...
RASA: DO YOU MEAN UNREALISTIC FOR DOMINANT WOMEN TO HAVE THAT GREAT SUPPLY OF MEN? THAT THE MEN WOULD BE DISTRIBUTED MORE EVENLY?
...to have these kinds of advantages. Eventually, dominant women will have to content themselves with fewer "male worshipers", and an even distribution of social resources.
RASA: AGAIN, THERE IS AN ASSUMPTON HERE WHICH I DON'T THINK WILL HOLD TRUE IN THE FUTURE. IF YOU LOOK AT MY ARTICLES ON THE FUTURE OF MALE-FEMALE RELATIONSHIPS, THERE I STATE THAT THE WOMEN WILL BE EARNING MORE MONEY. THE SUBMISSIVE OR GENTLER, SUPPORTIVE TYPE MALE WILL BE IN MORE DEMAND. THIS WILL NOT THE THE FEMDOM TRADE CONTINUING. THE FEMALES WILL HAVE MORE MONEY (NOT ALL OBVIOUSLY) AND THEY WILL NOT NEED TOLOOK TO MEN FOR SUPPORT THE WAYA THEY USED TO. THEY WILL CHOOSE A NEW BRAND OF MEN TO SATISFY THEM, THOSE WHO ARE CHARMING, HOLD UP THE HOME FRONT, GOOD IN BED (SATISFY HER) AND MORE DEPENDABLE AS EMOTIONAL BUTTRESSES.
In a matriarchal society, the Dominatrix will have to learn to do with a fraction of what she has now.
RASA: INTERESTING POINT. WHAT WILL HAPPEN TO THE FEMDOM WORLD?
There are only so many resources in a society. Indeed, in a matriarchal society, the Dominatrix no longer has a job. If all women are dominant, statistically, why would any one woman be considered especially desirable or marketable for being dominant? A woman who is a Dominatrix, will have to get used to a lot less than she has now. If the modern Dominatrix, is completely discontent, as your statement indicates, how can dominant women be content with a fraction of those resources and appreciation from men?
RASA: THESE ARE GOOD QUESTIONS. PERHAPS ONE ANSWER COULD BE THIS: MEN HAVE DIFFICULT AND EVEN 'IMPOSSIBLE' FETISHES! THE WOMEN OF THE FUTURE WHO ARE INDEPENDENT, MAY NOT WANT TO PUT UP WITH THAT! YOU ARE NOT GOING TO GET YOUR CEO LADY WHO IS EARNING LIKE 200,000. A YEAR, TO WALK ON YOU EVERY NIGHT FOR A TURN ON. SHE MAY NOT WANT TO BEAT YOU WITH A HAIRBRUSH TILL YOUR HEINIE BLEEDS. SHE MIGHT NOT GET TURNED ON BY PUTTING ON A STRAP ON AND NAILING YOU FROM THE BACK. WHAT ABOUT DRESSING YOU UP AS A GIRL? THE AVERAGE DOCTOR/LAWYER LADY MAY NOT WANT TO GET INVOLVED.

FROM ALL THE FETISHES I HAVE SEEN, YOU BET YOUR BOTTOM DOLLAR, MOST IF NOT MANY MEN WILL STILL HAVE TO GO TO APROFESSIONAL DOMME! IT IS NOT PLEASANT WORK, BECAUSE SHE HAS TO LISTEN TO OUTLANDISH FETISHES AND WORK THEM OUT FOR THE MAN, AND SOME OF THESE CAN GET INTENSE. SOME MEN WANT TO BE DISGUSTINGLY HUMILIATED AND CURSED OUT IN A WAY THAT MAKES A SAILOR FAINT. THESE POWERFUL WOMEN OF THE FUTURE ARE NOT GOING TO GO INTO ALL THESE SCENARIOS TO SATISFY THEIR MEN. THEY WILL WANT YOU TO HONESTLY SUPPORT THEM, NOT THE OTHER WAY AROUND.

FEMDOM IS FOR THE PURPOSE OF SATISFYING THE MALE AND HIS SEXUAL NEEDS, NOT SATISFYING THE NEEDS OF THE FEMALE. THE FEMDOM WORLD WILL HAVE TO GO ON.
If the world is not enough, how can a fraction of that, in the new way you see men and women relating to one another, be enough?
Ethically and morally, women must be emotionally and sexually content in their relationships. Also, from a pragmatic standpoint, if the matriarchy you wish to see established is achieved, women must be content enough to stay in their relationships. In the matriarchal society you have described, women will have all the power. Hence, if women are displeased with their romantic relationships, they will eventually end them. If all the female dominated relationships prove too unstable to maintain, because of female dissatisfaction, then demographically, you will eventually end up with no female dominated relationships in a significant number. This, I would suppose, gives a real problem to your movement.
RASA: I AM SCRATCHING MY HEAD AS TO WHAT YOU MEAN. THE WAY I SEE THE FUTURE IT WILL BE THE MEN WHO WANT TO BE WITH THESE POWERFUL WOMEN FOR THE RESOURCES, AND THEY WILL TRY TO LIVE UP TO THEIR NEEDS. IF THEY LIVE UP TO THE DEMANDS OF THE FEMALE, I DON'T SEE WHY THE FEMALE WOULD END THE RELATIONSHIP.
If you do not see the modern Dominatrix as the ideal,
RASA: NO, LIKE I SAID, MATRIARCHY AND FEMDOM ARE TWO DIFFERENT THINGS. LOOK WHAT ELISE SUTTON SAYS. I AGREE WITH HER, AND THERE YOU HAVE AN EXTREMELY INTELLIGENT WOMAN WHO KNOWS. PLEASE TRY AND SEE YOUR WAY INTO THE SEPARATION. FEMDOM IS A PART OF THE 'SEX TRADE' TO SATISFY MEN. IN MATRIARCHY, THE SEX NEEDS OF THE FEMALE WILL BE CATERED TO MORE. FEMDOM DOES NOT SATISFY THE SEX NEEDS OF WOMEN AT ALL! CERTAINLY NOT ANY WOMAN I HAVE KNOWN!
...where a woman can literally have unlimited resources...
RASA: HER RESOURCES ARE LIMITED ACCORDING TO HER CREATIVITY, BUSINESS ACUMEN, AND ALL KINDS OF OTHER CONDITIONS. PLEASE DON'T IMAGIN THINGS THAT AREN'T TRUE.
...at her disposal, and an infinite amount of male attention, obedience, and appreciation,
RASA: I ALREADY REFUTED THAT. IT SIMPLY ISN'T TRUE!
...what is the ideal you propose? How can any widespread social movement, that becomes the statistical norm, be more than that realistically? There are only so many resources within a society. In terms of men who will appreciate and be supportive, and also in terms of physical material goods. If an unlimited amount is not enough, realistically, what will be enough?
RASA: AFTER YOU HAVE STUDIED MY ANSWERS, PERHAPS WE CAN CONTINUE THIS DISCUSSION. YOU MAY HAVE NEW QUESTIONS. YOUR STUDY IS INTERESTING AND I JUST MIGHT PUT OUR REPARTEE ON MY SITE.
What model of a relationship type, that is female dominated, can you realistically point to as an ideal?
RASA: LOL. IT'S LIKE FINDING MR. RIGHT. I HEARD BISHOP FULTON J. SHEEN MAKE A JOKE, WHEN I WAS LIKE 9 OR 10, AND HE HAD A WEEKLY TV SHOW. A WOMAN WANTED A MAN THAT WOULD TALK WHEN SHE WANTED HIM TO TALK, AND SHUT UP WHEN SHE WANTED HIM TO SHUT UP. SOMEONE SAID TO HER,


'MADAM, YOU DON'T NEED A MAN. YOU NEED A TELEVISON SET.'
IS THERE SUCH A THING AS A PERFECT SUBMISSIVE? CERTAINLY I HAVE NEVER FOUND ONE. THE CLOSEST THING TO A PERFECT MAN WAS MY LATE HUSBAND RICHARD, AND HE WAS 'JUST A MAN.' NOT A SUBMISSIVE. HE WAS THERE FOR ME WHEN I NEEDED HIM, AND REALLY LOVED ME. I THINK LOVE IS THE KEY, NOT SUBMISSION. IF A MAN LOVES YOU HE WILL PROVDE FOR YOU AND BE THEERE WHEN YOU NEED HIM. ONE OF THE MOST IMPORTANT THINGS RICH PROVIDED WAS HE WAS A SOUNDING BOARD. HE LISTENED FOR HOURS WHILE I VENTED MY PROBLEMS. AND THEN, IN AN EMERGENCY, HE WOULD HELP MEME. WE WERE BEST FRIENDS AND NEVER LIVED TOGETHER, EVEN AFTER WE GOT MARRIED. WE WERE PLANNING TO LIVE TOGETHER, BUT HE DIED BEFORE RETIRING. HE WAS THE MOST IDEAL MAN.

NOW IF HE HAD SERIOUS SUBMISSIVE AND FETISH NEEDS, THAT WOULD BE WORK ON MY PART. HIS ONLY 'SEX' DESIRE, CERTAINLY IN THE BEGINNING, WAS TO SEE ME IN BEAUTIFUL SEXY CLOTHES, WHICH HE BOUGHT. I HAVE A COUPLE THOUSAND PHOTOS HE TOOK OF ME BEING GLAMOROUS. AN INNOCENT NEED, AND HE PAID FOR ALL THE CLOTHES, CAMERAS AND FILM. HE NEVER DEMANDED SEX AND I NEVER GAVE IT TO HIM, AS I HAVE BEEN A LIFELONG CELIBATE. HOW MUCH EASIER CAN IT GET? HE WAS THE RIGHT KIND OF MAN FOR ME. GOD BROUGHT HIM TO ME, AND ME TO HIM. I WAS ALSO PERFECT FOR HIM. A PERFECT RELATIONSHIP IS NOT ALWAYS ABOUT DOMINANCE AND SUBMISSION. IT IS A PERSONAL, INDIVIDUALISTIC MATTER.
What kind of relationship, in terms of social expectations, behavioral norms, and economic distribution can you point to that would be successful? Do you currently have a population, or an example of a group of relationships, that have successfully established what you believe must come to pass, as an example? Where can I read about these couples? What large scale movement contains these women? What do their relationships look like, from an objective standpoint? What are the experiences of women in these relationships? How is the female experience in these relationships more rewarding and satisfying than in the more financially and more ego gratifying "Dominatrix" type relationship?
I, in no way, mean to be offensive. I am only trying to understand as thoroughly and honestly as possible. I want to learn more about the realistic political changes you wish to make. I want to learn more about the realistic social changes you wish to make, and how that can lead to an economically, socially, and psychologically sustainable model of society. If I have mispoken, if I have made statements that are incorrect or lack appropriate context, or if I am asking you about a subject that is outside of your area of expertise, you have my sincerest apologies. I am unfamiliar with the the etiquette involved in this seemingly unique social situation, and have no context for the manners required. My inquiry is as honest and polite as I know how to make it. Again, I see you as one of the more intelligent, consistent, and eloquent female voices in the female supremacist movement. I am tremendously interested in your answer.
RASA: OK, YOU HAVE HAD MY ANSWERS AND I YOUR QUESTIONS. THANK YOU FOR THE QUESTIONS, AND YOU ARE WELCOME FOR THE ANSWERS.
MUCH LOVE TO YOU
RASA VON WERDER
DECEMBER 3, 2005
---
---