FEMDOM FREAKS FUCK OFF!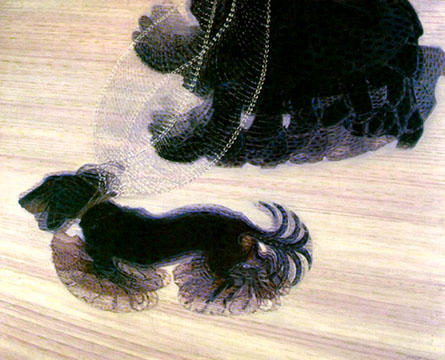 Dynamism of a Dog on a Leash
Giacomo Balla
RASA RESPONDS TO FEMDOM 'FEMALE' WHO
HAS A HUBBY SLAVE, OR SO WE HEAR
MY GUT FEELING TO ALL OF THIS IS IT IS A MALE DISGUISED AS A FEMALE MASQUERADING HIS FANTASIES. THIS HAS BEEN FURTHER REINFORCED BY THE FACT THAT THIS CHARACTER WAS CREATED 3/4/06.
I CANNOT PUT IT ANY BETTER THAN SIMPLY SAYING WE DON'T HAVE TIME FOR THIS BULLSHIT.
WHAT WE DO HAVE TIME FOR: PROMOTE THE 'WOMAN THOU ART GOD' SITE AND GET READY TO SPEAK TO THE MEDIA!
WHATEVER WE CAN DO TO GET THE WORD OUT CONCERNING FEMALE SUPERIORITY, WOMEN BEATING MEN IN SCHOOL, THEIR NATURAL INHERENT POWERS, ALL DOCUMENTED ON WOMAN THOU ART GOD. WHATEVER WE CAN DO TO PROMOTE AND PUT THIS OUT TO THE WHOLE WORLD IS WHAT WE HAVE TIME FOR.
WE DO NOT HAVE TIME FOR MALE DOMINATION FANTASIES, CENTERED AROUND THEIR ADOLESCENT SEX NEEDS, OBSESSIONS, FIXATIONS, ILLNESSES, COMPULSIONS AND SINS. IT IS TIME TO THROW MALE SELFISHNESS ASIDE AND GET DOWN TO BRASS TACKS.

NEITHER PATRIARCHAL NOR FEMDOM SEX FREAKS NEED APPLY. WE HAVE TO GIRD OUR LOINS AND GET READY FOR LECTURING, PREACHING, APPEARENCES, POSTING ON THOUSANDS OF INTERNET GROUPS, AND GETTING READY TO GET A FEMALE U.S. PRESIDENT ELECTED. THAT IS WHAT WE HAVE TO FOCUS ON AND FOR THE HUNDRETH TIME -
FEMDOM FREAKS FUCK OFF!
ORIGINAL LETTER

Dear Rasa, Ladies and thinking sub males with a real brain, aside from obediently performing typical domestic chores such as laundry and general cleaning, Our males should be engaged in creative acts of devotion and worship to Us that will brighten Our days with variety and pleasant surprises. I would like to start a dialogue to share ideas for such things to teach Our good boys to do for Us. If a sub male would care to thoughtfully suggest what unique and creative domestic service he would respectfully offer to his Mistress or to Me, it would be acceptable to hear from him, if he can leave his penis out of it. Only a select few of them are capable. My slave is one.
Let Me start with some ideas, and You can add more of Your Own to Mine.
Train him to place Your bath towels in the clothes dryer and warm them while You bathe or he bathes You. After the Lady's bath or shower is complete, Her good boy will present Her with warm towels for the comfort of Her body. According to the circumstance and always according to the Lady's preference, Her nightwear maybe warmed as well. The slave's act of presentation of these items to Her can itself become a separate topic for discussion with regard to Our individual preferences, glorification and enjoyment.
After the Lady drives Her car into the driveway and parks it, Her slave should routinely turn the car around, so She does not have to back the car up when She leaves the next time. A slave's sole purpose is, while at all times in a state of Female Worship, to remove as many burdens from his Lady as he can, to aid Her comfort and to make Her life as pleasant as possible. In return, he receives the joy of knowing his Mistress was at least somewhat pleased with his performance.
I do not allow My slave to touch the television remote control, unless he is handing it directly to Me. Frequently, the remote is within My easy reach, but I will require him to hand it to Me as a reminder to him that I don't do anything that I don't want to do, even if it is the most insignificant task. I will sometimes even summon him to come from another room to do something very trivial that I could have, very easily and much more quickly, done for Myself. Such training and maintenance exercises are always followed by My curt dismissal to get back to whatever household duty he was performing for Me when I called him. It is so enjoyable for Me that he never questions such commands that I give, regardless of what they are and how trivial the may seem. He is never to be the judge of what is important. That is always My decision. Having received My patient and firm training, he fully understands the consequences of failing to obey Me without hesitation, gladly and effectively, always to My complete satisfaction.
I have little tea bells strategically placed throughout My house. I do not allow My slave to touch them unless he is dusting or polishing them. When I ring the bell, he knows to present himself to Me immediately, without word and wait for My command. I rarely have him kneel at his presentation, because that is a sexual turn on to him. Once My order is given, he performs it, usually in silence. I am more interested in obtaining maximum performance from My slave and find that when he is talking, he is not working to his potential or listening to Me, as he is required.
I am interested in hearing Your creative ideas for male servitude. I am also interested in hearing about creative punishments and rewards that other Ladies employ to manage their males. Where a Woman rules the home, there is the beginning of a national Matriarchy.