THE ANSWER TO END ALL EVIL FROM RASA...
LETTER ABOUT LEADERS FROM 'LEAN LAD'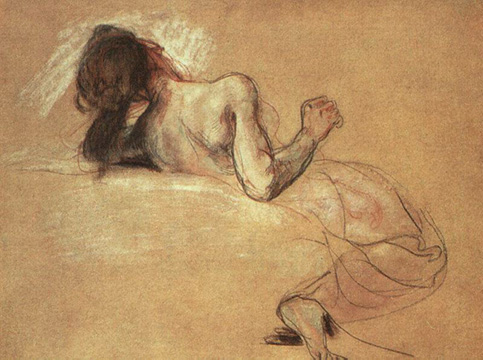 Study for The Death of Sardanapal
Eugène Delacroix

To Thomas and all Believers. Dearest Son,
What to do about this sort of evil? There are so many approaches of diminishment, and we must employ them all. The overall umbrella is Matriarchy. If there is any ONE thing we can do that will touch all bases it is MATRIARCHY.
What has happened is that SATAN - evil personified, - discovered that he and his minions could rule the roost by ENTERING MALES. Males are inferior genetically, biologically, and mentally. They are not all evil, but the ones who have a propensity for it, can be used by demons, and are used by them.
And so, in this world we have PATRIARCHY. Patriarchy is the rule of certain males with Satan as their partner. What Satan does is exploit the very weakness of males who have the inclination toward crime, toward being hard hearted, and thereby, employs his agenda to steal, kill and destroy. Following that you have the evil trinity of lying, cheating, stealing, - so common with the ungodly.
PATRIARCHY IS THIS AND NOTHING MORE THAN THIS (and mark my words some day this will be boldly recognized when women come to power) IT IS KILLING OTHER PEOPLE AND TAKING WHAT THEY HAVE. After that it follows that they exploit those whom they enslave. Patriarchy is evil to its very core and it is the cause of the majority of evil on this planet. Without the wickedness of males incited by the demons we would not have the deplorable condition on earth. With the males put into their proper place - under the authority of females - their wickedness is minimized. I see no other way.
In a Patriarchal system, going through the judicial system to end evil, this would be patently impossible. First of all, the laws on the books favor the males. Second, the application of these laws in terms of arrests, and trials, and sentences given, favor the males. Everything within the culture is designed and designated to favor the males, and working within this system would be arduous and tedious and almost impossible to attain righteousness.
And speaking of righteousness, religion is one of the main culprits. As much as I love Jesus and Mary and all icons of religion, they have been used to push the masculine agenda. Now the next sentence must be noted strongly:
FEMALE SPIRITUALITY IS WHAT HAS TO HAPPEN, AND UNTIL AND UNLESS IT HAPPENS, WE WILL NOT HAVE THE SOLID FOUNDATION, THE ROCK AND THE BASTIAN BY WHICH MATRIARCHY WILL STAND.
The liberation of the earth will not happen through economic or social reform (the secular), nor will it happen through 'femdom' (catering to males ancient needs of being dominated and stimulated by women) but by the emergence of female as SPIRITUAL LEADER and REPRESENTATIVE and INSTRUMENT OF GOD.
Being the Instrument of God, and recognized as such, women will attain the status which they need. As the VOICE of AUTHORITY, from God on High and God Within, female will find the Platform that will raise her to the top and keep her there.
We DO NOT have female spirituality on earth right now, in the mainstream. It has to go public. It has to have churches, temples, ashrams, centers, everywhere in public, proclaiming the Female God, and Her agenda, and female spirituality - WHICH IS TOTALLY DIFFERENT THAN MALE RELIGION.
God is God, but how we PERCEIVE God and what we believe God wants us TO DO or NOT DO makes all the difference.
WHAT IS SIN? From the Ten Commandments to all the interpretations of all religion, people take this 'Dream' (Imaginary Person, who is Real, but exists in our imagination as far as Her dimensions) and INTERPRET IT ACCORDING TO THEIR OWN NEEDS - THEIR BELIEFS, THEIR WHIMS, THEIR AGENDA, AND WISHFUL THINKING. Males have taken and twisted this God into a warlord, an exploiter and a thief. (True there are the mystics who sidestep Patriarchy, but the mystics have always been crucified.)
People take this unknown God and create it in their image and likeness, and so the male God declares that sin IS DISOBEDIENCE TO THE MALE GENDER. The male is ruler, so they say, and female is second best. Families are produced FOR PATRIARCHY. Certainly, they need lots of people and for women to churn them out as cannon fodder. We need more and more bodies to send into war (and I apologize to the patriots, and I am patriotic also, and do believe in a strong military, but I am speaking in general terms historically) They need bodies for economic slavery/exploitation/cheap labor and all the prostitution of this world. There has to be a large number of bodies to sit at the heel of oppressors and do their bidding. Today, the third world (and even our U.S. is getting a percentage of such) is the designated slave, and they must till the fields and other items in the way that American slaves (and many others in many places) once did. These victims of economic, spiritual and moral oppression must work as slaves, with no happiness in sight, so that the elite can live in splendor and comfort. And animals? Forget it! They live in total subjection to the law of male, which says they have no souls and are here only for our pleasure. They can be experimented on, chained up, used for caged hunts, put into reservations where they are 'culled' periodically, used simply for food and experiments and whatever the whim of males.
Of course, they had to be deprived of their dignity long ago by the assertion of males, as creatures far beneath us. They are animals - we are not! This 'fact,' far from the truth, belies that we are all animals, and all the Sacred Creation of God, all Equal in the Sight of God, and all deserving of all good. But as I said, Patriarchal religion scopes out their parameters according to keeping themselves on top, and women, children, animals and nature on the bottom of the totem pole. Vilification, deprivation of sacred dignity, is part of that plan.
And so in order to answer your question of how to deal with evil, the answer I again assert is MATRIARCHY. Whatever one can do to BRING BACK THE FEMININE DIVINE and Her perspective, agenda and spirituality, will go a long way to ending evil. The needs are great, the workers are few. I call everyone to speak, to write, to help in this cause which is above all causes, as when it occurs, it will right all wrongs.
Rasa Von Werder
June 3, 2003

Dear Rasa,
Had to read the article about monsters twice to digest it. I ask myself, how much latency is in this male evil and is there something one can do to help before it becomes a manifested social problem? Even in early life I remember all too vividly there being a large number of overtly malicious boys that were perfectly aware of their destructiveness. Over the years they developed excellent social skills of conduct to continue in their molestation of others. They find it a particular challenge to attack feeling
empathic persons. The public perspective tries to degrade the victims of these attacks as "weak" people, but I find that in many cases that is absolutely not true. They attack the people in which they almost instinctively feel they can cause the most emotional and physical damage. Now if I don't know what evil is, I'd say that that is the closest one could get to the actual definition. Clinical psychology has all kinds of good analyses of this predominantly male problem, but how and what can one practically do aside from keeping these men drugged and under continuous professional supervision? Would genetic screening perhaps help filter people out that suffer from psychotic delusional overcompensation? I know this is a very touchy issue because it has all the undertones of eugenics.
~From Lean Lad: True Leaders Always Attract Great Enmity...
DEAR RASA AND WILLIAM,
I HOPE YOU DON´T MIND THAT I MAKE ONE OR TWO POINTS HERE.
RASA AND LEADERSHIP.

I AM CERTAIN THAT ALL WITH WHOM YOU COME IN CONTACT THROUGH THE INTERNET RESPECT YOU. THE DEPTH AND STRENGTH OF YOUR COMMITTMENT TO A BETTER WORLD IS CLEAR FOR ALL EVEN THOSE WHO REACT VIRULENTLY. ONE POINT MUST BE KEPT IN THE FOREGROUND, THE INTERNET IS A VERY SPECIAL PLACE. IN MANY WAYS IT IS A "TALKING TO ONE´S SELF" SINCE THERE IS SELDOM IF ANY DIRECT CONTACT AND SO OFTEN COMMENTS ARE SELF-DIRECTED WHETHER THE "SPEAKER" IS AWARE OF THIS OR NOT. RASA, YOU ARE A GREAT LEADER AND I THINK A BIG PROBLEM IS MOST PEOPLE SEE THE UNCOMPROMISING NATURE OF YOUR CHARACTER, THE STRENGTH OF YOUR COMMITTMENT, THE POWER OF YOUR RHETORIC AND COMPARE IT WITH THEIR OWN INADEQUACIES AND SO LASH OUT. THE CERTAILY CANNOT SEE THE PERSON OF BEAUTY AND SENSITIVITY BEHIND THE POWER MAINLY BECAUSE MOST DON´T TAKE THE TIME TO REALLY READ WHAT YOU WRITE PROBABLY BECAUSE IT TAKES GREAT EFFORT. NOBODY WHO DOES CAN BE IN ANY DOUBT ABOUT YOUR PASSION FOR WHAT IS RIGHT AND HUNGER FOR A BETTER WORLD WHERE SUFFERING WILL BE BANNED. NOBODY WHO SEES YOUR PRISTINE VISION CAN BE IN ANY DOUBT ABOUT YOUR VALUE AS LEADER OF THE CRUSADE WHICH HAS BEEN ENTRUSTED TO YOU; SOME REACT WITH ACCEPTANCE OTHERS WITH FEAR. THOSE WHO TRUELY INSTALL YOU IN THEIR HEARTS CANNOT BETRAY THAT. VERY FEW CAN DISAGREE WITH OTHERS BUT STILL FULLY ACCEPT THE OTHERS OPINIONS AND BELIEFS. IT COMES BACK TO THE OLD PRINCIPLE OF THROWING THE FIRST STONE.

A TRUE LEADER WILL ALWAYS ATTRACT GREAT EMNITY AND INDEED THIS EMNITY
CAN END TRAGICALLY BUT IT ONLY HIGHLIGHTS THE TRUE QUALITY OF THE LEADER. A LEADER IGNORED IS NOT ONE AT ALL.
ANYWAY JUST WANTED TO ADD MY THOUGHTS HERE.
RASA: Thank you Lean Lad. You speak the Truth. I will 'hang in there' and do my best for humanity, for all of us. This animosity, hostility has done great good. I have been assaulted from every angle imaginable, from childhood family issues (I was the strongest and used as the scapegoat) to moving to a small town where they turned me into 'pariah', to fighting on television for Female Supremacy (the 90's) and now the internet. The internet has been a full kettle of fish! Here's the good it did:
I FOUND OUT ONCE AND FOR ALL THAT I REMAIN STANDING! I REMAIN POWERFUL, EFFECTIVE, FILLED WITH THE HOLY GRACE OF GOD, WITH CONFIDENCE, STRENGTH AND MOTIVATION. I AM FIRED UP MORE THAN EVER TO TAKE ON THE EVIL WORLD FOR GOD, WITH GOD INSIDE ME FIGHTING FOR MATRIARCHY, CHILDREN, MEN, WOMEN AND ANIMALS, AND ALL THE DEFENSENESS - THE CREATION, THE MOTHEREARTH. I AM A POWERHOUSE!
IN OTHER WORDS, THEY HAVE TRIED EVERYTHING ON ME. THEY HAVE CALLED ME EVERY NAME THERE IS, ACCUSED ME OF EVERY CONCEIVABLE SIN, AND IT HAS NOT CHANGED ME! THAT MEANS THAT THEY CANNOT HURT ME, AS LONG AS I AM NOT AFRAID! IT IS FEAR THAT MAKES PEOPLE STOP FIGHTING AGAINST EVIL! THEY FEAR THAT THE EVIL WILL AFFECT THEM, CHANGE THEM OR THEIR LIVES IN SOME WAY. BUT IT CANNOT CHANGE MINE.
RASA: Sometimes I am temporarily - a few hours or days - saddened by the relentless attacks and the lack of interest in the Good. But God appears to me in my dreams, as great Personages who represent God and reminds me of how much I am loved by the Celestials, and how much good they have accomplished through me! I have been their impoverished Clay Vessal, and They - the Saints, Angels, Jesus, Mary, Holy Spirit, God, are the Power. And they use me mightily! And so who am I? Am I the flesh or the great God within me? To identify with the great God within, not the ego and the flesh, makes one invulnerable.
Just the other day I was brought to almost tears as I looked through a list of publishers, and through their repertory. It was dismal and depressing and seemed hopeless in reaching out to them. But suddenly, after this valley, a new light came, and God showed me another list - a list that publishes Women's Spirituality books. I wrote them all down, and found thirty six publishers with possibilities. I have composed a new letter and will contact them all. Nothing is a guarantee, but one moves in hope.
The significant thing for myself and all of us spirituality is DO NOT BE AFRAID OF PEOPLE. People can only attack the body, the human person. I am not the body, I am the Spirit. They, like demons, cannot touch the Spirit. Stay in the Spirit, the Atman, the God within, and you are safe. When they draw you into specious arguments about your person, they drag you down into the mud. We are all clay, earthen vessals, with nothing to hold onto here. (Although the body, instrument, must be respected and even worshipped as the Second Person of the Holy Trinity.) I am the God, the Anointing, the Power within, not the clay vessal, in primacy. The body is the Instrument, that is all, but not the power. I claim the God part has Glory, the Instrument carries it and brings it forth for others.
---
---