"CHRIS YORK" GROANS ABOUT
MATRIARCHY, RASA ANSWERS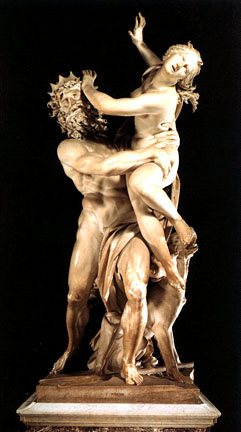 The Rape of Proserpine
Gian Lorenzo Bernini

I am reaffirming my original intention to drop from this group.
RASA: SO WHO IS STOPPING YOU? I HATE IT WHEN PEOPLE ANNOUNCE THEY ARE LEAVING A GROUP. ALL IT IS IS AN ACT OF IMMATURITY 'HEY LOOK AT ME, I AM LEAVING.....I AM GOING TO GET EVEN WITH ALL OF YOU.'
I believe that the fault is my own in terming what my tribe uses as Matriarchy. I am still in the process of reading a book that has clarified my understanding on all of this. The book is called "The Chalice and the Blade" and it is by Riane Eisler.
RASA: RIANE WROTE A WONDERFUL BOOK. IT IS GREAT EXCEPT FOR ONE THING. SHE STILL SUCKS C__K. WE HAVE ALSO COME A LONG WAY SINCE THE 80'S WHEN SHE WAS WRITING HER BOOK.
I will quote from her directly:
"One result of re-examining human society from a gender-holistic perspective has been a new theory of culture evolution. This theory, which I have called Cultural Transformational Theory,
RASA: BIG WORDS TO IMPRESS US. ACADEMICS ALWAYS JUSTIFYING OUR NEED FOR THEM. SAY THE SIMPLEST THINGS IN THE MOST COMPLICATED TERMS, AND WON'T THEY ALL BE IMPRESSED?
...proposes that underlying the great surface diversity of human culture are two basic models of society.
The first, which I call the DOMINATOR model, is what is popularly termed either patriarchy or matriarchy -
RASA: EXCEPT, SWEET THING, MATRIARCHY WAS NOT A DOMINATOR SOCIETY THE WAY PATRIARCHY IS. DOMINATING CAN BE BENEVOLENT OR CRUEL. A MOTHER DOMINATES HER CHILD TO PROTECT AND NURTURE. THAT IS WOMAN'S WAY. MEN'S WAY IS KILL THE ENEMY AND TAKE WHAT THEY HAVE AND CONTROL BY STEALTH, THREATS AND VIOLENCE.
...the RANKING of one half of humanity over the other. The second, in which social relations are primarily based on the principle of linking, rather than ranking, may best be described as the partnership model. In this model - beginning with the most fundamental difference in our species, between male and female - diversity is not equated with either inferiority or superiority."
RASA: BAD CALL. NOT RELEVANT. THE POINT IS, FEMALE IS SUPERIOR AND NOW EVERYONE WHO KNOWS ANYTHING KNOWS IT. SCIENCE, BIOLOGY, STATISTICS AND INFORMATION HAVE ALL CLEARLY SHOWN US THE FACTS. AND IF YOU DON'T LIKE IT, WELL THEN, I AM SORRY FOR YOU. BECAUSE A FEMALE SUPERIORITY WORLD AND MATRIARCHY WILL BE UPON US SOON.
I think this probably clarifies my own view and also allows for a reinterpretation of the more indigenous goddess cultures that existed in prehistory. They were not dominator societies.
RASA: THEY WERE NOT MEAN MACHINES LIKE MEN HAVE BEEN, BUT THEY WERE DOMINATORS IN THE SENSE THAT THEY OWNED THE PROPERTY AND THEY CONTROLLED RELIGION, AND CHILDREN WERE RECOGNIZED IN RELATION TO MOM, NOT POP. WOMEN CHOSE THEIR SPOUSES AND HAD FREEDOM IN SEX. IF THAT IS NOT DOMINATING, THEN I DON'T KNOW WHAT IS. NOBODY IS TALKING ABOUT FEMDOM SEX SESSIONS HERE, THE WAY THE COMMERCIAL WORLD PRESENTS IT. THIS IS REAL LIFE.
They were in fact partnership societies and that is also the proper classification for what I feel is the direction in which society is developing.
RASA: I AM AFRAID THIS IS WISHFUL THINKING. THE STATISTICS POINT TO ANOTHER DIRECTION.
I did review the website and it is very apparent that it is a ranking system which you are advocating.
RASA: RANKING SYSTEM? WHAT DOES THAT MEAN? ACTUALLY I AM PROPOSING THAT THE DEVASTATION BY MALES WILL STOP AND THE SEX THAT NURTURES WILL NOW START AND REPAIR THE DAMAGE. YOU ARE JUST WORRIED ABOUT YOUR OWN RANK.
However, as long as people have existed there have been those with a need for this though I do not understand it.
RASA: DO NOT UNDERSTAND WHAT?
I do believe it is more of a sexual fetish than it is anything else.
RASA: SEXUAL FETISH OR NOT, EVERYONE WILL LIVE UNDER MATRIARCHY IN THE FUTURE. IT IS NO FETISH FOR WOMEN (MOSTLY) NOR FOR GAYS, NOR FOR CHILDREN, AND THEY WILL ALL LIVE UNDER FEMME RULE.
And as such I am sure it will continue to fill that need.
RASA: THERE ARE OTHER NEEDS GREATER THAN MEN'S NEEDS, AND THAT IS PART OF THE REASON MATRIARCHY HAS TO COME. THE WORLD HAS BEEN GROANING UNDER THE FACT THAT ALL HAS BEEN DONE FOR MEN'S 'NEEDS'. THESE ARE NOT EVEN REAL NEEDS, BUT DELUSIONS AND SHORT-TERM GOALS. THIS IS ENDING. LET US ASK WHAT DOES THE PLANET NEED? WHAT DO WOMEN AND CHILDREN NEED AND WHAT DO ANIMALS NEED? THE 'NEEDS' BEING FILLED WERE ONLY THE DESIRES OF THE HIGH-UP MEN WHO DOMINATED THE REST OF THE PLANET. THOSE LOFTY BILLIONAIRES ON TOP WHO HAD NO WORRIES EXCEPT THE STOCK EXCHANGE.
However, it is not appropriate to think of this as a possibility for society or a culture. For one thing it is nothing but the current system turned on its head...
RASA: SO YOU ADMIT THE CURRENT SYSTEM IS BAD. BUT 'TURNED ON ITS HEAD' AS I SAID BEFORE IS NOT AN ACCURATE STATEMENT WHATSOEVER. WOMEN RULE DIFFERENTLY THAN MEN. THEY CARE.
...and for another it immediately comes into conflict with the dominators of the other sex who want a society structured "their" way. Conflict is inevitable and this is the whole problem with any ranking of
human beings by race, sex or anything else.
RASA: THERE WON'T BE ARMIES ON ONE SIDE OF MEN AND WOMEN. IT WILL BE A CHANGE LIKE ONE MILLION WOMEN WITH DEGREES MORESO THAN MEN WITHIN FIVE YEARS. WOMEN HAVING THE HIGH PAING JOBS AND MEN THE LOWER ONES. IT WILL BE AN ECONOMIC REVERSAL. THEN YOU WILL SEE RELIGON CHANGING, WITH WOMEN RUNNING THE CHURCHES. CONFLICTS WILL ALWAYS EXIST AS LONG AS THERE ARE HUMANS AND ANIMALS, BUT THERE WILL BE LESS SUFFERING WITH WOMEN IN CHARGE.
DISCUSSIONS ON