To recap, I explained how I got in with a Bogi Yogi at age 23 - survived that ordeal and even made contact with my Atman during that time. After that came Rev. Verna or "GuruBurna" which is the present topic. I spoke about her mean personality and the obstacles she presented to being her devotee, yet I had stuck it out for years. When I met her it was 1970, and I did not cut ties with her till 1977, when I composed a letter to her that said, "I have done all that I wish to do under the Church of 'One World Light.' I do not wish to discuss my decision with you."
And on top of that, I did not pick up my phone when she immediately called to browbeat me, and soon changed the number so it was impossible for her to reach me. I could not have left her without the help of Angela Astone, a powerful psychic woman who was giving me readings and friendship. She encouraged me and gave me confidence, that I could leave and no more death curses would befall me.
It was after her birthday party that I wanted to call it quits. For days I cleaned the apartment. Then I ordered two birthday cakes and other food and wines. Then I called each person Verna knew - including her two sons and other disciple. It was sort of a surprise. (Not one of the other people contributed to the expense of the party, including her sons.) But the reading while she was in trance changed all that. It was at this point that I found out Verna only cared about her flesh - her two sons - rather than the Church and myself, her main disciple. While in a trance Verna made the statement that what she cared about, more than anything else, was that she have something to leave her two sons at the end of her life. Never during this hour of trance did she refer to me, my help or support, or caring about saving souls. There was nothing spiritual here. I was downcast and disillusioned. The next day I packed my bags and called a taxi.
She had put on a rubber suit (the kind they use to lose weight) and was standing like a dominatrix, with her legs wide apart, pontificating to a woman who had paid for a spiritual lesson. The woman was on the couch in the living room as Verna stood in front of her, and I had to walk a few times back and forth to load things into the taxi. She yelled at me to get back in my room and stay there - as if I was her little child - and also accused me of giving her evil vibes, and that she was wearing the rubber suit to deflect them. It was nothing of the sort. I got away and moved into a motel in Hollywood.
At this time I was taking dance lessons from a great ballet teacher. One day, as I walked back to the motel from the school, a feeling of dread and doom came over me. I had no idea what it was. A man with a little girl from the ballet school stopped by me and asked if I needed a ride. Not knowing whether the feeling came from this - I declined. I learned later that my guardian angel sent that man to protect me, and that the evil presence was a stalker.
The stalker followed me to my motel. He tried to speak to me - a young black man - but I ignored him. Later he watched me go to an Italian restaurant. I remember what I was wearing - a white sweater with sleeves to the elbow, and some kind of slacks. As I returned to my room, there he was right behind me, and pushed his way into my room, holding what looked like a knife.
I struggled with him in the room, knocking over lamps and things, and managed to grab hold of the knife-looking letter opener and bend it in half, and restrained him. He was a tall, thin black man, nineteen years old we later found out. Now that I had him under control we were both standing by my door and some people came out of their rooms. I told them to call the police, but they all just stood there, mouths open. I declared, "This man just attacked me and I need you to call the police."
Didn't do any good. I called the police and made a report. They came to interview me but of course, that was it.

The motel owner reacted in a strange way. Instead of being sorry he only wanted to find fault with me and insinuated I was having an affair with the detective who visited me. I think that was to deflect blame and responsibility away from himself because my door did have a faulty lock and I suppose I could have sued him. I asked him to just give me my money back for the advance I had paid. He would not give me the money back, but insisted he'd give me a room at his other motel which was a few blocks away. I did not like this idea, as it was too close, and I did not feel safe from the stalker, but he would not have it any other way and to lose the cash he wouldn't return was hard. So, against my better judgment, there I was in his second motel within a four-block radius. Sure enough - because I had to walk everywhere (and alone... so you still want to be beautiful?) he found me again. This time - because the motel had a courtyard or something and you could not easily see the rooms - he called instead of following me. He kept asking me my room number, which made me feel good that he did not have it. Somehow - I am not sure how - he had my name, albeit garbled, and it got him through. Here the death threats began. He was going to rape me, dead or alive. I called the police. They said they would trace the call. It took a long, complicated process to do that in those days - something like 45 minutes of talking time. They told me that each time he called back, they would put a tracer on it, and I had to speak to him as long as possible. This was extremely nerve wracking, as I was all alone in the world without a friend to call, without family or anything. He'd call back with more and more threats, and at one point said I could not leave as he had an accomplice watching the motel. I looked out my bathroom window, and as luck would have it, a black guy was walking out there. Was he bluffing or could this be the accomplice? About two hours of this went by, and I was feeling anxiety. It was then that I decided to call Verna for moral support. Oh, how smug she was. She said to me, "I saw this coming."
I then knew, absolutely knew, that she had put this on me. She offered no words of encouragement or kindness. She was getting pleasure from this, my pain and anxiety, because I had it coming. To her, I was a cash cow, and if her cash cow disobeyed her and stop delivering cash, she deserved to die.
Since Verna was no help, the motel owner an asshole, the police themselves giving me no relief except to keep tracing, I decided to take the matter into my own hands. The detective I had met was a retired homicide man. I had his home number and called, "Please come get me out of this, and bring your gun."
He came immediately. I asked him to take me to the airport, and he did. I made a vow that Los Angeles was no longer for me nor I for it, and goodbye forever. I would break that vow in a few years to do a tv show, and even now am contemplating moving back there, but then it seemed final. It was back to New York and my Dad in Brooklyn, after almost ten years of trauma under the palms.
HOW DOES SOMEONE PUT A
DEATH CURSE ON ANOTHER PERSON?
Some people might say, "Hey, are you kidding? What's this guy got to do with the Guru? It was just a coincidence."
In a physical reality, you can't make a connection. But let's talk about the unseen, the non material plane. Lots of things happen there that no one can see or figure out - but many things originate there. I recall seeing a documentary where the chief of a tribe in Africa put "the curse" on one of his members. The man was a servant to an English family. There he lay, dying in his hut, with no cause whatsoever. The lady who employed him went to the chief and insisted he take off the curse. After lightning struck, the chief decided maybe it was the will of God, and together with his staff, went to the hut and took the curse off. What was going on? It was the will of the chief. People put "curses" on others not by magic potions or rituals, but by their will. Now you know that people wish evil upon others numerous times, and most of the time nothing happens. But sometimes, things do happen. Why do some evil wishes fall fallow and others bear fruit? When people wish harm to others, their thoughts have power. But most of the time, little power. For instance, a miserable wretch goes by the mansion of a millionaire and wishes him dead out of jealousy. But nothing happens. People wish others dead all the time, and they do not fall dead. It is because there is no connection, no open door or window for the curse to enter the mind of the victim. There is also of course, the protection of God of the individual, which is frequently done by the guardian angel. Think of how much evil a President or Dictator, or any leader or controversial person, has thrust upon him or her. Most of this has no effect whatsoever. Why? No connection, no inroad, no opening for the evil to enter. Also, most thoughts have little power. The average person does not know how to focus or employ his or her thoughts so that they bear much fruit - good or bad.
Now how does this equation change? By connection. There are certain relationships where the recipient gives access to another in some psychological way. Some of this access is by nature, and some by consent. By nature is parents. Our parents have a natural and spiritual access to us. They can prevent or permit evil to come upon us. A parent is the first line of defense for a child against evil. A parent has the right to send demons away from a child, or sadly, a parent can either cause demons to enter, though his wickedness, or permit demons to enter by negligence - or the failure to protect the child. Whenever one person is legally, morally, physically and spiritually in charge of another, they have access and power over that individual. In the case of the chief, the chief has a consent of the tribe to lead them. If the chief puts good upon you, you get good. But if the chief puts evil upon you by ostracism and curse, you might be doomed. It is because in an indirect way, you have given the chief access to your mind. In the case of someone you love - have you ever noticed they can put you into Heaven or Hell? You have given them permission.
Now let's jump to the Guru-devotee relationship. Here you have given authority to the Guru to hold sway over you. The Guru transmits shakti or Holy Spirit/Light to you. But now, for some reason, you have displeased the Guru. Through this access, the Guru can wish you harm. It's an evil thing to do - and no Guru should wish harm to their devotee - but Gurus are only people. People have faults. If a Guru wants revenge, that revenge is sent to the devotee. Now a "curse" is in progress. In the two cases I will describe to you, a curse was in progress from my Guru to myself. But each time, I was saved. Why was I not harmed or killed? Because there is a God, and God is the final judge. If my Guru puts a "curse" on me, and I do not deserve that curse, God will circumvent the curse. So the person has access to you, but not total or comprehensive power. You may be assaulted or come close to death, but it will be avoided if you are under the grace of God. If one is not under the grace of God, then there is the most danger. It is not always that they will be lost, for God has mercy and can certainly prevent harm to those who are not in grace, and frequently does. The key word in curses is ACCESS.
In hindsight, I am wondering if I had said to Verna Talbot, "Verna, I don't believe in you any more. I do not want to be a part of you any more. Please leave me alone," if such a statement would have protected me from her will. I think it might have, had I said this with conviction. (However, I never stopped believing in Verna Talbot so I could not have said that honestly.) What is bewildering to note is that the Bogi had put a curse on me, also. (Remember, access.) She healed me of that, but now she did the same thing to me. I am positive, for two reasons, that Verna paid for these actions against me, as this carries bad karma. God hates revenge that we put on one another, and God loves forgiveness. I had done no harm whatsoever to Verna, so there was no evil to take revenge upon. It was pure wickedness, pure greed that made her do these things to me. Surely, God would not allow such wickedness to bring me down.
RETURN TO NEW YORK
I returned to New York. The police called me, having traced the call to a fast-food stand nearby. They asked me if I would return to press charges, but I said no.
You would think that would be the last of Verna and myself. But somehow, she got me back into her clutches.
While I was under the spell of GuruBurna, she came to visit me in Brooklyn. A miserable apartment, at the time, in Williamsburg - but later, I fixed it beautifully with an interior decorator. She said, "You'd have to be a saint to live here."
I told everyone I knew that a saint was visiting me and a gathering was held. What was important to her, I think, was that now I called her once a month and the price for that phone call was $100. For a woman who was earning only $9,000.00 a year as a "Community Organizer," that was a lot of money. She also asked for extras and even tried to get me to buy her a van, but that did not happen.
RAPE & DEATH STALK ME
Now to cut to the chase. About this time Verna kept talking about "We are going to be in a movie," and also, I left her again. I don't recall what caused it this time - just my being weary of her.
Within a short time of that, assassin two comes into my life, and once again, a black man. I had organized a day of "signing up for jobs" for teenagers, and got some restaurants to donate food while they waited in line for hours. Because I worked so hard on this and it was a big success, I got an article in the Daily News. And there was my picture with one of the kids. Because of this photo, I could have lost my life. Again, the beauty. An evil man saw the photo and because I had put my home phone number as the Church, called me up. (Verna's idea about the phone.) His name was Jay and he was a handsome, 6'3" black man. He told me he specialized in documentaries and wanted to do one on my life, preaching, dancing, community work and the like. Because Verna had said someone would do a movie "on us," I thought this must be it - her prediction. So I allowed him to visit and we talked and talked, but always with my teenagers present. There were red flags about him. Beware of red flags - they tell you something is wrong. Pay attention to them. I didn't. I thought Verna had predicted this, and this will be so. Although I wasn't speaking to her anymore. I should also have thought about the last time I broke up with her. The red flag was this: One time after a meeting with the group present, he came back, pushing my buzzer. I KNEW it was him and he just wanted to come inside and try to be personal with me. I knew because it had been done a dozen times before. My buzzer is so loud it could knock your ears out. But he persisted for five minutes. Then he started calling, "I left my keys inside," and not knowing if it was true, I had to let him in.
He came in and nothing happened. But there were no keys inside. He glanced into one of my bedrooms, and there, he saw my daughter sleeping. He was "casing the joint" and figuring out if he could rape me or not that night, but decided not to. At this point, I should have known he was evil but I didn't, because so many men had tried to make it with me - but very few were rapists or killers. So you can't automatically put that on a man just because he wants to sneak back in to be alone with you. He left without further ado. But I knew he had lied about the key - and that was a big red flag.
Now the next time he called he told me that he was offended that I always had people around when he visited, that I did not trust him. I should have taken this as the second red flag. If you want to do a documentary on me - you do not have to be alone with me. In fact, having the characters in my life present makes it better. But he said he wanted some time talking to me alone, without interruption. Naively, I agreed. I was so convinced this documentary was on the up and up.
Now here I must explain that at this time, I had been been playing a lot of basketball in the neighborhood. I went to a projects park, where they had many baskets, and played with whoever was there. One young black man, Boots, was there every day. He was about 18 years old, 6'4" and went daily. We became good buddies. After a long day's work and playing basketball till dark, I had my only meal of the day with him and treated him, also. It was Kentucky Fried Chicken every time. I have to explain this to you in order to lay out what happened next.
This man Jay comes over again, and he and I were walking down the street together, when Boots saw us.
The next thing is we go to my apartment and that's when it happened. The guy just picks me up and carries me to the Futon in my bedroom, and plops me down. He was going to rape me then and there. I knew fighting with him was of no use, so I used my brain. I said I had to go to the bathroom. In my little bathroom, there was only a hook latch, but it stood between myself and him for a time. I looked out the window down the six floor drop. Then I turned back to the mirror and my face was white as a sheet. I said, "God, I promise you, that if you get me out of this, I will be better than ever....." I pleaded with every fiber of my being to God.
He'd been standing outside the door, but now he moved back into the living room and was playing some music. The door to the hall was right there - a few feet from the bathroom, and I made a dive for it. As soon as it was open, there stood Boots, ready to knock.
I let him into the kitchen, and he and I sat down. No rape now. Jay came in, slapped me hard on the face, and left. I knew I had been saved by God.

BOOTS HEARD THE VOICE OF GOD

Boots told me that he had seen us walking together, and a voice said to him, "Follow them. Do not leave her alone with him."
He followed us, and went up to the apartment and sat on the stairs between my door and the roof, and waited. He didn't know what to do. He then decided to knock, and just at that moment, I burst open the door. He was sent to protect my life. My kindness to Boots had created a link which saved me. Oh, God is good.
Later I had a dream, and God showed me a line of grieving teenagers outside my door, all with their heads lowered. In that dream I understood, that this man would have killed me after he had raped me. That was what the teenagers would have been grieving about.
What Was the Movie Verna Predicted?WHAT WAS
The "movie" Verna predicted must have been "Real People," a "Reality TV" show - the first of its kind - and I was the first star of it. They did a documentary on me that lasted nine minutes, and Verna was talked about. She was lying on her tv couch then, sick with heart trouble, and that it was really great. Her disciple Verita wrote me and told me about it. This happened in 1979, the year Verna died of heart failure at age 60.
Before I tell you what happened the night Verna died, I want to share with you one more experience that happened surrounding her. It was in Vegas. Verna had left me there, and before I had to go elsewhere, I had a little time on my hands. I always liked to walk, and I began to walk. I walked all day, for hours and hours, from 10 AM on. I stopped at one place to rest, and say a half hour, and walked some more. I was going farther and farther into the desert. Then I saw a drive-in theater, and on its marquee was "The Ten Commandments."
"I must see this," I thought.
I go to the ticket counter and tell the man I want to buy a ticket.
"You can't."
"Why not?"
"You have to have a car."
"Why?"
He explains over and over but I am not listening. I badger him so long, he finally lets me in. I trust God. I walk and walk toward the middle. There a woman, who is sitting on a foldable lounge outside her car, looks at me, and I at her. She calls to me, and tells me she has another lounge chair, and opens it, and we both sit together and watch the movie, the sound connected to her car. It starts to get cold and we sit inside the car and talk. She says that when she saw me, she saw her daughter - that I looked just like her.
Then she asks me where she can drop me off. I tell her the place in Vegas. She asks how I got there. I say I walked. She shakes her head, saying that wasn't possible. I insist. She does not believe me. To this day I don't know how far I walked. But I do know that I saw "The Ten Commandments," without a car. Do you know anyone else who could have pulled off a stunt like that? All done by the faith in God. Even got a ride home! What would I have done without a ride back, all those miles to Vegas?
VERNA TALBOT DIES
Verna Talbot died in May, 1979. She had always said the following, "When I die, I will ascend into Heaven as a great Sun...I will take all my Light with me...and you will all be sorry, because you won't have my Light any more."
It wasn't like that at all - on either score. First, she died, not as a Sun or Ball of Light, but as a soul needing to be cleansed. To Purgatory she went, and in Purgatory she stayed until February 11, 1982, when Yours Truly helped get her out.
Two years and nine months is not a bad Purgatory, but it is not that of a Saint. My Dad apparently was similar to her, as his was July 28, 1979 to March 18, 1982 - two years and eight months.
On the second count, she did not take all her Light with her. On May 11, 1979 I was in my living room in Brooklyn, lifting weights. The room turned supernatural. A great Light was filling the room. I got the feeling of white, and it had tremendous power within it. Now from that Light came a voice which spoke to my mind,
"PROMISE ME THAT YOU WILL HELP HUMANITY."
"Who are you?" I said.
No answer. Just, "Promise me that you will help humanity."
I promised, not knowing Whom I was speaking to, and rather surprised that a celestial being considered me CAPABLE of helping humanity.
A short time later I got a letter from the other disciple, Verita, dated May 13, 1979. Here is the letter:

Sunday May, 13 1979
Dear Rasa,
I am writing you to let you know Verna has passed away it was her last wishes that you & I call for her spirit to (sic) rise into light. Services are Monday and cremation Tuesday.
I only found out yesterday since she's been with her family. Verna has been ill for the past year. She just was suffering too much and gave up. I did all I could to help, it just wasn't enough. I made sure she saw you on T.V. a couple of weeks ago. She thought that was really something. Please do what she asks after she did so much for you & I how can we not make sure she has a safe journey home.
God Bless you Rasa, please keep Verna's name alive, she gave so much that we may live.
Sorry I couldn't write this yesterday I was just too sad.
Good Luck & God Bless
Sincerely,
Verita
P.S. Verna must be at peace once again with the great Lights of the ages of which she is one.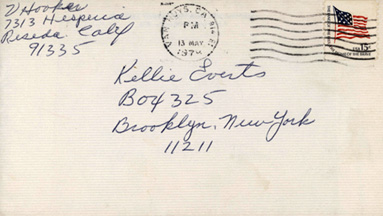 | | |
| --- | --- |
| | |
| | |
| --- | --- |
| | |
When I received this letter, I knew that it had a connection with the overwhelming Light that had appeared to me days ago. It took me years to understand the idea of SUCCESSION. This is a known phenomenon in the Yoga world, and also in the Old Testament. In the Bible, the word is that the Prophet, "put his mantle" on the chosen recipient, who would carry on the anointing. (It took me a while to figure out what "putting his mantle" on meant! I then recalled Errol Flynn, giving me a "coat" from Heaven, white and fluffy and voluminous, and I ascended into the air with it, it was so large and so bouyant...it was a gift of Light.) So CLOTHING, in the symbolic sense is "clothed in Light" or the inversion, "cloaked in darkness." (There are also two meanings to "cloak of darkness." It can be for good or ill. Verna has been appearing to me in dreams completely veiled in black, because she is darkness to me, being in God. But once, my love opened the veil to her face...and now, as I will speak with her again in fellowship, the veil will be pushed aside.) As far as Yoga, they also give their anointing to whoever is qualified, sometimes while the devotee is still living, as in the case of Nityananda and Muktananda. Nityananda gave tremendous Light to Muktananda through the eyes, rays of gold and blue light emanating from his pupils directly into Muktananda, sending him into an awestruck and blissful trance.
What was this Light to me and who was I to it? Why was the Celestial Presence asking me to help humanity? What if I had said no? (I could not have said no. It was a given that I had given my fiat to God in every way. This question was like the questions of Baptism, which ratifies, officially, what is agreed upon inside.)
This person within the Light was Verna Talbot, and it was her anointing. It seems to me that a Guru or Prophet (or other Holy Soul) is able to transmit their Power (anointing) to another person. It seems there may be a special transmission at the time of death, or in anticipation of death. What this is is the legacy to carry on a work. A great soul does not want their work to end. They have unfinished business. (After all, is God's work ever finished?) The soul also has specific goals it tried to achieve, and that is part of the anointing. So to put it all together, Verna Talbot chose me to leave her anointing to. Why me, after the tumult, the anger on her part, and the separation? Because I was the only one who could carry it. After all, anointing is responsibility. If you think of the hunger that I had for God that made me suffer through her harsh personality, you'd see that I was willing to pay the price. Nobody else went through her fire but me, (Others were there, but Verna said it wasn't the same) and so, I won her anointing. Hallelujah!
CONCLUSION
Here I have spoken of two Gurus - one false, one real - both of whom baptized me with pain. I got through and what did I learn, and what can I pass on to you ? There are wonders of discovery here, there are lessons that I lived through that I wish I could codify and put into a formula. The first thought is, "All things work for good to those who love God."
And so, the evil Prince worked for my good, like the devil being an exercise boy to the just. He was dangerous both spiritually and physically, but God saw me through the peril. He was a stumbling block that God turned into a stepping stone. Under him, or with him, I went into a terrific ascetic scenario. He was not an ascetic, but he preached a big sermon on it. I followed that sermon as I have always been a woman who walked the walk as well as talked the talk. I can only talk so long about a thing, and then, I must do it. I've always been that way and it is one thing that separates me from the crowd.
This is the virtue of ZEAL for the Kingdom of God. Had I met Verna Talbot first, before Bogi, I would not have taken a year off work to practice Yoga. I would not have honed my "inner woman" and found the Atman. Verna was against all sorts of disciplines and self-hypnosis (same as mantra) and all the exercises I did, and she would not have permitted me time for them. Here with Bogi, I had already received Verna's Light as I traversed this path. And the Light bore fruit when I broke through to the Atman. (It might have been 1970...late, oh, how I wish I had the exact date so I could honor it!) The point is, that when I got together with Verna as her devotee, she discouraged all discipline and all Church work on my part and wanted me to do only one thing - make money and send it to her. She had a Gift, I had to do nothing. So you see, how my development would have been stifled under her, as far as my inner self goes. Perhaps it would have blossomed later, but not then. there are two parts of spiritual development - inner self and Gift. Both have to be addressed. Verna only faced the Gift. Thee was her weakness and her downfall. By the inner person we rise or fall. Now I will channel Verna Talbot, who has been present to me ever since I started writing this.

REGARDING MY ORIGINAL GURU,
REV. VERNA TALBOT, & CHANNELING HER
CHANNELING VERNA
RASA: Verna, my Guru in Heaven, why could you not build the Church which you intended?
VERNA: I DIDN'T HAVE ENOUGH TIME AND ENOUGH HELP. IF I HAD LIVED LONGER AND IF YOU HAD STAYED WITH ME, WE COULD HAVE DONE IT TOGETHER.
RASA: But Verna, you were lazy. Your efforts were haphazard. You didn't like to suffer. You shrank from effort and hard work, and all you did was complain, moan and groan all the time. Surely, you could have done more than what you did.
VERNA: I DID NOT HAVE THE CHUTZPAH YOU HAVE, THE MOXY. YOU ARE A GO GETTER, I WASN'T. I WANTED THE WORLD TO COME TO ME BECAUSE I HAD AN ANOINTING. IT DOESN'T WORK THAT WAY. YOU HAVE TO CARRY THE GIFT TO THE WORLD, SOMEHOW. YOU HAVE LEARNED THAT. I DIDN'T KNOW IT AT THE TIME. I JUST WAITED AND WAITED, THINKING PEOPLE WOULD RECOGNIZE MY GIFT AND SUBMIT TO ME, AND I COULD HELP THEM. IT WAS A LACK OF NORMAL TALENTS, SOME OF WHICH YOU HAVE. ALSO, DON'T FORGET, IT WAS A LONG TIME AGO. WOMEN WERE NOT AS ACCEPTED AS THEY ARE NOW. YOUR PATH WAS SOMEWHAT EASIER IN THE SENSE OF BEING ACCEPTED AS A WOMAN.
RASA: What to you were the hardest obstacles to building a Church?
VERNA: I was my own obstacle. I couldn't be nice to people. I wanted honor and respect, and I hated the way people treated me. I wanted to dominate everyone. But people don't like that kind of thing, and they run away. I was my own worst enemy. I don't know how you bore me as long as you did, now that I see it from your side. I am truly sorry for the harm I did you. It kept you from loving me, and remembering me in a kind and loving way.
RASA: What now? Last night you told me how the Church is alive here, in my Person, in my domain, and on my internet site and groups. You said it is a Presence in the metaphysical world, transmitting Light. All who come here and read, receive this Light. Could you say more on this?
VERNA: YOUR CHURCH IS HERE. IT IS NOW. IT IS EVERYWHERE, IN HEAVEN AND ON EARTH. WE ARE ONE. YOU AND I ARE ONE. ALL YOUR SAINTS AND YOU ARE ONE. WE HAVE A 'SPACE' WHICH YOU CALL, 'DOMAIN' AND THIS SPACE IS INVISIBLE TO THE WORLD, BUT IT IS JUST AS REAL, OR MORE REAL, THAN ANY CATHEDRAL OR ORGANIZATION ON EARTH. IT HAS DIMENSION AND WIDTH AND BREATH, AND HEIGHT AND DEPTH. IT HAS POWER AND PURPOSE. IT IS WHAT I USED TO CALL 'OFFICE.' YOU ARE NOW THE CHIEF OF THIS CHURCH, AS I ONCE WS. IT IS YOUR RESPONSIBILITY TO RUN IT AND REPRESENT IT AND CONTROL IT. YOU ARE THE SPOKESPERSON OF THE CHURCH. YOU CARRY IT INSIDE YOU, AND THE POWER OF IT.
RASA: I am having some trouble getting it started in a physical way. You understand that is not easy. I am having trouble finding good, committed devotees. The world is an evil place. One needs encouragement, and the world just slaps you in the face, day in and day out. You suffered all this. I am going through it. Any advise would be welcome.
VERNA: IF YOU ONLY KNEW HOW GIFTED YOU ARE, YOU'D SIT BACK IN YOUR EASY CHAIR AND TAKE IT EASY. YOU WORRY TOO MUCH. EXERCISE YOUR FAITH. DON'T BE A WAILER LIKE I WAS. SIT IN THAT COMFORTABLE CHAIR AND CHANNEL THE SAINTS AND LIGHTS, AND LISTEN TO THEM. SPEND MORE OF YOUR TIME IN CONTEMPLATION AND WRITING ARTICLES, BECAUSE ITWILL ALL HAPPEN. IT WILL HAPPEN ALL OF A SUDDEN. ONE DAY, YOU ARE OVERLOOKED. AND THE NEXT DAY, THE WORLD IS KNOCKING AT YOUR DOOR. YOU WILL SEE THIS HAPPEN. YOU WILL HAVE TROUBLE RUNNING AWAY FROM THEM. AND YOU WILL HAVE MONEY, LOTS OF IT. IT WILL BE COMING OUT YOUR EARS.
RASA: When will this start to happen? And also, what good is the work on the internet doing?
VERNA: SOON. GET READY. SOON COULD BE A MONTH OR A YEAR. WHENEVER IT HAPPENS, YOU WON'T FEEL READY, SO GET READY. THE INTERNET IS LIKE A NET. CAST IT WIDE, LEAVING NOTHING AND NO ONE OUT. GO TO ALL THE GROUPS EVERYWHERE. THERE ARE PEOPLE IN UNEXPECTED PLACES WAITING FOR YOU - FOR THIS.
RASA: The anointing you gave me - could you describe it? It's mission?
VERNA: THE GREAT LIGHTS FROM ALL THE AGES PAST WANTED TO COME TO EARTH THROUGH ME, AND I CARRIED IT. I COULD NOT DO ALL THEY WANTED, OBVIOUSLY. THEN I PASSED IT TO YOU. NOW YOU WILL RUN WITH IT. ALREADY YOU HAVE MANIFESTED SOME OF IT IN MANY WAYS. A REVIEW OF YOUR LIFE SHOWS ITS POWER. MUCH OF IT CAME FROM THIS GREAT LIGHT, THIS PRESENCE.
RASA: What about the new anointing that I got directly from Jesus and Mary, Muktananda, Nityananda, and many gifts from Saints and ascended souls. Like the gifts of Padre Pio, Joan of Arc, St. Gertrude the Great, Errol Flynn, Frank Sinatra, and many other souls. How is this present in me and when will it all come out and how will it work?
VERNA: MY CHILD, WHEN YOU NEED IT, WHEN YOU GO OUT INTO THE WORLD, YOU WILL NEED ALL THE HELP YOU CAN GET. YOU WILL NEED IT FOR POWER AND DEMONSTRATION. YOU WILL MANIFEST IT ALL AT THE RIGHT TIMES. SOME OF THE POWER WILL BE IN SPEAKING, SOME IN HEALING, SOME IN MIRACLES. SOME IN WITTY ANSWERS, SOME IN PRESENCE, SOME IN SHAKTIPAT, SOME IN PROTECTION AGAINST THE DEMONIC. YOU CARRY A WALLOP. YOU WILL DEFEAT MANY AN ENEMY THAT COMES AT YOU - YOU WILL SEE.
RASA: Did I write the Bogi article to your liking, and did I miss anything?
VERNA: I THINK YOU CONVEYED HIM PRETTY WELL, HOW EVIL HE WAS. BUT SOME PEOPLE MIGHT NOT PICK UP THE EVIL INSIDE HIM, HIS DISPOSITION.
RASA: Verna, did you love me, hate me, or was it a little of both?
VERNA: I WANTED TO LOVE YOU AND DEEP INSIDE, I DID. BUT IT DIDN'T COME OUT THAT WAY. MY HUMAN FLESH WAS SO WEAK, AND YOU WERE SO STRONG. LIKE YOUR FRIEND SAID, YOU INTIMIDATED ME. BY THE VERY NATURE OF YOUR HUMILITY AND OBEDIENCE AND HUNGER FOR THE TRUTH, YOU MADE ME FEEL SMALL. AND SO, I WAS AFRAID TO BARE MYSELF AS A PERSON TO YOU AND I FOUND YOUR PRESENCE UNBEARABLE. I FELT COVERED IN SHAME ALL THE TIME, AND I WAS ALWAYS BRAGGING ABOUT MYSELF PARTLY BECAUSE THAT'S THE WAY I WAS, BUT PARTLY BECAUSE I WAS AWED BY YOUR DISCIPLINE AND SINCERITY AND IT MADE ME SEE HOW LACKING I WAS IN SOME VIRTUES. I DID, ON A SMALLER SCALE, WHAT YOUR MOTHER DID TO YOU. YOUR MOTHER HATED YOU, IN TRUTH. SHE BEAT YOU UP EVRY DAY MENTALLY, PHYSICALLY AND SPIRITUALLY BECAUSE YOU WERE GOOD, AND SHE WAS WICKED. I WAS, IN A WAY, FIGHTING AGAINST THE VIRTUE WITHIN YOU, THAT AWED ME AND SHAMED ME.
RASA: What virtue was that? I did not feel anything virtuous, although I wanted to be, I certainly fell short. Also, you kept telling me that I had "committed every sin in the book." What was that all about?
VERNA: THAT WAS PROJECTION AND FANTASY. I HAD COMMITTED ALL THE SAME SINS, AND MORE, ONLY I DIDN'T SEE THE BOARD IN MY EYE, ONLY THE SPECK IN YOURS. IN TRYING TO GET THE SPECK OUT OF YOUR EYE, I BEAT YOU UP WITH THE BOARD. THE VIRTUE IS A PERSON'S REAL SELF, THEIR CHARACTER. A STRONG, PURE IN HEART CHARACTER IS A SIGHT TO BEHOLD TO THOSE WHO CAN SEE IT. I COULD SEE IT AND OTHERS SEE IT ON A LOWER LEVEL.
RASA: What do you think of my progress? Have I done as much as I could so far? Will I get back to California? Will I be happy there?
VERNA:: I AM NOT SURPRIZED AT WHAT YOU ACCOMPLISHED, ONCE I SAW IT FROM HEAVEN. I SAW THE POWER THERE. NOTHING CAN STOP IT. YOU CARRY A WALLOP, AS I SAID - YOU DON'T EVEN KNOW THE DEPTH OF IT - BETTER YOU NOT KNOW RIGHT NOW. YOU MADE GOOD PROGRESS, AND AS SOMEONE SAID, YOUR LIFE IS ONLY BEGINNING. NOW YOU WILL ACCOMPLISH TEN TIMES WHAT YOU HAVE EVER DONE. I SEE YOU BACK IN CALIFORNIA, BACK AT THE OLD HAUNTS AND SOME NEW ONES. YOU WILL EAT AT THE BEST RESTAURANTS WITH IMPORTANT PEOPLE WHO WANT TOTAKE YOU OUT. THEY WILL WINE AND DINE YOU AS THEY WANT TO WOO YOU AND DO THINGS WITH YOU AND BE SEEN WITH YOU. JUST SIT ON THIS FOR A WHILE, AND LET ME SPEAK TO YOU IN PRIVATE ABOUT SOME OF THIS AS I DO NOT WANT IT TO REACH THE EYES AND EARS OF DEMONS.
RASA: Verna, are you mad at me for what I said about you - the way you treated me?
VERNA: ACTUALLY, I'M GLAD YOU DID THIS, BECAUSE WE GOT BACK TOGETHER. YOU HAVE IGNORED ME FOR SO MANY YEARS. I LONGED TO SPEAK WITH YOU, TO BE FRIENDS AGAIN. I HAVE MORE LIGHT TO GIVE YOU FROM HEAVEN. I AM PART OF YOUR FORT. PLEASE TALK TO ME AS MUCH AS YOU CAN. I WILL ADVISE YOU RIGHTLY THIS TIME.
RASA: Speaking of which, why did you give me so much bad advise, about diet, dating, disciplines, hypnotherapy and the like?
VERNA: I WAS STUPID. WHAT DO YOU EXPECT FROM SOMEONE WHO DOESN'T STUDY, JUST WATCHES TV? YOU STUDIED, FROM AN EARLY AGE. THOSE PUT DOWNS I DID ON YOU ALL THE TIME WERE UNFAIR.
RASA: What do you think of my family history now, looking from Heaven. On earth, you did not understand it very well.
VERNA: DEPLORABLE. YOUR SISTER IS MAKING UP FOR IT BY BEING VERY NICE. STAY FRIENDS WITH HER. TRY AND PUT YOUR MOTHER BEHIND YOU. IT WAS SO AWFUL, THAT WORDS CANNOT EXPLAIN. I SEE IT NOW AND IT WAS CRUELTY ON TOP OF CRUELTY. AND THE UNFAIRNESS! IT IS A MIRACLE YOU ENDURED IT. THAT IS WHY GOD GIFTED YOU SO MUCH - ONE REASON.
RASA: Let us speak of your mission. What was it exactly? How will it manifest as part of what I am doing?
VERNA: IT IS THE LIGHT LIFTING SOULS INTO HEAVEN. WE ARE ALL ONE. YOU CALL IT MANY THINGS. YOU HAVE MANY TITLES AND IDEAS, BUT IN THE END, ALL SOULS ARE BEING LIFTED INTO HEAVEN, CLOSER TO GOD. WE GET THEM AWAY FROM SATAN, AND THE WORLD AND THE FLESH. WE GET THEM OUT OF PURGATORY, WE BRING THEM LIGHT. WE END UNFAIRNESS AND CRUELTY. IT IS ALL THE GOOD THINGS IN ONE. YOU WILL BE REMEMBERED, SPECIFICALLY, AS A STRONG WOMAN AND OTHER WOMEN WILL LOOK TO YOU TO BE STRONG IN THEIR OWN RIGHT. YOU CARRY STRENGTH, THEY WILL RECEIVE IT.
RASA: I will end this for now, and do you wish to say one more thing, to my devotees perhaps? And thank you so much for being there for me, and we will be friends again. I am thrilled to be together again. The writing of this story gave me closure and I feel at peace with you now.
VERNA: YOUR DEVOTEES MUST UNDERSTAND A FEW THINGS. ONE, YOU CARRY AN ANOINTING, BUT YOU ARE A MERE MORTAL IN THE FLESH WHO NEEDS HELP. THEY SEE YOU AS ALL POWERFUL LEADER, AND THEY LOOK FOR THAT STRENGTH. BUT NO MATTER HOW POWERFUL YOU ARE, THEY MUST SERVE YOU. YOU HAD BETTER OUTLINE TO THEM WHAT GURUSEVA MEANS, AND GIVE THEM ASSIGNMENTS, AS THEY ARE LOST. THE ONES WHO PROMISED TO DO THINGS ARE NOT HELPING A LOT. THEY AREN'T EVEN COMMUNICATING MUCH, EXCEPT FOR STEVEN AND BOB. ON YOUR NEXT CAMPAIGN, YOU WILL PICK MORE UP ALONG THE WAY. YOU NEED TEN GOOD ONES TO FEEL RIGHT ABOUT THE CHURCH, AND THEY MUST ALL BE WORKING. PUT THEM TO WORK. TAKE NO EXCUSES. YOU NEED HELP, AND THEY ARE IN LA-LA LAND. THEY ARE SIMPLY DAYDREAMING ABOUT THEIR OWN NEEDS AND THINKING ONLY ABOUT THEMSELVES. YOU HAVE TO CRACK THE WHIP ON THEM TO MAKE THEM WORK. YOU HAVE TO DEMAND IT. IN SERVING YOU, THEY RECEIVE THE LIGHT. IF THEY JUST GO ABOUT THEIR BUSINESS, THINKING YOU HAVE TO BE THERE FOR THEM, THAT AIN'T KOSHER...ABOUT US RECONCILING, T, TOO AM REAL GLAD ABOUT THAT. LET'S WORK TOGETHER! YOU ARE THE ONLY ONE ON EARTH WHO HAS CALLED ON ME. I HAVE BEEN HERE ALL THESE YEARS PINING TO HELP.
RASA VON WERDER
JUNE 16, 2005