DOES EVERYONE HEAL & TRANSMIT SHAKTI?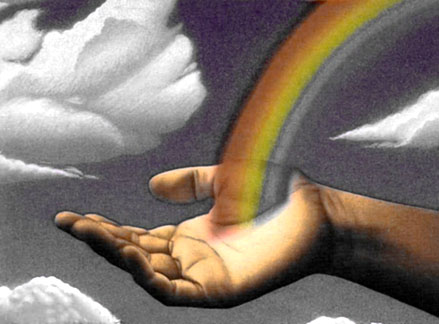 LETTER FROM KATHLEEN ON GIFTS OF THE SPIRIT
Beloved Rasa and I were corresponding about how spiritual gifts might express themselves among the devotees who have received the anointing by installing Rasa as guru in their hearts.
This essay begins with a question from Rasa concerning the literature on this topic, and "Kathleen the Armchair Theologian" responding with my personal opinion. And this is my personal opinion only, folks. I defer to Beloved Rasa as a consummately advanced soul and a universal teacher, whose knowledge and insight are truly the Spirit of Mother God.
Beloved Rasa asked: IF A PERSON REACHES THE SAHASRARA, DOES THAT AUTOMATICALLY MAKE THEM A 'GURU' FAITH HEALER? … REACHING THE SAHASRARA IS ONE THING, [HAVING A SPIRITUAL] GIFT IS ANOTHER. ANY SCRIPTURE OR VEDA ON THAT?
Kathleen replied: I agree with you completely. St. Paul was excellent in defining and categorizing spiritual gifts. He always said that the Holy Spirit distributed the spiritual gifts in a way that would benefit the community, and that not every person received the whole catalogue of gifts.
1 Corinthians 12 is the chapter on spiritual gifts (and remember that 1 Corinthians 13 is the chapter on love, reminding us of what REALLY matters).
In 1 Cor. 12:4 and onward, Paul says that not only the traditional "spiritual gifts", but also administrative abilities of different types are given by the Holy Spirit. This indicates to me that:
(1) A hierarchical order applies even among believers of equal spiritual attainment, and
(2) The purpose of spiritual gifts are the edification and growth of the church community.
(More on these topics in a moment.)
1 Cor. 12:8-11 gives the traditional list of spiritual gifts that most Christians are familiar with:
Word of Wisdom
Word of Knowledge
Faith
Healing
Working Miracles
Prophecy
Tongues
Interpreting Tongues
Then in vv. 12-26 is the famous scripture in which Paul compares church members with body parts, and reminds the believers that these gifts are for the benefit of the whole church body.
Finally, in vv. 28 through the end of the chapter, Paul gives a second list of "spiritual gifts" with a distinctively administrative tone:
Apostles
Teachers
Miracle Workers
Healers
Tongues Speakers
Interpreters
I don't have a specific yogic scripture discussing this issue, but I'd guess that Baba Muktananda would agree with Paul on these issues. After all, he had brought many people to high levels of spiritual achievement, but he nevertheless only assigned two people to the ADMINISTRATIVE role of shakti-transmitting guru (as opposed to using the word "Guru" as an enlightened person generally).
Also, there are many stories of devotees who wished to become swamis (i.e., full time teachers or priests in the Siddha Yoga organization founded by him), but Baba told them to do otherwise, and they became great un-ordained spiritual teachers or charitable workers because of Baba's spiritual endowment… including the first person to create a specifically AIDS-related type of Meals on Wheels program (AIDS patients are not particularly well served by traditional Meals on Wheels, due to their greater physical limitations and specific nutritional needs which are different from elderly people).
The Spirit will bring into our Church the exact people that we need as a corporate body, to undertake our spiritual missions of conversion, healing, and teaching. And there is no such thing as a "lesser gift", because each of us has been enlightened by the same Spirit.
Traditionally, the shakti-transmitting facility has been lodged in one person, who also has the role as the figurehead public leader of the organization or ashram. This person is the "first among equals" and is also given priority as someone whose special gift is to see into devotees' hearts. This enables her to help the devotees to discern their own gifts, and to find their niche in the community.
There will be a group of teachers (often swamis or nuns, but not always!), a group of caregivers and helpers (like Maureen is now), and those with special gifts of prophecy or healing.
What has happened in our church is that, until recently, you were the only person who was demonstrating spiritual gifts of an administrative or nurturing type. This is because the devotees were
not willing to participate in the church as a corporate body, and these spiritual gifts are part of the CORPORATE work of the church. So you had to do it all!
My intuition tells me that you will remain the shakti-transmitting Guru and the "searcher of men's hearts" as another Bible verse tells us. (And women's hearts also!) But such gifts as teaching, dream interpreting, and healing may be given to other advanced devotees for the benefit of everyone. You, of course, will continue to exercise these gifts as required, as the leader and the source of all grace in our organization (the root and the mother of us all).
How to be worthy of these gifts? That is the question, isn't it? In 1 Corinthians 13, Paul reminds us that Love is the source of all gifts and the power which empowers them. Continual loving service to the community will help bring the devotees to spiritual maturity, as will Guru bhakti for those who are so inclined.
In a more earthly sense, we must discover the techniques and teachings which enable devotees to get out of their own self- centeredness (or conversely, their own dependency on karma-yoga and "works" in a self-propelled way, like myself). Now that we have brought up the topic between us, the Spirit will begin to teach us, as She always does!
Another great adventure begins!!!
Love always, in all ways, and forever!
Kathleen & Anya
PURRRR!! PURRRR!!
DISCUSSIONS ON
---
---