DREAM ABOUT HILLARY CLINTON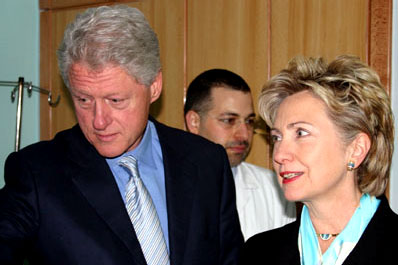 This is important! Concerns Matriarchy Coming to America (and world)!
I WAS ON THE STREET, THAT REMINDS ME OF WHERE I HAD THE COTTAGE IN PACIFIC PALISADES
RASA: Pacific Palisades, in California, is a key, because Governor Ronald Reagan lived there. So we are hinting that Hillary Clinton is heading for the White House!
THERE WAS A ROW OF ALMOST IDENTICAL- LOOKING HOUSES, SIMILAR IN THAT EACH ONE HAD A DOOR AND A WINDOW RIGHT NEXT TO IT, LARGE, AND JUST A BIG PANE WITH NO SEPARATE PARTS, JUST ALL GLASS WINDOW. AND EACH HOUSE HAD THE SAME DEAL, BUT SOME WERE PAINTED DIFFERENT COLORS. ONE OF THEM WAS BLUE, PERHAPS MRS. CLINTON'S.
RASA: The color blue here indicates the presence of God. God is here, where Mrs. Clinton resides. Because this is the only house painted thus, she is chosen or separated by God for a special place.
I FIND MYSELF SOMEHOW BEING ALLOWED TO ENTER HER HOUSE.
RASA: Entering her house or domain is a sign of vision and communication. Later you will see a strong young man. No doubt my guardian angel goes with me, perhaps helped me make mystical contact.
THERE IS A KITCHEN, DINING UPSTAIRS, (THE TABLE RIGHT UP BY THE DOOR AND WINDOW, A SMALL TABLE FOR ABOUT FOUR) AND THERE IS A LARGE AREA DOWNSTAIRS, WHICH IS LIVING AND SORT OF HEADQUARTERS. I GO DOWNSTAIRS AND THERE MRS. CLINTON AND A FEW OF HER AIDES ARE ALL LISTENING TO ME.
I TELL THEM ABOUT HOW IMPORTANT IT IS THAT MRS. CLINTON GET ELECTED TO THE PRESIDENCY, AND HOW IT WILL AFFECT THE ENTIRE WORLD TOWARD MATRIARCHY.
RASA: Oh, what a revelation!
I PLEDGE TO HER MY SUPPORT. I TELL HER,
'I USED TO WORK FOR THE NATIONAL CONGRESS OF NEIGHBORHOOD WOMEN, (this is true in real life) AND I HAVE THOUSANDS OF CONNECTIONS FROM THAT (I KNOW YOU HAVE MILLIONS) AND I WILL USE THOSE CONNECTIONS TO GAIN SUPPORT FOR YOU.'
AT ONE POINT I WANTED MRS. CLINTON TO LISTEN TO MY TAPE AND SMALL EARPLUG, BUT NEITHER SHE NOR HER SECRETARY TOOK ME UP ON IT. I NOTICED THEY HAD THESE HUGE EARPHONES LIKE WHAT MY WEBMAN IS NOW USING FOR HIS MUSIC, AS HIS SMALL ONE BROKE.
THEN I TELL HER,

'BUT I WILL CHANGE MY NAME WHEN I AM HELPING YOU.'
SHE ASKS ME WHY AND I SAY,
'BECAUSE I WANT NO DERISION TO COME UPON YOU. I USED TO BE A DANCER AND SO DERISION COULD COME UPON YOU FROM THAT, (SINCE I AM HELPING YOU.')
SHE ASKED ME A BIT ABOUT IT AND I EXPLAINED. THEN SHE SAID,
'THERE IS NO NEED TO CHANGE YOUR NAME.'
SHE IS ASSURING ME IT WILL BE ALRIGHT!
RASA: In this, God is telling me that for the matriarchy and what is to come, I need not be ashamed or afraid of my past. It will not hurt me in any way! Am not sure if this specifically refers to helping Mrs. Clinton personally, or in a general way, simply by doing my own work. Time will tell. Either way, God is assuring me the past is no problem. (Yes, I have seen on the internet, and others have, that my sex trade past is actually an asset, bring into to God and myself the marginalized, who feel a bond, an acceptance.)
I AM DELIGHTED WHEN SHE INVITES ME TO SUPPER!
RASA: This is communion. It is love, Oneness! What a wonderful sign!
WE SIT AT THAT TABLE WHICH I DESCRIBED (BY THE DOOR) AND MY BACK IS TO THE DOOR, MR. CLINTON IS ACROSS FROM ME, AND MRS. CLINTON IS TO MY RIGHT. WE HAVE A FEW ITEMS OF FOOD IN FRONT OF US. WHAT AMAZES ME IS THE MODESTY. WOW, I THINK. THESE GREAT PEOPLE, LIVING SO MODESTLY, SUCH ORDINARY SURROUNDINGS FOR SUCH IMPORTANT PERSONS!
RASA: I believe this symbol of modesty is their ordinary sufferings. Although they are great, they have been through the mill. Not exactly enjoying blissful nirvana, but enduring the dirtiness of politics that has hit them a few times. Modesty also refers to the opposite of pride, vanity, conceit and elitism. This is a good sign.
NOW A GREAT TEST IS PUT BEFORE ME. MR. CLINTON HAS A BUNDLE OF MONEY, WHICH HE SHOWS ME UNDER THE TABLE. HE SAYS HE IS GOING TO THE BANK AND DEPOSIT IT, WOULD I LIKE TO WALK THERE WITH HIM?

THE IDEA BEING, IF I WANT SOME OF THIS MONEY, I WOULD TRY AND BE REAL NICE TO HIM AND SEDUCE HIM.
BUT I DECLINE, AND I EXPLAIN TO HILLARY THAT I HAVE THE QUALITIES OF MY DAD, WHO WAS PERFECTLY HONEST AND WOULD NEVER DO ANYTHING SLIGHTLY WRONG REGARDING MONEY OR BRIBES - YOU COLD TRUST HIM WITH YOUR LIFE SAVINGS. AND I GOT THAT FROM HIM.
RASA: This I believe refers to some test I might have undergone in the past, where I reacted to money issues with virtue.
MR. CLINTON, BY THE WAY, LOOKS NOTHING LIKE BILL. HE JUST LOOKS LIKE AN ORDINARY, AVERAGE GUY, A BIT OLDER, WITH VERY LIGHT, SHORT, MAYBE BALDING HAIR. HE HAS A SNEAKY SMILE ON HIS FACE AS HE OFFERS ME THE MONEY. I THINK MRS. CLINTON IS ASSURED THAT I AM TOTALLY HONEST.
RASA: Again, this could be a second test regarding sexual virtue. Would I use sex to do something immoral or indecent? The dream says no. I pass the test of moral virtue in two ways.
The hint here is that MORAL VIRTUE IS EXTREMELY IMPORTANT FOR THE MISSION GOD HAS GIVEN ME. This mission has everything to do with bringing matriarchy to the world.
NOW TWO MORE THINGS HAPPEN. ONE, IS I MUST GO ON AN ERRAND OUT IN THE STREET. THE OTHER, IS THAT HILLARY AND SOMEONE (HER HUSBAND) HAVE TO LEAVE FOR A ROMANTIC (?) DATE AND MYSELF AND A RELIABLE YOUNG MAN TAKE CARE OF THINGS FOR HER AT THIS HOUSE.

CANNOT RECALL MUCH EXCEPT THE YOUNG MAN WAS DUSTING OR FLUFFING THIS FLAT PILLOW I USED TO USE FOR A CHAIR, TAN WITH FLOWERS IN SOFT RED.
RASA: Yesterday, as Gold and I were speaking on this subject and issues, I channeled MotherGod and she said to get organized and ready for what was to come. This young man is my chief guardian angel (I have three) who is often with me on mission.
I now realize that pillow is a big clue. It is the one I used on my 'captain's chair.' It is a lovely chair with arms, in a deep mahogany, very polished. This chair now that I think of it, could be a symbol for the seat of the president at the oval office. In other words, we are working to get Hillary into that seat. God has put me into a great mission!

WHEN THEY LEAVE, HAVING LEARNED, (I SUPPOSE) THAT I AM HONEST AND RESPONSIBLE, HILLARY TRUSTS ME TO DO THINGS FOR HER. I SEE MYSELF AND THIS FINE YOUNG MAN (WHO SEEMS HUSKY AND STRONG) IN A KIND OF HALLWAY, CLEANING, ORGANIZING, ARRANGING THINGS. AM NOT SURE EXACTLY WHAT, BUT IT IS NECESSARY WORK.
NOW ALSO BEFORE THIS STARTED, I HAD TO GO INTO THE STREET. IT WAS NIGHT I BELIEVE AND THERE WERE PEOPLE ABOUT HERE AND THERE. I WALK TOWARD SUNSET BLVD. AFTER A GROUP OF PEOPLE DISSAPEARS LEFT ON SUNSET I SEE A LONE MAN WITH A SWITCHBLADE THAT HAS THE END OF IT LIKE A BOX CUTTER. I AVOID HIM BY MOVING AWAY, I THINK HE FOLLOWS A BIT BUT I AVOID HIM AGAIN.
RASA: This is a demon who is trying to avert my mission, and I avoid him.
AM HAVING A BIT OF TROUBLE FINDING HILLARY'S HOUSE AGAIN, BECAUSE THEY ARE SO ALIKE. BUT FINALLY I DO AND ENTER.
RASA: The overall feeling of this dream is I am accepted into a very important mission of God. Hillary must become president (she has a whopping good chance) in order to fulfill the will of God regarding matriarchy.
I will now move my sights in the direction of politics and see what I can do to make sure God is obeyed.
---
---